Under masses of ice, finding fish may seem impossible to the uninitiated. Even with sounders and cameras, where does one begin?
But finding walleye once winter's freeze transforms the lakes to ice isn't as difficult as it may appear.
Walleye are still hungry throughout winter, and they still follow patterns and habits as they do at any other season.
Like any other creature, those habits alter to suit conditions, and with a good grip of walleye winter habits, you shouldn't have any trouble locating walleye under the ice.
Understanding walleye movements throughout the winter allows you to follow them as conditions change from early to mid and late winter.
Local knowledge is important, however, it's understanding the principles of hunting walleye through the ice that leads to success.
Let's have a closer look at the things you need to know to find and locate walleye while ice fishing.
Where Can You Find and Target Walleye While Ice Fishing?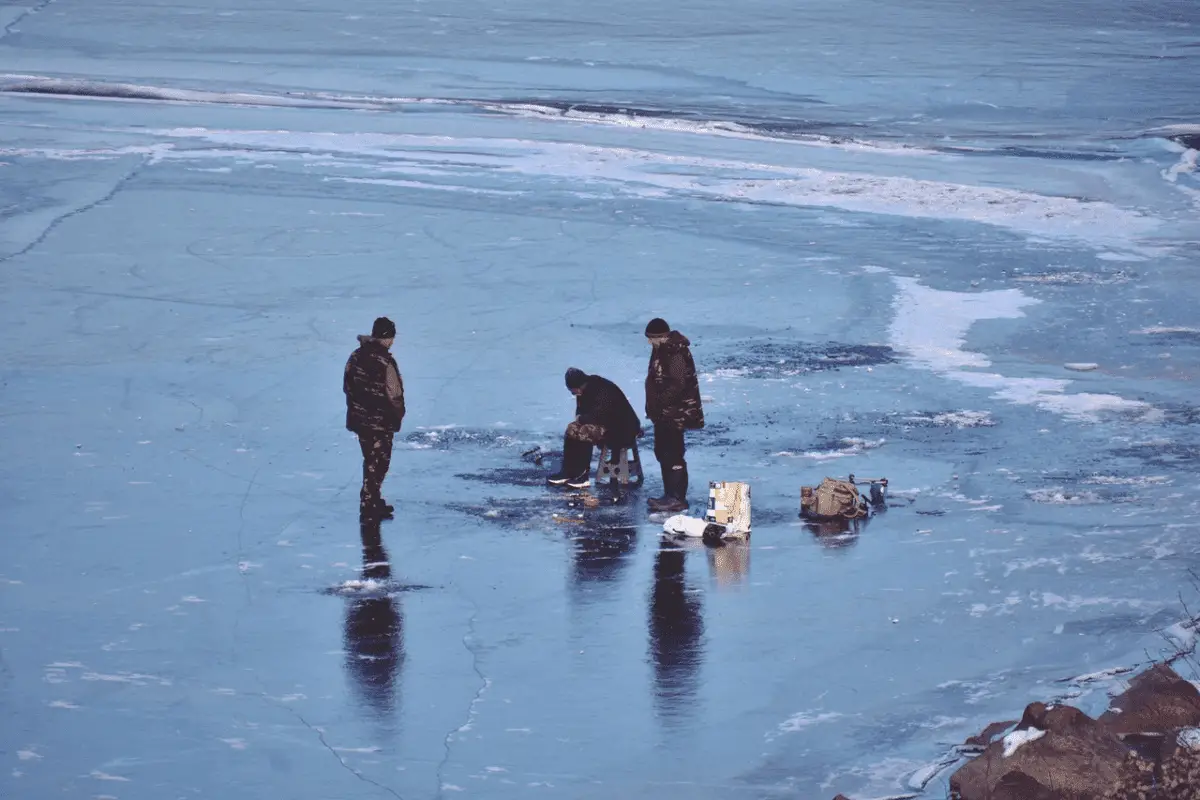 If the body of water holds walleye, then that's the place to start. The area you fish for walleye every summer, spring, and fall will also produce during the freeze.
Basic walleye and general fishing principles apply. 
Fish love structure, from mudflats, weed beds, drop-offs, holes, channels, saddles, sunken islands, reefs, inlets, rivers, and tributary mouths. Both shallow and deep – walleye lurk around structure.
The winter months will slow down the wily old predator. It's not that they'll go off the chew, or fast for the winter, it's just that the cold makes them a little sluggish.
That doesn't mean a walleye won't attack a bait with all of the aggression it displays in warmer months, it's more like it's just less inclined to go out of its way for a feed.
For the angler, this means you need to be a little more deliberate about your search. You're unlikely to bring the school of fish to you, you have to find them.
Use the basic principles of structure, as mentioned above, and most importantly, do your very best to get some local winter knowledge.
Ask local walleye anglers or tackle shops about the peculiarities of the location you intend to fish. 
Each lake and river has its nuance and subtleties when it comes to ice-bound walleye. 
It's always best to get up to speed with the local scuttlebutt about local walleye habits as it can save you a heck of a lot of time searching the ice sinking countless holes.
Arm yourself with maps, and GPS coordinates where available. Bathymetric maps (river bed maps) are frequently available and can be very handy when fishing a location with which you are unfamiliar.
Another sure way to find walleye is to do reconnaissance on the ice, and see who's fishing where. 
Please keep in mind that it's not so polite to march upon an angler, invade their space, and start punching holes.
Approach unassumingly, ask some general questions, and get a feel for how an angler might feel about the company.
Generally speaking, walleye anglers are very friendly and keen to share what they have learned through the session and what they know about the area generally. 
Again, above everything, local knowledge is king when it comes to finding fish. It is also important to know that walleye will move about throughout the winter. 
Generally speaking, walleye will congregate in different areas during the early ice, mid-winter, and the late ice.
Also Read: How To Ice Fish For Walleye
Where to Find Early Ice Walleye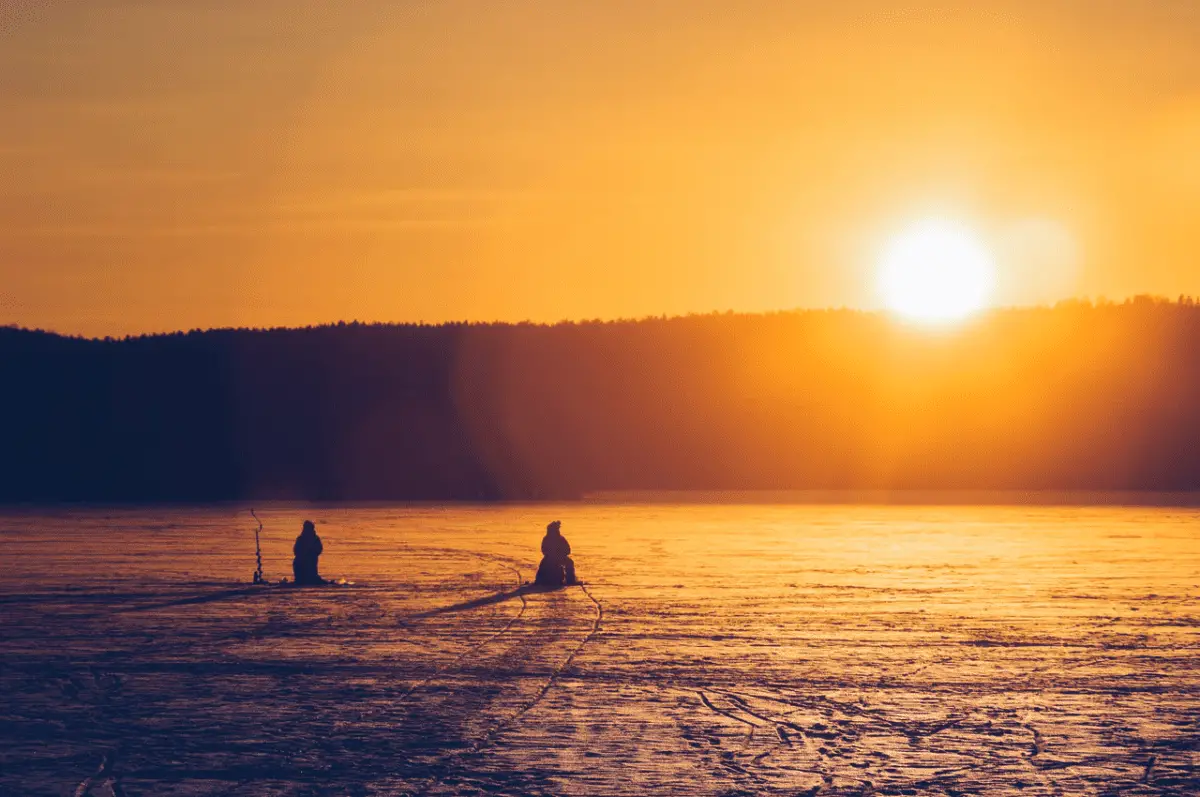 If the fall has been producing great walleye, then there's a very strong likelihood, they'll be in the same place and even more ravenous in preparation for the deep winter.
This is usually an exceptional time for walleye fishing. It's also a little dangerous, as early ice can be thin in places, so take precautions.
It's also a very popular time, and if the fall was busy, expect the walleye fans to be out in numbers and well placed on the ice.
Fish the shallows finding the edge of weed beds, flats drop-offs, and other such structures. 
If your sounder is showing plenty of baitfish, you can rest assured there are walleye hunting them.
Select natural-looking baits and lures for best results, and if you've taken big walleye in the area before, perhaps select your baits for attracting trophy fish, I like live baits for this for a better strike ratio.
The best tip is to use your knowledge and find an area that isn't overrun by anglers. 
Shallow walleye will be spooked by all the activity and will be shy on the bite or move out deeper.
Fish the late afternoon and dusk for best results but be sure to get there a little early, settle and avoid too much noise and movement.
See Also: What Pound Test Line For Walleye Ice Fishing
Where Can I Find Mid-Winter Walleye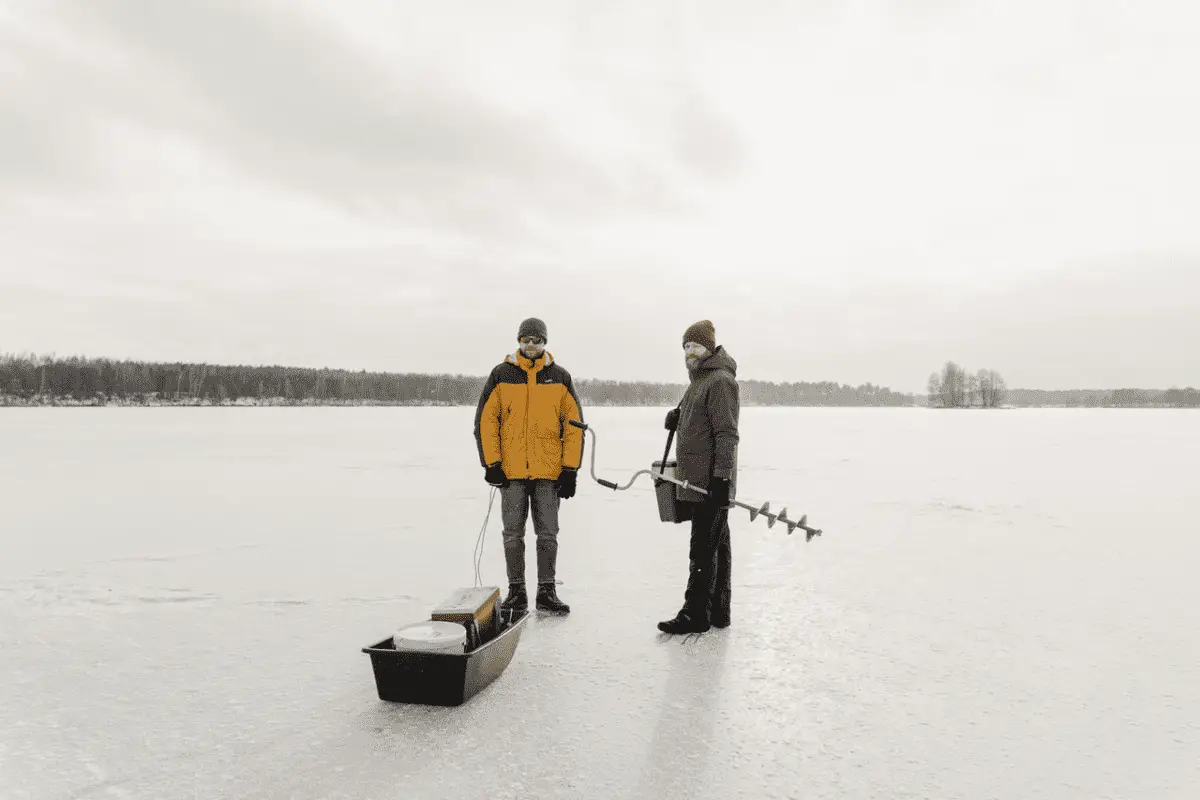 It's best to seek out deeper holes when we're in the depth of winter. Specific depth will differ considerably from location to location. 
But the rule of thumb is to seek out deeper waters and structures such as holes and depressions.
It can be a little trickier because these locations are frequently free of obvious structure, and we're needing to understand the river or lake bed a little better to seek out walleye holding spots.
Walleye will still find traditional structures in which to go about their predatory feeding patterns, but every other angler will be immediately attracted to these locations.
Come mid-winter, the walleye are at their most sluggish, and finding a consistent bite requires a little more patience.
This is where lake bed maps come into their own, as you can seek out the appropriate contours in the lake bed where walleye are holding, and other anglers have left alone.
Check out big risers and drops, small underwater mountains, hills, and islands in around 30 feet of water.
See Also: Best Walleye Ice Fishing Lures
Where to Find Late Ice Walleye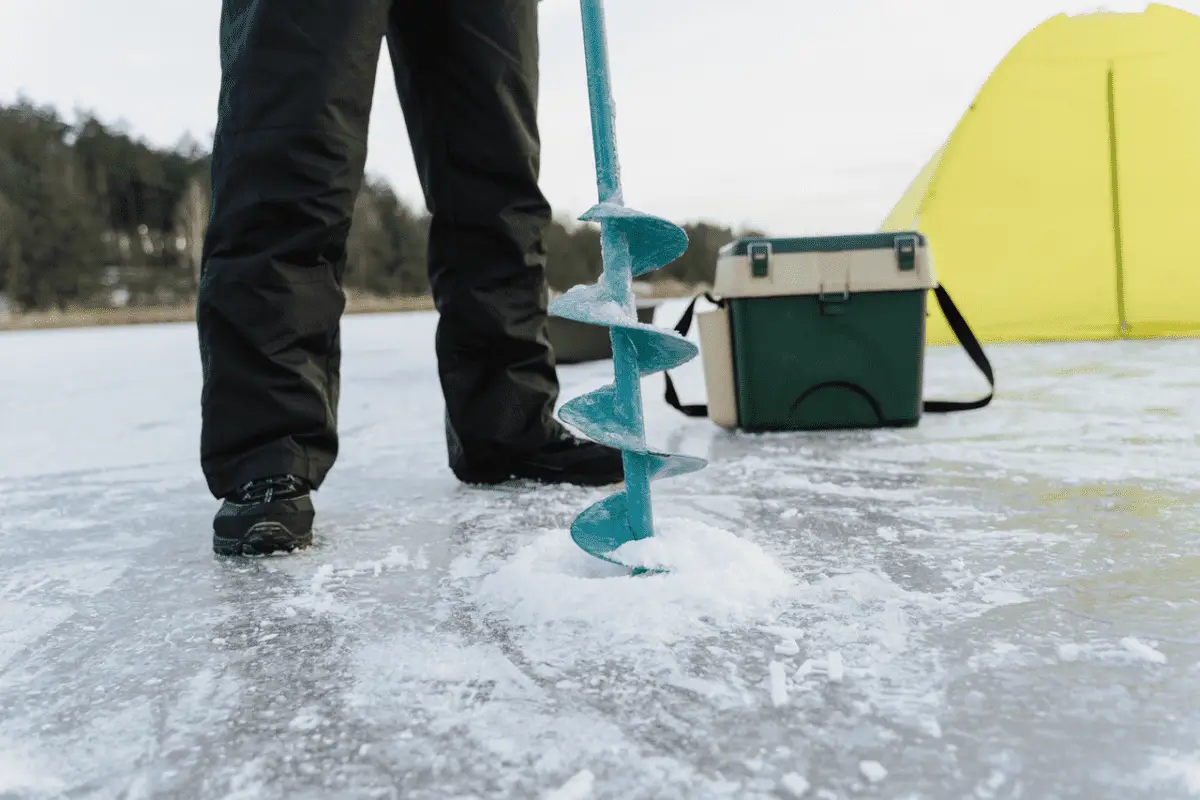 This is perhaps my preferred time to chase ice-bound walleye. Winter is coming to a close, and the walleye know it. 
It's pre-spawn, and they're starting to get more active, and more intent on seeking out a good feed.
More importantly, their movements are quite predictable and you know exactly where they're heading. 
And the beauty of this time is you can catch them at their final destination, or en route.
Walleye head back to the shallows for a place to spawn, and try to find the baitfish that will give them the energy for the spring festivities.
Fish shallow gravel beds, river entrances, tributary entrances, and even places where man-made pipes or channels flow into the lake or river.
It's also productive to find lake bed structures that channel schools through particular chokepoints leading to ideal spawning grounds.
As you're getting close to the end of the ice, this is a time when the shallows can go crazy with a much larger class of fish. 
Walleye are feeding aggressive and attacking baits like their lives depended on it. (essentially it does)
You'll be surprised by how shallow big walleye will come in to feed. Anywhere from 2 feet to 6 feet can deliver astonishing results.
Also Read: What Is The Top Ice Fish Finder?
Frequently Asked Questions
What is the Best Depth to Ice Fish for Walleye?
The best depth to ice fish for walleye in early winter is 4 to 10 feet. However, it is still very possible to catch walleye in much deeper waters.

During mid-winter, the fish are deeper and can be found anywhere from 15 to 40 feet. Come the end of the ice, we're heading back to the shallows.

Try choke points of 20 to 10 feet that are en route to the shallows. And in the final weeks of the ice, fish as shallow as 10 to 2 feet of water.
What is the Best Time to Catch Walleye Ice Fishing?
Early morning and evening present the best fishing times for walleye. Dawn and dusk are pretty standard times for just about any fish.

However, walleye tend to go off the chew during daylight and can be quite photosensitive.

For my money, I will always choose late afternoon to dusk for best results. Nighttime is also a great time to hunt and locate walleye.
What Depth are Walleye at in Winter?
Walleye will inhabit various depths throughout the winter. They can be found as shallow as 2 feet in the late ice and as deep as 40 feet during the depths of winter.
Wrapping Up On How To Find Walleye Ice Fishing
Finding walleye in the ice might require some patience, but it certainly isn't difficult. 
The information presented in this article is more than enough for a complete novice to locate walleye on a lake they've never been to.
Use your fish sense, understand the fishy desire for structure, get some local knowledge and understand walleye winter habits. 
Armed with this, and you're well on your way to a winter-long walleye purple patch.
Be persistent, avoid the crowds on the early ice, and always put safety above everything else. 
Keep a few fish for a feed, because walleye are awesome to eat, but put back the majority of your catch, especially the big ones.