We hope you love the products we recommend. Just so you know, OnTrack Fishing may earn an affiliate commission from the links on this page, at no extra cost to you.
For most of my fishing life, I had no specific go-to fishing clothing – I wore whatever I was prepared to wreck with filth and fish innards.
And when I think back to my early days, my memory of fishing apparel recalls a khaki fishing vest and waders as being the only true, quintessential fishing fashion.
Modern synthetic materials and an explosion in the participation of recreational angling have seen a growth in options for fishing-specific clothing.
The average angler can put together a set of interchangeable uniforms, suitable for all types of fishing, land-based to blue water, summer through to winter.
Let's take a deeper dive into what to wear when fishing, from land to the deep blue, year-round.
What to Wear When Fishing – The Basics
A basic fishing outfit will vary relative to where you're fishing and the season. But there are a few things that remain constant regardless of the season. 
The most important are sun protection, rain protection, and layers.
Camouflage and footwear specifically designed for fishing are also sometimes suggested, but the differences between fishing season and application make these items entirely separate.
In some cases, footwear is not required at all, and in some cases, camouflage is downright dangerous.
The sun and temperature are an issue all year round. 
Regardless of the season, we must protect ourselves from the UV,s, and the way to manage temperature fluctuations is through layers.
These are the fishing apparel basics.
Hats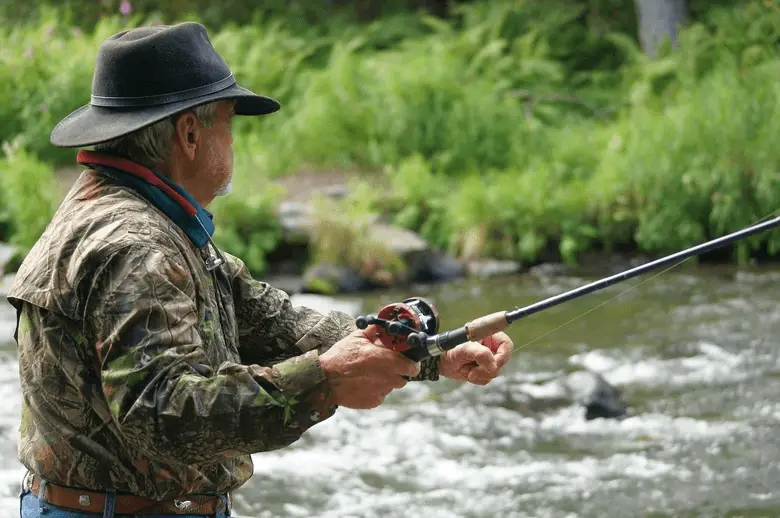 A broad-brimmed hat is essential sun protection wherever you fish, even in the dead of winter on clear or partially clear days.
Broad-brimmed hats are also fantastic in the rain, keeping the raindrops off your head and face, and channeling water away from your neck and collars, which are often places of water ingress.
While a cap is ok, it doesn't protect your ears, neck, and cheeks, so it requires further sun protection gear such as a face mask, or buff.
In winter, hats will take on an added demand for warmth, so the emphasis moves from sun protection to heat retention, including beanies and lumberjack hats.
Sunscreen
A lot of fishing apparel is designed with up to UV 50 protection. Beyond this, sunscreen is critical.
It's no exaggeration to say that prolonged exposure to the sun can be deadly; hence sunscreen on any exposed skin is a must.
I'm not a fan of sunscreen as it gets on everything including baits and lures which is bad. 
Make sure your sunscreen application routine includes washing it off your palms. You don't want sunscreen on your gear.
I prefer gloves and sleeves to using sunscreen on my arms and hands, and I'm also aware of face-touching, and transferring the sunscreen onto my hands, and then my gear.
It's important to remember that reflection from the snow or water is a significant cause of sunburn.
Even with a hat on, the reflection will ensure the sun hits your face. 
Always wear sunscreen or a buff like the one below to protect against reflected UV rays. A buff is a wise choice as it will also protect you from the wind.
Clothing Layers
Whatever the season, layering clothes is the best way to manage comfort, freedom of movement, and temperature regulation.
During any session, the temperature can change, and your body temperature will change depending on your level of activity, the weather, and how dry you are.
Of course, the number and types of layers will vary depending on conditions and the season, but layers deliver versatility and adaptability.
Spring and fall are probably the best examples of when layers come into their own. 
Winds and temps can vary significantly throughout a session, so to ensure comfort, adding and removing layers becomes the standard thermostat.
A good example of a standard early/mid-spring or early/mid fall arrangement would be:
A skin layer of moisture-wicking thermals, long or short. 
Standard cargo pants, synthetic long sleeve fishing shirt, or flannelette shirt. 
A coat or jacket as light as conditions allow.
Raincoats
There is an incredible range of raincoats available these days, made of everything from Gore-Tex to hide and various synthetics. Many of them cost an absolute packet.
For me, there have been no better raincoats than the industrial-strength yellow PVC raincoat. 
Last update on 2023-12-02 / Affiliate links / Images from Amazon Product Advertising API
They're highly affordable, and they keep the rain out better than any raincoat I've ever owned.
Yellow is an excellent color for safety, which we'll discuss a little later. For those looking at camouflage, a flat gray or camo print will suit.
See Also: Is it Good To Fish After Rain?
What To Wear When Fishing on Land
It all depends on where you're fishing and what type of fishing you're doing. Again, the season plays a defining role.
Fishing from a dock or pier is whatever you feel comfortable with based on the weather and basics listed above. 
But applications such as surf, ocean rock, and wading rivers for trout require a few details.
Ocean Rocks
Fishing the ocean rocks is dangerous, and your fishing apparel plays a role in safety. 
This is when heavy clothing, old shoes, and colors that blend into the environment are bad ideas.
Firstly, no-slip shoes with either metal spikes or cleats give you sure footing. The journey to the ocean's edge will often require climbing and traversing slippery rocks.
Once on the ocean rocks, you have to contend with unpredictable waves and swell.
A PFD is a very wise choice when fishing the ocean rocks. There are plenty available that still allow excellent freedom of movement.
Onyx A/M-24 Automatic/Manual Inflatable Life Jacket, Blue
U. S. Coast guard approved type V life jacket/personal flotation device (PFD) with type III performance
Automatically inflates upon immersion in water or when the wearer pulls the "jerk to inflate" handle
Lightweight, comfortable, slender design keeps you cool in warm weather
Age 16+, over 80 lbs.
Last update on 2023-12-02 / Affiliate links / Images from Amazon Product Advertising API
This is a time when you want to dress in bright colors such as yellow, white, or any color that contrasts your surroundings. You want to be seen.
In the event of being washed off the rocks, the fact that you can be seen can save your life, and it has in the past.
Rock fishing is best with layers, and they should be as light as possible and easily removed while in the water.
The yellow rain gear worn by trawler pros is a great option when it's cold.
FROGG TOGGS Men's Ultra-Lite2 Waterproof Breathable Protective Rain Suit
WATERPROOF – Made with frogg toggs breathable, non-woven fabric that is waterproof, wind resistant and extremely lightweight. Perfect for light use when reliable waterproof protection is necessary. ASTM F1695 protection and blood penetration rated
RAIN SUIT – Jacket and Pant included. The unique Polypropylene material provides an excellent, affordable, and reliable rain wear option
FEATURES – Jacket features and adjustable hood with cord locks, full front zipper with storm flap and elastic cuffs. Pant features and elastic waist, straight leg design and stuff sack that fit s both pant and jacket
USES – The Ultra Lite2 Rainsuit compresses easily and is perfect for backpackers, stadium seats, sports sidelines, golf bags, emergency kits or anywhere a lightweight rain suit is needed. The Ultra Lite is not designed for rugged use, wandering through brambles or areas where sharp objects could tear. For these uses we recommend you look at other frogg toggs Rain Suits for rugged use
Last update on 2023-12-02 / Affiliate links / Images from Amazon Product Advertising API
Again, keep it as light as you can underneath. Synthetic fabrics that stick to the skin as opposed to filling with water when submerged are the safest option.
Heavy wool, terry, and flannel fabrics are a bad idea unless you have a heavy-duty PDF, which is often too cumbersome for rock fishing.
A fishing vest can be a great option for the rocks, as often you're fishing some distance from your gear. 
It's handy to have a tackle and lure change on you, so you don't have to walk back to your gear for a simple hook change.
Surf Fishing Clothes
Shorts and no shoes are the best for surf fishing; even if it's a little cold, it's better to suck it up as best you can when there's a chill in the air. 
Once you wear any sort of long pants, you're bound to get wet, and you're going to get even colder.
While we say we'll stay out of the water and waves, this never happens. As the waves shoot up the beach, invariably, we get washed.
If you have to wear long pants or shoes on the beach to fight off the winter cold, go for wetsuit booties and yellow PVC rain pants.
Last update on 2023-12-02 / Affiliate links / Images from Amazon Product Advertising API
AYKRM 4 Colors Safety Rain Pants Reflective High Visibility Waterproof Rain Pants Yellow
✔ 【MATERIALS】MATERIALS:Excellent high vis waterproof Rain trousers Pants made from 100% Polyester (PU Coated).
✔ 【HI VIZ REFLECTIVE TAPE】 Two Band of Retro high vis Reflective Tape Per Leg.360° OF REFLECTIVE COVERAGE: 2" reflective strips keep you visible in daytime and night time alike
✔ 【HI Vis waterproof Trouser Features】Bagless Pockets For Inner Garment Access,Fully Elasticated waistband,Adjustable Ankle Poppers.
✔ 【Standards】Yellow ANSI/ISEA 107-2015 CLASS E TYPE R: Complies with the highest standards for road safety Orange and Yellow
Last update on 2023-12-02 / Affiliate links / Images from Amazon Product Advertising API
Yes, your legs may get wet, but the PVC will keep the cold breeze out, which is the main source of unbearable cold.
The wetsuit booties will keep your feet toasty warm. You may need to wash them out occasionally to get the sand out.
When it's simply too cold on the beach, a pair of wetsuit pants are fantastic. Wear them under your yellow rain pants. You'll be surprised how warm and comfortable you are.
The tip is to assume that your lower extremities are always going to get wet. This is tough in the winter.
In the summer, sun protection is your only concern. See the basics listed above for your best option.
People will wear waders for surf fishing. This is good too. 
However, it's not a good idea if the short dump or surge is powerful. It can knock you off your feet, with your waders filling with water. It can be dangerous.
High vis is a must when fishing the beach at night, particularly when the beach is open to 4WD traffic. 
For added safety, I wear glow sticks on my wrists and mark my kit position on the beach.
100 Ultra Bright Glow Sticks Bulk - Halloween Glow in The Dark Party Supplies Pack - 8" Glowsticks Party Favors with Bracelets and Necklaces
⭐ AS BRIGHT AS IT GETS – These glow sticks are ultra-bright and will light up your event like no other. Whether you're celebrating a public holiday such as Halloween, New Year, Easter or 4th of July, or your own birthday celebration, pool party or wedding, our glow sticks gets you covered.
💡 KEEPS YOUR PARTY LIGHT ALL NIGHT - Perfectly engineered under strict quality control, these glow sticks are made from high quality materials to ensure up to 6 hours of glowing light so you could enjoy your party all night without worrying they would fade away.
💥 ENDLESS GLOW ACCESSORIES OPTIONS - This pack was thoughtfully designed to provide the ultimate glow party experience. Whether you are into bracelets and necklaces, writing letters and numbers or creating party decorations, our party kit has it all.
💪 STRONG BUILD, REDUCED PLASTIC USAGE - We've made sure to use only top-notch materials, so your glow sticks connectors stay put. We've also managed to reduce the amount of plastic used for each glow sticks by up to 17%.
Last update on 2023-12-02 / Affiliate links / Images from Amazon Product Advertising API
Clothes for Wading Fishing
Even in the height of summer, a good set of waders are worth their weight in gold. 
BASSDASH 3D Boot Foot Game Wader Ultra High Strength Black Plaid Nylon PVC Fishing Hunting Chest Waders for Men
Supple, high strength, and more moisture-proof ripstop plaid fabric whose durability has been dramatically improved than that of common PVC waders; For added strength, the seams are double stitched and heat sealed on the inside; For heavy users who use waders every day and lose it in one season, this model with excellent durability is highly recommended even at the expense of "no stuffiness"
Mesh lining prevents stickiness of the inner PVC coating and makes it easier to take off the wader
Three-dimensional cutting makes it easier to bend the knee, meanwhile the front leg seams allow unprecedented mobility and eliminate seams in critical inner leg wear zones
Other features include elastic adjustable suspenders for maximum comfort; Adjustable, 1.5-inch wide belt with quick-release buckle; D ring gear attachments on waist tabs; Chest storage pocket with YKK waterproof zipper closure; Interior chest zippered pocket flips out for easy access; Anatomically engineered PVC boot feet with deep tread pattern for maximum grip and the hard sole protects your feet if you accidentally step on a sharp object
Last update on 2023-12-02 / Affiliate links / Images from Amazon Product Advertising API
The water in high country rivers can be extremely cold, and fully water-tight waders allow you to wear warm gear underneath and remain fully dry.
Fishing along a stretch of river is best done with waders, camouflage colors, a fishing vest, and a waterproof backpack.
What you wear under the waders will be determined by the season. My approach is to stick by layers as a rule and keep everything as light as the temperature allows.
A good set of waders can be a little pricey. I strongly recommend you save the coin required to go top shelf. Cheap waders are often a serious letdown.
What To Wear When Fishing From a Boat?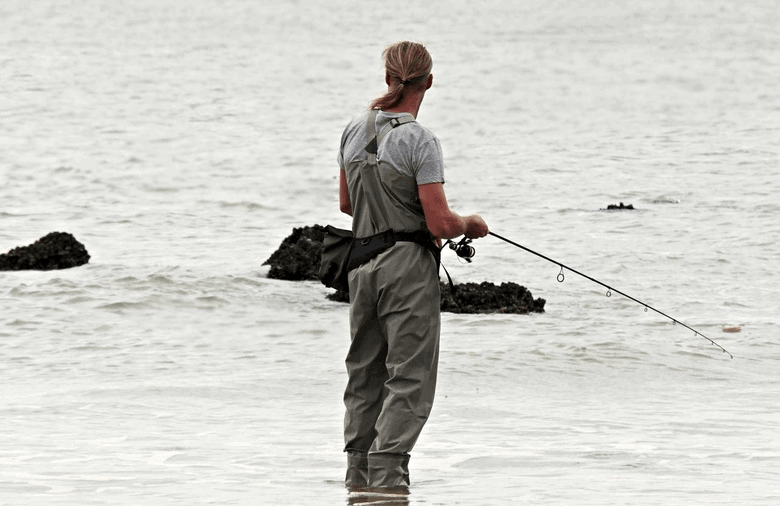 There is a wide range of fishing shirts available for boaties looking for comfort, sun protection, and wind protection.
I like long sleeves regardless of the weather, and if short sleeves are your thing, then sun sleeves are a wise idea.
My choice is the all-in-one hoodie and buff with long sleeves such as the one below. A broad-brimmed hat is also a wise choice, with sunscreen essential.
Bar-rated PFDs can be cumbersome to fish in, so models like the one below are a great idea for when you're out in the fishing action.
While cargo shorts are popular, I would always recommend a good pair of board shorts. They're lightweight and fast drying.
Even at the height of summer, the trip home can get cold. A pair of fleecy track pants and a fleece-lined jacket with synthetic outer for wind protection is great.
Come the winter, the rule of thumb is layers. Again, dress as light as the weather permits.
However, when you're rugged up in heavy clothes to keep the cold out, your PFD is even more important because heavy clothes are very dangerous should you go overboard.
For very cold weather on board, I like a set of long thermals, track pants, and a warm jumper under fully-fledged marine foul weather gear. 
Go top shelf, and make sure it's waterproof and breathable. This gear is perfect for bad weather wherever you're boating, inshore or offshore.
Boat Shoes
Many people like bare feet while on a boat. But non-slip shoes are always a better option for safety.
Deck boots are great for offering warmth and protection. I'm fine with any non-slip shoe, as long as it's easily removed and doesn't have a black sole.
Xtratuf Men's 6 Inch Ankle Deck Boot Gray/Yellow 12
XTRATUF 6IN ANKLE DECK BOOTS - The performance Ankle Deck boot from XTRATUF is the perfect boot for any on the water athlete
LIGHTWEIGHT SILHOUETTE - Lightweight silhouette with the same XTRATUF non-marking, slip-resistant Chevron outsole as the iconic Legacy boot
PROPER FOOT TEMPERATURE - Evaporative cooling liner that helps regulate foot temperature to keep you comfortable in both cool and warm environments
SLIP-RESISTANT - The SRA rated slip-resistant outsoles are made from an exclusive rubber compound that grips the floor surface creating sure footing ensuring the ultimate performance
Last update on 2023-12-02 / Affiliate links / Images from Amazon Product Advertising API
Sunglasses
Polarized fishing sunglasses are brilliant for sun protection, general eye protection, fish spotting, and navigation.
Sunglasses fall into the essentials kit. It's also a good idea to keep a spare pair in your bag or on the boat. They have a habit of making their way into the ocean.
A great way to keep your new glasses for longer is to attach a lanyard or buy polarized sports glasses that come with a lanyard.
STORYCOAST Polarized Sports Sunglasses for Men Women Unbreakable Frame Cycling Fishing Driving Blue Mirror+Green Mirror 2Pack
【POLARIZED LENS】- 100% UV400 protection coating, blocks 100% harmful UVA & UVB Rays. Restore true color, eliminate reflected light and scattered light,make the scenery more clear and soft and protect eyes perfectly. Polycarbonate lens are impact, scratch resistant, durable and unbreakable.
【LIGHTWEIGHT FRAME】- Featuring this impact, scratch resistant, durable and unbreakable frame, STORYCOAST Sports Sunglasses provide clear vision during quick movement.
【FASHION SPORTS】- Is ideal for motorcycle and cycling bicycle, driving, running, fishing, racing, skiing, climbing, trekking or other outdoor activities.
【GIFT PACKAGE AND ACCESSORIES】: Sunglasses *2,Brand Outer Box*1,Glasses bag *1,Glasses cleaning cloth *1,Stainless steel screwdriver *1,Polarized glasses test card *1,Glasses lanyard *2.
Last update on 2023-12-02 / Affiliate links / Images from Amazon Product Advertising API
Frequently Asked Questions
What is the Best Color to Wear When Fishing?
Clothing colors will depend on the type of fishing you are doing. If you're stealth fishing or fishing clear then camouflage is great.

Ideally, you should be matching the colors of your surroundings with broken patterns, whites and light blues for snow, greens, and browns for the deep forest.

However, for any other type of fishing, your first priority is safety. And hi-vis clothing is the safest by far.

It doesn't matter where you're fishing, being seen is safe. Bright colors or colors that contrast with the surroundings are best for hi-vis safety.
What Colors Should You Not Wear When Fishing?
If you are stealth fishing, spot, and trout fishing, hi vis clothes are a bad idea. Fish will see you and it will spook them.

If you're rock fishing or fishing from a boat DON'T wear blues and colors that match the sea color. 

In the event of ending up in the water, you want to stand out in the water, which means rescuers can't see you.
What Should I Wear for Night Fishing?
Dress as you would for the daytime, but make sure you're covered for significant temperature drops and rain. Take a raincoat and extra protection for the cold.

However, make sure you are visible. This is important wherever you're fishing. 

You'll most likely be wearing a headlamp, which is definitely high vis. However, you may not have it on all the time.

In this case, a reflective strip on your clothes, pants or hat, or glow sticks on your wrists or ankles allows people to see you from quite a distance.

A classic example is fishing on a moonless night on the beach. With no headlamp on, a 4WD can't see you until they're on top of you.

People have been struck by 4WDs on beaches because they just can't be seen. Often gear placed on the beach is run over.

Mark yourself and your gear with cheap glowsticks to avoid any such problem. Reflective tape is also very effective.