We hope you love the products we recommend. Just so you know, OnTrack Fishing may earn an affiliate commission from the links on this page, at no extra cost to you.
Technology is improving, and it's bringing some major improvements to fishing.
While you likely pride yourself on catching fish with minimal equipment, and relying on your expertise alone, investing in a good reel is critical to your fishing success.
Ready to have one of those, "I swear, it was this big!" fishing stories? Consider these our list of the best spinning reels with trigger to help guide you in your purchase.
7 Best Underspin Reels
Here are some of the top reels with trigger available on the market today.
Last update on 2023-09-08 / Affiliate links / Images from Amazon Product Advertising API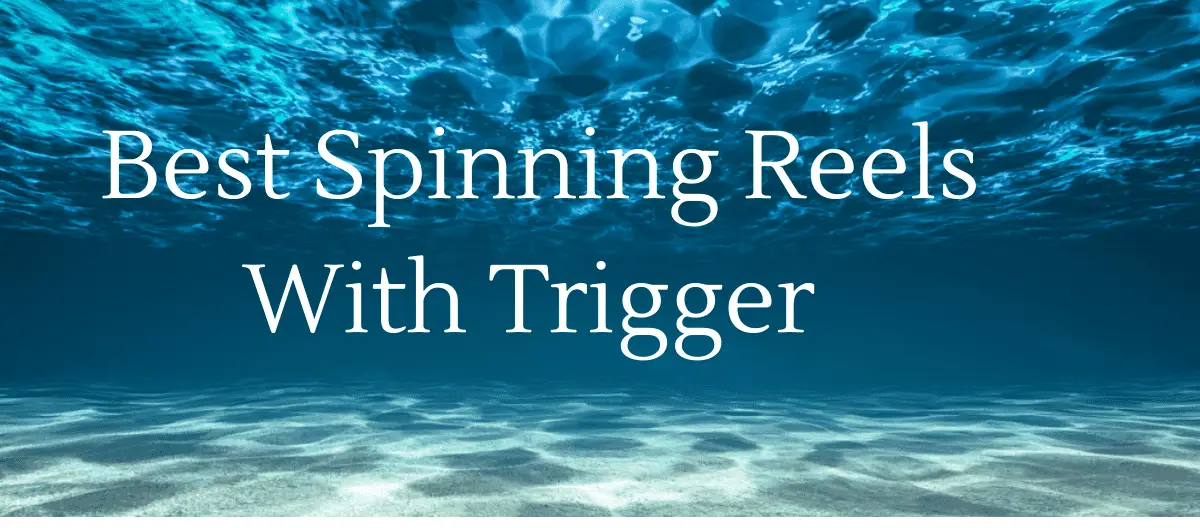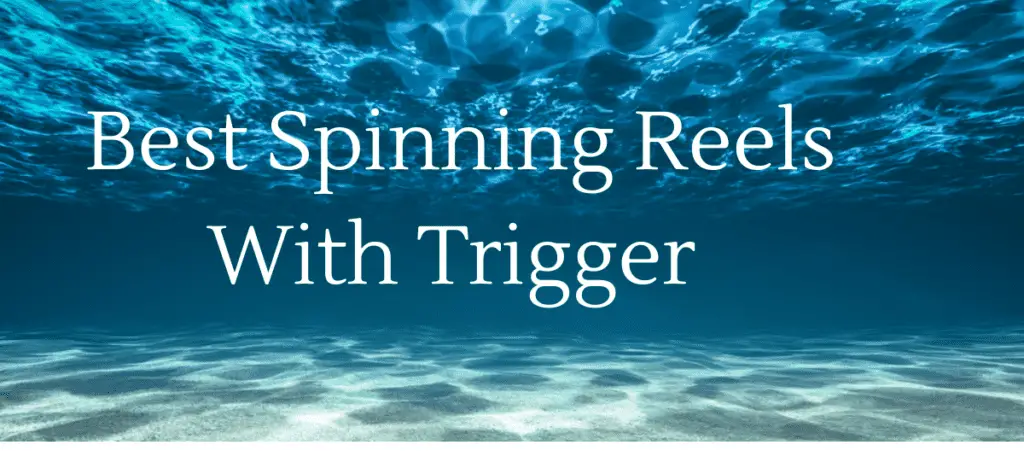 Are Underspin Reels Any Good?
An underspin reel, also known as a trigger reel, provides a hassle-free experience to both novice and experienced anglers alike.
These lightweight reels are similar to spinning and spincasting reels.
They are a great choice for a young angler who is just learning how to fish, as well as any angler seeking a low-maintenance freshwater fishing excursion.
They can be purchased from most popular retailers, coming in at affordable prices.
They can be used on standard rods, travel rods, or telescoping rods, as well as inshore or offshore rods.
What are The Benefits of Underpsin Reels?
They work in a simple way. The trigger assists in casting and hangs on the underside of a standard rod, offering both convenience and functionality to the user.
These reels come already spooled with line, eliminating the need to deal with that yourself.
You can customize the line size to 6 or 8 pound test – in some cases, even heavier pound test lines of 15 to 20 can be used.
This provides a much smoother cast and less overall resistance. Many updated models even come with upgraded drag systems, handles, and styles, giving you plenty of options in choosing a reel.
Because this type of reel is generally less expensive than others, an underspin reel is a more affordable option for people who are experimenting with casting for the first time.
What's the Best Way to Use The Reel?
You can use this kind of reel for any kind of freshwater fishing, allowing you to fish for small panfish or larger game fish without having to swap out reels.  
They can be used for just about any kind of fishing and are typically easy to care for. However, you will need to keep the reel free from sand and dirt and provide minimal lubrication and additional upkeep.
To use the reel to cast, simply squeeze the trigger with the tip of the rod tilted behind you. It should be at a roughly three o'clock position.
When you squeeze the trigger, this will help to secure the fishing line in place.
Then, lock your eyes on your target and cast forward, bringing the tip of the rod in front of you and releasing the trigger once the tip has reached the 10 o'clock position.
Keep in mind that this type of reel is not designed for heavier baits or lures, nor is it a great choice in a saltwater environment.
You should also know that the adjustable drag system used in the reel isn't always as effective as that on an open-faced reel, which may affect your final decision.
How to Choose The Best Spinning Reel With Trigger
An underspin reel offers all the benefits of a spinning or spincast reel, allowing you to cast and fish with ease.
These reels are easy to use and can bring your fishing to a new level.
That being said, choosing from all the top spinning reels with triggers can be a bit of a challenge, because there are thousands of options on the market.
While they are widely available all over the world at most major retailers, it can be tough to choose the best one for your needs and personal preferences.
A good reel will be one that is affordable – most of the top options come in at less than $50 no matter where you choose to purchase them.
You should consider whether the product you intend to purchase is designed for professionals or amateurs, and also consider additional features you may want.
For example, are handles and gear retrievals important to you? What about an advanced drag system, or a specific type of line?
Think, too, about the material used to construct the reel, as this impacts weight, durability, and function.
Finally, think about the types of fish you'd like to angle for, as well as where you plan to go fishing. These factors can all play a major role in your ultimate purchasing decision.
Also Read: What Are The Best Closed Face Fishing Reels?
1. Daiwa Underspin Reel-XD – #1 Top Choice
This is a great option for beginners, offering an ultra-lightweight frame and rugged construction that can hold up to any circumstances.
Offered at a reasonable price, this reel is beloved by anglers all over the world.
The Daiwa Underspin Reel XD has a rear dial-operated drag, making it easy to operate with one hand.
This feature also gives you the benefit of not having to worry about accidentally bumping and readjusting your line.
You can use this with a wide variety of rods, and its aluminum build makes it durable yet lightweight to carry.
In my experience, this reel is effective in helping you catch exceptionally large fish (in some cases, up to seven pounds!) and it's great for everyday use.
Ideal for beginners and more experienced fishermen alike, it has a smooth drag and is easily adjustable.
Pros:
Offered at an affordable price
Can be used to fish for larger species
Minimal tangling, backlash, and snagging
Difficult to accidentally adjust
Cons:
A poor quality line is included in the reel
Tangle-prevention mechanisms have a tendency to stop working over time 
>>Check Latest Price on Amazon<<
2. Zebco 33 Gold Micro Triggerspin
This convertible reel is made out of graphite and brushed stainless steel. Though slightly more expensive than other models, it is a good option for more experienced anglers.
It offers a limited manufacturer warranty, a nice feature if you aren't sure about how well it will hold up to regular wear and tear.
This reel has continuous anti-reverse technology, preventing your handle from moving while you reel in heavier fish. It is pre-spooled with ninety yards of 4-pound line and has a smooth drag that is dial adjustable.

Pros:
Ideal for jigging or stream fishing but can also be used on a fly rod
Easy to cast
One year manufacturer's warranty
Cons:
Requires more regular maintenance (screw tightening, cleaning, etc) than comparable models
Tends to make a grinding noise when in use
>>Check Latest Price on Amazon<<
3. KastKing Summer and Centron
This reel allows you to fish professionally, even as a beginner. It is lightweight, made out of graphite, and includes a unique computer balancing system.
At a compact size, the reel is a great choice for backwoods fishermen seeking a more portable option.
Although I found that some features need to be manually operated, the reel performs wonderfully, making the little bit of extra effort totally worth it.

Pros:
Instant stop anti-reverse bearing makes hook-setting safe and simple
Compact size
Extended casting distance
Affordable price
Cons:
Manual operation required for some features
>>Check Latest Price on Amazon<<
4. Pflueger Trion 10SCB
Pflueger is a top name in fishing gear, and the Trion 10SCB offers an equally well-designed solution.
This product is made out of aluminum and titanium, providing maximum durability and resistance to wear.

The Trion 10SCB has a soft-touch knob (easier on your fingers) and comes pre spooled with line – up to ninety yards, in fact. The reel is smooth to operate and is a good option for young anglers in particular.

Pros:
Corrosion-resistant
Pre-spooled with 4 pounds line
Ambidextrous – can be used by right- or left-handed anglers
Cons:
Does not have an anti-reverse bearing, causing weaker hooksets
>>Check Latest Price on Amazon<<
5. Pflueger President
Another good option by Pflueger is the President. This reel operates quietly, made out of aluminum that is resistant to water and potential damage.
It is light, weighing in at less than nine ounces, and operates accurately and efficiently.
Pros:
Includes a soft-touch rubber knob for maximum comfort
Thumb-adjustable disc drag system
Made out of corrosion-resistant materials
Cons:
Release button is prone to breaking
6. Shakespeare Synergy Steel Reel
This reel, produced by one of the top names in fishing tackle and gear, is no exception to the company's track record of producing outstanding outdoor equipment.
It is one of the least expensive reels available and can be used by anyone in the family.
I thought this reel was easy to use, offering a simple-to-adjust drag system that allowed me to control the amount of drag depending on the fish I was reeling in at that exact moment.

This drag feature helps reduce damage to the line, as well as to limit long term wear-and-tear- on the reel.
The reel also has a chrome-plated steel handle and a convertible retrieve, making it a great option for me, as a right–handed angler, as well as for my left-handed fishing partner.

Pros:
Rugged – yet lightweight -construction
Ideal for anglers of all ages and skill levels
Holds up well to larger fish with the adjustable drag system
Cons:
Drag system doesn't tighten quite as much as it does on similar models
Smaller reel that may not fit all types of poles
>>Check Latest Price on Amazon<<
7. Shakespeare Synergy Ti U Blister Reel
Another great option by Shakespeare is the Synergy Ti U Blister Reel. This reel includes two ball bearings for added control, as well as a strong metal handle with soft grips.
Made out of stainless steel and titanium, this reel is both sleek and attractive without compromising function and durability.

Pros:
Titanium line guide prevents snags and tangles
Comfortable handle makes it easy to cast
Cons:
Higher gear ratio makes it more challenging to retrieve line
>>Check Latest Price on Amazon<<
And the winner is…
The Daiwa XD is the clear winner of our roundup. This reel is great for beginners and novices alike, offering ease of use and an affordable price.
It is durable, meaning you don't have to worry about knocking it off rocks or tangling up your line by mistake. Best of all, it offers features that make it difficult to adjust by mistake.
This will help you learn how to cast without constantly needing to adjust, reposition, or untangle yourself.
Remember that although the Daiwa XD is my best spinning reel with trigger, it might not be the best for you, depending on your specific needs and fishing preferences.
To find the right choice for you, consider our list of pros and cons, and then weigh out the features that matter most to you.
With a bit of experimentation and thought about what reel might be right for you, you'll be reeling in those story-worthy fish in no time.
And we promise we won't tell anyone if the fish you catch ends up being "just this much" bigger when you tell the story to your friends later on!