If you're a fisherman who's ever started a conversation with someone about their fishing equipment, they've probably asked you what size spinning reel you use. 
But have you ever wondered why different sizes of reels are used in the first place?
The size of the reel you choose depends on a few considerations. 
What are you fishing for? 
How heavy is the line you're going to use, 
How does it fit your rod, 
And finally, the most important, How does it fit in your hand?
We'll outline all of those considerations for you, helping you decide which spinning reel size is the best for you.
Which Spinning Reel Size Is Best For Me?
When you choose a spinning reel, it is much like choosing a car or truck. 
You wouldn't want to use a Honda Civic to pull a 40-foot gooseneck trailer, but then again, you wouldn't want to commute 60 miles each day driving a Dodge 3500.
Choosing the best spinning reel depends totally on the size of your hands, the type of rod you select, and the type of fish you're chasing. 
A small reel can bring in big fish, but they can also destroy the drag, snap the line, and ruin your day on the water. 
A big reel can catch small fish, but it's not easy to handle the large rod and heavy line that goes with a big reel.
Like Goldilocks, don't go too small, don't go too big, find the one that fits right.
What Are The Different Sizes Of Spinning Reels Explained
Spinning reels are categorized by numbers, the smallest starting at 1,000 and the largest up to 14,000. A few manufacturers such as Pflueger size their reels in between, ie: 1,500 or 4,500.
If you look at the product number of a spinning reel, you might find the size stamped in the first two digits, it can be 10 for 1,000, 45 for 4,500, or 90 for a big 9,000 series rod.
Spinning reels are categorized in a style similar to men's clothing: small, medium, large, and extra-large or big.
Small Spinning Reels
Small spinning reels have size numbers from 1,000 to 3,500. The difference between the numbers is gradual, increasing slightly with each increasing number.
The 1,000 is the smallest on the market. It is designed for two to four-pound monofilament (mono) line for four to eight-pound braided line.
A 1,000 sized reel is perfect for pan fishing, trout fishing, or working the water for crappie or perch. They're an ideal reel in lakes, streams, small slow-moving rivers, and the backwaters of bays.
The 2,000 series allows a little heavier line, four to six-pound mono, or five to 10 braided. Many anglers consider this sized reel the best for working with a light six to seven-foot rod.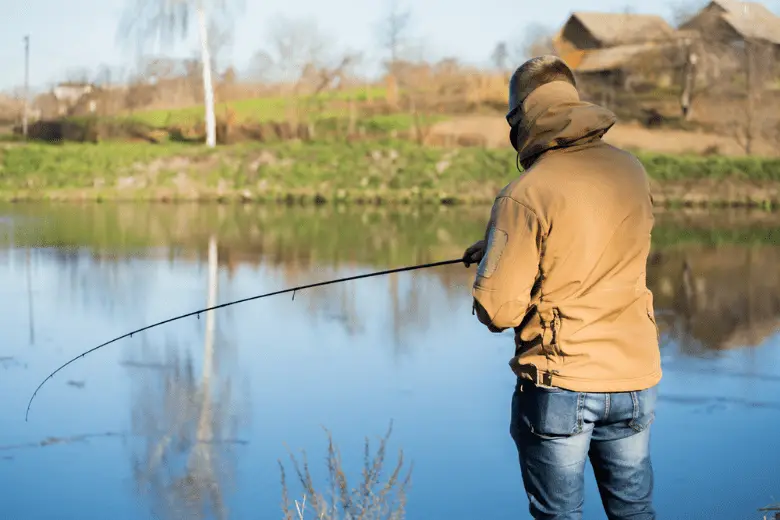 The light touch of the rod is enhanced by the light, yet strong reel, making it a good choice for soft-hitting species like walleye.
The 2,500 is a reel used by many float tube or kayak fishermen. It works well with trout in rivers and lakes. 
The five to eight-pound mono rating and 5-12 pound braided make it a formidable rod when hooking an unexpectedly large fish.
The 3,000 series reels are the smallest recommended for use with rods up to 10 feet long. 
The six to 10-pound mono rating, along with braided line up to 15 pounds makes it a favorite for anglers enjoying light surf fishing. 
With the heavier line, bass, catfish, and smaller saltwater species are ideal targets.
The 3,500 is nearly identical to the 3,000 but has a slightly larger spool, allowing more line. If you're into long-range casting with a lighter line, this is the reel to try.
See Also: Choosing The Top Ultralight Fishing Reels
Mid-Size Spinning Reels
Just a step above the largest small reel is the 4,000 series. This size reel can hold eight to 12-pound mono and eight to 20-pound braided line. 
The heavier braided rating is often the determining target for seeking larger fish.
Ideal with an eight-foot rod, the 4,000 series can horse in large catfish, walleye, or the most aggressive largemouth bass. 
It's a versatile reel, adaptable to rod lengths from six to 10 feet while still delivering excellent performance. The 5,000 series reel brings a lot of power to the water. 
Handling up to 15-pound mono or 25-pound braided line, the mid-range spinning reel works well in large rivers, is great for trolling large lakes, and is a favorite off docks and wharves in saltwater.
The reel works well with 12-foot surfcasting rods and the large spool facilitates casting heavy lures, or heavily weighted bait far from shore.
If you're a rock fisherman, the 6,000 is a reel that can handle the challenges of reeling in large, heavy fish among the challenging underwater terrain of a rock outcropping. 
The mono suggested sizes of 12 to 18 pounds make it a solid rod for working with the heaviest line that most recreational anglers will ever use. 
The upper braided suggested limit of 30-pounds will work on the largest freshwater fish you'll likely ever tangle with and will handle most species of saltwater fish.
This reel is a favorite of river salmon fishing with its power and adaptability.
Large Spinning Reels
You're about at the limit for freshwater fishing, aside from perhaps trolling in the Great Lakes when you hit the 7,000 series.
This is a big reel ideal for heavy surf fishing. It can be used off the rocks as well. 
The power of this size combined with the top end 20-pound mono line, or 40-pound braided allows you to horse in anything short of trophy deep-sea species. 
When used with a 12-foot surf rod, the casting distance, reeling rate, and touch don't get much better for beach angling.
The 8,000 series reels can handle a 50-pound test braided line with ease. This reel is a favorite for fishing guides taking out a boat full of eager beginning anglers salmon fishing.
The reel works with eight to 12-foot rods. Its large line capacity allows for long casts. Or better yet, long battles with large fish as they run with the drag on this reel singing the happiest song an angler can ever hear.
A 60-pound test is a heavyweight line. The 9,000 can handle that line rating in braided style. 
The recreational angler will rarely hook a fish that exceeds the 60-pound test rating of this reel, but if they do, the heavier reel, with a stronger drag can still bring in that monster.
Extra-Large Spinning Reels
The biggest series of reels begin with the 10,000 series. If you're a novice or can't handle the constant weight of a heavy spin reel, combined with a large rod, you'd best leave these monsters for someone else.
The 10,000 is rated for 20 to 30-pound mono line and a wide-ranging 25 to 70-pound braided line. Guides working offshore with tourists often prefer this reel for its line variability.
This is the reel to use in sport fishing. You'll find a lot of these off the Florida or Texas coast with saltwater sport fishing. They are difficult to handle, and the weight of this reel with a heavy rod can tire some anglers out quickly.
It is considered the best reel for recreational sports fishermen who aren't trying to hook a record-setting blue marlin or tarpon. The large line capacity makes them a great choice for snapper, mahi-mahi, tuna, or even small sharks.
When you have a reel where the lightest recommend line is 30-pound mono or 25-pound braided line, you've got a powerhouse in your hands.
This rod is usually reserved for guided or professional fishing. It still works well for rock or surf applications, but it is tricky to control in that setting.
Mackerel fishermen enjoy this size as do tuna, and snapper anglers. A 12,000 series reel can bring in heavier sharks, marlin, swordfish, and other large species. This reel is too large for any rod shorter than 10-feet.
The biggest reel on the market is the 14,000. It is heavy, powerful, and not for the novice. You have to have a little strength to use this reel effectively. Rod lengths of 18-feet are common with this reel.
It holds the heaviest weight line available on the market. Sportfishing offshore in deep water is a perfect application for this reel. 
Big tuna, giant mackerel, sharks up to six feet, along with Kingfish and snapper, are all target species for this size.
The 20,000 and 30,000 reels are the exclusive range of heavy saltwater fishing. 
If you're after the largest gamefish on earth, this is the reel you're going to be holding attached to a heavy and stiff rod that can handle the hours of fighting you're likely to encounter with a large tuna or sailfish.
You can read more about our best choice of spinning reels here.
Spinning Reel Size Chart
Small
| | | | | |
| --- | --- | --- | --- | --- |
| Reel Size | Monofilament Weight | Braided Line Weight | Application | Species |
| 1000 | 2 to 4 pound (1 to 2kg) | 4-8 pound | Spinners, small spoons, bobbers | Crappie, Sunfish, Bluegill, Trout, Perch |
| 2000 | 4 to 8 pound (2-3kg) | 4-8 pound | Spinners, small spoons, bobbers, buzz bait | Bass, perch, crappie, trout |
| 2500 | 5 to 8 pound(2-4kg) | 5-12 pound | Jigs, spinners, buzz bait, spoons | Bass, walleye, pike, lake trout |
| 3000 | 6-10-pound (3-5kg) | 6-14 pound | Buzz bait, spoons, spinners, jigs | Pike, bass, walleye, catfish, drum |
| 3500 | 6-10-pound (3-5kg) | 6-14 pound | Minnow harness, spinners, jigs, spoons | Walleye, stripers, bass, muskie, pike, drum, catfish |
Medium
| | | | | |
| --- | --- | --- | --- | --- |
| Reel Size | Monofilament Weight | Braided Line Weight | Application | Species |
| 4000 | 8 to 12 pound (8-20kg) | 8-20-pound | Cowbells, large spoons, crankbait | Muskie, catfish, snapper, stripers, River catfish, bass |
| 5000 | 10 to 14 pound (5-7kg) | 10-25 pound | Large spinners, large spoons, cowbells | Snapper, river catfish, tiger muskie, pike, salmon |
| 6000 | 12 to 16 pound (6-8kg) | 12-30-pound | Heavy weighted live bait, large spoons | Salmon, walleye, drum, stripers, channel catfish |
Large
| | | | | |
| --- | --- | --- | --- | --- |
| Reel Size | Monofilament Weight | Braided Line Weight | Application | Species |
| 7000 | 16 to 20-pound (8-10kg) | 15-40-pound | Heavy live weight, spoons, harnesses | Stripers, salmon, drum, small sharks |
| 8000 | 16 to 20-pound (8-10kg) | 20-50-pound | Large bait harness, large spoons | Barracuda, drum, salmon, stripers |
| 9000 | 18 to 20-pound (9-11kg) | 30-50-pound | Trolling rigs, large spoons | Amberjack, barracuda, Tiger muskie |
Extra-Large
| | | | | |
| --- | --- | --- | --- | --- |
| Reel Size | Monofilament Weight | Braided Line Weight | Application | Species |
| 10000 | 20-25 pound (10-12kg) | 30-60-pound | Heavy trolling rigs, large Rapala | Shark, barracuda, tuna, mahi-mahi |
| 12000 | 28+ pound (14kg +) | 30-60-pound | Large trolling rigs, heavy weighted live bait | Shark, barracuda, tuna, mahi-mahi |
| 14000 | 28+ pound (14+kg) | 30-60-pound | Heavy weighted live bait, trolling harnesses | Shark, tuna, dorado, swordfish |
| 20000 | 40+ pound (20+kg) | 40-70-pound | Long streamers, heavy weighted harness | Tarpon, sailfish, big tuna |
| 30000 | 60+ pound (30kg+) | 80-100-pound | Heavy harness, heavy live bait rigging | Tarpon, big tuna, sailfish |
What Is The Best Size Spinning Reel For Bass Fishing?
Bass anglers prefer reels in the 2000 to 4000 size range. The reel size depends on the size of the largemouth, smallmouth, or freshwater stripers you can expect in a body of water.
The best action always comes on a lighter rod and reel, so many choose a 2000 reel with a flexible rod for great action. 
It also has the added benefit of allowing you to feel the strike more, though that's rarely an issue with the ever aggressive bass.
The size of your hands, the versatility of the reel, whether you can switch the crank to a left-handed model, and the line capacity are all issues to consider in selecting a reel size that is right for bass fishing.
How Do You Match A Spinning Reel To A Rod?
You're going to get another automotive analogy; a huge engine in a small car is ridiculous, so is a small horsepower engine in a one-ton truck. The relationship between rod and reel is similar.
When matching a spinning reel to a rod you should select a reel that works with the action, and length of the rod.
Smaller reels in the 1000 to 2500 range work great with ultralight rods.
Heavy surfcasting rods require larger reels, mostly in the 5,000 to 7,000 range.
The style of fishing, the reel mounts on the rod you choose, the action of the rod, and even the placement of the line guides are all things to look at when purchasing the right reel size.
Frequently Asked Questions
How Do You Know What Size Spinning Reel to Buy?
Application is the short answer when it comes to knowing what size spinning reel to buy. We've discussed the four basic points of a spinning reel earlier; now it's time to buy one. 

Does it fit the rod you're using? Does it fit your hand? Is it heavy enough for the fish you're wanting to catch? Does it work well with the fishing line weight you've chosen?

Answer these four questions, throw in a little bit of financial research to find a brand that matches your budget, and you have found the best option.

The chart above outlines the basic features, what weight line it can handle, and the type of fish anglers use these sizes for.

The size chart provides basic information. Study the reels online or in your favorite sporting goods store. The stainless steel variety is worth the price for saltwater fishing. 

The ability to switch from left to right-hand configuration is another important point if you are not right-hand dominant.

Knowledge is power, even in the choosing of a fishing reel. Don't just buy the first one you see. Do your homework, make a good decision.
Is a 4000 Reel Too Big for Bass?
No, the 4000 reel size is not too big for bass. The 4000 is the largest spinning reel you would want to use for bass, but no, it is definitely not too big.

Loaded with an eight-pound monofilament, or even better, eight-pound fluorocarbon line, the 4000 series still provides the adaptability and power to land monster bass.

Bass are among the hardest-fighting freshwater fish in North America. 

The ability to toss a buzz bait or crankbait precisely in the spot you suspect big bass are submerged is invaluable in getting them to hit.

A 4000 reel size with a lightweight rod and an eight-pound test line provide excellent accuracy in bait placement. When it comes to bass fishing, location is everything.

Their natural aggression is spurred by a well-placed plastic worm, jitterbug, or popper as well.
What Is the Best Fishing Line for Spinning Reels?
The best line for a spinning reel depends entirely on the species you're after, the type of water you're fishing, and the structure hidden under the surface.

Monofilament is an all-purpose line that ranges in strength from two to 60-pound test. That's a huge range of line strength to choose from.

If you're using an ultra-light rod with a 1000 or 2000 reel, a two-pound test gives you the most sensitivity when landing sunfish, bluegill, or pumpkinseed.

Chlorofluorocarbon line is favored by walleye fishermen. Many believe walleye can see monofilament but believe chlorofluorocarbon is invisible to them.

The other option is braided line; it's the favorite for surf fishing, offshore trolling for salmon, or in use with any other large fighting fish. 

Halibut, sailfish, marlin, and tarpon fisherman almost always select braided line.
What Size Reel Should You Use for Surf Fishing?
How big is your surf fishing rod? How heavy, and how long a rod are you using? That's the determination for surf fishing.

Surf fishing requires heavy weights to be attached above the bait or below in a suspension rigging.

If you're throwing a three-ounce lead weight as far as you can, you want a reel with a big spool that can release heavy monofilament or braided line, sometimes in the 30 to 50-pound test range.

The large and extra-large reels in the 6000 to 10000 rating are the ones for this application.

The superior strength, larger bale, and high volume of line, combined with a rod length of 10 to 16 feet, demand a reel as strong as the line and rod.