If you're asking if down imaging is worth it, you're possibly an inshore angler weighing up the pros and cons of side versus down imaging.
You may also be an angler simply weighing up the pros and cons of slashing out on any type of sonar/fishfinders.
Down imaging would be considered the standard fishfinder configuration, with side imaging more a specialty or upgrade.
Unless you fish in two feet of water all the time, down imaging is worth it, wherever you fish.
Down imaging and fish finders have generally become both more advanced and more user-friendly in the last decade. 
Importantly, the variety of price points has made down imaging fish finders accessible to nearly all budgets.
For just about every angler fishing from a boat, there's a down imaging fish finder that will deliver outstanding benefits for your fishing results and your fishing budget.
Let's look a little closer at the benefits of down imaging. Firstly let's look at what down imaging is.
What is Down Imaging on a Fish Finder?
Down imaging is a subsurface scan of everything directly beneath the boat. In comparison, side imaging is a scan of everything on either side of the boat and shows little underneath the boat.
Down imaging will show a little beneath in front and behind the boat, including the sides, depending on the water depth and the width of the sonar cone at its widest. 
The sonar cone or scan range gets wider as it gets deeper. The width of the cone (scan) is a third of the overall depth. 
So, for example, if you are in 30 feet of water, the widest part of the cone will be 10 feet, and that's what you'll be viewing on screen.
See Also: How To Read a Fish Finder Screen Properly
How does Down Imaging Work?
Down imaging is a sonar scan of everything directly underneath the boat. 
Sonar is sent in a cone shape underneath the boat, using sound waves to identify structures and creatures within the sonar range, directly under the boat through the length of the water column.
The sound waves are converted to images that you can see on your screen, interpreted as either structure, fish, reef, rocks, etc. 
It will also provide the depth, water temperature, speed, and contours of the sea bed.
A fish finder uses a transducer, which sends and receives the sound waves, which are sent via cable to a processor and screen that displays the information.
Can You see Fish with Down Imaging?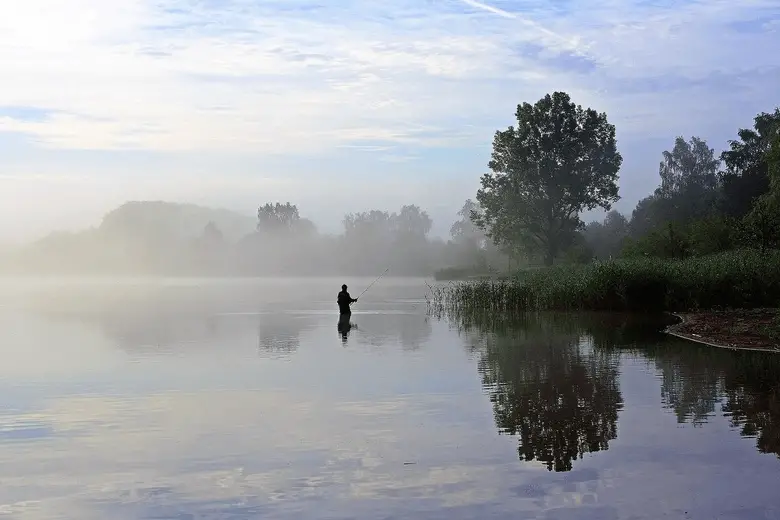 Yes. You can see fish with a down imaging fish finder. Fish are represented on screen as an arch shape. 
Learning how to interoperate these shapes and their associated colors will take some practice.
For example, fish in the center of a scan will show up as big, with strong color, usually yellow. They will also be a full arch.
The shape is due to the boat passing over the fish or the fish passing through the scan – IE, it's moving. The sound waves are actually bouncing off the swim bladder of the fish.
You will often see half arches, partial arches, and arches that are more line than banana-looking.
This can be due to the size of the fish but is more likely due to their position in the beam. 
A fish might only show as a half arch because it has only been partially caught by the beam or passes at the extremes of the beam's range.
What you are actually seeing on screen is history. When you see an arch on screen or anything else, that fish has already passed through the sonar beam.
It can take more time and a little experience to identify fish size. Just because an arch is deeply colored and big on screen doesn't mean it's big.   
However, the depth of color and the height of the arch can be a great indicator of larger fish. 
And a good way to back it up is to compare it to the size of the other arches and your knowledge and expectations of the area you're fishing.
Baitfish will show up as a large, suspended blob or cloud. Color intensity will indicate the density of the fish, letting you know a rough idea of the size of the school.
You'll be looking for solid, large yellow arches above, below, or beside the ball of baitfish. This means the larger fish are looking to feed.
Better still is when you see a large, solid yellow arch inside the bait ball. This is a strong indication that the fish are actively feeding.
The best way to understand what your screen is telling you is to catch and identify the fish that have shown up on the screen. 
This information can be applied to all scans you do following this.
Eventually, you build up a good understanding of the images on screen, and you can accurately predict what you see, often down to the species.
Here's a great instructional video that explains the basics, fishfinder 101 style. While all sounder brands will have subtle differences, basic operation and display are generally the same.
Also Read: What is the top side image scanner?
Is Down Imaging Worth It?
Value is a relative thing. Few things are worth busting your budget for. And, in all honesty, a fish finder is not necessary for catching great fish. Nothing can beat great fishing knowledge and intuition.
However, if a good fish finder is within your budget, then it is most definitely worth it. Fishfinders and good fish finder operation skills can take all of the search time out of fishing.
A down image fish finder allows you to see everything beneath the surface. You're looking straight into the fish zone, effectively eliminating a whole heap of guesswork.
There's nothing quite like seeing to add valuable information to fishing reconnaissance. And the bottom line is that it's better to see than not see.
With so many down imaging fish finders available at affordable prices, there's likely to be a fish finder in your budget that will deliver significant benefits to your fishing, including more fish, and better fish, more often and in a faster timespan.
Can You See Your Lure on Down Imaging?
If the lure is inside the scan zone, then yes you will be able to see it. But only if you are fishing vertically.
For example, if you're jigging directly beneath you, then you'll see the jig. If you're casting away from the boat, using surface lures, or trolling, then you'll not be able to see your lure.
Down Imaging Vs Sonar – What's the Difference?
There is no difference. Down imaging and all fish finding imaging uses sonar. The confusion is usually based on terms.
The difference is understood by most, as the difference between Regular sonar (2D sonar) and DownScan sonar. 
The difference is that down scanning has a more narrow beam that shows greater detail of the subsurface. Regular 2D sonar has a broader beam.
Down Imaging vs CHIRP. What is CHIRP?
CHIRP delivers powerful imaging as its scans continuously using a range of frequencies. 
Normal sonar will use one frequency at a time, or dual frequencies limiting the clarity and scope of the image. 
Frequently Asked Questions
Is Down Imaging or Side Imaging Better?
Down imaging and Side imaging are better suited to different applications, and therefore one is not necessarily better than the other.

Crudely put, down imaging is better for deep water and ideal for offshore applications, whereas side imaging is excellent for closed and more shallow waters.
Can You Use Down Imaging for Ice Fishing?
You can use down imaging for ice fishing. The trick to using a standard down imaging fish finder on ice is to ensure a good seal between the ice and the transducer.

Sonar will not travel through the air, so there must be no gap, bubbles, or dirty ice between the transducer and the surface of the ice.
Does Down Imaging Work Sitting Still?
Yes, it does. However, you will need to interpret a different, lower quality set of images, as sonar is designed to deliver images while moving.
Verdict – Is Side Imaging Worth the Extra Money?
Should you have the budget for investing in quality fish-finding sonar, then this is a technology that is definitely worth it. 
While not necessary for catching great fish and abundant catches, it will help no end in demystifying the hidden depths where your target goes about its business.
A good down image fish finder will help to increase your catch and the quality of your catch. They're eyes under the water.
While down imaging is the standard, and probably the most broadly owned type of sounder, side-scanning is also brilliant.
While an extra investment, which can add up if your sourcing from the top shelf, side imaging can be awesome for the inshore angler fishing the rivers, creeks, and estuaries where the waters are generally more shallow.
For those who fish the inshore grounds the majority of the time, a side-imaging sonar is a brilliant investment.
Also Read: