We hope you love the products we recommend. Just so you know, OnTrack Fishing may earn an affiliate commission from the links on this page, at no extra cost to you.
Garmin is a leading brand in the marine sonar and fishfinder industry. You'll find countless boats equipped with Garmin.
Garmin sounders and fishfinders cover all budgets, hence their broad popularity. 
They're fitted to kayaks, top-shelf sports fishing boats, cruisers, and yachts, from river to sea.
Among Garmin, who's running Panoptix, and who's running Livescope? More to the point, does that really matter? Is one better than the other?
The short answer is no. 
Both technologies are designed to achieve the same outcome – find fish and the places they lurk. And they both do it brilliantly.
In practical terms, the key differences in the technology are range and resolution. 
But you'll find one may be better than the other for your specific fishing applications.
Let's investigate Garmin Panoptix vs Garmin Livescope. Firstly, I'll briefly describe each.
What is Panoptix Livescope?
Garmin changed the sounder market when it introduced Panoptix in 2015. It was the first live sonar on the market.
Garmin Panoptix provides anglers with real-time 3D imaging of the underwater environment.
Panoptix offers a broad, comprehensive view of the underwater world, allowing anglers to scan a larger area.
It provides a live, real-time representation allowing users to see fish, fish behavior, structures, and movements.
With Panoptix anglers can see fish or schools of fish long distances away in a forward or down-looking view.
What is Garmin Livescope?
Panoptix was a game changer in the industry. However, Livescope, which was introduced in 2018, delivered a resolution so fine that fish anatomies could be clearly discerned.
Garmin Livescope provides real-time, highly detailed sonar images. Livescope delivers live imaging of fish movements, structures, and even bait presentations.
It provides a clear view of what's happening beneath the boat, giving you real-time insights to make informed decisions and shape strategies.
Livescope delivers outstanding screen resolution. You see details right to the bottom, down to the fish fin.
There are great benefits when the fish are hugging the bottom or hugging the structure. 
Livescope resolution separates fish from structure – they can't remain hidden from you.
Is Panoptix the Same as Livescope?
Both Panoptix and Livescope are advanced sonar systems designed to achieve the same thing – reveal all that is hidden underwater. 
However, they are not the same technology.
While both technologies offer impressive capabilities, they have different strengths and are suited for different fishing applications.
The choice between Panoptix and Livescope depends on several factors and is relative to your specific fishing or boating application.

What are the Differences Between Garmin Panoptix and Livescope?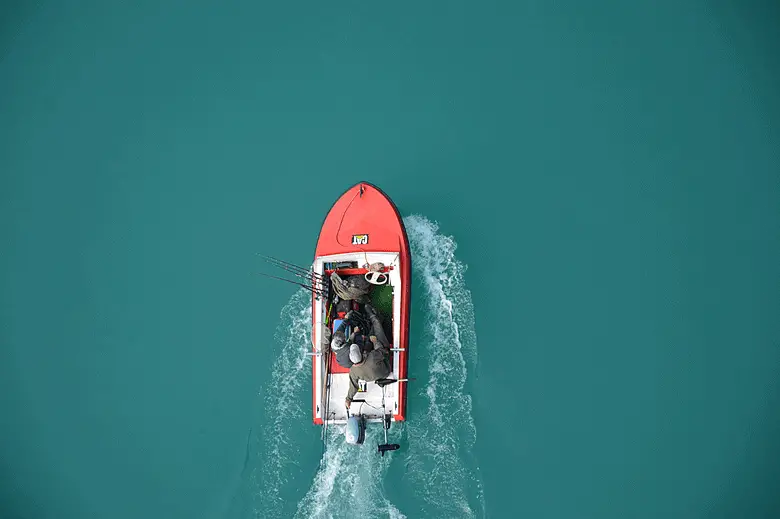 The difference between Panoptix and Livescope is sometimes described as Panoptix being for open waters, while Livescope is for shallow waters inshore.
There is truth to this and it's easy to accept this definition as accurate. Garmin's transducer mounting options would also support this. However, it's not quite that simple.
The simplest, most accurate way to describe the difference in practical terms is that Livescope delivers better image resolution whereas Panoptix has a greater range.
You can see how that would translate to Livescope being great for inshore, and Panoptix being more suitable offshore.
However, it's more nuanced than that and comes down to the specifics of your fishing style and techniques.
There are circumstances outside the heads where Livescope is great, such as working a shallow reef or casting a short distance toward a rocky cliff shoreline.
You may be an inshore angler fishing huge lakes and rivers where your desire to map the lake bed gives Panoptix the edge.
Understanding the key differences relative to your fishing application is the best way to make the right choice.
Let's look at the basic differences in bullet points.
Garmin Panoptix:
Range of mounting options.
Utilizes phased array multi-beam scanning technology.
Provides a 3D view of the underwater environment.
Offers both forward-looking and downward views.
Offers a broader scanning range, suitable for mapping and identifying structures over a larger area.
Ideal for applications requiring a longer range and deeper water penetration.
Provides a comprehensive view of the underwater topography.
Well-suited for anglers looking for a broader situational awareness and mapping capability.
Garmin Livescope:
Designed for mounting on trolling motors.
Combines scanning and live imaging technology.
Delivers highly detailed, real-time sonar images of fish movements and structures.
Provides a forward-facing view, perfect for close-range fishing scenarios.
Excels in shallow waters, offering exceptional clarity and precision.
Offers real-time insights into fish behavior and bait presentations.
Preferred by anglers who prioritize precise fish targeting and live tracking.
Ideal for anglers looking for immediate and detailed fish detection. 
Garmin Livescope vs Panoptix Transducers
As I've stated, Livescope and Panoptix are two distinct sonar technologies. They utilize different types of transducers.
It's important to note that the specific transducer models and options will vary within the Livescope and Panoptix product lines.
There's a range of transducers that are compatible with these systems. Anglers can choose the one that best suits their fishing needs, boat setup, and preferred viewing angle.
Ultimately, the choice between Livescope and Panoptix transducers will boil down to range, mounting options, budget, and preferred image resolution.
Depending on your fishing applications, and budget, you may find yourself weighing up the pros and cons and making a compromise.
See Also: Best GPS Fisfinders Combos
Target Resolution
Livescope is classed as providing high-resolution images, whereas Panoptix is classed as providing low-resolution images.
Panoptix transducers provide low target resolution compared to Livescope. The view is akin to that of traditional sonar.
Fish and structure tend to show up as shapes and blobs, undefined, and requiring the angler to learn how to interpret images. 
Interpretation becomes pretty straightforward fairly quickly.
In contrast to Panoptix, Livescope delivers astonishing resolution. Even if you've never seen a sonar image before, images are unmistakable, even to the untrained eye.
On larger fish, 10 to 12 inches and above, you can make out fins, tails, and the smile on their face. You can make out fine details on submerged objects, and structures.
It's the resolution that has made Livescope incredibly popular. Not only can you identify fish, but you can also identify species without guessing or equivocation.
Importantly, for some species, Livescope creates a greater distinction between objects and fish.
You can see fish that are hugging the river bed, which you would likely miss with other sonar technology.
Range
Range is where Panoptix excels with an effective range of 300 feet. Livescope drops a third of this distance with a range of 200 feet. 
For some anglers, the difference in range can be a significant factor.
Mounting Type
The Panoptix is likely to be used in a much wider variety of settings and boats hence the range of mounting options.
Panoptix is available thru-hull, and transom mount, with the PS 31 also mountable to a trolling motor.
All Livescope transducers are trolling motor mounted and can be mounted on either the barrel or the shaft.
Beam Width
Depending on your traducer choice, Livescope offers a beam width of 135 x 20 degrees on the LVS 32 and the latest LVS 34. 
The base model LVS 12 has a beam of 30 x 20 degrees.
The Panoptix transducer option has a beam width of 120 x 20 degrees. Panoptix PS31 is the exception with a beam width of 120 x 60.
Pricing
Panoptix and Livescope transducers aren't cheap. This is why many budget-driven anglers shop around for the best model the first time.
You can check current prices below, including the price of the latest Livescope LVS34, which is not a significant price jump from the LVS 32.
Livescope
Garmin 010-02143-00 Panoptix LiveScope LVS12 Transducer
Provides 30 degree forward and 30 degree down real-time scanning sonar views
Forward view shows structure and fish swimming in real time up to 200' away from your boat; down view shows structure and fish swimming in real time up to 200' deep below your boat
Both forward and down views included in one transducer, with no manual transducer adjustment needed
Does not require a black box, making installation easy
Last update on 2023-12-02 / Affiliate links / Images from Amazon Product Advertising API
Garmin 010-01864-00 Panoptix LiveScope Scanning Sonar System
See highly detailed, easy-to-interpret Live scanning sonar images of structure, bait and fish swimming below and around your boat in real time, even when your boat is stationary
Easily adjust the transducer to fit your fishing techniques; point forward to see around your boat, or point down to see directly below your boat
See incredibly sharp real-time scanning sonar images up to 200' down and away
Attitude heading Reference system (airs) stabilizes sonar view on chart plotter screen, even in rough conditions
Last update on 2023-12-02 / Affiliate links / Images from Amazon Product Advertising API
Garmin 010-02706-20 LiveScope Plus LVS34-IF Transducer
The best of the best just broke new ice with the LiveScope Plus LVS34-IF ice fishing transducer
Pair it with your compatible Garmin chartplotter via your GLS 10 sonar black box to get improved resolution, reduced noise, clearer images and better target separation in LiveScope Forward and LiveScope Down modes
With a durable, flexible cold-weather transducer cable, you're set for a day on the ice
Includes LiveScope Plus LVS34-IF, 0 degree LiveScope pole mount, and documentation
Last update on 2023-12-02 / Affiliate links / Images from Amazon Product Advertising API
Panoptix
Last update on 2023-12-02 / Affiliate links / Images from Amazon Product Advertising API
Garmin 010-01284-00 Panoptix Transducer - PS30, Down
Three Views: LiveVu Down, RealVu 3-D Down and RealVu 3-D Historical
Frequency: 417 kHz; Power Output: 144 W
Beam width: 120°x90° Max; Maximum Depth: 300 ft.
Number of Pins: Ethernet; Cable Length: 15 ft. power cable and 30 ft. Ethernet cable; Supported Deadrise/Transom Angles: 0°-70° transom
Last update on 2023-12-02 / Affiliate links / Images from Amazon Product Advertising API
Garmin Panoptix PS31, Forward Looking Transducer
With one Panoptix Forward transducer, you can actually see the bottom, structure and fish swimming around in front of your boat — in real time; even while stationary.
You get 2 impressive views: LiveVü Forward and RealVü 3-D Forward.
Last update on 2023-12-02 / Affiliate links / Images from Amazon Product Advertising API
Last update on 2023-12-02 / Affiliate links / Images from Amazon Product Advertising API
Which is Best for Fishing Shallow Water?
Both Panoptix and Livescope perform well in shallow water. For some anglers, with a wide range of fishing applications, it can be a tough choice.
However, there's no question that Livescope excels in the shallows, where it's better suited than Panoptix and a brilliant option for shallow-water anglers.
It provides exceptional clarity and precision, and incredibly high-resolution images.
Livescope works as shallow as 3 feet, with 3 to 15 feet depth being the optimum range for best shallow results.
It should be noted that adjustments to your transducer are required. It should be turned so it sits horizontally.
It will need to be readjusted if returning to deep water as the horizontal position in shallow water range is reduced to around 50 feet.
Just be aware that LVS 32 owners will need to purchase perspective mode, as it is sold separately. However, the new LVS 34 includes perspective mode.
What Is the Newest Live Scope Transducer? Livescope Plus and The Lvs 34
Livescope Plus is the latest addition to the Garmin live sonar family. The Livescope Plus System has better resolution and target separation, reduced noise, and clearer images.
Be it in forward, down, or perspective mode, the improved sonar crystal technology is more sensitive, making all images sharper.
Garmin claims that the LVS 34 offers a 35% improvement in target resolution of the standard Livescope.
Most users who have made the comparison will agree that the 34 is an improvement in resolution, but how it's determined to be a 35% improvement is a bit of a mystery.
In practical terms, we concluded that the biggest improvement was in target separation.
Importantly, an improved, easily adjustable mounting bracket ensures you can change the transducer to suit your viewing mode with limited fuss.
Frequently Asked Questions
Does Panoptix Need a Black Box?
Panoptix Livescope LVS12 sonar does not require a black box. The full range of Panoptix units doesn't require a black box either.

LVS 32 requires a black box, so if you already have an LVS 32 and want to upgrade to the LVS 34, your existing Livescope System black box, the GLS10, is perfect.
Is Livescope Good For Bass Fishing?
Most sonars are going to help you find and catch fish. It helps you identify habitat as well as schooling and individual fish.

Using Livescope is going to take your fishing adventures to the next level. Using Livescope can be so good that it has often been referred to as cheating.

It's all about information and the quality of information. With Livescope, you get a large volume of extremely clear information about everything that's happening under the surface.

For example, You can see where a large bass is lurking, easily differentiating it from the structure it's hugging in wait for lunch.

You can cast your lure and see it on Livescope as you crank it past your target. You can immediately assess if the bass is interested.

If not, change your lure and try again. Now you can get it closer, ensuring you avoid the snags as you can see them in fine detail.

Livescope is a revelation for bass fishing, and worth the investment.
How Long Will a Garmin Livescope Last
Garmin Livescope will draw as much as 8 amps per hour.  It requires a 12V, 46 Ah battery, which should provide around 8 hours of run time. 

A smaller  23 Ah battery will deliver around 4 hours of run time.

Boat owners have a variety of battery set-ups on board, and can often have many items drawing power. Weather will also play a role in battery efficiency.

The abovementioned run times are indicative under normal circumstances but will vary based on your specific circumstances.
What Size Battery is Best for Livescope
The best battery for Livescope depends on the amount of time you wish to spend on the water with full power.

Lithium-Ion is a must with modern tech. If you're using it for ice fishing, you definitely want the weight and size convenience.

In my opinion, a 12 V, 23 Ah Lithium Ion battery doesn't cut it. Maybe on board a yak, but that would be it.

You want a minimum of 8 hours run time at full power, without having to manage draw by reducing screen brightness and turning off functions.

A dedicated 46 Ah Lithium-Ion battery is a great starting point. But it will all depend on your circumstances and general power requirements.