Finding the perfect spot to wet a line has never been easier. Fishing Near Me takes out all of the guesswork when it comes to finding fish and finding that perfect fishing spot.
Traditionally, finding the perfect fishing spot was about time on the water. As kids, we learned from our family and friends, went to tackle shops, bought magazines, and looked at where everyone else fished.
Now, things are different. Websites like Take Me Fishing have revolutionized the way we approach fishing information. 
The information we can now get is phenomenal. 
Not only do we get locations, but we also get real-time updates of critical information such as weather, tides, fish activity, successful techniques, baits, lures, and more.
You can find places to launch your boat, as well as identify land-based opportunities and great locations for kayaks and SUPs.
The site is useful for anglers of all skills and experience.
It's great for locals to become reacquainted with their own backyard, picking up new information about old stomping grounds they may never have considered. 
It's also perfect for travelers to discover a fishing destination they've never been to before.
The traveling angler can select a location they've never been to let alone fished and hit the water with all the information the locals have gathered over decades on the water.
Some might call this cheating, and maybe it is a bit. But with the busy lives we all lead, a little help to save us a little time searching for fish is very welcomed.
Let's have a closer look at the benefits of this interactive map.
Find The Best Fishing Spots Near Me With This Interactive Map
So much more than a map, this is a comprehensive interactive guide designed to get you to the perfect fishing spot anywhere in the US.
The map provides valuable information that will help you not only find fish but give you real-time inside info about how you can catch plenty of your favorite species.
Here's a taste of what this map can provide. What's more, it doesn't cost a cent.
Fishing Forecasts
Learn instantly what's biting and when. Match up the weather, tides, and moon phases and find out when the fish are most likely to be on the chew.
Species Guide
Want a huge black drum? The guide will tell you what species are available in any location. It will detail prevalence, as well as the best techniques, lures, and baits.
What's Happening Right Now
This function allows you to see recent catches, including user photos, tips, experiences, and other useful information shared by fellow anglers.
Target Species
Convenient search filters allow you to enter a specific species you're after and will pinpoint all the locations you can find them. 
A Trove of Valuable Information
Click on the icons and you can discover a wealth of valuable fishing information and a whole lot more. The interface is very easy to navigate. 
You can use filters to narrow your searches, such as locations and species. You can also find:
Boating marinas with births and fuel supplies
Charter boats and fishing charters
Fishing tackle shops including specialty shops like fly, carp, and bass
Marine protected and fish refuges and hatcheries
Places of interest include campgrounds and accommodation
How Use The Interactive Map To Find Good Fishing Places Near Me
The Take Me Fishing's map is straightforward to use, even if it may seem a bit complicated at first due to all the markers and features.
Here is a short video explaining how to use the map.
Where is The Best Place to Catch Fish Near Me – Different Water Bodies to Find Fishing Near Me
10 lifetimes wouldn't be enough to discover the endless fishing opportunities in the USA. Believe it or not, there's plenty of them within a short journey from your place.
You have rivers, lakes, and a phenomenal coastline. 
From the mountains to the sea, fish near me can tell you everything you need to know about a popular fishing spot and that perfect fishing adventure.
Nearby Coastal Waters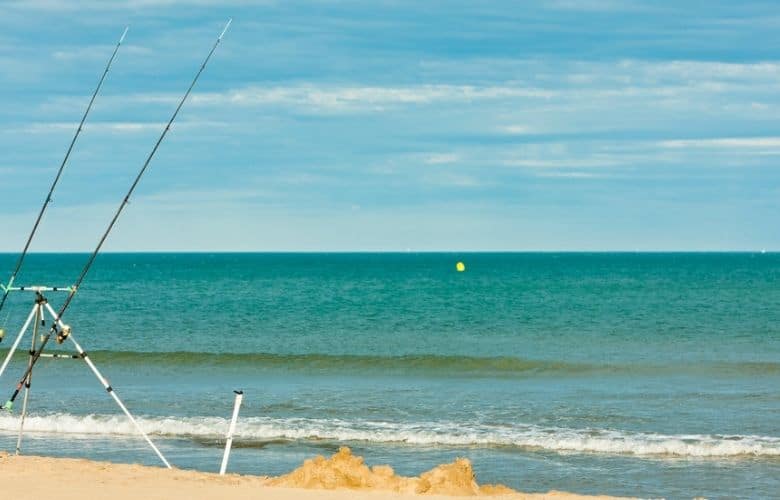 The saltwater offers countless opportunities from land-based game and big sharks, to monster drum, stripers, and more.
You can catch a sailfish from a pier or wrestle a hammerhead from a local surf break.
Consider this. There are 95,471 miles of coastline brimming with fish activity. Tidal zones provide anglers of all skill levels a chance to catch something big.
Coast dwellers take the 24/7 fish bonanza for granted. They're spoiled for choice and often within a very short commute from home. 
For those from the central US, exploring the coast can be a daunting prospect – where do you begin?
Think of a location and a species. Are you taking the boat, or are you fishing from the shoreline? Put the filters into the map and a multitude of potentials will flash up on the screen.
Click the icons in locations you're considering and learn what you can catch and how you can catch them.
Have a look at the photos and inputs from other users to find out what you can take from their experiences.
Find boat ramps, fishing cleaning facilities, and more. Find out local information about bar crossings, and identify those that might be on the tricky side in poor weather.
Find out when particular species you might have on your bucket list are active. You can also discover the best tides, and weather conditions for targeting them.
There's no better way to pinpoint the fishing spot you want than a quick search on the fish near me website.
Nearby Lakes
Lakes and estuaries offer a lifetime of fishing possibilities. Using the fish near me map can help direct you to the best fishing locations or the species you seek. 
It can also direct you to campsites, trailer parks, and other such facilities for the fishing holidaymaker.
Lakes and estuaries can be huge. The Chesapeake Bay covers  64,000 square miles. Lake Michigan is 22,400 square miles. That's a lot of water and a lot of target zones. 
So where do you begin?
Check out the locations you have in mind on the map. It's also worth checking out a few others nearby that you may not have considered or even heard of.
Click the icon and see what they're catching, and how they're catching them. Will you need a boat? Or are there plenty of land-based opportunities?
If you're new to the area, get as much information as you can. One thing to consider is safety. Plenty of southerners visiting Lake Michigan may not know how dangerous the waters can get.
Few think of boat-sinking waves when you think of a freshwater lake – Lake Michigan is famous for it.
This sort of information can be gleaned from fish near me, and it's an important part of planning to understand what you might be in for should the weather turn bad.
With over 300 species of fish and crab, Chesapeake Bay has something for every angler. Seeking a Chesapeake Bay flounder?
Put flounder into a search and it will show you plenty of fishing locations to head to, so you don't have to spend all your time searching 64,000 miles of water for a fish.
The interactive map will indicate everything you need to know from boat ramps, camp spots, tackle shops, fishing tips, and critical geographical information that can bolster your fishing armory.
Nearby Rivers
Fishing rivers provide access to plenty of fish targets. There are also plenty of techniques, methods and applications.
For example, Do you intend to launch a boat? Will you be launching a kayak or SUP? Do you intend to fish the banks, or will you be wading, chasing trout with your favorite homemade flies?
This is where the detail available on fish near me comes in handy. A location you heard about may well be accessible only by kayak. 
An awesome trout fishing spot you heard about might be a 1-mile work from the nearest access.
You can put a species in a search and identify the best locations and even the best approach for that particular location.
The site can provide geographical details about bank structure and channels that allow you to prepare a plan of attack.
Rivers are long. They can have many tributaries large and small, including those you would never have discovered without having explored fish near me.
If you feel the need to fish a river, try typing in a location. Are you land-based? Are you interested in a particular species? 
Type in bass, and the fishing near me map will light up a bunch of places where you'll encounter bass. It's that simple.
Bait Shops Near Me
I am definitely one of those long-time anglers who have turned up to fish a location without bait just assuming I'd…well, I don't know what I was thinking.
More than any other feature, be it, tide, time, weather, or rig, the most critical aspect of any fishing trip is bait.
It should be fresh, it should be local, and if you really want to do well, it should be alive. 
Good bait shops will sell fresh and live local baits that the fish in your area consider a staple.
Getting baits from local suppliers has the added benefit of a quick chat with the supplier for some great local tips.
The good fishing near me may will have bait shops listed. Check out the feedback from other site users with reviews and insights.
Boat Ramps Near Me
You can't launch your boat just anywhere. And not all boat ramps are created equally. 
Interactive fishing maps can provide you with detailed information on boat ramps, not just the location.
For example, some boat ramps are more akin to dodgy goat tracks from which launching a canoe can be tricky. 
Others are a masterpiece of engineering, where vehicle volumes, changing water levels, and various boat sizes have been considered in construction.
And of course, there's everything in between. Knowing whether or not a ramp is appropriate for your boat can save a lot of heartaches and wasted time.
It's also handy to have an insight into the popularity of a particular ramp. All boat owners know the dramas that can unfold at a popular boat ramp in peak season.
Understanding this sort of information will allow you to plan, compensate for busy periods, or find less popular, off-the-beaten-track ramps, which may be suitable for your car and boat, and also free from peak crowds. 
Any easy launch is always a happy note on which to commence a fishing trip.
Tackle Shops Near Me
The local tackle shop is probably the best source of local fishing information, perhaps more than any other fishing resource. 
Interactive fishing sites will list tackle shops near me, and I always recommend you take the time to stop by.
Firstly, they no doubt stock local baits, live and dead, frozen, and fresh. Being local, the bait is likely sourced locally and therefore the best natural bait option by far. 
There's nothing better than using the baits local fish eat.
Secondly, and perhaps most importantly, is advice. When it comes to fishing there's nothing more important than local knowledge.
A survey of each fishing location will give you plenty of insight as to spots that are likely productive. 
However, a quick chat with a local tackle shop operator can provide you with the all-important nuanced details that can be the difference between a serious purple patch and no fish at all.
For lure anglers, a chat with the local tackle store can't be overemphasized. These guys know the lure types and colors that work for local species, and what to deploy when. 
They also can advise on backup lures and techniques you can try when a standard approach doesn't work.
Here's a tip: While most tackle store proprietors are happy to give you plenty of local info, you'll find they get more chatty when you buy more stuff. 
Support the local business. Purchase bait, some lures, and terminal tackle, and you can expect to get more detailed information.
Importantly, use the fishing near me site to get clued in on local fishing so you know what questions to ask at the local tackle shop.
Tip – How To Find Local Fishing Spots Using Google Maps
Interactive fishing maps become a whole lot more potent when you can back up locational information, such as routes and geography using google maps.
In fact, using google maps can be the key to planning your trip, finding the perfect spot, and getting there without undue adventure.
There's so much an angler can learn via google maps, particularly the satellite view. Check out how these guys below use google maps to plan their next fishing adventure.
In the map view, you can get the most direct route to the body of water you plan to fish. 
Sometimes the small dirt roads, obscure access points, and even off-road, ungazetted tracks will show up on the map view.
In the satellite view, there is a ton of information an angler can use to find the best public fishing locations.
For example, many roads access bodies of water that are unmapped, yet show up clearly on the satellite image. 
You can assess whether or not they are an option for getting people to the water's edge, or indeed your vehicle and water craft.
You will also find that the satellite image can provide quite detailed images of the waterway you intend to fish. 
The satellite image will often show channels, banks, reefs, rocky outcrops, small islands, weirs, and more.
With the more clear images, it is even possible to assess deep and shallow water and assess the surface of the water for wind impacts.
Don't Forget to Get a Fishing License for Your Local Area
A well-planned trip ensures you are better placed to avoid misadventure. There are few fishing trip outcomes more heartbreaking than a large fine or even worse.
Fisheries protection is serious, and you should always research fisheries rules and laws for the area you intend to fish. 
Nothing short of a complete understanding is warranted. Interactive fishing sites can be great for getting this information, but you shouldn't rely on it completely. 
When fishing rules are concerned, it's best to trust only the official government and council information. 
Check their sites, or call them. Most local councils provide current and detailed information about fisheries regulations.
There are national, city and state, regional, and even local fishing rules that should be taken seriously. It is strongly advised you have a grip on this before you go. 
You may have to get licenses, which may take time, and there may be seasonal fishing information that may impact your plans.
Often, the rules can extend well past getting a license. There might be rules associated with particular species, fishing techniques, catch limits, fish sanctuaries, and other such things.
Usually, there are no excuses for non-compliance, and fishing authorities can be quite firm. 
Just remember, it's about conserving our precious resources, so while compliance can be frustrating,  there's a good reason behind it.
Good Fishing Near Me – A Summary
Interactive fishing sites are popping up everywhere and provide a massive boost to the outcomes of your fishing adventures.
For the traveling angler, it can be a one-stop resource for locating good fishing holes in an area for which they are completely unfamiliar. 
A half-hour on-site, and you can fish a place you've never been, with an idea of target species, rigs, lures, baits, times, techniques, and tips.
For home-based anglers, the interactive site can provide a whole new level of insight into waterways you've fished forever. 
You might also find there are some productive fishing spots that you have never considered, that are not far from home.
A place you have fished with poor results might get a new lease on life as you discover the techniques others have used to fish it successfully. 
The interactive site can be a terrific way to learn more about a fishing hole that you've fished for years.
The wonderful thing about the good fishing near me map is that it is a resource that is shared by countless anglers. 
Through their experiences, successes, and bad days, you can learn a heck of a lot before you even pack your gear.
Half the fishing battle is knowing what, where, and how. Another battle is finding the time we need to fish. So when we find the time, we want to catch fish, no cast at nothing.
When you know what, where, and how, you can save an awful lot of wasted time fishing unproductive areas. 
Using fishing near me provides you with the local insights you need to make the most of every fishing minute. Get clued in. 
Don't fish in a desert. Hit the right spot every time, and make every fishing trip a purple patch.