We hope you love the products we recommend. Just so you know, OnTrack Fishing may earn an affiliate commission from the links on this page, at no extra cost to you.
In the market for a new spinning rod? If so, you might want to consider the Fenwick Eagle spinning rod. I'll tell you why in this detailed Fenwick Eagle Spinning Rod review.
This fishing rod might not be the newest on the market, but it's definitely one of the best! It builds on the classic Fenwick model and continuously outperforms its competitors.
Fenwick made the original graphite rod when most manufacturers were only using composite or boron. 
Today, the Fenwick Eagle spinning rod offers a revamped version of that classic design. 
What is the Fenwick Eagle Spinning Rod?
While both spinning and casting rods have their place in your fishing arsenal, it's important to keep the Fenwick Eagle spinning rod in mind regardless.
This rod is one of a kind and easy to use. Spinning rods are known for their ease of use and this rod is no exception. 
Designed to be paired with a spinning reel, this rod is incredibly easy to use, particularly if you are a beginner. 
The rod has well-tested guide spacing that is perfect for fishing, something else that is worth writing home about. 
Although you might think the more the better when it comes to guides on spinning rods, that's actually not the case. The line will be pulled beneath your rod when you fish, so the extra guides are superfluous.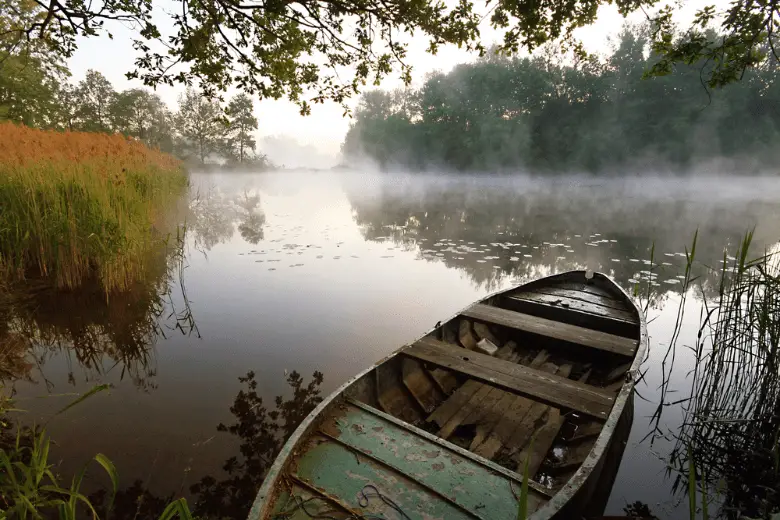 To use this rod, you'll hold the line with your index finger pressed against the rod. Open the bail, loosen the line, and you're ready to cast.
The benefit of using the Fenwick Eagle spinning rod is that it is incredibly effective in any kind of wind resistance. 
Whether you're passing beneath a low-hanging cover, like docks and piers, or you want to plunge deep down into the water, you'll be able to do it even in windy conditions. 
A spinning rod like the Fenwick Eagle spinning rod is perfect for when you want to fish on vertical covers such as sheer bluffs, pilings, high vegetation, timber, and seawalls. 
You can even use it on a current break, such as when you want the bait to drop directly down into the water. 
This spinning rod is incredibly versatile. You can use it for trolling, anchored fishing, or even downrigging. You'll find that it is incredibly consistent and versatile. 
Fenwick Eagle Spinning Rod Review – Features and Benefits
Not sure whether the Fenwick Eagle has everything you're looking for? Here are the main features and benefits of this outstanding rod. Trust me, the features of this rod really help it sell itself.
Rod is Available in Several Sizes
This spinning rod from Fenwick is available in several sizes. You can get it in six and a half, seven, and seven and a half foot options when you shop on Amazon alone. 
Other retailers offer the rod in five and a half and six-foot lengths, too. 
All are offered in a convenient one-piece design with medium or medium-heavy action (when bought on Amazon). 
Again, when you shop around to other retailers, you'll find that this rod is also available with fast action. 
The action refers to how much the rod bends along the blank when you apply pressure to the tip. Fast-action rods bend primarily at the tip, while slow-action rods bend in the lower third of the blank.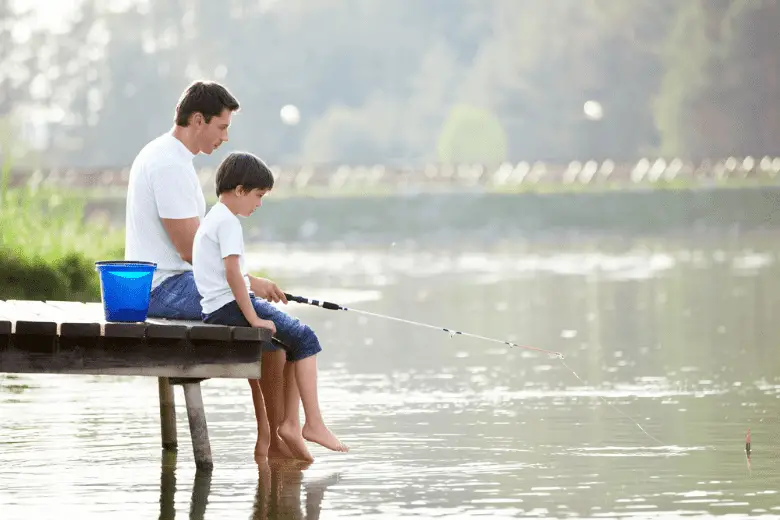 Other retailers also offer options when it comes to power, with ultra-light, medium-light, and medium options available for purchase. What do I mean by power? 
This measurement simply refers to how much force it takes to bend the rod.
You will want to adjust the rod power based on what kind of line tests and lure weights you intend to use. 
Select a rod based on the lines and lures you use most often – a consideration that will likely be determined by the kind of fish you tend to go after. 
The company does make a two-piece design of this rod, but it can be a bit more difficult to find. 
For the most part, these rods are the average length you'd want to find in a spinning rod. They have longer handles that are perfect for trolling and offer all the backbone you could ever need. 
Designed For Comfort
With a responsive action and B2 curled cork, you'll find that using this spinning rod from Fenwick is just like having control over a fifth limb! 
It's very responsive to your body and in tune with how you move. 
I've used a lot of fishing rods in my day, and this spinning rod is by far one of the most comfortable. 
It has a burled cork handle, as mentioned, that looks a lot like traditional run-of-the-mill cork but is much more resistant to chips. 
Plus, cork is great for use in colder weather. I fish a lot during the winter, and I've always found a rod with EVA foam handles a bit too chilly on my hands, especially when I fish without gloves.
You'll love the feel of the cork handle, especially in terms of its responsiveness. 
It helps distribute vibrations better throughout the handle, so you'll have increased sensitivity when you're using fishing techniques that demand increased sensitivity.
That's because cork has a better damping capability. This means it can spread vibrations much more easily and will be ideal for fishing techniques that ask for a bit more sensitivity. 
The butt end of the rod is tapered and paired with a beautiful logo. It can be a bit challenging to keep the handle clean, but otherwise, you'll absolutely love how this spinning rod feels. 
I should also mention that it can be used by both right and left-handed individuals. Since it has an interchangeable handle, it can be used by just about any kind of angler.
It is lightweight and easy to move around. Although this rod does come in a two-piece function, the most common formulation is the one piece. 
However, even when you have it in one piece you won't find it cumbersome to tote around. It's made out of durable, resilient materials so you won't get tired out after just a few casts, either.
Easy to Modify Drag
Of course, drag is usually measured on a reel and not on a rod, but I think this is a feature of the Fenwick Eagle spinning rod that is worth mentioning. 
When you're struggling with a catch, the last thing you want to do is have to adjust your drag with the rest of the rod in the way. 
When you invest in the Fenwick Eagle spinning rod, you'll find that you can easily adjust your reel to make a full range of modifications – there's nothing that's going to get in your way. 
Exceptional Durability
The Fenwick Eagle spinning rod truly offers the best of both worlds. It has a timeless appearance yet offers modern engineering so that it can both look and perform at the level you are expecting. 
It has stainless steel guides with chromium-plated SS304 inserts. 
That might sound like a lot of jargon, but it's important to note that this spinning rod has these inserts because they are incredibly lightweight. 
In fact, these line guides weigh less than half of what typical aluminum-oxide guides do! Your rod efficiency will be maximized without impacting the strength of your rod. 
The rod blanks are equally durable. They are made out of stainless steel so that they are more durable and long-lasting. 
This is particularly true in comparison to the GT rods, the previous version of the Fenwick Eagle series of rods.
Finally, the Fenwick Eagle spinning rod is equipped with materials that make it incredibly corrosion-resistant. It will keep your rod lightweight with its guide frames and inserts made out of stainless steel. 
You can even use this rod in saltwater if you'd like – the choice is yours. 
Last update on 2023-12-02 / Affiliate links / Images from Amazon Product Advertising API
Why I Love This Rod
If the features of the Fenwick Eagle spinning rod didn't sell you enough on this product, then you might want to consider some of my favorite benefits of this rod. 
Balanced and Functional Design 
Before I get into the details, I'd like to say that this rod is one of the most attractive. Unlike a lot of the spinning rods you see on the market today, this one maintains a lovely classic appearance. 
It has an olive-bronze color that is absolutely timeless – none of the obnoxious bells and whistles that you'll find on other kinds of fishing rods.
I already told you about how comfortable this rod is to use, but it's important to note that it's also functional. 
You'll enjoy a reel seat that is balanced and secure. It has a long handle to increase your balance point and a stubby twist lock. 
You can use all kinds of reels of all kinds of sizes from all kinds of manufacturers. It's so well-balanced, that you can even use this rod for casting. 
Good Casting and Rod Action
Spinning rods aren't necessarily known for their ability to cast with ease, but this rod is the exception. 
You can cast light lures very long distances, making the Fenwick Eagle a true star when it comes to versatility out there on the water. 
You'll find that the medium action rods perform just a well as the fast action rods of other companies. Eagle rods are known for being on the fast side of things and this model is no exception. 
It has enough backbone to allow you to fish in heavy weeds and vegetation along with exceptional sensitivity. 
The Fenwick Eagle is incredibly flexible and transmits vibration well for a strong and sensitive feel. 
Fits Most Reels
I won't promise you that the Fenwick Eagle will fit your make and model of reel, but in most cases, it will fit just fine. 
Make sure you check before you buy if you already have a reel in mind that you'd like to use, but rest assured that it will probably fit.
Versatile for Many Kinds of Fish
I have never wanted to be that angler with a million different rods in my fishing tackle for every different kind of fish. 
This rod totally eliminates the need for me to do that, as it can be used on practically any kind of fish.
I can feel everything from a small bluegill that's really too small to even catch to massive largemouth bass. 
You'll find that you can throw both lighter and heavier lures with ease – and that you'll have a blast reeling in fish of all sizes. 
Excellent Handling and Sensitivity 
You don't have to sacrifice comfort for easy handling and sensitivity with this rod, either. 
In fact, you'll find that the guides I mentioned earlier also do a great job of handling braid lines. Braided lines can be tough to work with, but this rod can really maximize your fishing enjoyment. 
The stainless steel guides allow you to cast well even when using thicker braided lines. 
Longevity and Warranty Program 
I have a hard time spending money on a product if I don't believe it will hold up to the regular pressures of daily fishing. 
With the Fenwick Eagle spinning rod, it's something I don't have to worry about. 
The company offers some of the best customer service and is known for being one of the most customer-friendly teams around. 
When you buy this rod, you will benefit from a "Get Your Fenwick Fishing" program that will help you get back on the water faster if something happens to your rod. 
You can fast-track a return and even enjoy a five-year warranty on any rod in the Eagle series.
That said, you probably won't need to. The rod and all of its built-in components have incredible longevity and minimal problems. 
Of course, it's comforting to know that Fenwick has your back if and when something does go wrong.
Affordability 
Remember how I said I had a problem shelling out tons of cash for something if I didn't think it was truly worth it? Well, with this rod, you won't need to shell out a ton of cash, either. 
The Fenwick Eagle is a spinning rod with a price point that can fit nicely into your budget. 
It's considered a mid-budget rod, and while it's not the cheapest you'll find, it's definitely not the most expensive, either. 
It's perfect for novice and skilled anglers alike – and for those who are on a budget. 
Last update on 2023-12-02 / Affiliate links / Images from Amazon Product Advertising API
Any Complaints?
As with anything, there are a few complaints about the Fenwick Eagle spinning rod to mention. 
These are very minor and are often related to issues that arose when the product was shipped versus any long-lasting product-related issues. 
For example, some people reported issues with getting a two-piece rod when they ordered a one-piece and vice versa. 
Some customers had issues with the eyes being bent or the rod making a clicking sound when used – these also likely have to do with problems with shipping. 
Therefore, it's important to make sure you are ordering a rod from a reputable source and you will likely be able to avoid most of these problems.
The Fenwick Eagle spinning rod has minimal complaints of any substance to be worried about.
Some people didn't like the "cheap" quality of the line guides, although I didn't notice this as a problem. It likely comes down to a mere matter of personal preference. 
There are few reasons not to consider this spinning rod, except for the fact that the line can occasionally get knotted up or twisted. 
In my opinion, this is a sacrifice I'm willing to make, especially when you consider all of the other outstanding features of the Fenwick Eagle spinning rod. 
It's Time to Consider the Fenwick Eagle Spinning Rod
With nearly six decades' worth of experience in manufacturing quality fishing tackle, you really can't go wrong with the Fenwick Eagle spinning rod. 
While this spinning rod is one of my personal favorites, the company does also make a casting rod. 
The Fenwick Eagle spinning rod works well with lightweight lures and is great for casting longer distances.
 It is effective in windy weather and can easily dive beneath low-hanging covers. It has a high-quality cork handle design and can drop to the bottom of the water with no problem.
Whatever the case may be – and no matter how much experience you might have – the Fenwick Eagle spinning rod is definitely a rod to consider for your next fishing experience.