We hope you love the products we recommend. Just so you know, OnTrack Fishing may earn an affiliate commission from the links on this page, at no extra cost to you.
Walleye might not be the toughest of all fish species, but they certainly can pack a punch.
Fishing for walleye requires quite a bit of know-how, a dash of skill, and of course, the right equipment.
Hooking walleye can be a bit tricky, and if you don't have the right gear, you're going to struggle.
While you may be able to get away with using your five-year-old nephew's dusty spinning rod when you are planning on fishing other kinds of fish, walleye demand a more unique, more specialized approach.
This is why you need a good walleye jigging rod to help you get started.
Here's everything you need to know to select the best walleye jigging rod for your needs – as well as some of our top recommendations for the best all-round products.
What is a Jigging Rod?
The art of jigging is a bit different from other styles of fishing, like spinning or trolling. When you jig, you are lifting and lowering the bait chromatically.
As a result, you need to invest in a rod that meets certain requirements.
A jigging rod is a bit different from the two other types of rods you might use to fish for walleye – a jigging rod needs to be all about sensitivity as it is designed to be used vertically.
While a spinning rod or a trolling rod will be designed for constant movement, a jigging rod will be used in a stationary position.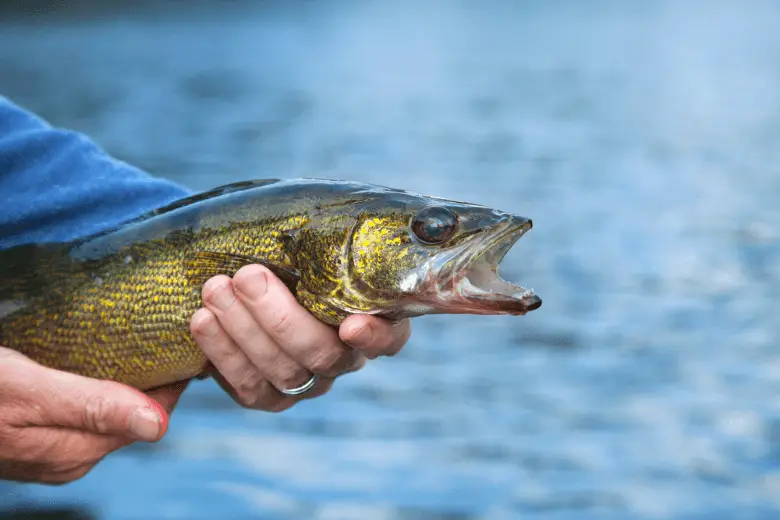 When you're jigging for walleye, you will likely be in a boat. A jigging rod will be easier for you to operate, as you won't need to cast it or utilize any fancy techniques.
You can control your jig and control your boat at the same time.
As a result, the best walleye jigging rod will be short – usually only about six and a half feet.
Some are longer, but the size of the rod is not as important as the sensitivity.
You need a fast action with medium power to give you maximum sensitivity while you're fishing for walleye.
What Should I Look For in a Walleye Jigging Rod?
When you're looking for the best walleye jigging rod, you will likely be overwhelmed by the vast variety of options there are out there for you to choose from.
However, if you keep in mind the following characteristics, you will have all the information you need to make an educated decision.
Sensitivity and Power
When you are jigging – for any kind of fish and not just walleye – sensitivity is key. This is why you can't just use any old type of rod for jigging walleye.
You need a jigging rod that is highly sensitive and has a quick action. Look for an extra fast tip that will make it easier for you to feel a delicate bite.
That being said, you don't want to compromise power for more sensitivity. You need a rod that will enable you to pull in the largest walleye in the lake.
Luckily, a walleye is not going to demand an ironclad rod. Aim for a rod that has light to medium power and you should do just fine.
Length
Most experts will recommend a six-and-a-half-foot rod. However, if you are looking for a rod that has better weight distribution and perhaps a better grip, you can also get away with a seven-foot rod, too.
Building Material
You should look for a rod that is made out of high-quality materials.
It will have corrosion-resistant properties and be resilient to drops, shock, and other wear and tear.
Look for rods made out of materials like graphite and aluminum for best results.
Price and Warranty
This will vary based on the manufacturer, but in general, look for a rod that is within your price range and comes with a reasonable warranty.
Life happens – and it may give you some peace of mind to know that your expensive jigging rod is backed by some level of quality assurance.
Selecting a rod that is manufactured by an established, well-known company in the angling industry can help provide this guarantee.
Best All Round Walleye Jigging Rods in 2022
Not sure where to start? Here are our picks for the best walleye fishing rods.
St. Croix Legend Tournament Walleye Freshwater Spinning Rod
St. Croix is at it again! This high-end Legend Spinning Rod can also be used for jigging.
It can handle a line weight of 6-10 lbs and has medium power with an extra fast action. It handles like a dream and is only six feet, three inches – making it one of the shortest jigging rods on our list.
Made out of high-modulus graphite, this rod has Fuji guides with alconite rings and a machined aluminum wind check and trim pieces.
It offers some of the quickest action you'll find and offers a premier walleye fishing experience – regardless of whether you are jigging or spinning.
What We Liked:
The excellent shorter length is ideal for adapting to different settings
Extra fast action
Made out of high-modulus graphite
What We Didn't Like:
Not rated to handle heavy lures
Fenwick Elite Tech Walleye Spinning Fishing Rod
Fenwick make some of the best walleye fishing rods on the market. This fishing rod is technically for spinning, yet it has a sensitive tip and enough strength in the pole to make it perfect for jigging, too. 
This makes it an excellent value for your money – it's a two-in-one device that can be used for two separate styles of fishing.
The rod blanks are graphite and come in several different actions and powers. The rod has a hidden reel seat that sits inline with the handle's contours.
You won't feel the reel seat threads, making for a much more comfortable day of fishing.
The pole has lightweight titanium frame guides and zirconium inserts for added durability without all the heft.
The rod comes with a lifetime warranty and is an excellent value for the beginner or expert angler.
What We Liked:
11 different packages with a wide variety of features
TAC and cork handle design to improve your grip
Medium power and fast action
What We Didn't Like:
KastKing Royale Legend Fishing Rod
This KastKing fishing rod is manufactured by a well-known brand and is one of the most sensitive walleye jigging rods you will find.
Strong enough to provide you with the backbone you need for a heavy catch, this rod also has accuracy and sensitivity to help you hit your mark.
This rod has a Kastflex blank building method that is uniquely designed to reel in large walleye.
It has Fuji Line Guides that offer superior casting distance – yes, you can use this rod for casting and not just jigging! – as well as improved accuracy and precision.
It has excellent durability and its line guides can be used with fluorocarbon, monofilament, and braided lines.
What We Liked:
Multi-purpose jigging rod
Lightweight, heavy-duty model
Can be used with fluorocarbon, monofilament, and braided lines
What We Didn't Like:
A bit heavier than other rods reviewed
G.Loomis Walleye Series
This jigging rod is one of the best walleye jigging rods around. G. Loomis is a well-known brand in angling products and offers a high-performance product in this rod.
It has precise tapers that allow you maximum flexibility. It even has a length adjustment feature, too, to allow you to adapt to a variety of fishing conditions and settings.
A lightweight rod, this pole is made out of high-quality materials and a fiber blend. It offers durability without sacrificing sensitivity.
Designed specifically for walleye, it comes with GLX recoil guides for a comfortable grip along with six different packages.
The various packages allow you to customize the action and weight of your rod.
What We Liked:
Comes with GLX recoil guides for added comfort
Fiber-blend construction is durable and long-lasting
Six different packages
What We Didn't Like:
Does not ship to all areas
KastKing Perigee II Fishing Rod
KastKing offers yet another product worthy of mention – the Perigee II is a great jigging rod for walleye.
It has high-quality carbon fiber blanks that provide power, strength, and exceptional durability. It has Fuji O-Ring line guides to make it easier to use.
You essentially get two walleye fishing rods for the price of one – it can be used for applications besides just jigging. 
This rod has smooth power and fast action. It even comes with EVA grips to make fishing comfortable and relaxing.
What We Liked:
Operates smoothly with EVA handle grips
Two-in-one application means the rod doesn't have to be just for jigging
Carbon fiber blank technology included in its construction
What We Didn't Like:
Reel seat is cumbersome to use
Tsunami Trophy Slow Pitch Jigging Rod
This jigging rod is the best walleye rod if you are looking for a lightweight option.
It is designed for the unique, new slow pitch jigging technique that requires slow movement with increased adaptability.
This rod has exceptional flexibility and can handle a wide variety of fishing techniques. Coming in at six and a half feet, this rod has a medium-heavy action and can handle 15-30 lb braid.
It has a conventional model with spiral-wrapped guides to give you a better load balance and more power. It has a genuine Fuji graphite reel seat and EVA grips for maximum comfort.
What We Liked:
Flexible and versatile rod
Contoured and comfortable EVA grips
Fuji deep pressed frame and O ring guides
What We Didn't Like:
Can be a bit too flexible at times
RoseWood Slow Jigging Rod
Another excellent rod for walleye fishing, this slow jigging rod has light, tender post-tail sets and can fish larger walleye with ease.
Made out of Japan carbon fiber, this rod has an X-type cross tip that makes it lighter and easier to use.
It has a dark EVA handle that makes it comfortable to use. It comes in two pieces so you can break it down for easy storage, too.
What We Liked:
EVA comfort handle
Made out of carbon fiber for added durability
Inexpensive option
What We Didn't Like:
Does not come with any warranty options
Jigging World Nexus Rods
Jigging World makes a variety of lightweight, versatile rods. You can use these rods for species besides walleye too.
They are designed for a wide range of fish including flukes, bluefish, sea bass, blackfish, striped bass, and more.
You can use these rods for casting, spinning, or jigging, with all rods coming in a single piece.
They can be purchased in three different weight classes to help you match your rod to the species and conditions for which you are targeting.
What We Liked:
Has comfortable and durable EVA grips to prevent slippage in wet fishing conditions
Trigger reel seat and a dual-locking mechanism
Best for inshore fishing
What We Didn't Like:
Can be too flimsy under some conditions
St. Croix Eyecon Spinning Rod
St. Croix is one of the top names to know when it comes to jigging rods.
This rod can be purchased in three different action ratings – medium light/fast action, light/fast action, and a medium-light extra fast action.
Both 6'6" and 7' poles are available. This rod comes with a full five-year warranty, graphite rod blanks, and Kigan guides.
What We Liked:
Comes with a cork handle and split grip
Lightweight product with superior performance
Kigan 3D guides are made with slim aluminum oxide rings
What We Didn't Like:
No anti-corrosion features
Cadence Spinning Rod – CR5-30
Another top-quality rod on our list, this one is unique in that it can be used in both freshwater and saltwater – meaning it's not a rod that is exclusive to walleye.
Constructed with 30-ton graphite blanks, it is durable and extremely light while also offering durability, power, sensitivity, and strength.
This jigging rod comes with stainless steel guides for a smooth fishing experience.
It has a Fuji reel seat and a professional-grade cork handle that will make jigging for walleye a comfortable and easy-going experience.
The comfortable handhold ensures you will be able to reel in heavy fish, too.
What We Liked:
Can be used in freshwater and saltwater
Comfortable cork handle and Fuji reel seat
30-ton graphite blanks offer exceptional power
What We Didn't Like:
Reel seat can be challenging to operate
Is a Walleye Jigging Rod Right For Me?
If you're headed out on the water to fish for walleye, you should consider investing in the best walleye fishing rod. 
Walleye jigging will allow you to fish in concentrated groups of walleye and to target your fish directly – no messing around.
With the best walleye jigging rod, you'll have more control and accuracy over where your lures and hooks go.
You can control your hookset and land some of the biggest and best walleye – consider purchasing a walleye jigging rod to help maximize your success on your next fishing trip.
Also Read:
Where to Find And Locate Walleye Ice Fishing
Top Ice Fishing Rod and Reel Combo For Walleye