We hope you love the products we recommend. Just so you know, OnTrack Fishing may earn an affiliate commission from the links on this page, at no extra cost to you.
Hands down, the trout is my favorite fish species to go after. Whether I'm fishing in a backwoods pond or a gently flowing river, there's nothing I love more than reeling in a beautiful, colorful trout. 
When you're trying to bring in the nicest-looking (and perhaps highest-weighing!) trout, you need to arm yourself with the ideal gear. 
A spinning reel and rod that work together in harmony will offer you the best chances at landing a gorgeous trout. 
But when it comes to the best trout spinning reel, how do you know what to look for?
Simple. Look at our buying guide and consider these 5 trout spinning reel options.
What Makes a Good Trout Spinning Reel?
Here are some things to consider when searching for a top-quality spinning reel for trout fishing:
Reel Size
One of the first features to consider when shopping for a spinning reel for trout is going to be what size it is. 
Reel sizes are usually designated by the thousands, and the larger the number, the better equipped it is for going after larger fish.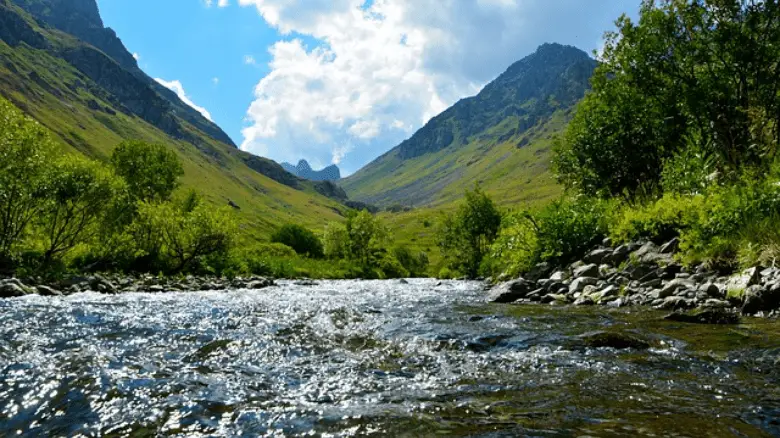 For instance, a reel with a 1000 rating will not go after heavy fish quite as well as one rated at 2500.
Beyond that basic rating, reel size can also correlate to power. If you have a reel with a higher rating, you will likely notice that it is more powerful when it comes to its gear ratio, drag system, and line capacity. 
Trout aren't massive fish, so you can usually get away with a reel that is rated at 2500 or 1000 in most cases. 
Gear Ratio
Gear ratio will be an important factor when it comes to buying a trout spinning reel.
Depending on the fish you are going after, you may choose to buy a reel that is equipped with a low, medium, or high ratio. 
Higher gear ratio numbers indicate the capacity for faster line recovery. 
Gear ratio can be quite helpful when you are reeling in fish – but when it comes to trout, you will want something with a medium ratio.
This will provide you the balanced levels you need for reeling in both small and larger fish.

Weight
Although not a major concern for most trout fishermen, the weight of your reel is also a factor. Reels that are ultralight are going to be easier for you to maneuver. 
Look for a reel that is a manageable weight for you, as it can be tough to reel in a fish if your reel is too heavy. 
Also Read:
What is The Best Fishing Line For Trout?
Drag 
Drag is what helps your fish stay attached while you are reeling it in. Drag helps to maintain the tension on the spool and it is vital for any trout fisherman. 
When you are looking at drag ratings, know that they are usually cited in pounds. A heavier drag means you will be better equipped to handle more stopping force. 
As a result, heavier drag means you will be able to reel in large, powerful fish more easily. Drag also means that the rod will be less likely to break when you've hooked a large fish. 
For trout, drag systems that are rated at 20 pounds are usually adequate. 
Ball Bearings
Ball bearings are important for any reel, but particularly when you are fishing for trout.
Ball bearings make sure that your reel will function the way they are supposed to without any kind of grinding. 
Ball bearings, typically, are designed to be corrosion-resistant or anti-corrosion. These are best, as they will repel moisture and build-up. 
Also, the best ball bearings for trout reels will be made from durable stainless steel – this is anti-corrosive by nature. 
Anti-Reverse
Anti-reverse systems are quite helpful. These components prevent the reel from moving in reverse, working with your drag to make sure that your fish is brought in before removing an entire spool of line.
In some cases, reels might have switches that enable you to use the anti-reverse system whenever you need it – and to turn it off when you don't. 
If you're fishing for trout, this feature is super beneficial. Although it's not necessary by any means, it can help you reel in a stubborn catch.
Also Read: Baitcast vs Spincast vs Spinning Reel
Reel Build and Housing
Your reel housing's material can dictate the type of fish you use it to go after. In most cases, reel housings are made out of graphite or aluminum.
The best reels for freshwater fishing usually are made out of aluminum, but if you're fishing in saltwater, graphite is best to avoid corrosion.
Since trout are freshwater species, an aluminum reel should suit you just fine.
Warranty
Some of the most popular trout spinning reels come with manufacturer's warranties.
Although these aren't necessary by any means, they can be great features to consider. 
A warranty tells you that the manufacturer stands by its product – and that's something to be valued in this day and age.
Top 5 Best Trout Fishing Reels 2023
Here are our picks for the best all-round trout spinning reels on the market today.
1. Abu Garcia Revo SX Low Profile Fishing Reel
If you love fishing, you already know the name Abu Garcia. One of the best ultralight spinning reels for trout is the Revo SX Spinning Reel by Abu Garcia. 
Whether this is your first reel or just another addition to your collection, it's an excellent choice. 
This reel has an X-Craftic gearbox combined with a unique C6 carbon body. This construction blends graphite and carbon for superior rigidity and a lightweight feel.
It has exceptional gear alignment, even when you're in tough situations. Have a fighter on the other end of your line? Don't worry. This reel can handle it. 
Plus, the Abu Garcia Revo has a Rocket Spool Lip that helps you nail precise and accurate casts regardless of your location – or what kind of line you are using. 
The Rocket Spool allows line to run off the reel with less drag, leading to more accurate and longer casting. 
The Abu Garcia Revo weighs just 6.66 ounces – yet can drag up to 20 lbs. That unique dynamic allows you to use small lures and catch midsized fish. 
With a gear ratio of 6.2:1, this reel is ideal for quick retrieval yet also gives you the smoothness you need for long, hard drags 
It has an adjustable brake system and uses magnets to help eliminate backlash.
You'll enjoy the quiet performance and you won't have to worry about corrosion, since the carbon handle housing, side plate, and the materials increase the durability of this reel. 
You will have unrivaled control with this trout spinning reel, which combines high performance with a low price tag.
A sleek looking reel with a classy red and black pattern, it's one you need to consider. 
Pros:
Has dynamic Rocket Spool Lip for casting
9 bearings
Gear ratio of 6.2:1
Cons:
Operation isn't quite as smooth as some of the alternatives
>Check Latest Price on Amazon<
2. Shimano Sedona Freshwater Spinning Fishing Reel
Shimano is the name to know when it comes to the best trout spinning reels, and this option is no exception. 
An upgrade from the original Sedona, Fl Freshwater Spinning Reel, this option has a state-of-the-art cold-forged HAGANE gear design. 
What does this mean – and what does it do for you?
It's simple. The Hagane design ensures that you will enjoy a durable, profound performance for years on end. 
Plus, this reel offers both smoothness and strength, regardless of whether you are fishing offshore or inshore. 
With a double-anodized, machine cut spool, this reel has exceptional line capacity without ruining the body's compact design. 
Cast longer – and farther! – without having to worry about knots or backlash with the patented Propulsion Line Management System of the Shimano Sedona Freshwater Spinning Fishing Reel, too.
Pros:
Incorporates the patented Propulsion Line Management System 
Has 4 bearings total
Comes in 1000 and 2500 sizes
Cons:
Drag capacity makes it ideal for larger trout
>Check Latest Price on Amazon<
3. Pflueger President Spinning Fishing Reel 
This Pflueger reel is called the President for a good reason – it allows you to truly take charge out there on the water. 
This spinning reel has a ten bearing system with corrosion-resistant ball bearings of stainless steel.
Although it's a small, ultralight spinning reel and constructed out of graphite, it's also heavy-duty. 
This reel is a great option for beginners as it can take a ton of abuse. It casts easily and can be used with various types of line.
The 25 size can hold roughly 110 yards of 4 lb monofilament. 
The President comes with a braid-ready spool along with a sealed drag system. It has a multi-disc drag system, combining oiled felt washers and stainless steel features. 
This reel also has an instant anti-reverse bearing for added crank control.
Since it's made out of graphite, you won't have to worry about it succumbing to the pressures of daily trout fishing, either.
Always lubricated and ready for whatever the lake might hand you, this system ensures slow oscillation and smooth reeling at the same time.
You won't have to worry about line twist with this reel!
Pros:
Made out of ultralight graphite and durable stainless steel
Has a sealed drag mechanism
Unique 10-bearing system
Cons:
Not ideal for saltwater as it is not sealed
>Check Latest Price on Amazon<
4. Okuma Helios Lightweight Spinning Reel
The Okuma Helios Lightweight Spinning Reel is another top performer on my list.
This reel is made out of a carbon and graphite blend. This keeps the weight at a minimum while improving efficiency. 
The reel operates smoothly with its 10 HP stainless steel bearings. It also has a state-of-the-art Rotor Equalizing System that is computer-balanced. 
With the capacity to hold 200 yards of 6 lb monofilament line, this reel is one of the best you'll find. 
Plus, it has a maximum drag capacity of eight pounds, more than you'll need when spinning for trout in most settings. 
Best yet, this reel is comfortable to use. Ideal for inshore fishing, it's ultralight and has a soft EVA handle.
Pros:
Has 10 stainless steel bearings
Carbonite drag system reduces friction
Corrosion-resistant 
Cons:
Not fully sealed to keep saltwater out
>Check Latest Price on Amazon<
5. Shimano Stradic Ci4+ Spinning Reel With Front Drag
Another Shimano spinning reel you need to know about is the Shimano Stradic.
This reel is perfect for trout fishing, combining the old, time-tested technology of Shimano reels with the newest innovations in angling gear.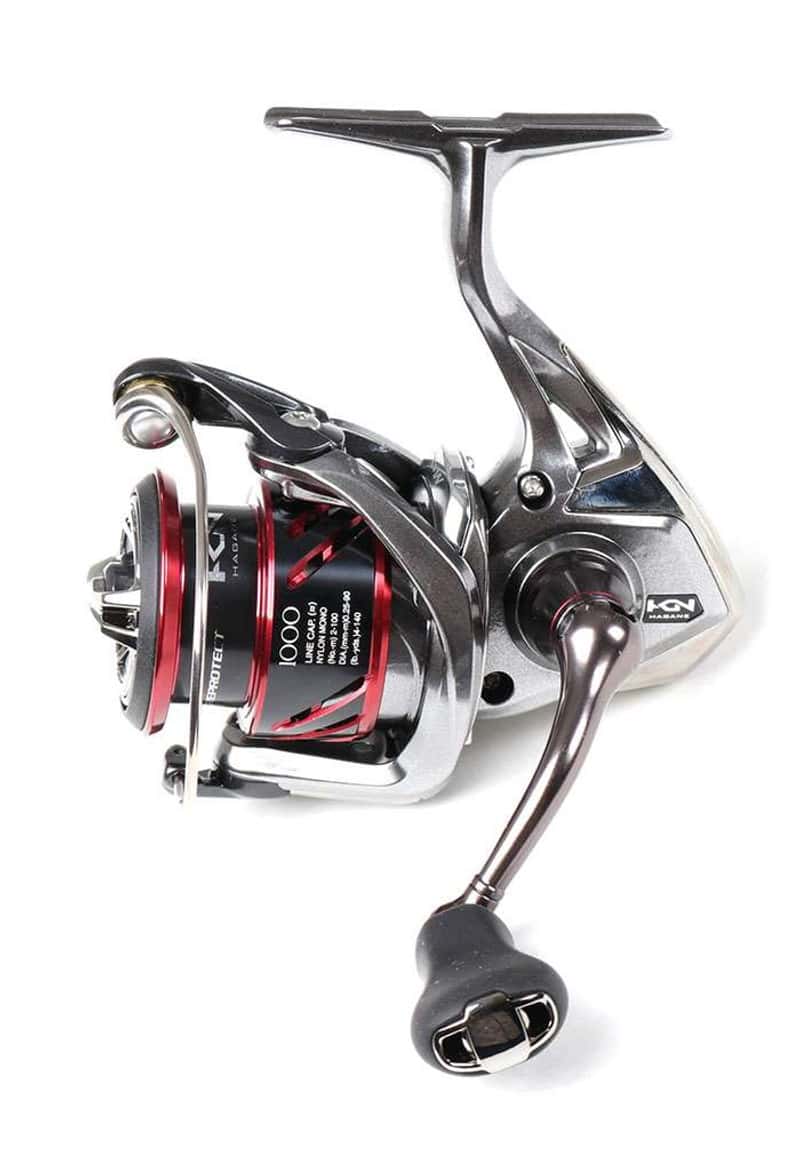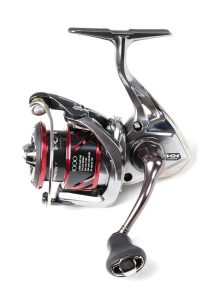 The reel features the Hagane design from Shimano that you know and love – plus, it has added durability and smoothness with several additional features. 
The Shimano Stradic has Carbon Infused technology that helps the reel aging to be 1.5x stronger – yet also 20% lighter – than the average graphite that Shimano typically uses. 
Plus, this material renders the Shimano Stradic a lightweight, smooth, and efficient casting machine. 
If you're still not sold, consider this – the Stradic has a power roller that reduces line twist to roughly half the normal amount.
You'll get better line management on this reel than on practically any other!
It has a Dyna-Balance rotor and Fluidrive II system, both of which combine to offer a superior level of casting abilities with unrivaled smoothness. 
You won't have to worry about line snags or tangles with this top-rated reel!
Pros:
Exceptional durability and ultralight construction
Waterproof drag housing maintains drag even after one minute of submersion
Internal gearing offers exceptional support during fights with large fish 
Cons:
Anti-reverse switch is too small for some users
Why You Need a Trout Spinning Reel
Fishing with a trout spinning reel isn't complicated. You can cast any weight of lure with a spinning reel, regardless of your skill.
When you pair a good, lightweight trout fishing rod with the best trout spinning reel, you'll have all the gear you need to cast and reel in fish. 
After all, your time on the water shouldn't be spent fiddling with your reel, trying to get line untangled or trying to figure out how your reel works.
Instead, you should consider one of these wonderful reels – and all the hard work will be done for you.