Spinning reels come in many models, varieties, and configurations that it's easy to get lost in all the choices. 
Selecting one that is right for you from the dozens of established manufacturers, along with the constant influx of new companies, can be daunting.
In this article we'll discuss some options that will help you decide which one best suits your needs. In the process, we'll try to save you a little money by reviewing the best spinning reels under $50.
Just because you are spending less money on a spinning reel doesn't mean you can't still have quality, durability, and performance.
The reels reviewed here all have very high customer approval ratings while remaining affordable.
Things to look for are line capacity, retrieval rate per crank, maximum drag, ambidextrous configurations, composition, and the quantity of ball bearings in the assembly.
Factor these in with the price, and you should be pleased with the reel you choose.
Best Spinning Reels Under $50 
Here are the best spinning reels under $50 in 2023
Favorite White Bird Spinning Reel
Best Cheap Spinning Reels Under $50
Okuma Alaris Spinning Reels
This reel comes in four configurations and all are within the under $50 parameter.
The ALS-20 is the smallest Alaris with a 4:8:1 gear ratio, 11-pound drag, and slow line retrieve of 23.9 inches per crank.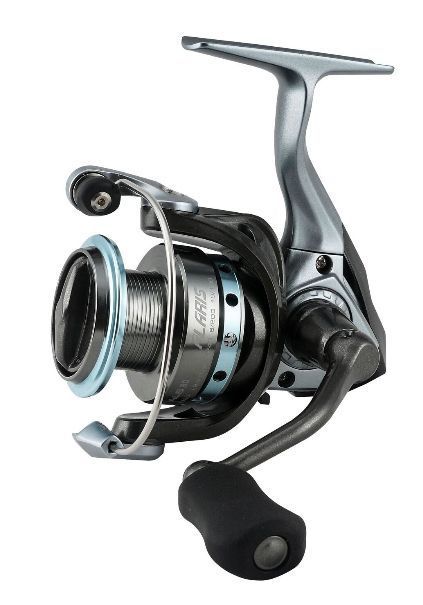 The body and rotor are graphite, with a machined aluminum spool. Three stainless steel ball bearings and one roller bearing, with an anti-reverse Quick-Set bearing, complete the assembly.
A line capacity of 220 yards with two-pound test, 140 yards with four-pound, and 110 yards with six-pound line add to the features.
The ALS-30 is slightly larger with capacities of 240-yards in six-pound test, 200-yards with eight-pound, and 160-yards with 10-pound test line.
The gear ratio is higher at 5:0:1 with a faster line retrieve at 27.8 inches per crank and a heavier maximum drag, adjustable to 15 pounds.
The drag on the ALS-40 has a higher maximum at 19 pounds, and a slightly faster crank retrieval rate at 30.4 inches, due to the larger spool. 
The bigger spool can take 260-yards of eight-pound test line, 220-yards of 10-pound, and 180-yards of 12-pound test.
The ALS-45 is nearly identical to the ALS-40, with the notable exception of a smaller spool.
The ALS-45 holds 240-yards of eight-pound test line, 170 yards of 10-pound line, and only 125-yards of 12-pound test.
Pros:
Wide range of configurations
Lower gear ratio allowing more control on retrieves
Good line capacity
Price
Cons:
Only three ball bearings
Wire bail
Graphite rotor
Light drag
>>Check Price on Tackle Direct<<
Daiwa Revros LT Spinning Reels
Daiwa Revros will grab your attention as easily as it will catch fish. The Revros LT is a thing of beauty with a gold handle, gold spool, and gold trim set against a glossy black body.
But don't let this fashionable reel fool you with its good looks; when it hits the water, it is all business.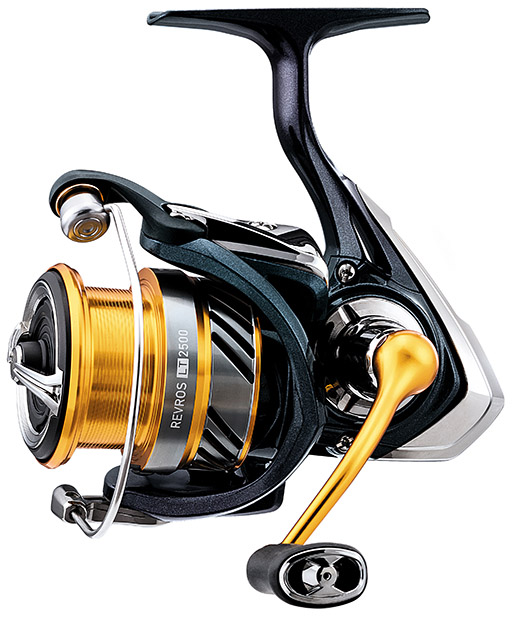 Available in 10 different models, we'll focus on the three designs that are under the $50 spending ceiling.
The REVLT1000D is a light reel at just 6.4 ounces. It has a 5:2:1 gear ratio, an easily controllable 25.5 inch per crank retrieval rate, and a drag setting that maxes 8.8 pounds.
The reel comes with a substantial spool that can hold a whopping 320-yards of six-pound test braided line or 200-yards of the slightly stronger eight-pound test.
When used with monofilament, the ratings are 250 for four-pound, 160 for six-pound, and 110-yards for eight-pound test.
The REVLT2000D also has the same 5:2:1 ratio, but with an even larger spool retrieval rate at a brisk 37.4 inches per crank. 
This huge spool can hold almost a quarter-mile of six-pound test braided line. 
The 435-yard capacity is one of the largest in the industry for a consumer market reel.
Monofilament is a respectable 340-yards with four-pound test, and it has the same 8.8-pound drag.
Weighing in at a light but amazingly strong 7.2 ounces, the REVLT2500D has a line retrieval rate of 37.4 inches per crank despite a smaller spool than the 2000 series. 
The difference comes in the faster 6:2:1 gear ratio. The 2500 has spool limits of 340, 220, and 160-yards with monofilament weights of four, six, and eight pounds.
Braided line has slightly larger limits at 395-yards for eight-pound test and 285-yards for six-pound line.
The REVLT3000D-C has that same huge line capacity with a spool that can hold 435-yards of 10-pound test braided line. It can also hold 250-yards of larger 15-pound braided line.
The 3000 has a ratio of 5:3:1, which when combined with the larger spool size, will bring your line back in at 31.6 inches per crank. The reel weighs 7.6 ounces.
This reel is available in the 4000 series, but it is slightly above our $50 limit.
Pros:
Lightweight
Large line capacity
Great color scheme
Ability to use braided and monofilament line
Cons:
Only four ball bearings
Some parts are composite material
Fast line retrieve loses sensitivity
>>Check Price on Tackle Direct<<
Shimano IX R Spinning Reels
There are a lot of features in this cheap Shimano model. At 19 inches per crank, the reel has one of the smallest inches per crank ratings of all spincasting reels, but it is still an excellent reel at this price.
As you might expect, the drag is light at seven pounds, line capacities are smaller, and the materials aren't top of the line. But then, there is the price.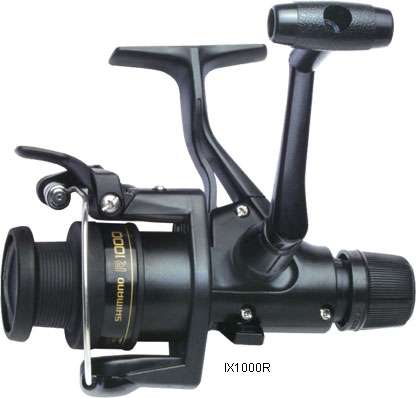 The Shimano IX R sells for less than $15. It has a reasonable spool size and can take 270-yards of two-pound test, 140-yards of four-pound, and 110-yards of six-pound monofilament.
You can't use braided line with this reel.
All graphite construction, including side plates, rotor, and spool, makes it corrosion resistant but not the strongest reel on the market. 
It offers rear drag and Shimano's trademark Quick Fire II action.
The price, combined with the many features, gets this little workhorse a rating of five out of five stars by nearly every reviewer.
Pros:
Low cost
Light weight
All graphite construction
High consumer ratings
Cons:
Limited spool size
No metal in moving parts
Seven-pound drag
>>Check Price on Tackle Direct<<
Powered By Favorite White Bird Spinning Reels
Available in 1000, 2000, and 3000 reel sizes, all three White Bird models meet the under $50 criteria.
There is only one noticeable difference between the three, and that is a progressively larger bail and bigger spool as the series moves from 1000 to 3000.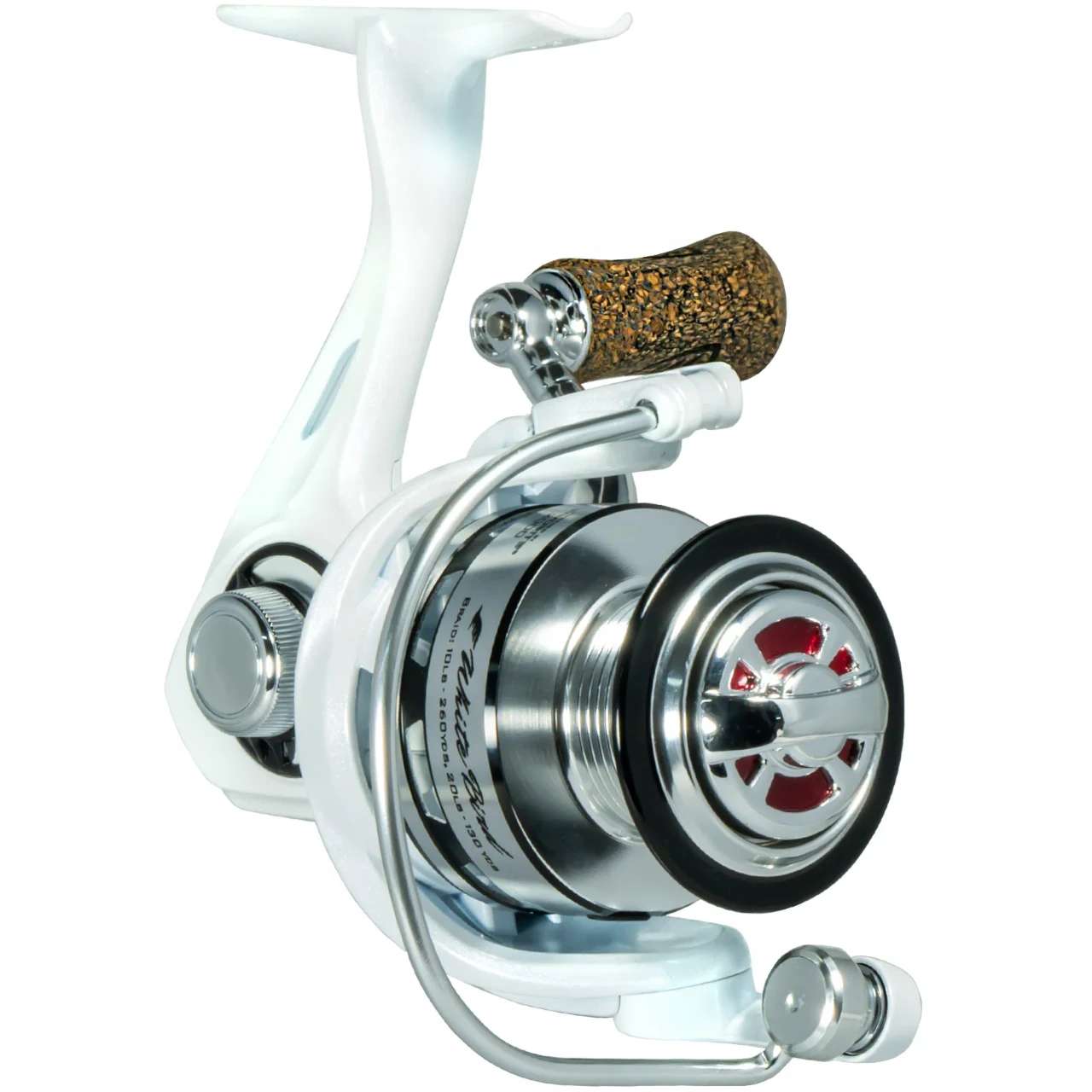 An easy dual retrieve with an interchangeable handle allows left, and right-handed configuration. 
The 5:2:1 gear ratio is a good match for the adjoining spool, creating quicker retrieves as the bail increases with the larger models.
Five ball bearings and one roller bearing provide a smooth and durable retrieve.
The 1000 can take 200 yards of four-pound test line or 140-yards of six-pound test.
It has a slightly larger capacity for braided line with limits of 220-yards for six-pound, and 140-yards for 10-pound test.
The 2000 has the following capacities: 260-yards at six, 175-yards at 10 with monofilament, and 260-yards with 10-pound braid or 130 yards with 20-pound braided line.
The largest of the three, the 3000 can hold 170-yards of 25-pound braid, a true workhorse for larger fish, with 200-yards of eight-pound mono, and 120-yards of 12-pound mono as choices.
Unique features include a cork knob on a machined metal handle, a titanium nitride-covered anti-twist line roller, and a skeletal rotor design.
Pros:
Standard performance through the series
Large spool capacity
Five ball bearing design
Right/left-hand configuration
Cons:
Carbon composite body
Cork knob
>>Check Price on Tackle Direct<<
Pflueger Trion – Best Saltwater Spinning Reel Under 50
Many anglers consider Pflueger to offer the finest spinning reels on the market.
You can purchase more expensive reels from Pflueger, but the Trion provides all the features you're ever likely to need on the water.
Available in a range of five left or right-hand configurations, these reels offer top performance without paying top dollar prices.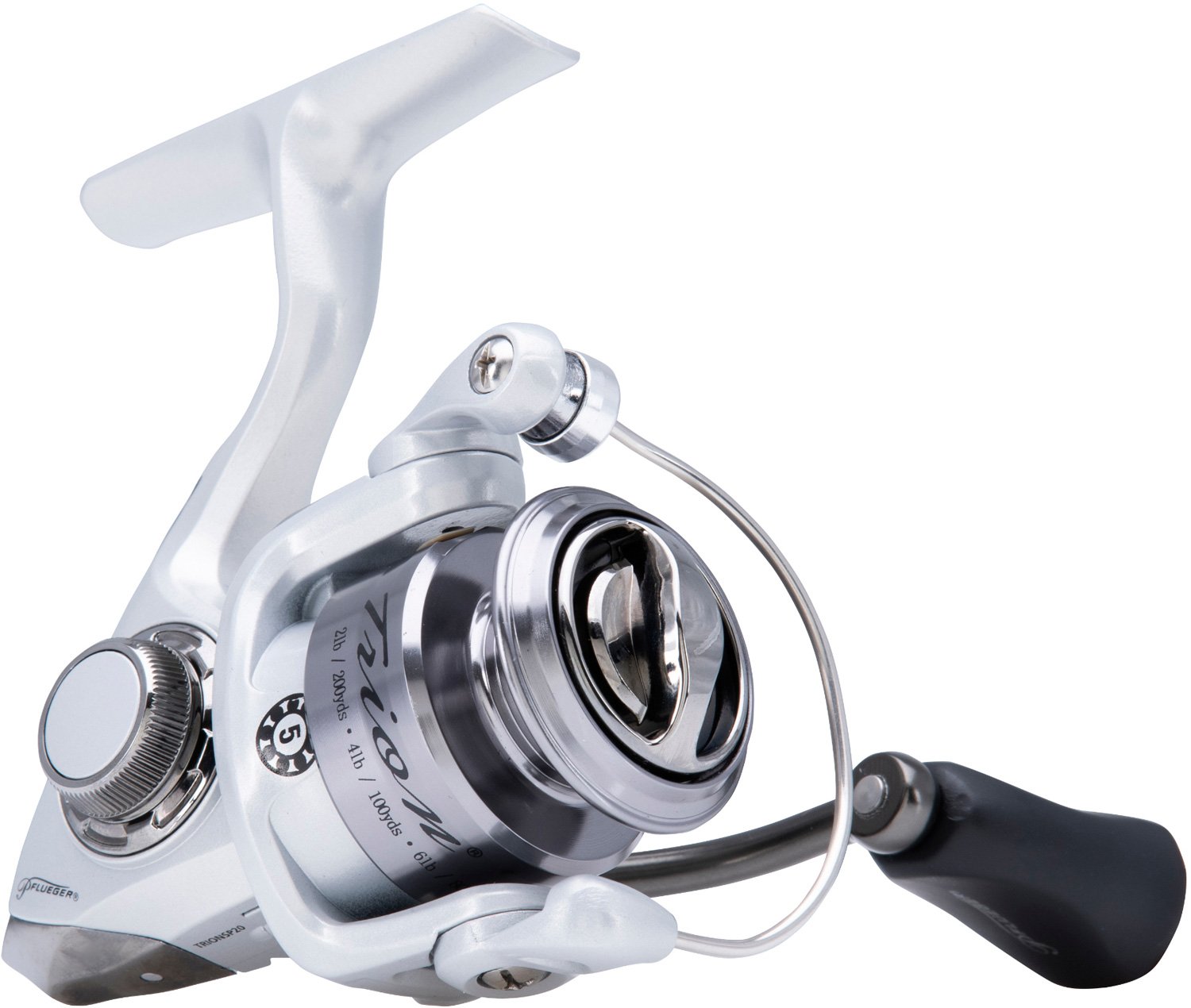 The 20 series is the smallest, with just five ball bearings, a six-pound drag, and a 5:3:1 gear ratio. 
The 6.3-ounce weight makes it one of the lightest reels on the market. It is recommended for use with four-pound test line but can hold a hefty 100-yards on the machined spool.
The 25 series is slightly heavier at 7.5 ounces and has two more ball bearings, for a total of seven, giving what many reviewers reported as the smoothest reel they've ever owned.
From 25 to 40, the main difference in these reels is an ever-increasing line capacity, with increasingly heavier monofilament test line. 
The reels also increase by approximately an ounce in weight as you move up the size scale. The drag increases as well.
Trion reels have both inner and outer components made of corrosion-resistant materials. This reel is suitable for use with heavier line in saltwater environments.
Pros:
5/7 ball bearings
Slow oscillation
Soft touch knob
Aluminum spool
Quality drag
Cons:
Graphite rotor and body
Only recommended for monofilament line
>>Check Price on Tackle Direct<<
13 Fishing Source K Spinning Reels
13 Fishing Source is a relatively new name on the spinning reel market, but they've jumped in with a quality spinning reel. 
The Source K offers a six-disk drag system, aluminum spool, thicker bail wire, four ball bearings, and a single roller bearing for smooth operation.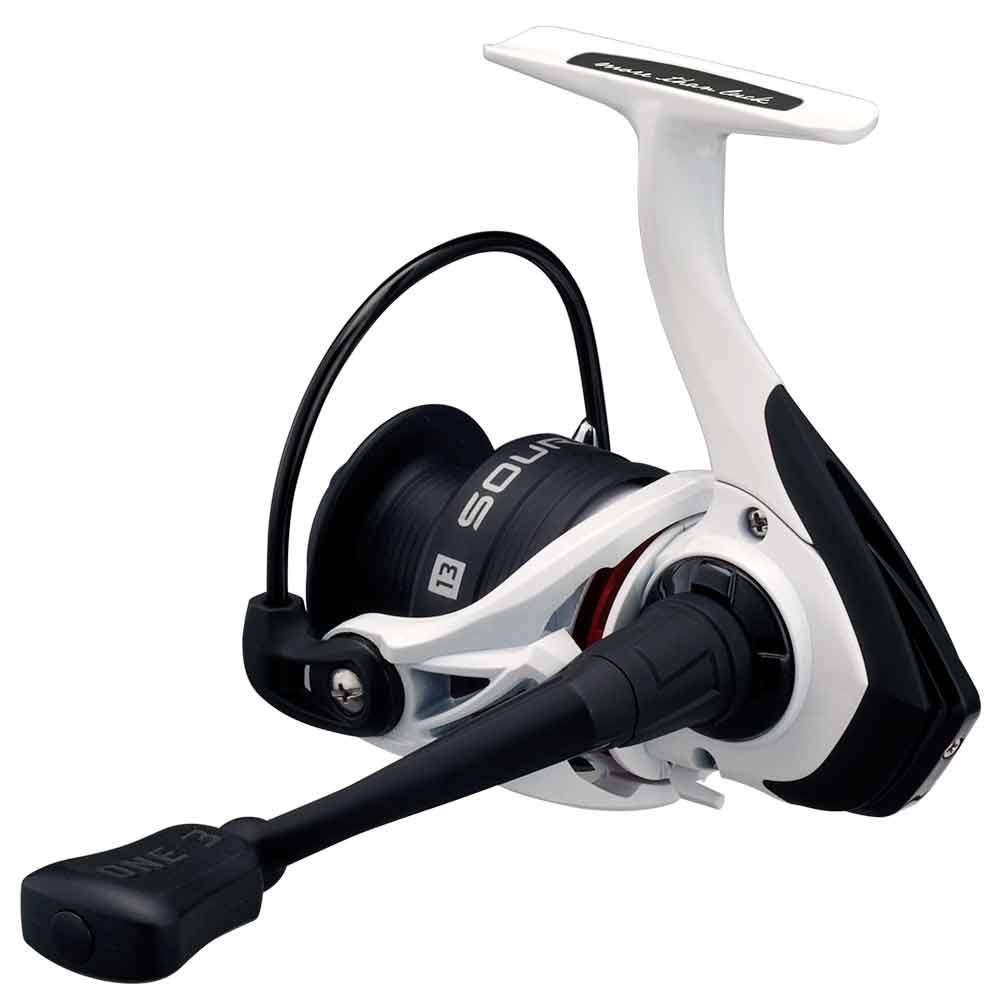 They also offer a one-year limited warranty.
Available in sizes 1000 through to 4000, there is a size that will fit your angling needs.
Standardization is the key with the K series; all four variations offer 5:2:1 gear ratios, eight-pound drag, and the same ball and roller bearing setup.
The difference comes in the size of the spools, with a correspondingly larger bail.
These reels are only rated for monofilament line with the 1000 holding 160-yards of four-pound test, 130-yards of six, and 90-yards of eight-pound line.
The capacities move up with each successive size increase, culminating in the 4000 series that can handle 230-yards of 10-pound test, 200-yards of 12, and 175-yards of 14-pound test line.
Pros:
Standardization across models
Spool size
Six disk drag system
Thicker bail
Cons:
Only eight-pound drag
Four ball bearings
Only rated for monofilament
>>Check Price on Tackle Direct<<
Okuma Ignite A Series Spinning Reels
This spinning reel from Okuma goes a little off the grid. Their smallest reel in the series, the IT-10a is the lightest of all the reels reviewed at just six ounces.
A line retrieve of 21 inches per crank reflects the small spool size. The highest recommended line is six-pound test, with space for 70-yards on the reel.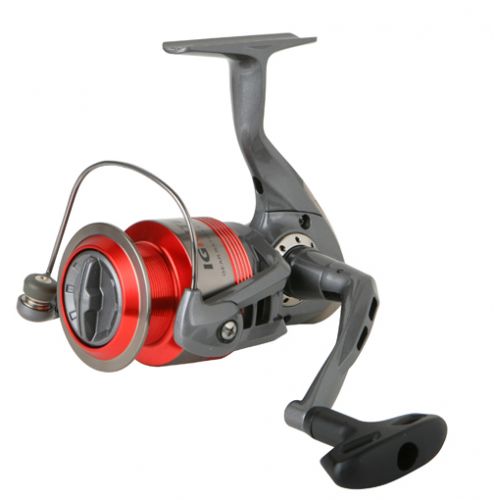 A light five-pound drag provides a little resistance if you tie into a large fish with this small reel. Okuma has successively larger specifications as you move up their reel size chart.
The IT-25a weighs in at 8.6 ounces, has a 25 in retrieval rate and an eight-pound drag. The largest mono line it can handle is 100-yards of 10-pound test.
The IT-30a and IT-40a are certainly the most versatile reels in this line, offering large line capacities in six-pound test with 200-yards on the 30a and 270-yards of eight-pound test on the 40a.
Both provide respectable 13-pound drags and matching 5:0:1 gear ratios. The 30a tips the scales at 8.4 ounces, while the 40a weighs 9.8 ounces.
Okuma offers two more versions of the Ignite A in considerably larger configurations that are still under our $50 limit.
The It-55a and IT-65a have lower gear ratios, allowing more cranking power for larger fish. The 55a is 4:5:1, and the 65a has a gear ratio of 4:8:1. 
Drags of 18 and 22-pounds respectively give you the resistance you need in tiring out larger fish. Huge spool capacities allow a lot of line to be wrapped on these two reels.
The 55a can handle 380-yards of 10, 340-yards of 12, and 240-yards of 15-pound test line.
The 65a goes a step bigger with the ability to hold 430-yards of 12-pound test, 310-yards of 15, and 260-yard of heavy-duty 20-pound line.
Pros:
Machine cut brass pinion gear
Variability
Large spool size
Powerful gear ratios in larger versions
Drags appropriate to the spool size
Cons:
Only rated for monofilament
Smaller gear ratios create slow retrieves
>>Check Price on Tackle Direct<<
Also Read: Fishing Reels Under 0
Frequently Asked Questions
Are Expensive Reels Worth It?
It is not always the case that you get what you pay for in the world of fishing. The seven reels we've reviewed here all cost less than $50 while still delivering quality performance. 

The question with these moderately-priced reels is whether they will hold up over time. More expensive reels are higher priced, usually because of the metal they are constructed of. 

Stainless steel, anodized aluminum, and exotic alloys cost a lot more to acquire, mill, and assemble than plastic or graphite components. They last a lot longer as well.
 
Higher priced reels are worth the expense depending on the type and the frequency of angling you plan to do.

An occasional weekend fishing trip requires a lot less in a reel than a professional angling guide demands.  

Having the reel on the water almost every day necessitates either buying multiple lower-cost reels or investing in a more expensive, high-quality reel that lasts longer.
How to Know What Reel Size to Buy?
Ergometrics is the short answer to knowing what reel size to buy. Is the reel suitable for the fish you're trying to catch, and more importantly, does it fit your hand?
 
Hooking a lunker with an ultra-light rod and reel can make a great fishing story if you're able to land that trophy. 

However, most of the time you're going to end up with a snapped line, or worse, a destroyed reel as you try to fight a strong fish that rips the drag and strips the gears on your reel.
 
Bass fishing is one of the most popular angling adventures, along with recreational carp fishing. 

Both of these species put a lot of pressure on a reel. If you're after these legendary battling fish, select a reel that can handle the stress. 

Get a reel that can use braided line, one that has a larger drag system, and set your sights on a drag of 12-pounds or more.
 
Part of reel size selection is mating it correctly with the rod you intend to use it with. Check to see if the reel mount fits securely in the reel holding brackets on the rod. 

Does it feel easy to use when you test the rod and reel together? 

For your comfort, select a reel that fits in your hands. A larger reel is more powerful but might be difficult to use. A smaller reel could have a hand that's just too small for you to enjoy.

In the angling realm, becoming one with the reel is part of the adventure.
What Should I Look For When Purchasing A Budget Spinning Reel?
You should look for the same qualities in a budget spinning reel as you would in selecting a higher priced reel.
 
Construction is the first criteria to check. Is the reel made of aluminum, graphite, composites, or plastic? You can tell a lot about its durability by the material it is made of.

Cheaper materials mean lower cost, but that comes at the price of durability and performance.
 
After construction, the next things to consider are line capacity, which is synonymous with spool size and gear ratio, which determines how fast or how powerful your crank retrieval rate is.

Is the reel adaptable to monofilament and braided line? How heavy or light can the line be that is best suited for this reel?

How strong is the drag? That's an important feature when fishing for larger species, especially in strong river or ocean currents where the water movement amplifies the strength of the fish.
 
The final check is a personal one. Does it fit your hand? Is it easy to cast? Does it fit the rod you want to use?
 
Answer all these questions, and you'll find the perfect reel for you.
Are more ball bearings in a reel better?
The short answer is yes; more bearings in a spinning reel are always better.

Very cheap, budget models sometimes have only two ball bearings, and the difference in smooth operation is tangible the first time you pick up the reel.
 
Pflueger offers more ball bearings in its reel collection than any other manufacturer.

You can feel the difference immediately when you pick up a Pflueger reel with seven or ten ball bearings encased in the housing.
 
To see the difference, hold the reel mount in one hand and flip the handle with the other. 

The reel handle on a higher concentration of ball bearings will spin easily, like a fan for many revolutions with just one flip. 

With fewer ball bearings, a lesser reel will come to a stop quickly from the friction of having fewer ball bearings in the assembly.
What is the best saltwater spinning reel for the money?
Investing in saltwater reels requires a whole new method of determining which reel is best for the money.
 
Reels used in saltwater have more problems than their freshwater cousins because of the corrosive nature of saltwater. 

Ocean spray misting on your reel will find its way inside. The salt will accumulate over time, clogging gears and corroding metal.

That's why any reel used for saltwater fishing must be made of stainless steel and aluminum, which won't react with the salt.  

The reel can still be clogged by salt buildup if it's not regularly cleaned, but it won't damage the metal.
 
Of the seven reels reviewed above, the Pflueger Trion is rated the best for saltwater fishing.
In independent surveys the Trion scored favorably in comparison with reels that cost many times more.
 
The seven ball bearing, one roller bearing system allows smooth, powerful retrieves.

All of the inner and outer components of the Trion are made of corrosive resistant material and the reel works well with the heavier line needed in saltwater applications.