After a little trial and error out on the water, you've decided the spinning reel is the choice for you. Now that you've tested the concept, it's time to spend a little cash and determine which reel is best for you.
You can find suitable reels for less than $50 and ones with even more features for less than $100. 
However, when you enter the realm of slightly higher priced models, you're going to find quality that isn't available in a cheap spinning reel.
We're going to look at five of the highest-rated spinning reels under $200.
We'll compare features such as spool capacity, material construction, design, drag, whether they can handle only monofilament, are designed for just braided line, or if they're compatible with both. 
We'll even look at whether they offer an ambidextrous handle design.
Below are 5 of the best spinning reels under 200 that consistently receive the most positive consumer reviews.
Best Spinning Reels Under 200
Here are the best spinning reels under $200 in 2023
Daiwa BG Saltwater Spinning Reel
Shimano Stradic FL Spinning Reel
Pflueger Supxtsp25x Supreme XT
Quantum Smoke S3 Spinning Reel
Abu Garcia Revo STX Spinning Reel
Daiwa BG Saltwater Spinning Reels
If a reel is advertised as a saltwater spinning reel, that doesn't mean it won't still be a perfect match for you on freshwater.
However, it's marketed as "freshwater" only, you'd better take a second look before taking it out on the ocean, to your favorite bay, or any saltwater venue.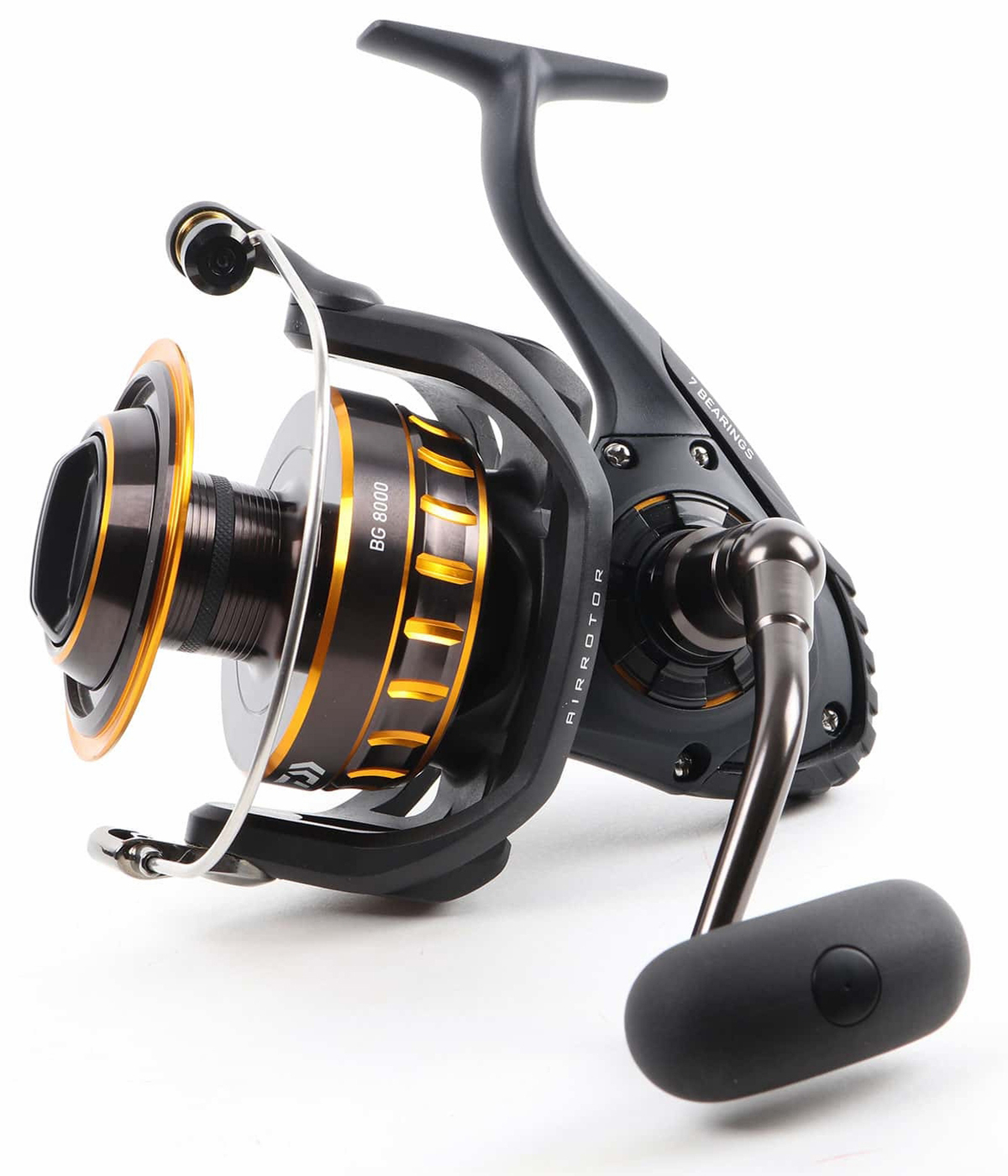 The Daiwa BG Saltwater brings all the features Daiwa is famous for with construction designed specifically for the rigors of saltwater fishing. 
Saltwater fishing requires a heavier duty reel because of the corrosive nature of the ocean, the presence of sand particles, and the overall challenges of catching hard-fighting, larger fish.
Spinning reel sizes are measured in increments of 500 or 1000. The BG is available in a wide range of sizes, beginning with the smallest reel, the BG1500, and extending to the BG8000. 
In between, Daiwa offers the BG in eight other sizes.
We'll look closely at four models, beginning with the smallest and extending to a true ocean battling beast in the BG8000.
A waterproof drag system, aluminum spool, and the famous Daiwa Infinite Anti-Reverse are included in all ten models. 
The waterproof drag is perhaps the most important feature aside from non-corrosive metal and carbon construction. 
By keeping saltwater and salt crystals out of the drag, it prevents corrosion and unnecessary wear and tear caused by salt buildup.
The BG1500 features a small 4.4-pound drag, a dual left or right-handed retrieve, a gear ratio of 5:6:1, and weighs in at just 8.5 ounces. 
A good-sized spool offers outstanding line capacities in such a small reel. The BG1500 can handle 155, 100, or 80-yards of four, six, or eight-pound test monofilament line. 
With braided line, the reel has capacities of 220, 130, and 100-yards with eight, 10, or 15-pound test line.
Moving up to the BG4000 you'll find a reel that can handle the largest freshwater fish you're likely to encounter, but it still works well in lighter saltwater applications too.
With a 17.6 pound drag, it can wear out large bass, carp, or channel cats during long battles. It also offers a dual handle system. 
Weighing in at 14.3 ounces, with a 5:1:1 gear ratio, this reel is ready for almost any application. 
Able to hold an impressive 300-yards of 10-pound test mono or 370-yards of 20-pound braided line, the reel allows you to fight epic battles with very strong fish. 
Larger monofilament of 12 and 14-pound test can still hold 260 and 240-yards of line, respectively. 
Loaded with braided line it enters the ocean fishing realm with capacities of 280 yards for 30-pound test, and 200-yards of heavy-duty 40-pound braid.
The BG5000 is ready for the challenge of stripers, salmon, halibut, and even mahi-mahi.
The reel weighs a hefty 29.5 ounces, can hold a whopping 550-yards of 50-pound braided line, and can handle extremely heavy 80-pound test braided line (up to 330-yards of it). 
It works well with heavier monofilament too, holding 370-yards of 20-pound test, 310 of 25-pound, and 260-yards of 30-pound test line.
Now we're talking saltwater. The BG8000 has the power you need for the big ones. 
A 5:3:1 gear ratio and a large spool that can hold 730 yards of 50-pound braided line, a quarter mile of 80-pound test, or 590 yards of 65-pound test give you the power and flexibility to land big fish. 
Wound with monofilament the numbers are equally impressive.
Capacities of 550-yards of 20-pound, 440-yards of 25, and 370-yards of 30-pound mono gives you a lot of line to play with while using the 33-pound drag to tire these denizens of the deep out.
Pros:
Variety of models
Sealed drag
Progressive drag settings with larger models
Six ball-bearing, one roller-bearing design
Cons
Some carbon construction
Lower gear ratios
>>Check Price on Tackle Direct<<
Shimano Stradic FL Spinning Reels
This reel is available in five versions from 1000 to 5000, but only the 1000 and 2000 models are under $200. The ST1000HGFL is a lightweight reel that packs a lot of features into a compact 6.9 ounces. 
A 6:0:1 gear ratio combined with a spool that can hold 270-yards of two-pound test line or up to 110-yards of six-pound test creates a per crank retrieve rate of 30 inches.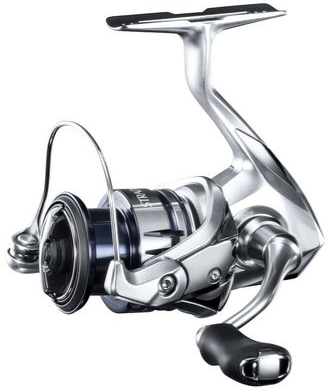 The 30 inch rate is a good midrange parameter for cranking speed, allowing fast retrieves of buzzbaits while retaining the control to guide other subsurface lures.
Six ball bearings and one roller bearing provide a smooth retrieve, and the 6.6-pound drag, while light, still works when using ultra-light two-pound test line with larger bass or catfish on the line.
The model is rated for braided line and can handle up to 65-yards of 20-pound test.
Shimano is known for innovative design, and they've packed these two reels with an anti-vibration silent reel drive, a longer stroke spool than competing models, and cross carbon drag.
The ST2500HGFL is very similar to the smaller model with the notable exception of a healthy 19.8-pound drag, larger line capacity and a 35 inch line retrieve per crank.
The weight is also a little higher at 7.9 ounces.
The versatility of these Shimano reels has made them a favorite in hundreds of reviews.
Pros:
Light weight
Six ball-bearings
Gear Ratio
Cons:
Light drag
Limited line capacity with braid in 1000 series
>>Check Price on Tackle Direct<<
Pflueger SUPXSTP25X Supreme XT Spinning Reel
Priced well below the $200 limit, the Pflueger Supreme XT may be the best reel in this review. The Supreme XT starts with an incredible 10 ball-bearing system and moves up from there. 
Those 10 ball-bearings create the smoothest, easiest to use action among all the reels reviewed in the article.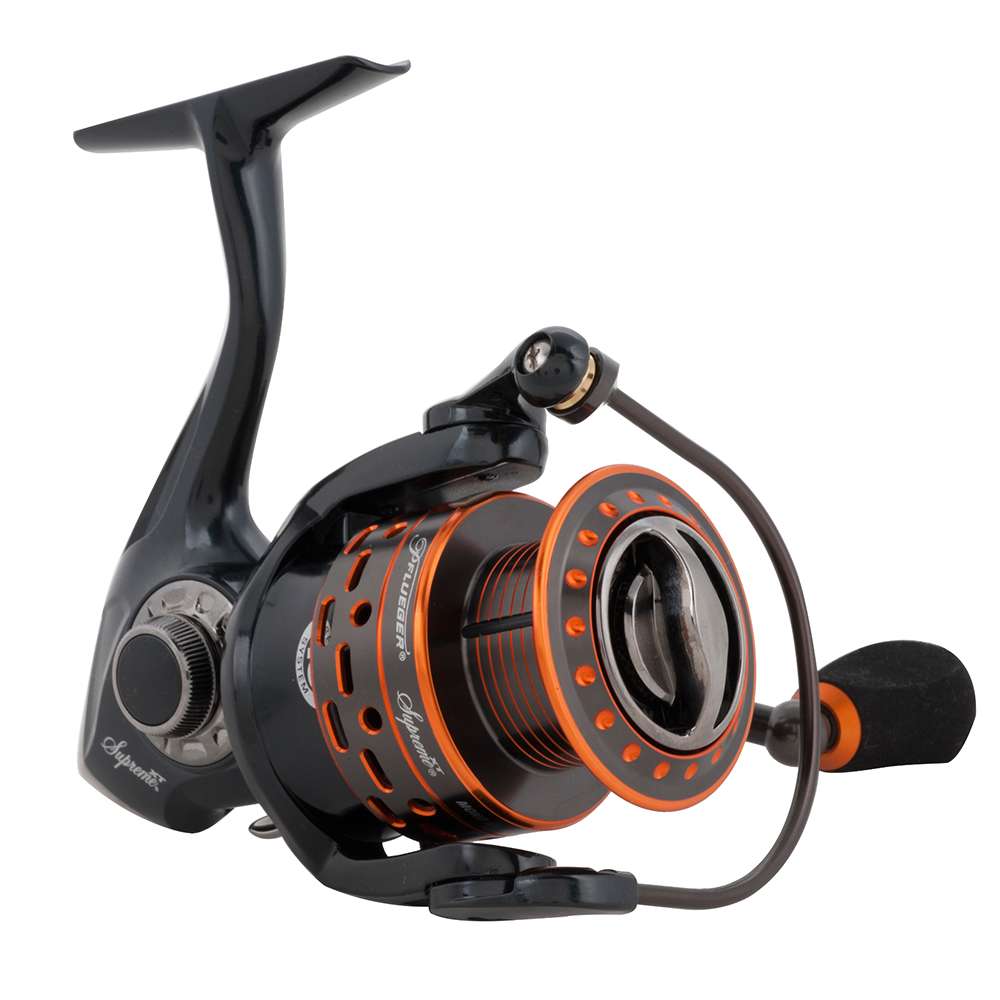 With a large spool able to hold 220-yards of two-pound monofilament, 110-yards of four, and 90-yards of six-pound test, you'll have more than enough line to battle the largest fish. 
The drag is sufficient at eight pounds to tire an angry largemouth bass while remaining flexible enough to slow the retreat of a hard-fighting trout in a fast-moving river.
Weighing just six ounces, it is one of the lightest reels on the market.
Built with a magnesium body and rotor, a carbon rotor, and a sealed carbon drag system, this reel is made to withstand the worst elements you'll encounter on the water.
I always pack at least three Pflueger reels on my angling treks to the Rocky Mountains. 
They're reliable, rarely break down, and you just can't beat the feel of a Pflueger reel with all those ball-bearings working away inside the action.
The light weight is also great if you're going into the backcountry, carrying all your gear up mountain trails for many miles.
Pros:
10 ball-bearings
Light six-ounce weight
5:2:1 gear ratio
Cons:
Light drag
Retrieve rate of 22.8 inches
>>Check Price on Tackle Direct<<
Quantum Smoke S3 Spinning Reels
Four sizes, ranging from 1500 to 4000, all at the same price, gives the buyer many choices in the Smoke S3 spinning reel.
The three larger models all have identical 6:0:1 retrieve rates, and each is constructed with 11 ball bearings and one roller bearing, making it one of the smoothest and easiest to retrieve reels on the market.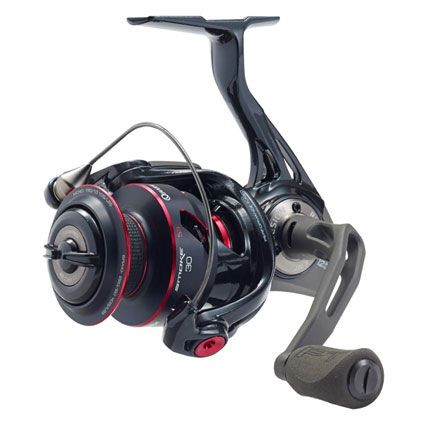 As you would expect, with progressively larger reels, the difference comes in line capacity, with the larger reels holding more than the introductory SM15XPT.
The 1500 series holds 140-yards of six-pound test monofilament line and isn't rated for braided line. 
The gear ratio is slightly lower at 5:7:1, as is the weight at only 6.4 ounces. An eight-pound drag rounds out the features of this small reel.
The 2500, 3000, and 4000 have progressive larger line capacities and are also only recommended for monofilament.
In order, the 2500, 3000, and 4000 series rods are recommended for 150-yards of an eight-pound test line, 150-yards of 10-pound test, and 230-yards of 10-pound test.
This is a versatile reel, with a quick retrieve per crank rate that progressively moves up from 27-inches per crank on the smallest reel to 38-inches on the 4000 series.
Constructed of precision-engineered gears, coupled with those ball-bearings, and made of aluminum, with an added salt guard protective coating, this reel is a good choice for any angling application:
Pros:
11 ball-bearing design
Aluminum construction
Consistent pricing across four size ranges
Cons:
Fast-retrieve
Only recommended for monofilament line
>>Check Price on Tackle Direct<<
Abu Garcia Revo STX Spinning Reels
Our final review combines all of Abu Garcia's research, innovation, and unique design into one quality spinning reel under 200. 
There are four sizes of the Revo STX reels available, all of which are similar in construction apart from the spool size, crank per retrieval, and drag which increase as reel spool size increases.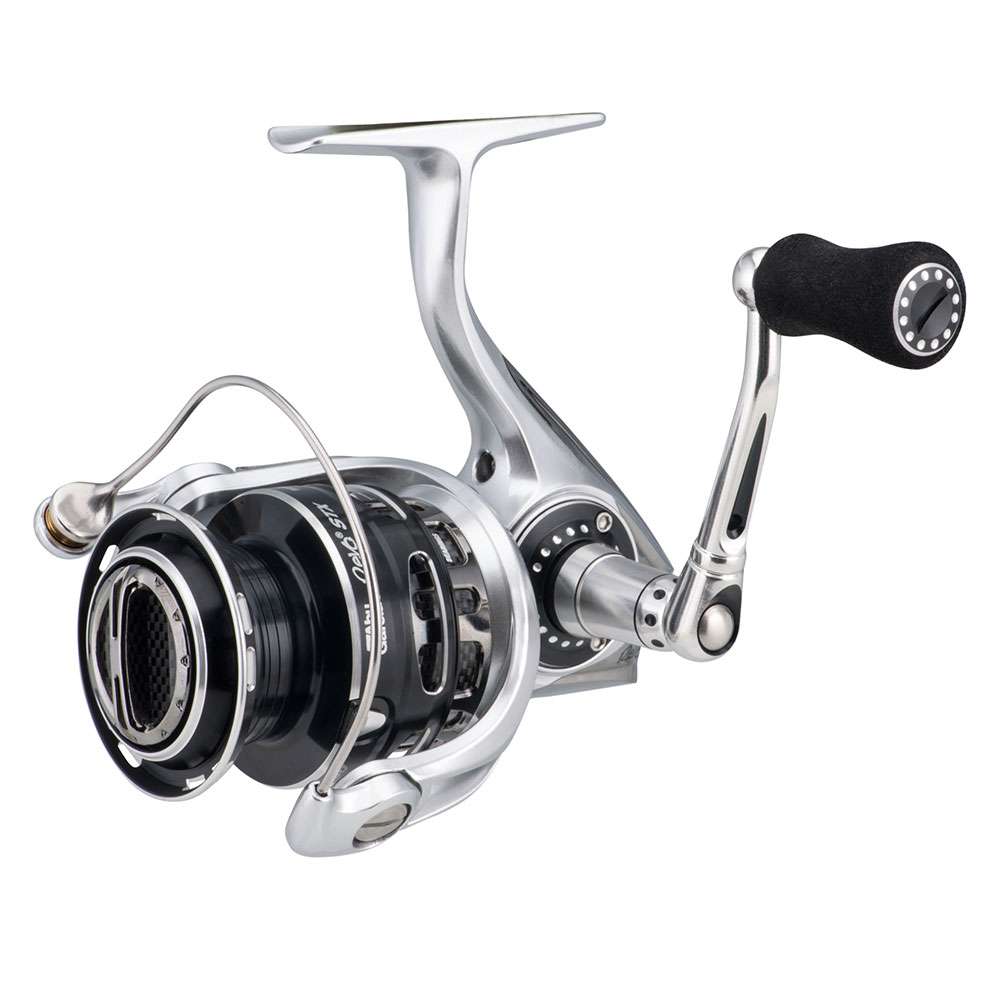 They are all priced identically, just a few cents under our $200 limit.
All four versions come with a 6:2:1 gear ratio which allows fast retrieves from 30 inches to 40 inches per crank.
They all have ambidextrous retrieve with an easy conversion from left to right.
The REVO2STX10, the 1000 series, weighs just 6.7 ounces and has a maximum drag of 10 pounds. It can hold 150-yards of six-pound test mono or 110-yards of six-pound test braided line.
The REVO2STX20 weight just one/tenth of an ounce more at 6.8, has an 11-pound drag, and increased spool capacity of 175-yards of eight-pound mono, or 120-yards of eight-pound braid.
Capacities for the 3000 and 4000 size reels are 180-yards of 10-pound mono, 175-yards of eight-pound braid, or 250-yards of 14-pound mono and 230-yards of 10-pound braid in the larger reel.
The REVO2STX40 has a solid 17-pound drag and a light weight for a reel of this size at only 8.8 ounces.
A high-quality machined aluminum spool rounds out this solid reel.
Pros:
Variety of sizes
10 bearing design
Machined aluminum spool
Light weight
Cons:
Fast retrieve
Light weight may limit performance with larger fish
>>Check Price on Tackle Direct<<
What Makes A Good Saltwater Spinning Reel?
The two biggest factors in considering saltwater spinning reels are corrosive resistance and power.
Salt spray may be refreshing to you on a hot afternoon, but that same spray can infiltrate your reel, creating spots of rust, salt based corrosion, and eventually internal damage.
Aluminum, stainless steel, and carbon-based components are all integral in a saltwater reel. 
A standard steel construction will begin to rust within a few months of introduction to a saltwater environment.
The second consideration is spool size, drag, and the ability to crank hard on a heavy, fighting fish. Saltwater fish can weigh a lot, sometimes several hundred pounds. 
They fight harder than most freshwater species, demanding a powerful and durable reel.
Frequently Asked Questions
What is the best cheap spinning reel?
The best "cheap" spinning reel isn't cheap at all if it fails to meet your needs on the water.
Some considerations must be included in any reel you purchase, regardless of price.

Construction, spool capacity, ball bearings, bail construction, and drag are all important things to consider.

An inexpensive reel usually takes shortcuts in materials and the number of ball bearings.
Lower numbers of ball-bearings mean a jerky and sometimes choppy retrieve.

You won't be working a surface plug or jig with close dexterity on the cheapest reel. A cheap reel won't last as long either.

There is no substitution for materials. When it comes to water and metal, metal will always lose. That's why aluminum, stainless steel, and magnesium are the metals to look for in a reel.

Carbon fiber and carbon composite have the strength and corrosion resistance of metal, but they can be brittle and can't handle extreme temperatures.

Smooth reels start with a minimum of five ball bearings. The best models have 10 or more, and you can tell the difference the first time you crank the handle.
Where can I buy these spinning reels for less than $200?
Although you may find some good deals and equipment in a bait and tackle shop near you, just understand that these stores may not have the best range of models. 

To get the best deal on a specific model, I recommend checking Amazon just for the ease of finding something suitable.

However, tackledirect.com is also another great option with a ton of options at this cheap price point.

You can refine your search by moving the lower price limit from zero up to whatever benchmark you wish.  As an example, you can set the price range from $100 to $200 and you'll get many different spinning reels to select from.

Further search parameters narrow the offerings, but you'll soon get the idea.

Have a plan when you start. Knowing what you're looking for is a big step in finding the reel that's perfect for you. 

Knowledge is power, especially when you're trying to find a trusted friend to take on the water in search of trophy fish.
Can You Really buy a Good Saltwater Spinning Reel Under $100 or even $200?
Yes, you can really buy a good saltwater spinning reel for under $100 or under $200. In addition to the five models we've reviewed here, there are many other models designated for saltwater use available from $100 to $200.

There are many solid reels, from the 1000 to 8000 series that will work well for you on saltwater. 

The caveat to these inexpensive saltwater reels is the disappointment that will inevitably arrive if you tie into a monster bluefin, tarpon, or swordfish with too light a reel.

Saltwater fishing is very species specific. Find a reel that can handle the biggest fish you're likely to hook, then go from there. 

Ultralight fishing is a blast, but you're not going to land a trophy striper or even a big salmon with one of them.

Good reels can be found under $200, but it just takes some research.