Let's face it, fishing is expensive. It costs time and money to get out on the water and reel in your catch.
That's why finding a quality spinning reel that won't break the bank is important for fishermen of all skill levels.
In this article, we are going to look at the best spinning reels available on the market for less than $100.
There are literally thousands of designs produced by hundreds of manufacturers, but we'll cut through all the choices to help you find one that works well for you without breaking the bank.
Size, line capacity, drag settings, gear ratio, spool size, and adaptability will be considered for each of these reels.
All of the reels listed below are under $100, so it's easier for anglers to decide which is best. You can find very good reels in this price range.
Best Budget Spinning Reels Under $100 Compared
Abu Garcia Revo X Spinning Reel
Pflueger President/Fenwick Eagle Combo
What Can You Expect When You Buy a $100 Spinning Reel?
Getting great performance from a spinning reel doesn't need to be expensive, but you don't want to buy a subpar product just to save a little money.
A spinning reel that costs less than one hundred dollars can still be an excellent purchase that can offer you years of usage in both fresh and saltwater environments.
You should expect the basics in any reel, whether you drop a thousand dollars for a top level reel or just $25 for a fully functional budget model.
One of the best spinning reels I ever used was the Pflueger 1944 I purchased at a little general store in Kinnear, Wyoming many decades ago. 
The 1944 began production in 1963. The price I paid seems ridiculous today, but the $8 in 1974 ($8.24 with tax) was a bargain in any decade. 
I don't know how long it sat on the shelf waiting for me, but we were a perfect match.
The action, quick set bale, large spool, and adjustable drag became one with me on hundreds of rivers and lakes over the next few years.
That first trip to Wyoming was the opening adventure to one of the best fishing areas in the world. 
I reeled in many large carp, in excess of 15 pounds each, from a large pond just a mile south of the store I purchased it from. 
I occasionally snapped the six-pound test monofilament line I preferred to use on these hard-fighting carp. 
The Pflueger could horse in the big boys but was sensitive enough for walleye, crappie, and all five species of trout available in Wyoming.
Carp fishing was unbelievable in central Wyoming. The locals consider it a trash species and don't fish for them at all. It was the rare day that we didn't catch a few dozen weighing more than 10 pounds.
It was my negligence that ended my run with this reel. Fishing in the fast-moving water of the Big Wind River, near Crowheart, Wyoming, I ignored tightening the handle one afternoon. 
As I set the hook on a rainbow, I heard a splash, and the handle disappeared with the current.
It's a reel I still remember well. The less here is you don't have to spend a fortune to find a good spinning reel.
Top 5 Best Spinning Reels Under $100 in 2023
Now we'll compare the basic features, the options, and a few bells and whistles that make a good spinning reel into a great spinning reel.
The first determination for you to decide is just what you're going to fish for? 
There is a big difference between a durable reel strong enough to tangle with a 25-pound salmon running in strong current or a bluegill hitting a bobber and a worm on a peaceful pond.
You'll need to consider line weight rating, spool size to determine how much line it can hold, whether you're going to use exclusively monofilament, or might try braided line, or both.
Other considerations are left or right-handed configuration, bracket height to ensure it fits on the rod you're using with it, and finally, how the reel feels in your hand.
Some reels just don't fit you as well as others. The size of the handle, whether too big or too small, can be a distraction you don't want to deal with.
Penn Battle III Spinning Reel
The first spinning reel we'll review comes in just a few cents under our $100 limit. 
Penn reels are renowned for being of high quality; both baitcasting and spincasting reels can be found on commercial fishing boats, offshore charter fishing excursions, and in the hands of professional anglers.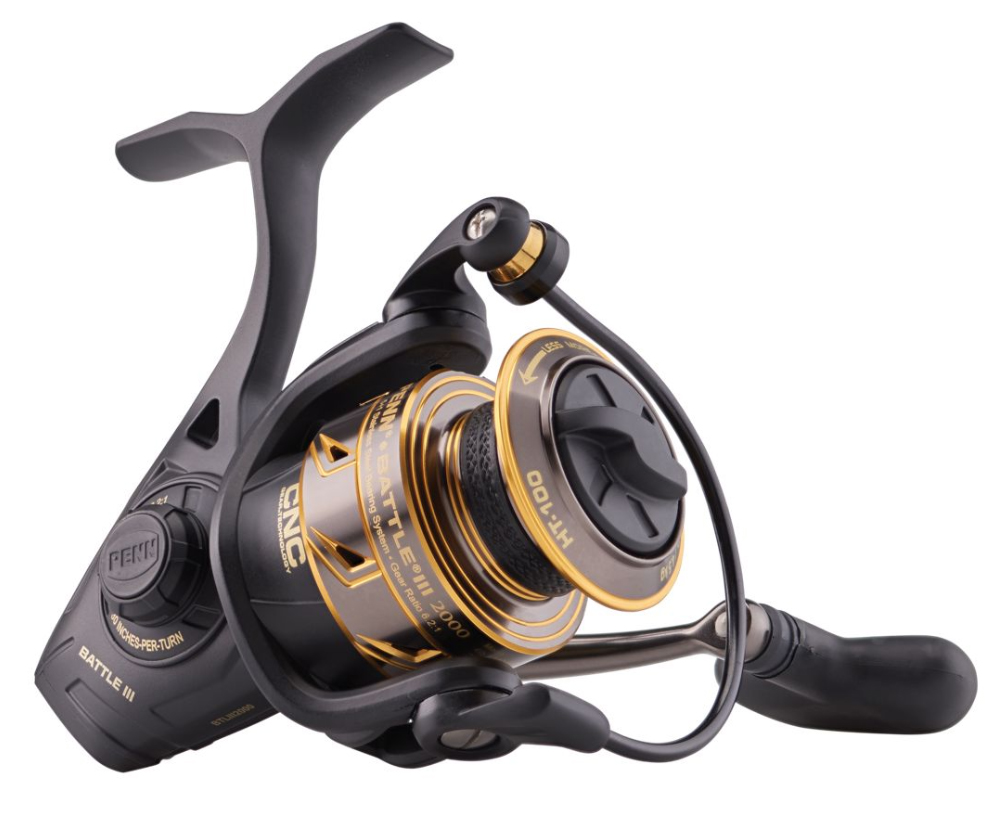 The Battle III brings all the quality of a well-constructed Penn spinning reel into the realm of the average weekend angler.
I've used Penn reels fishing for salmon off the Oregon coast just west of Astoria and had no complaints as we pulled in fish from five to 25 pounds. 
My daughter was only 12 on our first trip, and she handled the reel well, bringing in the largest catch of the day.
The PEN-1853 is a powerful and lightweight reel. It is versatile as well.
Packed with light, two-pound test monofilament you can wind 275 yards on the spool. The more traditional six-pound test still allows 105 yards of line.
Loaded with braided line, the capacities are smaller, but the test weight is larger. Loaded with 10-pound test braided line you'll have 110 yards to work with.
An efficient five-ball-bearing, one roller-bearing assembly ensures smooth retrieves. The 5:2:1 gear ratio with a 22 inch per crank line retrieve provides great control in lieu of extremely fast retrieves.
With a light reel, you're after control more than speed. 
The sensitive reel combined with a high-quality rod will allow you to feel the lightest nibbles from a walleye while still having the strength to set the hook when an eight-pound largemouth hits your lure.
A maximum drag of nine pounds is sufficient for the line sizes you'll use and for the fish you're after.
Weighing in at just 7.8 ounces, this is an excellent purchase if you were to have just one reel in your fishing arsenal.
This is one of the most heavily reviewed reels we'll discuss, and it comes in at a solid five-out-of-five stars.
A couple of the comments outlined the quality of the Penn Battle.
"Fantastic reel. Very smooth, well built. Round handle knob is a great addition. I love the way this reel feels," was one comment.
Another referred to the smooth action of the reel. "The line lay is excellent and the drag is very smooth. It exceeded my expectations."
Pros:
Power
Construction
Smooth action
Versatility
Cons
Low 22 inch per crank retrieve
Light nine-pound drag
Daiwa Eliminator Spinning Reels
This reel comes in seven configurations, from the lightest model (the DAI-2971) at just 9.3 ounces, to a professional level brute of a reel (the DAI-2975) that weighs in at just under two pounds.
We'll review one of the Daiwa reels in the middle, the DAI-2973, which offers a heavy-duty reel at a moderate weight.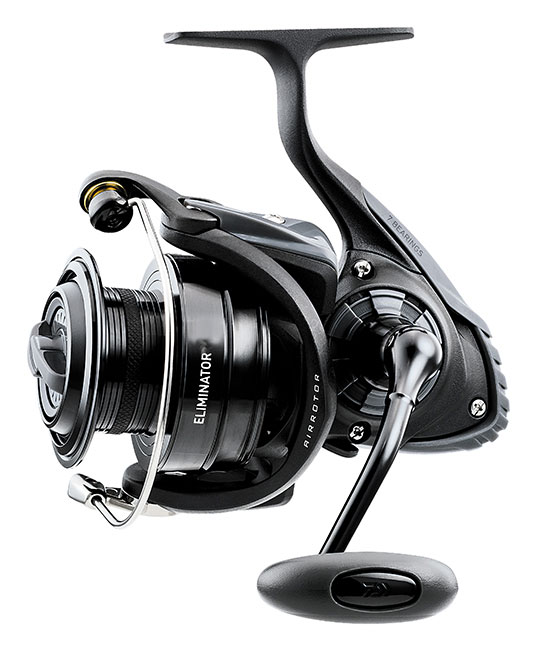 The DAI-2973 is a workhorse that can handle light hitting sunfish, along with salmon and saltwater species that can fight with rod bending power.
The 2973 features smooth action courtesy of five ball bearings and a single roller bearing in the spool/retrieve assembly.
At 14.3 ounces, it's not a lightweight spinning reel, but it isn't going to wear you out if you have to hike a few miles to your favorite fishing spot.
The reel can handle a lot of line. The large spool accommodates 300 yards of 10-pound monofilament and a whopping 370 yards of braided 20-pound test line. 
The heaviest monofilament recommended is 14-pounds, and there's still enough room to spool on 210 yards of that high strength line. 
If you tag a hard-hitting steelhead in heavy current or try to horse up a 50+ pound channel cat, the 200 yard capacity of 40-pound test braided line will come in handy.
A gear ratio of 5:6:1 combined with a large spool and prominent bale brings your lure in at a short 39.9 inches per crank, perfect for tossing fast-moving buzzbaits at angry largemouth bass just waiting for an excuse to strike.
The drag has a respectable maximum setting of 17.6 pounds.
Pros:
Range of uses
Strong all-metal 14.3-ounce weight
Large line capacity
Works with monofilament or braided equally well
Cons:
Only five ball bearings
Fast 39.9 inch per crank lowers touch
Abu Garcia Revo X Spinning Reels
The Revo X comes in four configurations. For this review, we'll take a look at the largest capacity version.
Prices are the same for all four models, just within the parameters of our $100 limit. The GAR-0498 version of the Revo X is a workhorse.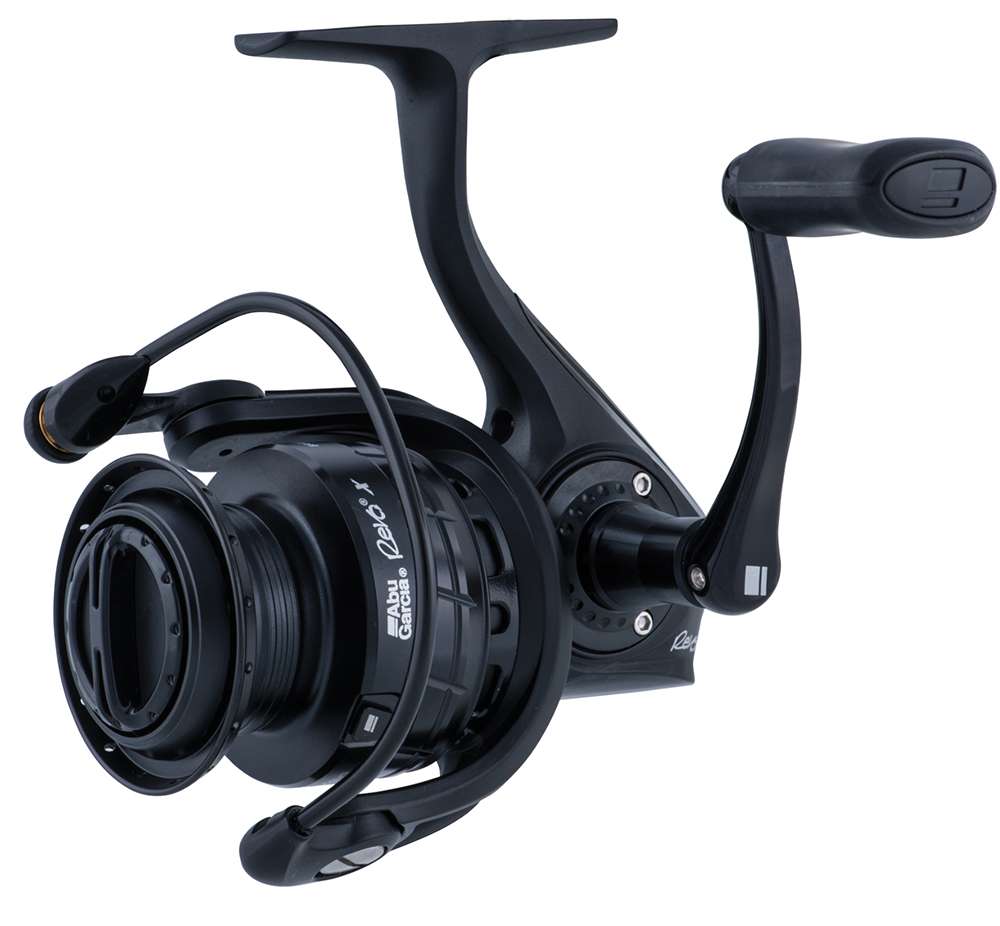 It is one of those transition-style reels that can work well in varied applications.
It has the fastest per crank retrieve of any reel we'll review in this article at a blistering 40 inches per crank. 
This is achieved with a 6:2:1 gear ratio and a large crank that revolves the bale smoothing around a spacious spool.
The spool is rated for 10, 12, and 14-pound monofilament line with progressive capacities of 210, 180, and 150-yards. 
Abu Garcia recommends that you use just 14-pound test braided line with this reel. The capacity for braided line is 210-yards.
Weighing in at 9.1 ounces, it is relatively light for the power it possesses. A 13-pound maximum drag provides the resistance you'll need with heavy rainbow trout in fast-moving water or for the naturally stronger saltwater fish.
Built from stainless steel, machined aluminum, and a lightweight graphic rotor, this reel has the corrosive resistance you need in a saltwater spinning reel.
Pros:
Corrosion resistant
13-pound drag
Quality construction materials
Cons:
Only recommended for 14-pound braided line
Smaller spool capacity
Fast retrieve lowers touch
Pflueger President/Fenwick Eagle Spinning Combos
My friend who works as a professional guide on the rivers, lakes, and reservoirs of central Wyoming loves the Pflueger President and subsequent Pflueger XT reel series.
Whether it's jigging for walleye and crappie, or spinner fishing for trout, he prefers the smooth action and power of the Pflueger.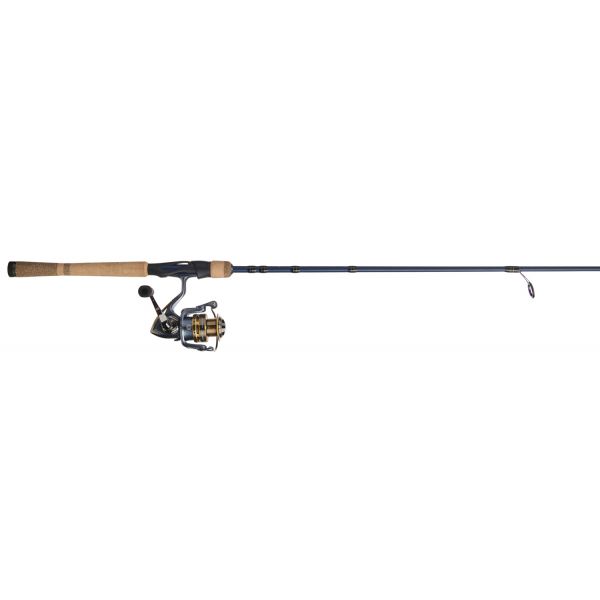 Tackledirect.com doesn't offer the Pflueger President as a standalone reel but has packaged it with Fenwick Eagle rods for an inexpensive reel combo that is nearly bulletproof on the water.
The President is available in a dozen configurations with rods from 5-6 to 7-2 lengths.
This reel is impressive in its versatility, working well with ultra-light rods, well into the medium rod power range.
The reel has perhaps the smoothest action on the market, with an incredible 10 ball bearing assembly.
A graphite body and rotor are especially suited to braided line. 
An aluminum bale and handle, sealed drag system, and slow oscillation gearing make this the rod of choice for anglers who have various species, and types of water near them. 
A 5:2:1 gear ratio with the oversized handle gives you maximum control on your retrieve. A maximum eight-pound drag is a bit undersized, but the control it offers more than compensates for the light drag.
Pros:
Versatility with ultra-light through medium rods
Combo comes with a wide selection of rods
10 ball bearings
Smooth action
Cons:
Not available as a standalone reel
Light eight-pound drag
Shimano IX R Spinning Reels
The final reel in this review is a fraction of the price of the other four, which all hover very close to the $100 limit.
The Shimano IX R is at the bottom of the price range, with reels selling for less than $15. Just what can you get when you buy a reel at such a low price?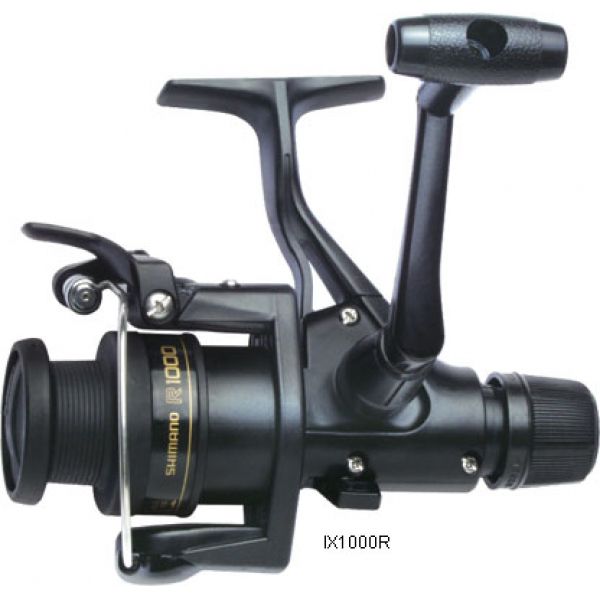 Shimano has packed many features into this inexpensive model. However, a small gear ratio of 4:1.1 and one of the smallest inches per crank ratings among all spincasting reels at 19 inches per crank may be a little worrying. 
A seven-pound drag is also on the lighter side, but the spool size and line capacities are nearly the same as the more expensive reels.
The IX R can handle 270-yards of two-pound test, 140-yards of four-pound, and 110-yards of six-pound monofilament.
This reel isn't designed for braided line.
It's an all-graphite constructed reel, with side plates, rotor, and spool all composed of graphite. It offers a rear drag and Shimano's trademark Quick Fire II action.
It is one of the most heavily reviewed reels on the market, and it comes with amazingly high ratings. The price, combined with the features, gets this little workhorse a rating of five out of five stars.
This may be the best bargain of any reel available today.
Pros:
Low cost
Light weight
All graphite construction
High consumer ratings
Cons:
Limited spool size
No metal in moving parts
Seven-pound drag
Further Reading:
Top 10 Casting Reels Under 100
Top Saltwater Spinning Combos under 100
Abu Garcia Black Max vs Silver Max vs Pro Max – 3 Quality Budget Options
Frequently Asked Questions
So, What is The Best Spinning Reel Under $100?
The best spinning reel for a young angler to get started would be an inexpensive reel like the Shimano IX R.

If you're after a reel that will last a lifetime, with a proven performance record, choose the Penn Battle III. 

Penn is the leader in saltwater spinning reels, but they make very reliable, heavy-duty freshwater reels too. The Penn reputation precedes itself.

With due credence to Penn and Shimano, my recommendation as the best spinning reel under $100 goes to the Pflueger President.

I have to admit to a bit of bias when it comes to Pflueger. My angling arsenal consists of seven rods and fishing reels.

I have an Abu Garcia baitcasting reel, a Pflueger 1094 fly reel, and five Pflueger spincasting reels. Two of those are Pflueger Presidents, and one is a Pflueger President XT.

The President gets the nod as best reel since I've tested it myself in many situations. 

I landed a couple of eight-pound rainbow trout on a Blue Fox spinner tied to six-pound test one afternoon on the Big Horn River during one of my vacations to Wyoming with one of my President reels.

The battle was epic, but I landed both tail dancing trout. The reel performed flawlessly.

At other times I've fished with standard lead head jigs and caught walleye and crappie with a drop shot rig on the same reel.

Its versatility, power, and the Pflueger reputation give it my top nod.
What Size Spinning Reel Should I Get?
The size of the spinning reel is entirely dependent on the type of fishing you're going after.

If you're working a backwater, oxbow lake for panfish, that 360-yard spool isn't that important. 

On the other hand, if you're trolling for lake trout or huge catfish, you'd best have at least a 30-pound braided line on your spool, with a couple of hundred yards in reserve just in case you tie into a record-setting carp, catfish, or trout.

In other words, the size of the reel has to match the application. If it's too big, you lose touch; if it's too small, you'll likely lose fish.

You can purchase a mid-sized reel with the sensitivity to detect light striking species like walleye. 

That same mid-sized reel will have the endurance to handle a ferocious battle with a deep diving, twisting largemouth bass.

A mid-sized reel on a quality seven-foot rod will work in just about every freshwater situation. It can haul up heavy channel cats, endure battles with carp, and land bluegill one after another.

If you're after a specific species, select a reel with the features you need to land light-biting fish or one that can handle the biggest brutes waiting to hit just below the surface.
What is The Best Spinning Reel For Bass? 
You really can't go wrong with the Pflueger President when it comes to bass fishing. The best of the four versions of the President for bass is the PRESS40X, also the largest in this series of reels.

The 30 inch per crank retrieval rate is perfect for the fast reeling necessary to get a jitterbug or other surface noise-making lure to attract an angry bass's attention.

Yet it still has the control to guide your lure exactly where you want it to go.

Bass are perhaps the most aggressive of freshwater fish. They've been known to strike a beer can pulled across open water.

While the retrieval speed is important, so is the smooth action in turning the handle. There isn't a smoother reel on the market than the 10 ball bearing President.

A 12-pound drag allows you to enter epic battles with large, trophy-sized bass. Simply trying to horse in one of these wild largemouth bass often ends in a snapped line, a broken hook, or a lost lure. 

Drag is vital in playing with larger fish.

The line capacity is another key feature in bass fishing. Most bass are caught within 30 feet of a boat, but if you're fishing from shore, that's not always an option.

A President, connected to a quality rod can extend your cast well into the water. 

With the control the President offers, casts can cover 60 yards and land just a few inches from a promising section of cattails on the other side of the lake.

The ability to handle braided line and monofilament makes the President a truly remarkable reel and the choice of many serious bass anglers.