We hope you love the products we recommend. Just so you know, OnTrack Fishing may earn an affiliate commission from the links on this page, at no extra cost to you.
Let's cut to the chase. The best spinning reel for bass is the one you have in your kit that you can cast. I'm not being sarcastic, it's a fact.
However, with such awesome and affordable spin reels available, covering a broad range of classes, why settle for just any old reel. 
A modest investment can get you a reel that's perfect for your preferred bass method.
And therein lies the issue. Thinking of a bass fishing spinning reels with absolutes such as "best", is ill-advised. 
A better way to approach a bass spinning reel purchase is by assessing which spinning reel is more suited for the fishing techniques and the geographical conditions in which it will be deployed.
That's how I'll approach this "best of" today. We'll look at 4 spinning reels for bass fishing that will serve you well in 4 different bass fishing scenarios.
Firstly, we'll have a quick, and I mean very quick, look at the spin versus casting argument.
Secondly, we'll do a quick commentary on the growing number of dubious spin reel "best of's" flooding the internet.
Our third topic is all about size. How do we choose a spin reel size, and is there such a thing as too big, when we're hunting bass on spin gear?
And fourth, we'll investigate 4 good spinning reels for bass fishing.
Let's go fishing.
4 Best Spinning Reels for Bass Fishing in 2023
Short on time? We understand. Check out this quick overview of our favorite recommended spinning reels for bass.
Last update on 2023-09-26 / Affiliate links / Images from Amazon Product Advertising API
Spinning Versus Casting Reels: Which to Choose for Bass?
I'm including this section for those who are reading this article with a firm belief that a casting reel is better for bass…why bother with spinning reels. 
Firstly, for the vast majority of recreational anglers, a spinning reel is much easier to use. This fact remains.
Even though braking technology has improved in casting reels, it remains true that a spin reel is far easier to use. 
For the average angler, a spinning reel gives nothing up in performance, target access, or fish fighting credentials. 
On the contrary, by virtue of the fact that spinning reels are easier to master, performance is likely better.
As a die-hard fan of both styles of reels, I'll say this – It's great to have both in your arsenal. 
Technique, method, conditions, and geography will often suggest a reel choice on the day.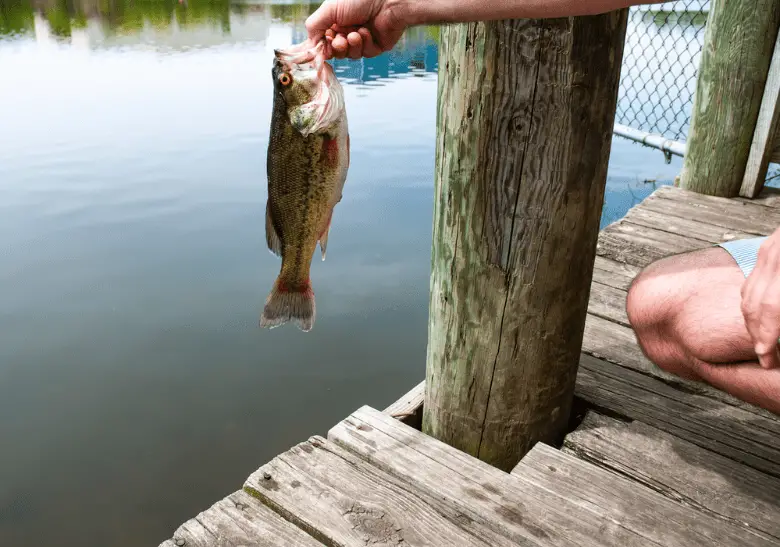 Conditions are always fluid. One day, it may be the right location for a casting reel, but the next day it may be better for finesse spinning.
Anglers who refine their kit to a point where it is perfect for every considerable fishing location, are those anglers with the highest advanced skills. 
They can extract peak performance from both reel styles consistently.
A casting reel delivers advantages when rapid flipping and pitching, while on the move, drifting, or slow motoring. 
However, there is no benefit when some casts require intervention to deal with a bird's nest.
Modern, lightweight bass spinning reels can be flipped and pitched under low hanging structure. 
It might require two hands, and it may be a little slower, but how many of us are fishing on the clock looking to fill the wells for a 50K prize pool?
Spinning reels are just as effective as casting reels for targeting bass. By virtue of the fact, spin is generally easier to use, spinning reels for bass fishing will often perform better for the average angler.
The moral of the story is this: Don't let somebody try to convince you casting reels are better for bass. The notion is evidently incorrect. 
What Should I Look for In a Spinning Reel for Bass?
I look through plenty of articles claiming to know the best reels (or anything) for the year. For the most part, they list none of the metrics they have used to reach their lofty conclusions.
The most telling feature is that there are literally no comparisons in most of the reviews. 
This is a problem because claiming something as "best" is a relative process. It can only be deemed best when compared to something else.
It is impossible for the winner to be regarded as the best without standardized criteria or a list of competitors
Frequently, there is nothing to indicate why they have concluded that the reel deserves such a title.
On the other hand, rarely do I see a terrible product in "best of" articles. Many of the best spin reels I see featured are often good products. 
The most common way they are categorized is by price point. Fair enough, and it's a reasonable measure for many reel hunters. 
However, their claims of best are pretty well arbitrary, unverified, and even unverifiable. People use best-of lists for deliberations. 
We also read reviews, technical specifications, and other promotional media. My advice is to take lofty claims with a pinch of salt. 
Yes, these articles frequently indicate quality. However, "best," in such a competitive reel market, with manufacturers offering similar inclusions and performance, is generally subjective.
In the case of this article, despite the title, I'm not claiming these reels are the best. 
I am claiming that they will be great when used for the applications I'm recommending. It's a guarantee there will be reels as good, or even better for you, that are not listed here.
However, the spinning reels for bass fishing listed in this article are definitely worth your consideration depending on your budget.
What Size Spinning Reel Should You Choose for Bass?
This is a great question and warrants a full article. Indeed, I've written a pretty extensive article discussing this very thing (see below)
Read Also: Best Spinning Reel Size for Bass
I don't want to go too deeply into this and lose the main thrust of the article. However, we certainly need to touch on it.
Keep in mind that there are no industry standards for reel size beyond the label. A 2000 size from one brand, may differ considerably to another.
1000 to 2500 Spinning Reel Size
Traditionally these sizes are for general light inshore work. They are also the sizes we used as kids. 
However, they're essential in the massive finesse fishing phenomenon. They're for light and ultra-light sports anglers wanting to catch bigger with smaller. 
You can see some lightweight choices right here.
This category of anglers is growing exponentially, as the fun it offers is second to none. The reason these sizes have become so popular for bass fishing is due to the explosion of lure fishing and lure varieties. 
Soft plastics have been a fishing revelation and their deadly on light gear.
A lighter class of outfit has significant benefits for lure presentation. The lighter the rig, the easier it is to generate peak action on a lure, whatever the size. 
A super light rig also allows you to use the lightest of lures, including tiny soft plastics that simply won't cast unless you're using ultra-light gear.
In a broader sense, as reel technology and materials have progressed, manufacturers are adding more tech, more strength, and more power into lighter, more compact reel bodies.
The result is smaller, more powerful reels. In practice, however, this means we can now poke our diminutive 1000 or 2000 size reel at a much larger class of fish than was traditionally advisable.
What's more, you can expect to prevail in an encounter with a fish. In short, modern bass spinning reels punch well above their compact size and considerable lightweight.
On the bass front, 1000 to 2500 will be your go-to finesse sizes. I like these sizes for flipping and pitching rapid fire. 
I like them for getting under structure as well. However, I'm very cautious about structure when fishing so light.
Hooking up in the heavy gnarly stuff, particularly when it's a larger class of fish, can be a bit of a nightmare on light gear. 
Sizing up a little provides the sort of back-up needed to turn a snag driven battle into a win. I like a 3000 for casting into heavy structures.
The 3000 Spinning Reel Size
Depending on the model, a 3000-size spin reel is ideal for a general-purpose bass reel. 
I won't be alone with this assertion. You'll find the lion's share of bass anglers will agree. 3000 is a fantastic reel size for tacking bass of all sizes, in all conditions and all locations. 
You will also find that the 3000 is ideal for just about all bass fishing techniques, from light soft plastics to casting live baits.
Good 3000 reels are now incredibly compact but will hold plenty of braid. This is great for when you're fishing heavy structure. 
You have the option to drop down in line class considerably to ramp up the sport or increase lure action and feedback.
A 3000-size reel is definitely my go-to especially when I'm expecting a larger class of fish.
I really like the 3000 spinning reel when I'm taking only one reel. I will also take 1 or two extra spools, packed with line of a heavier and lighter class.
Should You Go Bigger than A 3000 Size for Bass?
There are rare circumstances when I'll up the size beyond a 3000. The biggest I've used for bass is a 5000. 
This is for atrocious weather, using live baits, chasing trophy size fish in horrible snag infested waters.
It's not necessary to go large, and with the power available in small modern reels, you can save yourself fatigue. 
Using a larger reel, by default, necessitates a larger, heavier rod for balance.
You're chasing bass not barracuda. It's important to remember the majority of bass fishing benefits lie in rigging as light as you dare.
But always within reason, and always in consideration of the target size and location demands. 
See Also: Best Fishing Line For Bass
Top 4 Spinning Reels for Bass – Reviewed
The 4 reels listed below are good bass spinning reels in anybody's language. I don't know if they're the best, I haven't compared them against every other reel in their class. 
But what I can say is they enhance the fishing experience and perform impeccably.
I have chosen a reel ideal for 4 different bass fishing scenarios. For the most part, I've not stressed the budget. 
However, there is a model in there chosen specifically for those on a tight fishing budget, and one for the deepest of pockets. 
Quality is the bottom line, and there's nothing here that smells remotely of compromise.
1. Daiwa BGMQ 2500 – Best All-Round Bass Fishing Reel
Daiwa is really starting to pull away from the other manufacturers. The new BG MQ is an example of their innovation, and how they're making upgrades seriously worth the effort. 
In my opinion, the BG MQ is one of the best that's hit the shelves in 2020. In the case of this 2500, I'd take back everything I said about the 3000 being the go-to reel and substitute it in a second for the Daiwa BGMQ 2500.
It's a mid-priced reel some might find a little too expensive. In my opinion, it's worth every cent. The monocoque body is the obvious standout change. 
Of course, this has delivered significant improvements in strength, power and rigidity. Is also lighter (it was light anyway) but for a 2500, it's now ridiculously powerful.
The Longcast spool handles superbly, casting is long and accurate. It's the 10kg of super smooth drag that makes it great. 
This is a lot of fight power, more than enough for a competent angler to battle a trophy bass. Couple that with generous braid capacity and you can pull bass from anywhere.
With 6 stainless bearings, the crank is smooth. It's sealed beautifully and the alloy body ensures it will last forever. 
The new BG MG is an investment in bass fishing excellence, at a price far more accessible than many with similar or less performance and features.
Fish this anywhere for any bass application. This is where finesse meats the allrounder in perfect harmony. Flip it, pitch it, troll the banks in your kayak. You'll love it. 
Pros
Lightweight yet superb power
Excellent target access via outstanding casting manners
Quality build
Smooth crank
Built to last
Cons
Not a thing. It's excellent
>>Check Latest Price on Amazon<<
2. Shimano Stradic Ci4 FL – Best Finesse Shimano Bass Spinning Reel
I probably don't have to say anything about the Stradic. Only that it has been upgraded to become the Vanford in 2020. 
Everything you know and love about the Stradic is still there, with a few extras. I'm not sure about the upgrade, I've not used it yet. But I know it has a lighter crank and better corrosion protection.
For those looking for bargains due to model upgrades, the time is now for jumping on a Stradic price drop. 
You may have to get in fast as the new model takes over. However, I expect availability to be OK for a bit.
The 1000 holds 140 yards of 4-pound mono or 95 yards of 10-pound braid. There's 3 kilos of super smooth drag, which is just enough should you grab a hold of something a little bigger.
It's brilliant for casting the lightest of lures, brilliant with unweighted plastics. 
This is as good as it gets for flipping and pitching at speed, with good casters able to adopt one-handed casting when strapped to the right rod butt.
The ratio sits perfectly in the middle of versatile which many will appreciate. The puritans will argue it's a little too quick for cranks, but it's hardly a first choice for cranking anyway.
The crank is so light without feeling weak. You might think you'd be up against it when hooking up big, but there's such a solid feel to the Stradic that inspires confidence.
From bank to kayak, from the shallows to the middle of the lake, the Stradic is a perfect choice for every finesse enthusiast, noob to expert. 
If you're patient, you might find yourself with a serious deal as the new model takes over. Knowing the pedigree of the Stradic, I'd bet that the upgrade is just as fine, if not better than the Stradic Ci4 Shimano legend.
Pros
Lightweight, synced, and precious based finesse fishing
Beautiful crank
AR-C Spool delivers such a tidy, long, and accurate cast
Uniform line lay ensures the cast remains predictable
Cons
It's very light and finesse only. A reasonable outlay for limited versatility
>>Check Latest Price on Amazon<<<
3. Quantum Throttle II3000 – Best Budget Spinning Reel For Bass
You'd have to look a long way to find a better reel at this price point. In fact, I'm pretty sure you won't find better, just different. 
For me, the most impressive thing about the Throttle is that even at this affordable price point, it's built to last.
Awesome for cranking, this is the sort of reel that will also appeal to the angler looking for versatility. 
There is a drawback with the throttle that seems a little surprising. At only 8 pounds of drag pressure, wrestling with monsters will require some pretty serious skill.
However, the lack of drag strength is offset by serious spool capacity, with the Throttle able to hold 22 yards of 20 pound. 
Again, this can be a problem for catch and release, as a long fight is not ideal for survival on being released.
With this drawback, you may wonder why it's included here. I've included it because of the versatility it offers the competent angler and the build quality for the affordable price.
It has a feel that punches well above its accessible price point and cosmetically is second to none.
For me, this is a great reel for fishing the deeper holes, drop-offs, and channels in the cooler months. 
While it's capable of many applications, this would be my crank, live bait, and GP reel. Yes, the drag is a little underpowered, but that's kind of fun too.
Quantum is an impressive brand. The Quantum Throttle might be considered fringe by some, but in my books, this competes with the best bass spinning reel options on the market at this price point.
Pros
Value for money is outstanding
Versatility
Great looks
Perfect speed for cranking
Spool capacity
Great spinning reel for bass fishing
Cons
Drag is underpowered. I can't understand why. It's doesn't seem to be a price point compromise, just a missed opportunity
>>Check Latest Price on Amazon<<
4. Daiwa Exist Reels 2500 – Best High-End Bass Reel
Short of a miraculous new technology hitting the market, it's very difficult to see how Daiwa might improve on the Exist. This is a reel the US market may not be familiar with yet, but should be.
We talk about budget all the time. We know that the majority of anglers want to stretch their fishing budget as far as possible. 
However, there are those anglers fortunate enough to be able to toss a little more cash at their reels.
The Exist is such a reel. The price will take your breath away, with the more frugal maybe feeling incredulous. The 2500 Exist has two models, a compact and standard size. 
The standard size is the one I'd go for as it offers outstanding versatility with a smoothness of crank only 12 bearings can deliver. It has to be felt to be believed. 
I defy anybody to feel the difference between 4 and 6 bearings, by ye-gods you can feel what 12 do.
Not only is the crank the best the industry offers, but there's also an astonishing 10 kg of ATD drag, which in all honesty handles decent size saltwater fish with ease. 
There is no bass situation the 2500 Exist won't handle.
Should you hook into the rarest of record-breaking largemouth, in the worst conditions and the most troublesome structure, you're well-armed for turning it toward the boat.
The spool will hold 230 meters of PE 1.5. so you have all the time in the world should a belligerent bass take a larger than normal swimbait downstream. 
The smooth drag start-up ensures aggressive initial runs don't result in bust-ups. For most of us, it's the first second or so of a battle where the fight is lost. 10kg of ATD prevents these heartbreaking losses.
This is the reel I would choose if I were limited to fishing from the banks. Casting manners are impeccable with the ABS spool delivering more than enough length and accuracy. 
You will also have the strength to lift a larger class of fish from the water, should your rod be up to the challenge. The Exist is very powerful, yet the power is refined and focused. 
It's muscle with a brain and is just as well suited for finesse work by rigging lightly, as it is for ramping up the line class and hunting heavy structure for heavy fish.
Use it anywhere there's bass, from boat or land, but for my money, the Exist is a land-based special with strength to burn in the classiest of monocoque packages.
Pros
The Crank is velvet smooth. There's really nothing like it
10 kilo of ATD gives you access to the biggest bass on the planet wherever they're hiding
Build quality is superb. This is an investment that will last indefinitely
It's so light, it'll feel like an extension of your arm
Cons
The price will make a battle-hardened navy seal cry genuine tears while gasping for air
>>Check Latest Price on Amazon<<
Also Read:
What Is The Right Fishing Line For Spinning Reels?
What Are The 7 Best Shimano Spinning Reels?
Verdict
My hope is that there are some surprises on this list. My expectation is, however, that the inclusion of the Stradic spinning reel surprises nobody. Yes, it's that good.
My recommendation for the best spinning reel for bass fishing is the Daiwa BG MQ.
This is good quality stuff from Daiwa. They've taken a pretty run of the mill early mid-priced model and turned it into something truly special.
For those looking outside the Daiwa Shimano square, the Quantum offers the budget bass hunter something unique for serious cranking. 
Don't be put off by its light(ish) drag, you'll get a handle on it, and it's built to last, with plenty of line capacity.
Yes, the Exist is so expensive it makes it hard to breathe, However, if you're cashed up and prepared to invest at the aspirational price point, you'll be handsomely rewarded by one of the classiest fishing reels available.
Yep, you can target bass with just about any old eggbeater that's gathering dust in your extended reel arsenal. But life's too short to hunt bass with ordinary gear. 
Especially when there's a bass spinning reel model suited perfectly for your technique and location.
If you're looking for a good spinning reel for bass, you won't go wrong with any of the 4 reels listed above.