Walk into a sporting goods store, or click an online site, and you're likely to be overwhelmed with the variety of fishing equipment on display.
Modern anglers have a wide variety of reels, rods, lines, lures, hooks, along with ancillary equipment that can dazzle the senses.
You have found the reel you were looking for, but which rod would be best for it?
The reverse is true as well. The rod feels perfect, balanced, flexible, strong, and best of all, the rod handle fits your hand perfectly. 
Now, if only you could find a reel that fits this rod as well as it fits your hand.
We're going to take some of the guesswork out of this process by reviewing the best saltwater spinning combos under $100
The product designers of these rods and reels have determined the best possible combination to offer to the consumer.
We will share the results of their work with you below.
Best Saltwater Spinning Combo Under $100 Reviewed
Here are the best saltwater spinning combos under 100 in 2023
Penn Pursuit III LE Spinning Combo
Shakespeare Ugly Stik Carbon Spinning Combination
Pflueger Trion Spinning Legacy Models
Penn Pursuit II Spinning Combos
1. Penn Pursuit III LE Spinning Combos
Rated highly in consumer reviews, the Pursuit III LE comes from the recognized leader in saltwater fishing, Penn.
This combo is available in a variety of one-piece and two-piece rod styles. You're looking for a saltwater combo, so light to medium-light rods won't be considered.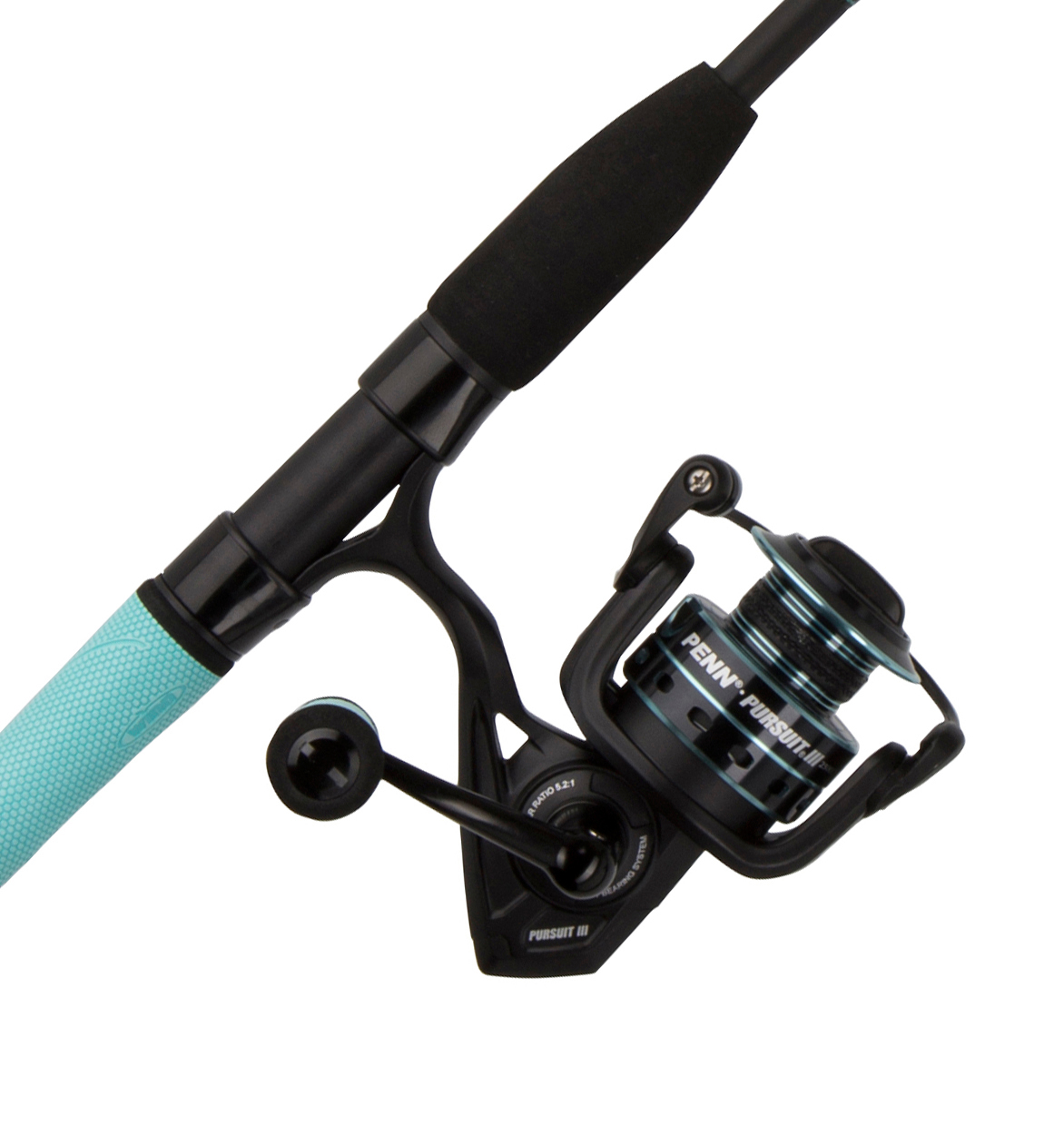 If you're fishing for larger species in bays, on the open ocean, or from shore, you'll need a rod with a bit of heft behind it.
The PENN-1660 fits the description. 
A 7-foot, one-piece rod rated at medium power. Medium power means you'll have the strength to reel in a large salmon, with the dexterity remaining in the rod to carefully control casts in a more confined setting.
The reel has a maximum drag of 20 pounds, more than enough for most species you'll likely encounter, and can handle up to 200-yards of 15-pound monofilament line.
The Pursuit III 5000 has a gear ratio of 5:6:1., five-ball bearing construction, and weighs a hefty 19.7 ounces.
Composed of lightweight graphite, HT-100 carbon fiber drag system, and a Superline spool, this elegantly styled reel matches the performance of the medium-power rod well.
Pros:
Made by Penn
Medium power one-piece rod
Cons:
Graphite construction
Limited line capacity
2. Shakespeare Ugly Stik Carbon Spinning Combos
Ugly Stik rods are legendary in the fishing industry. Their ability to withstand the stress that would snap a lesser quality rod makes them a favorite of anglers in just about every fishing venue you can find.
For saltwater applications, we'll look at just one of the four varieties available in this combination, the single-piece, medium power rod in 6-6 length.

This legendary rod design is coupled with Abu Garcia's Black Max Spinning reel. The Black Max is a versatile entry-level reel with the reliable quality Abu reels are known for.
Three ball bearings and one roller bearing provide the Black Max with a slow oscillation retrieve. 
A lightweight graphite body and rotor provide enhanced corrosion resistance, along with the machined aluminum spool.
Abu Garcia's Everlast bail system rounds out the features of this superb reel.
A great rod, combined with a practical reel, makes this one of the better combinations available on the market.
Pros:
Ugly Stik reputation
Single piece rod
Cons:
Only three ball-bearings
Graphite construction on moving parts
3. Pflueger Trion Spinning Combos – Legacy Models
Pflueger leads the market when it comes to smooth, durable reels. When merged with a solid, one-piece, medium power rod, it's hard to beat this low-cost combination.
Pflueger has a modern version of the Trion reel, but many anglers feel it's just an attempt to improve on an already perfect reel.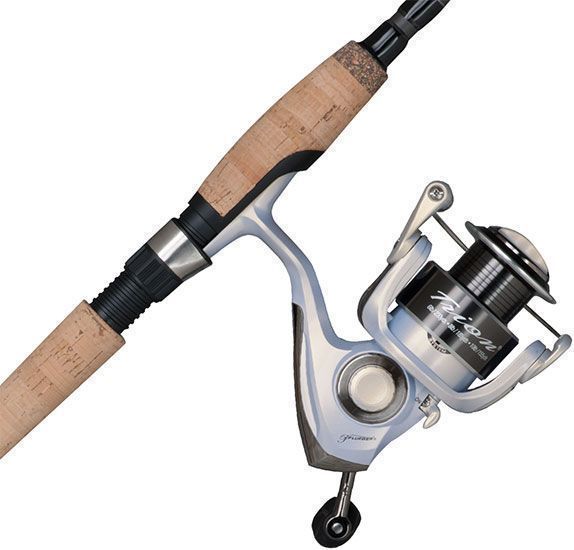 With a long, storied tradition of service, Pflueger's Legacy Trion reel has a long, storied tradition of service. 
The 3500 size Trion is at the upper end of freshwater reels for size and at the lower limit of saltwater applications. But that doesn't mean it won't work out on the open ocean or from shore when surfcasting.
The Trion Legacy can handle 230-yards of six-pound test monofilament, 185-yards of eight-pound, and 155-yards of 10-pound test. 
The limits on braided line are even larger at 250-yards for eight, 220-yards for 10, and 160-yards for very strong 14-pound test braid.
A 10-pound drag, eight line eyes on the rod, and a retrieval rate of 28.5 inches per crank make this one of the best saltwater spinning reel combos on the market. 
The price is well under the $100 limit, but the performance ranks near the top.
The Trion Legacy comes with six ball bearings, an anodized aluminum spool, convertible left and right-hand configurations, and an off/off instant anti-reverse dray.
The rod is made of IM-6 graphite, providing a lightweight, sensitive touch while retaining the strength you'd expect in a medium power rod.
Pros:
Pflueger Trion reel with a long, proven performance rating
Six ball bearing design
Large line capacity
Price
Cons:
Only available in 6-6 length
4. Penn Pursuit II Spinning Combos
This is the largest saltwater rod/reel combo we'll review in this article. The Penn Pursuit II is available in sizes from seven to 10 feet.
We'll review the two-piece 10-foot version since it fits the bill for long-range surfcasting. The Penn Pursuit II, model PEN-1289 is a giant among low-priced saltwater fishing combos.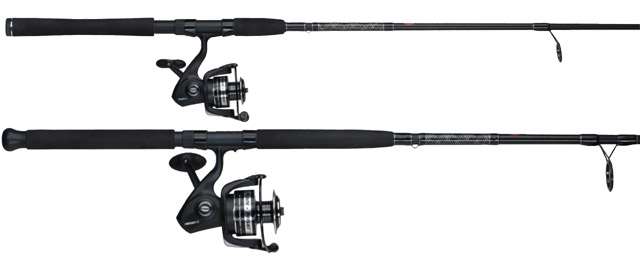 When it comes to saltwater fishing, there is no comparison to Penn equipment; they lead the world when it comes to surfcasting, deep-sea fishing, or trolling in the ocean just a few hundred yards offshore.
The Pursuit is rated for 350-yards of 25-pound test line, has a 20-40 variable drag, and that 10-foot length allows an experienced angler to get the bait a long way into the surf.
It is made of lightweight, corrosion-resistant graphite and has an anodized aluminum reel with four ball bearings and one roller bearing.
The rod is made of two graphite composite blanks. Aluminum oxide hardens the stainless steel line guides, ensuring a long lifespan in the harsh conditions you'll find casting from shore or trolling on the ocean.
Pros:
Penn is the saltwater leader
Line capacity
Rod length
Cons:
Two-piece rod
Graphite construction
5. Mitchell 300Pro Spinning Combos
The Mitchell 300 Pro comes in five different varieties, all priced under the $100 limit. We'll review the MIT-0017, a 6-6, one-piece, medium power rod.
The rod is constructed of 24-ton graphite for extra strength, and enhanced sensitivity. The stainless steel line guides with ceramic inserts, reduce weight and add durability making it great for saltwater fishing.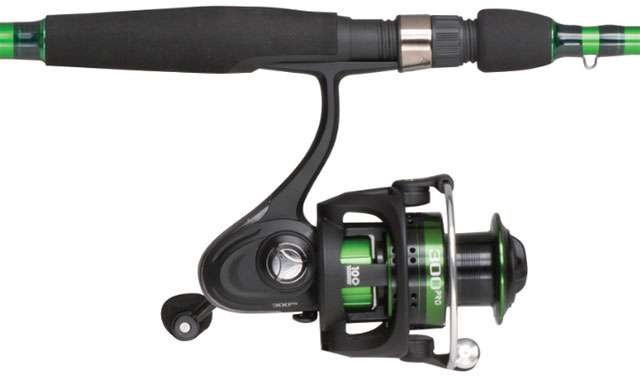 The Mitchell reel is as smooth as glass, competing with Pflueger for ease of use, effortless retrieves, and overall outstanding performance. 
A ten ball bearing design accounts for the enhanced smooth action of this reel.
A carbon fiber drag, Mitchell's unique "Halo" bail, and an aluminum spool all add to the functionality of this combo.
This is a great combination for drop shotting, jigging, or trolling offshore. The shorter rod length doesn't make it a great candidate for long-range casting from shore.
Pros:
10 ball bearing design
Smooth action
Steady retrieve
One-piece rod
Cons:
Are Spinning Reels Better Than Baitcasters For Saltwater Fishing?
The best answer is yes, and no. There are advantages to both styles of reels when fishing saltwater, but to make the blanket statement that spinning reels are always better than baitcasting reels in this application is not true.
A spinning reel is easier to use and can make longer casts in the hands of a novice, but a baitcasting reel has its advantages in saltwater.
Baitcasting reels are designed for the heavier, braided line that many anglers use in deep sea fishing. 
Heavy 80+ pound braided line wound around a baitcasting spool provides power, reliability, and strength if you're tangling with a marlin, tarpon, or other large species.
The spinning reel accommodates clear monofilament, and in large 8000 series reels, it can handle a lot of heavy mono test line.
How To Choose The Right Size Combo?
The purpose of this review is to help you find pre-constructed rod and reel combinations that match the style of fishing you want to pursue. 
We've set the parameters at less than $100 to entice the novice saltwater angler to try one or more of these pre-designed combos.
Having an idea about the power of the rod you're looking for, the style of the spinning reel, and the application you're planning to use it for, puts you way ahead of the game.
A reel should match the rod. First, select the length, power, and style of rod you want to try. 
Then find a reel that seats perfectly onto the reel holder, that can use the weight and style of line needed for the fish you're after and go from there.
The reel should be a seamless part of the rod, and the rod should augment the reel for top performance on the water.
Frequently Asked Questions
What Is the Best Saltwater Spinning Reel for The Money?
What is value to you? That's the short answer. If you want to save a few dollars on a saltwater rod and reel combo, you can find reliable reels with strong rods at discounted prices.
 
Don't expect these discounted combinations to provide the quality, power, reliability, and durability you'll find in more expensive models; it just doesn't work that way.
 
A spinning reel is the most important tool in your fishing arsenal, along with the rod it's used with.
 
For the money, you can't beat Pflueger quality.

Pflueger is known for freshwater equipment, but their reputation in any setting places them at the head of the value for the money category of saltwater fishing.
 
The Pflueger Trion, both the newer version and the classic, are top-notch reels that will provide years of service if they're cared for properly.
 
Saltwater is corrosive and even the best-constructed reels are susceptible to the damaging effect of salt, salt spray, and salt crystals building up inside a reel housing.
 
After each saltwater trip, rinsing your reel in fresh water will remove most of this accumulation, ensuring long life with minimal corrosion damage.


What Are the Main Differences Between Saltwater and Freshwater Spinning Reels?
There are three main differences between saltwater and freshwater spinning reels. The three differences are spool capacity, overall reel size, and anti-corrosive construction.

Saltwater species are larger, stronger, fight harder and do more potential damage to a reel than you're likely to find in a freshwater setting.

Spool capacity allows more line to be wound onto the reel.  That extra line will come in handy if you hook a strong marlin, swordfish, or striper in heavy surf.  

Experienced anglers claim that saltwater magnifies the power of a fish, with all things being equal, a 10-pound saltwater fish battles much harder than a similar freshwater variety.

That extra line plays in concert with the drag on the reel. 

If line were allowed to spool out with no resistance, the heaviest line has a good prospect of snapping when a hard running fish hits the end of it.  

A drag slows the spooling out of the line, tiring the fish, and making it more manageable to reel back in. 

Reel size refers to the physical weight, heaviness of the gears, and the overall tenacity of a reel. Reels are measured in increments of a thousand.  

A small ultralight reel is rated at 1000 or 2000, and they move up progressively. A heavy, ocean-ready reel begins with the 8000 series and moves up from there.  

A heavy saltwater reel can weigh three or four pounds, while a 1000 series ultralight weighs just a few ounces.

Corrosion is the enemy of all ferric metals. That Yellow Cab that ran the streets of Chicago for a decade is ready to fall apart from the salted roads of the Windy City.

Your spinning reel will experience the same decline if you're not careful. Quality construction materials, such as aluminum, magnesium, and stainless steel, offer great resistance to the destruction salt can cause.

What Is a Good Choice for A Saltwater Inshore Spinning Reel?
Inshore spinning reels have an extra burden their offshore rivals don't have to face.

Sand is every bit as corrosive as salt, and an inshore reel will face more than its fair share of sand on any given outing.

Select a reel that advertises "closed gears" "closed mechanism" or other references to "closed." 

Closed means the system is sealed, with no possibility of having foreign objects, AKA grains of sand, enter inside the mechanism.

Inshore fishing reels should contain the same aluminum, stainless steel, or graphite materials as a reel designed for offshore use. 

Smooth operation is what you're after, coupled with a long life that makes your purchase a wise one. 

Clean your reels, regardless of application at the end of the day, and they'll last you a long time. Here is some information on doing this correctly.
How Many Ball Bearings Should a Good Spinning Reel Have?
The more ball bearings a spinning reel has, the smoother the reel, the longer it will last, and the better it will perform.
 
Pflueger reels always have eight or more ball bearings. That's why they are among the smoothest action reels on the market. Mitchell sells a moderately priced reel that has 10 ball bearings.
 
Some reels contain just two ball bearings and a single roller bearing. You can feel the difference in quality right away on these poorly constructed reels.
 
If you can find a reel constructed of quality material, with 10 or more ball bearings, and it's in your price range, buy it.
 
There is no substitution for an increased number of ball bearings when you are looking for a smooth action reel.
 
Increased ball bearings in a reel are a surefire way of identifying an outstanding product from an average one.

What Is the Best Rod for Saltwater Fishing?
You can't beat a single-piece rod. The stress points are spread across the length of the rod. In a two-piece rod, the stress points will always be at the connection midway up the rod.
 
Length and power are the two considerations in a one-piece rod. A rod rated at medium is a good all-purpose rod to use in a saltwater setting. 

It has the flexibility to cast well and the strength to battle large fish.
 
A length of at least seven feet allows you a better casting distance while retaining good accuracy.

A skilled angler fishing from shore can sometimes use a rod that is twice that long, but it takes practice and diligence to master accurate casting with a rod of 12 feet or more in length.
 
Strength, size, and flexibility are all important attributes when selecting a saltwater rod.