We hope you love the products we recommend. Just so you know, OnTrack Fishing may earn an affiliate commission from the links on this page, at no extra cost to you.
If you're a low-maintenance kind of angler, you have likely prided yourself on your ability to drop what you're doing and go angling at a moment's notice.
You grab your rod and head out on the water, perhaps not sure whether you're going after bass, trout, bluegill, or croakers.
Unfortunately, if you've ever fished for steelhead salmon, you may have noticed that you can't be quite as easygoing.
These tough fish need a certain kind of quality gear to catch, and you can't fish for them with a one-size-fits-all rod.
You need the most specifically tailored and best rod to haul in this catch of a lifetime.
Best Salmon Steelhead Rod Reviews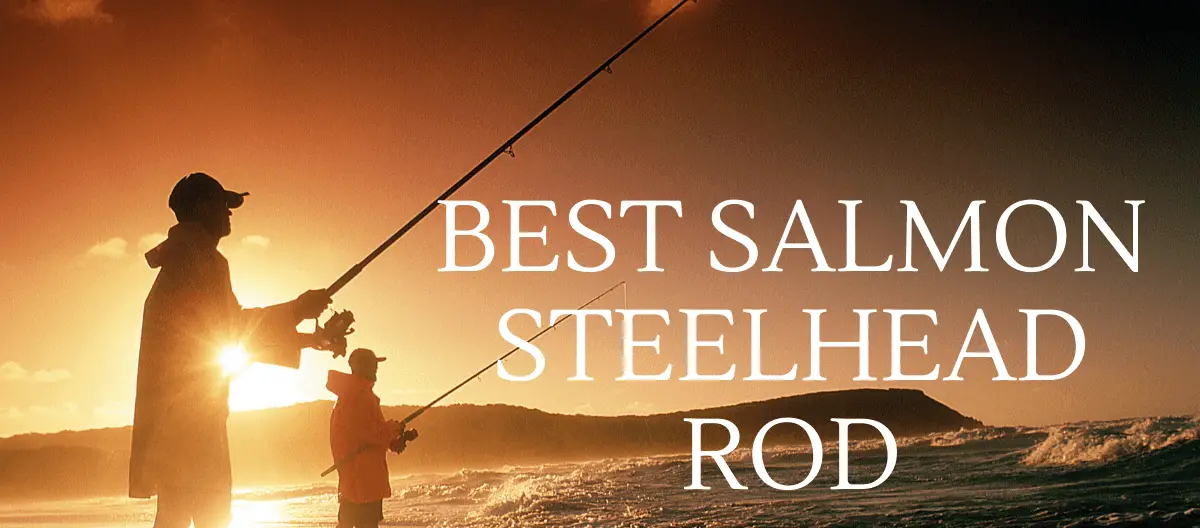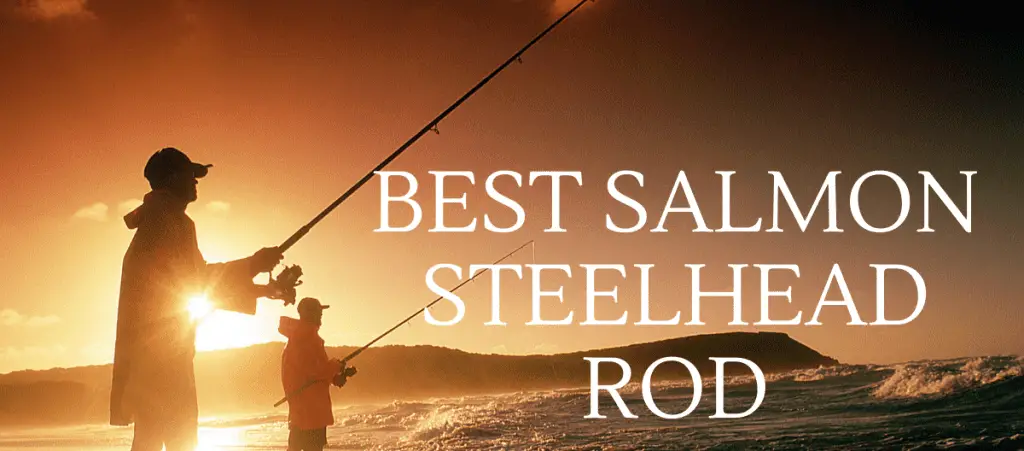 Here are the best steelhead fishing rods on the market.
Last update on 2023-12-02 / Affiliate links / Images from Amazon Product Advertising API
What Kind of Rod Should You Use For Steelhead Fishing?
Steelhead salmon are some of the most tenacious fish you can find, spending much of their lives in freshwater before moving out to large, open bodies of water (think the ocean, for example).
You definitely need a great technique for steelhead. 
The lucky few that survive to adulthood have to be tough enough to meet the challenges of both freshwater and saltwater living, and they aren't going to be deterred by some lightweight tackle.
When you're going after one of these species, you need a rod that is both heavier and longer than your typical rod.
You also need to be able to make precise, accurate casts into seams and pools where the fish tend to relax before their long journeys.
Most rods will be about eight to ten feet in length, providing you with enough power and agility to make an accurate cast.
At the same time, the rod needs to be resilient. These fish are remarkably strong, and you need to be able to fight them for quite some time before you are able to reel them up.
Ironically, despite their power, these fish tend to bite softly, meaning it's equally important that your rod have a hairpin trigger so you can hook your fish before it takes off again.
Further Reading: Best Crankbait Rod
5 Best Salmon Steelhead Spinning Rods
---
Shakespeare UglyStik Elite Spinning Rod
Shakespeare is the name of the game when it comes to spinning rods, and the UglyStik is no exception (despite the self-deprecating name, of course!).
This quality rod is sturdy yet sensitive, offering a ton of features at a shockingly decent price.
About nine feet tall, the rod offers superior flex with plenty of strength to hold up to the heaviest salmon. As a backwoods angler, this strong rod is one of the top rods on my list.
It breaks into two pieces, making it convenient for stowing in a backpack and taking on longer treks into the woods.
As a longtime trout angler, I've grown accustomed to hiking into backwoods ponds and spending an entire weekend angling.
In the past, I've had to compromise when hunting for steelhead or salmon, because the poles were just too long and cumbersome to bring back to more isolated areas with me.
Luckily, the UglyStik offers the perfect combination of functionality and convenience.
I also like that the pole has a fast-action tip that is ultra-sensitive to bites, allowing you to hook your catch more easily and with minimal slip-ups.
I don't have to worry about "the one that got away" because I rarely miss a nibble with this sensitive rod.
Pros:
Available in multiple lengths and weights for customization
Can be broken down into multiple pieces for portability
One-piece stainless steel guides
Lightweight and ultrasensitive
Cons:
The included lifetime warranty doesn't cover all damages
>>Check Latest Price on Amazon<<
Lamiglas X-11 Cork
This pole comes in a variety of convenient settings, allowing you to customize it to your specific needs.
It has a height range from 8'6" right up to 10'6", allowing you to use it in a number of settings.
It offers flexibility and durability, constructed of aggressive graphite and flexible fiberglass.
It is sensitive enough to detect small nibbles yet also has enough backbone to reel in massive salmon.
I frequently get stiff fingers when anglinga for long periods of time, particularly when it's cold and I'm holding a plastic rod handle.
However, this rod has snug cork handles that make it much more comfortable to hold.
It also has nice guides and a conveniently-placed reel seat so that you don't feel like you're holding anything at all while you're fishing.
This rod is well-balanced and holds up under pressure, made out of high-quality materials without breaking the bank.
For this reason, it had to be on my list of the best salmon steelhead rods.
Pros:
Available in multiple lengths, weights, and action speeds
Breaks down into two pieces
Comes with a one-year warranty
Built with premium quality guides constructed of stainless steel and chrome
Cons:
The eyelets are somewhat small, requiring a bit of extra attention during setup
>>Check Latest Price on Amazon<<
Okuma SST Graphite Salmon Fishing Rod
This two-piece spinning rod is made by Okuma, a company known for producing long-lasting and durable rods.
The first thing I noticed about this rod is that it is incredibly sensitive. As a beginning angler, this rod is ideal, because it's tough for you to miss a bite.
It packs down easily and is made out of premium, high-quality materials, guaranteeing a lifetime of success. This rod also has a strong steel guide frame and zirconium guide inserts.
This helps to reduce the amount of friction caused by braided lines, allowing for an effortless angling experience without having to worry about your lines snapping.
Pros:
Comes with a one-year warranty
Has a sturdy stainless steel frame and sensitive graphite construction
Breaks down into two pieces
Cons:
Reel seat has a decorative cover that can mask the feel of some extremely light bites
>>Check Latest Price on Amazon<<
KastKing Krome Fishing Rod
The KastKing comes with a wide variety of options, allowing you to choose between a 7'6" rod, a 12' Pro Troller, and everything in between.
It is a lightweight rod and provides durability along with function. It has a carbon frame reinforced with Kevlar fabric, helping to exhaust the toughest salmon.
This is one of the more attractive rods on my list, catching everybody's eye with its advanced design and sleek finish.
If you're looking for a rod that can be used on other species (we're looking at you, multitaskers), this rod would have to be my pick.
I have used it on bass and other fish without any issues, and it's great for trolling, too.
Pros:
Comes with fluorescent strike tips
Durable carbon fiber handles are comfortable and resilient
Kevlar fabric reinforcement improves hook setting
15 different models customized for rod weight, action, power, length, and even handle length
Cons:
>>Check Latest Price on Amazon<<
St. Croix Triumph Spinning Rod
This is another rod that is easy to pack down for longer trips.
It breaks down into two pieces, and since it's made out of quality materials, you don't have to worry about breaking it in transit.
The St. Croix Triumph is made out of high-quality graphite and is double-coated, allowing for extra durability and the utmost sensitivity.
It also comes with strong aluminum guides, allowing it to perform well in both fresh and saltwater.
Another bonus? This rod has a nice cork handle, reducing your fatigue while you fish.
The rod allows for superior gripping ability and there's minimal arm exhaustion while you're using this product.
Pros:
Comes with a five-year warranty
Breaks down into two pieces
Handmade rod with quality construction
Cons:
>>Check Latest Price on Amazon<<
And the winner is…
If you're looking for a high-performing, high-quality rod that will last you many years of adventures, the Shakespeare Ugly Stik Elite is the way to go.
Shakespeare is king at producing attractive, versatile, and functional rods, and this product is no exception.
You can use these rods for salmon as well as many other types of fish, and having one of these rods with you on a trip can never hurt.
Because this rod packs down so efficiently, it's easy to carry and great for casting and spinning. It is made out of durable materials and is so comfortable to use.
Even better, it's offered at an affordable price, making it well worth your money.
That being said, you may need a rod with additional features. Perhaps you don't care about a rod being able to pack down, or having comfortable grips.
In that case, one of these other products may work best for you. Consider one (or all!) of them as the next addition to your arsenal.
Steelhead in general, are not easy fish to catch, but once you've equipped yourself with the right equipment – which includes, of course, the best salmon steelhead rod – you will be well-prepared to head out for some amazing salmon that you'll remember for the rest of your life.
Also Read: Steelhead Fishing Tips