We hope you love the products we recommend. Just so you know, OnTrack Fishing may earn an affiliate commission from the links on this page, at no extra cost to you.
A great day of angling should be mostly about the quality time spent with friends and family, enjoying great weather, and experiencing the adventure of a lifetime – not worrying about your equipment.
Fishing reels can be challenging items to shop for, particularly because there are so many excellent options on the market. 
While your fishing success shouldn't' – and doesn't necessarily – always boil down to your gear, picking the right spinning reel can help you improve your day on the water and make your trip less stressful.
Top 8 Best Inshore Spinning Reels For The Money
Here are the best inshore fishing reels on the market:
Last update on 2023-05-18 / Affiliate links / Images from Amazon Product Advertising API
Advantages and Benefits Of Using Inshore Fishing Reels?
Reel selection is, in many cases, more important than rod selection when fishing inshore.
Technically, the best inshore fishing reel is one that's designed to be used in water that doesn't run too deep or is not that far away from shore – typically, in waters that are fewer than nine miles from the shoreline.
While inshore spinning reels can be used in any kind of water, they are usually designed and used for saltwater fishing.
Making sure you have the proper reel for your trip can make the difference between a fun angling excursion, and one that is filled with hassles.
A good performance reel can help prevent unnecessary issues or servicing when you're out on the water, offering both reliable drag and ease of use. 
A high-quality reel can handle any size fish, allowing you to reel it in with relative ease and comfort without having to worry about that larger inshore species snapping your line.
It will hold up to the pressures of saltwater, made out of materials like carbon, aluminum, or stainless steel, and will be sealed to help prevent water from getting into the inner portions of the reel. 
The strong, smooth drag provided by a good inshore spinning reel will help you land the biggest fish – making it easier to reel in and land the monster catch of your dreams.
How to Assemble an Inshore Reel
To set up your reel, you should first start by selecting your line.
Braided line is recommended for saltwater spinning reels, so you'll want to make sure the reel you purchase has spools that are designed to handle braid without any slippage.
While most inshore brands are designed to do this, it's important that you check your specific model to be sure. 
While you can use any type of bait with your reel (and this will vary depending on what kind of fish you are hoping to catch), most people use topwater plugs, live bait, or light jig heads.
Your casting technique will also differ based on where, exactly, you want your bait to head.
Also Read: Top Fishing Reels With Trigger
What To Consider When Buying An Inshore Spinning Reel
When you're looking for a top-quality reel for inshore fishing, you should consider a few key characteristics.
You want a pole that can break down easily, and comes without a lot of bells and whistles, as these generally make the reel harder to tote and carry.
Front drag reels tend to be easier to use and more consistent, as are ones that place the bottom line on top. 
When it comes to materials, most are made out of aluminum, stainless steel, graphite, or magnesium.
If you plan on fishing in saltwater, avoid magnesium, which corrodes easily.
Aluminum is a lighter, stronger metal that will hold up to any kind of water, and graphite is another good (albeit slightly heavier) option.
Many are also built with stainless steel components, which can add a nice flair to an otherwise drab reel.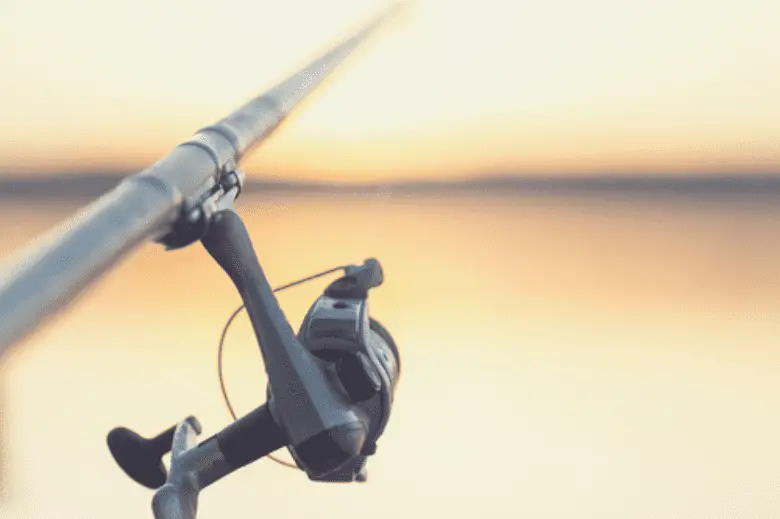 While this aspect isn't quite as important for freshwater anglers versus if you plan on doing a lot of saltwater fishing, a reel that will resist corrosion is absolutely a necessity.
Seek out products that have stainless steel bearings and internal parts, as well as a sealed rotor.
This will help you get more longevity out of your reel, saving you both money and headaches down the road.
While inshore reels vary drastically in terms of their cost, the very best will be affordable and built to last.
You don't need to spend thousands (or even hundreds) of dollars to get a decent reel, but you should invest in one made out of solid, durable materials and with excellent ease of use so that you can avoid having to purchase a new one year after year. 
A good reel will be one that can adapt to several different types of rods, from those that are more portable and designed for travel to those that are more rigid in structure.
While it's understandable to want to bring multiple options out on the water with you, allowing you to switch back and forth between different rods, many of the products we have included in our roundup can be used on many different types of fishing poles. 
Finally, drag is an important feature that cannot be overlooked, and should instead be placed at the top of your list of considerations.
You want a reel that provides a strong, smooth drag because you don't want a large monster to get away due to inconsistent pressure or line breakages.
A front drag reel will be easier to adjust and will do so more smoothly. When it comes to the best size reel…..
…..You will want to look for a reel size of 3000 to 5000 from a top manufacturer that is specifically made for saltwater fishing.
Also Read: Best Trout Fishing Reels
Let's now get into our top picks and reviews.
1. Shimano Stradic HG – #1 Top Pick
This reel is best known for its superior technology, rising above comparison with improved gear durability and overall casting performance.
It's a lightweight reel, weighing in at less than eleven ounces, yet still possessing a 20 lb maximum drag.
While you can use the Shimano Stradic in any setting, it is best at producing long, accurate casts without a choppy feel.
It can handle offshore fishing tasks, too, making it a good choice if you're looking for a reel that can hold up to any conditions. 
You might be wondering if you can use the Shimano Stradic in Saltwater? The answer is yes, the Shimano Stradic is a great choice for both fresh and saltwater fishing. This makes it one of the best recommended saltwater reel choices on the market.
Pros:
A gear ratio of 6:1 allows for heavy drags and fast retrieves
Lightweight feel for smooth casting
Ball and roller bearings move without friction
Cons:
Does not come with an anti-reverse switch
>>Check Latest Price on Amazon<<
2. Penn Conflict II
Penn offers a number of excellent options for inshore saltwater anglers, and the Conflict is no exception.
This Penn inshore fishing reel is designed with rigid resin materials and incorporates state-of-the-art technology.
Constructed out of resilient materials, this Penn reel operates with exceptional precision.
It has a 7+1 sealed stainless steel ball bearing system, which helps the reel cast more smoothly while at the same time resisting corrosion. 
Even better, this reel's Superline spool helps you cast longer and haul your catch in more quickly, while also minimizing twisting and tangling in the line.
It even has line-level indicators to help you keep track of how much line is left. You can rely on Penn to produce the goods every time.
Pros:
Unique line level indicators help you stay on top of your casts
Sleek retrievals and strong drags
Penn instant anti-reverse system
Cons:
Maximum drag of only 15 lbs
>>Check Latest Price on Amazon<<
3. Abu Garcia Revo
This reel is nothing to scoff at, allowing you to haul in catches up to seventeen pounds.
It has a Carbon Matrix drag system, which makes your drag performance more efficient while also allowing for quick retrievals.
Made out of a finely engineered blend of stainless steel, aluminum, and carbon, this reel is resistant to corrosion and operates smoothly while at the same time being one of the more attractive options on the market.
Pros:
A braided line can be tied directly to the spool
Made out of corrosion-resistant materials
An efficient drag system works on most species
Cons:
Not designed for longer casts or offshore fishing
>>Check Latest Price on Amazon<<
4. Quantum Cabo PT
This reel is unique in that it's made out of a revolutionary alloy called SCR.
This alloy holds up to all kinds of pressure, heat, torque, and corrosion, allowing you to get years of use out of the reel without needing to replace it. 
It has a tight drag as a result of its sealed system, made out of stainless steel and carbon.
The reel also has a titanium bail that is held shut with a magnet, preventing you from accidentally tripping the cast to an abrupt (and usually unwanted) stop.
It can be used on larger fish and has a maximum drag of 30 lbs.
Pros:
Operates smoothly, with large drags for every crank
Excellent protection against wear and tear as well as the water
Can be used on larger, harder catches like tuna and shark 
Cons:
Not designed for smaller fish 
>>Check Latest Price on Amazon<<
5. Quantum Smoke Speed Freak
Made out of resilient SCR alloy, this reel is rigid and rugged without compromising lightness or function.
It includes a sealed drag system that, despite being lightweight (less than eight ounces!) allows you to reel in targets of up to 20 lbs.
SaltGuard 2 .0 is used throughout the entire product to help protect it from corrosion.
Pros:
Cons:
Bail sometimes malfunctions, requiring manual tripping
>>Check Latest Price on Amazon<<
6. Shimano Sustain 4000 FG
This reel, also manufactured by reel giant Shimano, has added line capacity and superior drag power.
Although it is a more expensive option, it is extremely high quality, weighing less than ten ounces and offering a 6.2:1 retrieve ratio.
It casts smoothly and has a larger-than-normal handle, making it easier to grip and cast.
This reel holds up for several years, offering great sealing from the elements and fluid operation.
Allowing you to reel in fish of up to 24 lbs, this reel can't be beaten when it comes to overall quality and versatility. 
Pros:
Durable and rugged construction
Can handle heavy drags
Water-repellent coating and water-channeling construction help keep the elements out
Cons:
>>Check Latest Price on Amazon<<
7. Okuma Trio High Speed
This reel is made out of technologically advanced aluminum and graphite construction.
Although it is not the most attractive reel on the market, it sure is effective, offering rust resistance and a long casting profile.
It has stainless steel bearings, allowing you to retrieve and drag with ease, and the handle is made out of EVA foam, a plus when you're looking for a more comfortable fishing experience.
Pros:
An affordable and durable option
Aluminum and graphite construction makes the reel lightweight and resistant to rust
Longer profile 
Cons:
Maximum drag of only 18 lbs 
>>Check Latest Price on Amazon<<
8. Daiwa Ballistic EX 3000
This compact reel can be used for both fresh and saltwater, as the reel is equipped with Magseal technology.
It is one of the most durable reels on this list, offering versatility in a variety of settings as well as long-lasting construction.
This is a great reel if you want a multipurpose setup, and is quite affordable to boot.
It has a fully sealed rotor and keeps out sand, salt, and other corrosive materials. Although it weighs a bit more than others, it is a solid choice overall. 
Pros:
An affordable option that is a good overall value
Magseal protection keeps the elements out of your reel's components
Aluminum build provides smooth operation and lightweight durability
Cons:
Not designed for catches larger than fifteen pounds
>>Check Latest Price on Amazon<<
Final Verdict
While all of these products are great choices for beginner and experienced saltwater anglers, I personally recommend the Shimano Stradic as the top inshore spinning reel around.
This is one of the most reliable saltwater spinning reels that is best described in one word; smooth. It has a smooth appearance, a smooth drag, and an even smoother retrieve.
It can land just about any kind of fish, and has a great strength-to-weight ratio. If you're looking for a reel that will stand up to the test of time, the Stradic is definitely the way to go. 
Keep in mind that even though the Staradic is my top choice, the right reel for you may vary depending on your personal preferences.
Consider our lists of pros and cons carefully, and test one or two of these out for size to make sure they will work just as well for you.
You'll be out enjoying the water in no time!