We hope you love the products we recommend. Just so you know, OnTrack Fishing may earn an affiliate commission from the links on this page, at no extra cost to you.
For the modern ice angler, ice fishing is particularly equipment-heavy. It doesn't need to be. But when all is said and done, a fully equipped ice angler can make a game boat look minimalist. 
Given the truckloads of ice fishing kit we rate and compare, the humble reel is forced to compete for ice fishing kit top billing. 
They're (arguably) not as sexy as the latest towable ice fishing hut, with a jacuzzi and central heating. Nor are they as exciting as the latest Eskimo 8 inch gas ice auger.
Today we're going ice fishing grassroots. We're talking ice fishing reels – the best ice fishing reels.
Firstly, I'll make it clear what I mean by the term 'best reel'. The best ice fishing reel doesn't necessarily mean it's the best reel for you.
We'll look at certain features that make a reel more suited to ice fishing, and I'll list 5 reels that will be great for fishing on the ice.
Half the problem is that countless ice fishing reel options can make a purchase very confusing. Let's keep this simple.
And, Importantly, this is not about steering you to a particular product from whatever web-based distributor. This article is about helping you choose the best ice fishing reel for you.
What is the Best Reel for Ice Fishing?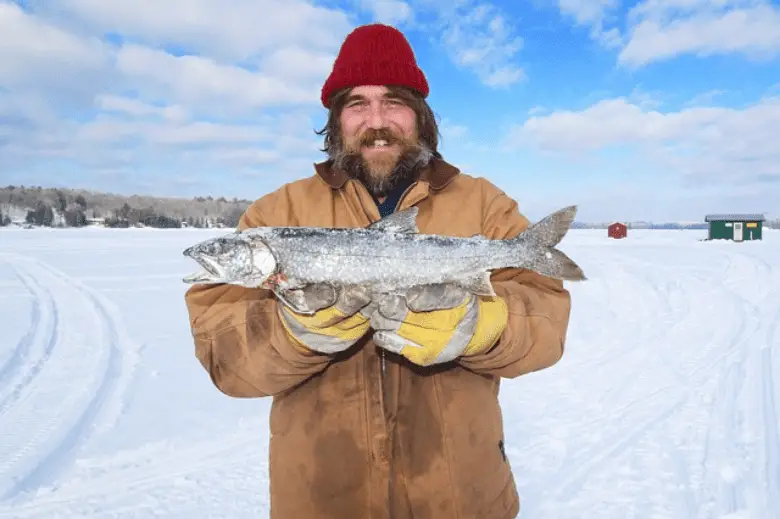 "What's the best reel for fishing the ice" is a very different question to "What is the best ice fishing reel"? Let's unpack this.
Firstly, as we all know, there are purpose-designed ice fishing reels. However, nearly any style of fishing reel can be used perfectly well for ice fishing.
The spin reel, the baitcaster, the centrepin and, of course, the inline ice fishing reel, all can perform equally well on the ice.
It's because of this that selecting the best ice fishing reel is subjective. If you are a highly skilled baitcaster angler, it stands to reason that a baitcaster would suit you best on the ice. 
The same goes for spin reels etc. If you love spin, fish spin. You can check some options here.
You don't have to have an inline ice fishing reel or reel with the word "ice" in its branding to increase your success when ice fishing. 
Indeed, if you hardly ever use an inline reel and find them unappealing or uncomfortable to use, it may well be a hindrance to a joyful fishing experience.
Generally speaking, there seems to be little in the way of features that provide any significant advantage to using an inline ice fishing reel over any other reel.
Any benefits might be considered subjective. For example, if you enjoy using a short and light ice fishing rod, and holding on to it with a pistol grip, then yes, the ice fishing reel will provide benefits for you.
However, a 1 to 1 gear ratio or even a 2.5 to 1 gear ratio, common with ice fishing reels, may completely annoy the average spin reel angler – particularly if you're fishing deep. 
The British idiom, horses for courses, is an underlying theme of this article.
Features That Make a Reel More Suitable for Ice Fishing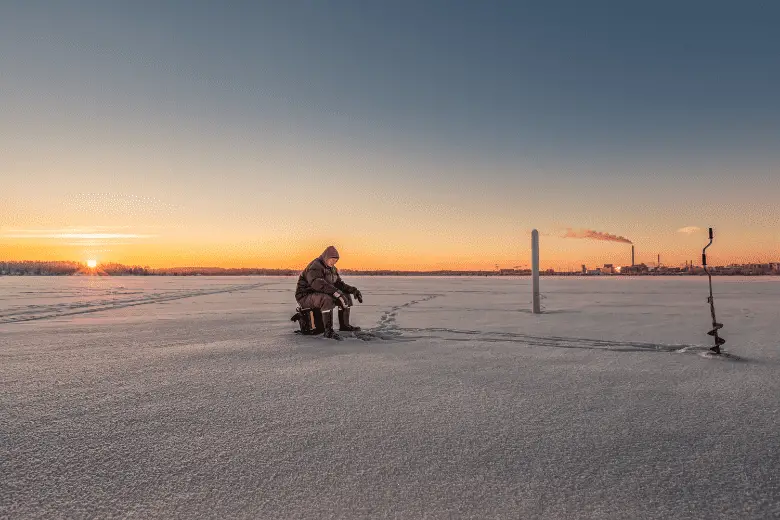 Oversized Handles and Knobs and an Elongated Yolk:
You're cold, you may well have your gloves on, and the reel you are using is relatively small. 
Small handles and knobs can be a challenge when you're really cold. Fine motor skills can be compromised as you shake off the frostbite. Gloves make the finer reel adjustments cumbersome. 
And, if you're anything like me in the cold, you want to avoid taking your gloves off as often as possible. To read my article on the best quality ice fishing gloves click here.
This is where an elongated yolk comes in handy with a spin reel. As does a protruding front drag knob on a spin reel and a larger style star drag on an inline or baitcaster.
A Decent Gear Ratio:
I'm yet to understand the slow cranking ratios of many ice fishing reels. Like…why?
Yes, there are less moving parts, yes they're cheaper, and I understand the 'feel' of something like a one to one ratio. But I also understand the frustration of fishing them in deep water. 
Fish a standard gear ratio for versatility. 4.5 up to 7 to 1 is fine. Great in the shallows, and great in the deeper water. It's ideal for all fish big and small.
Spare Spools:
A reel that has spare spools that are easy to change are great. Fishing light for panfish is great fun.
It's heartbreaking, however, when something larger is about and you're underpowered. Keep a spare spool with a heavier class of line ready to go.
Small but Strong:
Small lightweight rods with very little length require a compact reel to achieve a modicum of balance. 
A strong but compact reel will allow you to chase panfish without overkill while allowing you to weight up and stiffen up for a larger class of fish.
There are several common reel features that I have not mentioned here. So, before you ask me about smooth drags, anti-reverse, bearings, sealing and smooth cranks, etc, these features go without saying. 
These features are critical to any type of reel for any style of fishing at any time of the year. The focus here was reel features ideal for ice fishing specifically.
Inline vs Baitcaster vs Spin for Ice Fishing
Firstly, it's a personal preference. Don't let anybody tell you one reel is better than the other for ice fishing. It's up to you.
I like spin reels on the ice simply for the ergonomics. They suit me. My second choice (a very close second) would be a Baitcaster.
Let's have a look at a few key pros and cons of each of these 3 reel types.
Baitcaster Reels
Pros: 
Excellent flexibility. Brilliant for small and larger fish
Affordable models are now available
Mitigates against line twist
Star drags are easy to operate in gloves
Cons:
Can be expensive although this is changing fast
Requires a little more skill to operate yet no casting is required, making them easy to use
Spinning Reels
Pros:
The easiest of all of the reels to master
Changeable spools
Smooth cranking and drag
Great options for all budgets
Very flexible. Ideal for panfish and larger fish
Strong and compact
There are many models available that have been designed for ice fishing. They include features such as elongated yolks and antifreeze lubricates
Cons:
No free-spool. Many won't like operating the bail arm constantly to drop baits. I like it because it's easier than a button while wearing thick gloves
Line twist might become an issue with 1 and 2-pound lines
Front drags can be difficult to operate in gloves depending on the design
Inline Ice fishing reels
Pros:
The perfect design for jigging
Often very inexpensive
Frequently sold in affordable combos with extras such as fishing line
Eliminates line twist
Simple construction makes them ideal for the intended environment
Excellent for super-light fishing for panfish
Suits a pistol grip technique that is preferred by many ice anglers
Handy free spool buttons on many models
Cons:
Single-purpose reel
Drag systems lack sophistication
Many lack durability
Requires a specific technique
Lacks flexibility
Requires a little time to master
Super slow ratios, so no fun fishing deep
A NOTE ABOUT LINE TWIST AND LINE MEMORY: Agreed, line memory can be a problem with small diameter spin reel spools. Line twist, however, I rarely find to be an issue when ice fishing, even at depth. I feel, and many agree with me, that the problem of line twist is a little overstated as an ice fishing issue. Many mono fishing lines combat the memory issue, without sacrificing sensitivity and abrasion resistance. 
Personally, I wouldn't take line twist into consideration at all when choosing an ice fishing reel.
See Also:
Top 5 Best Ice Fishing Reels in 2023
To state that my chosen reels are the absolute best ice fishing reels would be dishonest. I've not used every reel there is on the ice.
As I have stated several times, "best" is highly subjective and centers on personal preferences. 
What I can say, however, is that each of the reels listed below will perform brilliantly on the ice. 
Please note, that reel number 5 has been chosen without budget restraint and was chosen based on live baiting for a much larger class of fish, i.e. like record trout, pike and muskies. If I'm using reel number five, I'm drilling 12-inch holes.
1) 13 Fishing Black Betty Freefall Ghost Ice Reel
Beautiful styling and a lovely smooth crank. The 13 Fishing Black Betty Freefall is a great choice for the super-light diehard jigger. The coolest feature is the ergonomic free-spool trigger. 
The graphite and aluminum construction keeps everything relatively lightweight with 4 bearings delivering a pretty silky crank.
Pricy for an inline ice reel and the slow retrieve will always annoy me but it's a no-brainer choice for performance with light lines for panfish.
A bit of a learning curve for the uninitiated, but this is certainly one of the better inline ice fishing reels.
2) Piscifun Torrent Baitcaster Reel 7.1:1
The Torrent punches well above its considerably low price. This is a superb baitcaster bang for your buck. 
Firstly, I like that the Torrent is easy to operate with gloves on. The handle and star drag ergonomics are awesome (for my hands). 
The free-spool button is ideal, and the speedy gearing makes it a great choice for fishing much deeper.
Spooled with 10-pound mono, this is a great option for targeting bigger fish. Moreover, it's great for chasing panfish, and will back you up should you hook something large while dangling cotton-like line classes. 
The drag and crank are really smooth. The overall feel suggests a much heftier price point but at well under a high price, this is a steal considering its solid performance.
The slick styling is a bonus. A further Bonus is the versatility. This will be a great bass reel come the summer.
3) Quantum Smoke S3 PT Spinning Reel SM25XPT
This is hands down my go-to spin reel. 11 bearings deliver the most buttery crank, and you'll become immediately addicted. Yes, you'll pay for it. 
However, the Quantum will perform equally as well whether spooled with 2-pound or 8-pound, as will the generous 18 pounds of velvety smooth drag.
A 6.0 ratio makes it ideal for the deeper stuff, and at only 8 ounces, it's easy to balance up to a range of ice rods, making this a pretty flexible reel.
The handle is easy enough to manage in gloves, however, the drag is a little tricky at first while fine setting in a pair of thick gloves.
While incredibly robust, I felt like I wanted a thicker bail wire. It's titanium, so no problems really, but you will open the bail frequently and with less dexterity while wearing thick gloves. 
Keep it off the ground, particularly when fishing without cover. I didn't hear of or experience any freezing issues, however.
Like the Torrent, the Quantum will be a great inshore reel all year round.
4) Piscifun Honor Spinning Reel 2000
With 10 bearings plus anti-reverse, you'd expect to be paying the same price as you did for the Quantum. However, with the Honor, the cost will be different.
This is outstanding quality for what is essentially an entry-level price point. The great inclusions should make the big brands feel ashamed.
The handle was perfect for cranking with gloves on and the considerable carbon fiber drag was also easy to manage whilst wearing gloves.
It's lightweight and compact yet feels very strong. The combination of alloy and carbon fiber has certainly reduced the weight yet not compromised rigidity or durability.
Apparently, the bail arm has been strengthened. It certainly looked and felt a touch thicker than many, which is important because it gets quite a serious workout with less forgiving gloved hands.
With 22 pounds of drag, the Honor inspires the confidence to cast for big fish. Spooled light, you'll have all the backup you need to play out a long fight.
This reel is the winner of performance and quality for the price. Unbeatable.
5) Van Staal VR50 Spinning Reel
For many ice anglers, the inclusion of the Van Staal VR 50 might be surprising. Compared to the other reels listed, and commonly used for that matter, the VR certainly sits apart.
The justification is this: Just because it's ridiculously cold doesn't mean record size perch, pike and muskies aren't on the hunt for a decent feed.
While all of the reels mentioned above are great for ice fishing, they're not really big fish reels by any stretch of the imagination. The VR is. What's more, it's certainly light enough to Ballance up with a heavier ice fishing rod.
While a 5000 size reel, it's astonishingly compact and weighs in at less than 9 ounces. Crucially, it is designed for the most extreme environmental conditions, watertight and as strong as an ox.
A further benefit is that the reel is so beautifully engineered and so refined that it will never be overkill spooled lightly for targeting smaller species. It's versatile.
For me, there was nothing better for ease of use. Big handle and knobs, including a drag adjustment knob that protrudes for a very easy adjustment with big thick gloves.
If the military were to issue a fishing reel, this would be it. With 30 pounds of max drag, you can stop anything the icy inshore waters will throw at you – including record size fish.
For all intent and purpose, the VR is the ultimate, extreme conditions, inshore big fish weapon. 
For big live baits for mammoth muskies, the VR would be my choice for an ice-based powerhouse.
Yep, it's expensive. But so was your underwater camera, your sounder, your gas auger, and brand new Polaris snowmobile …And you can't even catch fish with these things. Think about it.
Come the summer, your VR will be awesome on the beach, ocean rocks and outside the heads. Put it on the wishlist.
Let's Wrap it Up
My hope here was to simplify as well as inspire some thought here, as opposed to just pointing you to an ice fishing reel and saying, get this one.
A reel choice is personal. We all have reel type and style preferences. There are reel features we find more beneficial than others – it's subjective. One angler's dream reel is another angler's pain in the ice. 
The 5 best ice fishing reels listed above will perform beautifully on the ice. I'm very confident I'll get no argument there.
Best of luck with your next ice reel purchase. The shelves are stocked full of excellent options to suit every budget.
Now you can tackle the task with a little more confidence, knowing your preferred reel type, has an option that will perform brilliantly on ice.
See Also:
Top Ice Fishing Rod/Reel Combo
What is the Best Ice Fishing Flasher?