We hope you love the products we recommend. Just so you know, OnTrack Fishing may earn an affiliate commission from the links on this page, at no extra cost to you.
GPS finders are not new. But their popularity has exploded – and this is because they find fish. And the toughest battle in fishing is finding the fish in the first place.
Few of us know how to navigate by the stars. Fewer know how to use a sextant. Well, we don't have to. 
We have something infinitely better – GPS fishfinders.
We're so used to digital and satellite technologies that we take these devices for granted. But every time I turn on my GPS fishfinder, I'm blown away.
Given everything I've just said, you must get one for your boat or yak. Here are 5 of the Best GPS fishfinders with a buyers guide. 
Let's go fishing.
Best Fish Finder/GPS Combos
Last update on 2023-09-26 / Affiliate links / Images from Amazon Product Advertising API
When to Use a Fishfinder GPS Combo
It is important to use your GPS fishfinder combo every time you hit the water. 
They're perfect if you're fishing in a location you've never been to.
Even cheap models provide an astonishing amount of valuable data. Everything from water temps, currents, submerged structures, fish sizes, and nav charts.
You get the best information for locating fish and fish-holding structures. There are also safety benefits, such as navigating shallows.
Even though you might be returning to a place you know well, you can't predict when your fishfinder will reveal something you'd like to mark for a return trip.
If you're in the boat and hunting fish, your fishfinder GPS combo should be on and active, and you should be interacting with it.
This device collects data that will translate into you catching more fish more often. If you're in the boat, your fish finder should be on.
Do You Really Need a Fish Finder GPS Combo?
This is a funny question. I'm surprised how often it's asked. The answer is an emphatic no. Nobody needs a fishfinder GPS combo to catch fish.
All you need to catch fish is a few hundred yards of fishing line, a little terminal tackle, and some bait.
I'll briefly expand on this a little, as many people complain about the increasing cost of fishing. 
However, it doesn't need to be costly.
I've done the fishing basics cost analysis, with the lowest possible cost being the key directive. I found that I can catch great fish for less than $2.
Fishing line and terminal tackle are often very cheap in second-hand shops, jumble sales, and garage sales.
With some time and self-discipline, you can kit up for mere pocket change and leave a 2k fishfinder on the shelf – and the boat.
I've even done survival experiments that limited me to fishing with gear that I've scrounged by the water. Breakwaters, rock walls, piers, and wharves are brilliant providers.
Spend a day or two exploring popular fishing locations. You will find yard after yard of discarded fishing gear, hooks, sinkers, knives, lures, and more.
Grab some free stale bread from a baker, and you have a basic chum to build on.
Catch some crabs – you have bait. Hit the cleaning tables – more bait, more ingredients for your chum. 
My point is this. 
Most of the gear we think is essential for catching fish is a want, not a need. Relative to need, fishfinder combos are a long way down the list.
That cold hard stark reality aside, GPS fishfinders are fantastic. 
And do I want one? You bet I do, and I bet you want one too.
You also want the GPS function. Why? Because such is the current price of fishfinders GPS combos, why get a fishfinder without it? In many respects, it costs no more.
A good fishfinder GPS combo removes much of the stress and effort from finding fish. You spend more time fishing and far less time finding fish.
In today's world, where most of us struggle for free time, we want to spend more time with a line in waters where we know that fish are present and active.
It's not outside the realm of possibility that an expensive fish finder GPS will pay for itself via fuel savings in one or two outings. Searching for fish is fuel intensive, and thus expensive.
So, to contradict everything I just said about not needing a GPS fishfinder, or a boat and fishing rod, here's another way of looking at it.
If you want to find fish quickly
If you want to navigate tricky places safely and efficiently
If you want to be able to return to productive locations
If you want to create detailed, accurate maps and follow the maps of others
If you want to save fuel and money every fishing trip
If you want to spend more time fishing over searching
If you want to catch more fish and better fish more often.
And if you want to make fish locations easy and stress-free,
Then you need a good GPS fish finder combo appropriate for your vessel and fishing applications.
How to Choose The Best Fish Finder/GPS Combo
Even cheap GPS fish finders have many features and functions. 
Models and brands differ in their inclusions and functionality. As does quality, value for money, and suitability.
The price point is a pretty good indication of what you're getting. 
But you first must know what to look for. Here are the key considerations explained in simple terms.
Sonar, Transducer, and Imaging
This is the component that produces the sonar pulse. 
It determines the clarity of the image, the depth to which you can see, and whether you see beneath the boat, beside the boat, or all around.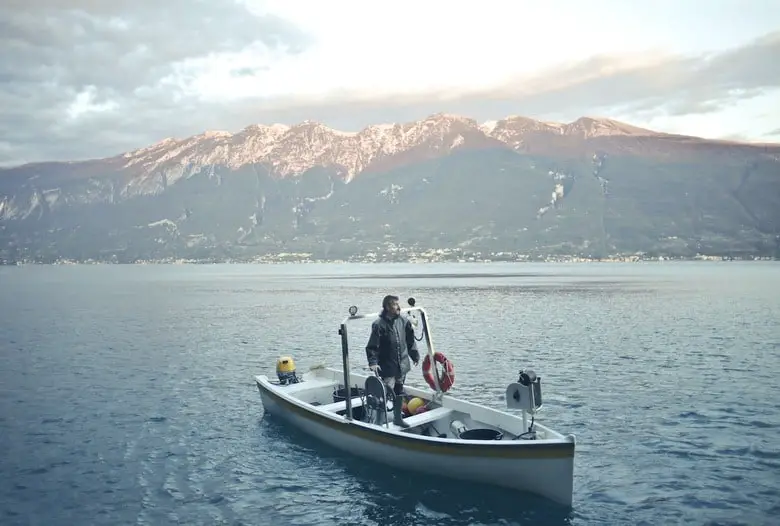 Transducers can operate at specific frequencies, single, double, or multiple. 
They can provide broad or narrow scans, producing images from low resolution to astonishingly sharp.
Most transom-mounted fishfinders suitable for inshore fishing come with the transducer included. 
But many fishfinders require you to buy a transducer separately, based on your needs, boat, and fishing applications.
I always recommend that you have the best transducer you can afford. The transducer is your eyes in the water.
The ultimate is to have down and side imaging. You can learn more about the difference between down and side imaging here.
For offshore applications, use down imaging; for inshore applications, use side imaging.
Also Read: How To Detect if Your Transducer is Bad
CHIRP
CHIRP technology is more advanced than traditional sonar. It transmits a continuous sweep of frequencies over a specified bandwidth instead of a single-frequency pulse. 
For example, it could sweep from low to high frequencies ranging from 40 kHz to 240 kHz.
CHIRP has a longer pulse duration, providing an improved signal-to-noise ratio. It also offers increased signal penetration, giving better image resolution.
CHIRP delivers better target detail, allowing anglers to discern fish, structure, and seabed contours better.
It has a better depth range than standard sonar, making it ideal for offshore scanning and deeper inland waterways.
With the reduced clutter and Interference provided by CHIRP, anglers can see cleaner images, free from noise and clutter.
Side Scan vs Down Scan
Side scan allows you to view the waters beside the boat. It scans large areas returning high-resolution images.
Side scan works at a limited depth. This is why it's popular for rivers, lakes, and fishing towards the shoreline, providing limited offshore use.
Down scan delivers high-res images directly beneath the boat to the seafloor. It will show detailed images down to a considerable depth.
Down scanning provides a smaller range of coverage below the sonar device compared to side imaging.
While there is less coverage out from the boat, its depth coverage is significant, making it invaluable for any fishing outside the heads.
Also Read: Best Fishfinder For Bank Fishing
Cone Angle
Cone angle relates to sonar coverage. Sonar emanates in a cone-shaped beam. The wider the cone, the more coverage you get. 
Wider coverage, however, comes with diminished detail.
Conversely, a more narrow cone angle will deliver far greater detail. 
The trade-off is far less coverage. This means that although you see detailed images, you'll need to travel further in a search.
Your choice will be determined by your fishing location, application, target, and technique. 
Greater image detail reduces the guesswork of image interpretation.
Coverage allows you to cover a greater target area with greater efficiency. However, more experience is required to interpret the images on the screen.
You can save time and fuel by using a wide cone if you're fishing offshore, seeking out large reefs, drop-offs, and other geographical underwater structures.
GPS
GPS provides precise and real-time positioning of your boat. It allows you to confidently navigate and accurately mark fishing spots and important locations.
With built-in mapping, you can see your position on nautical charts, including contour lines, structures, and depth changes.
With GPS you can monitor your speed and course in real-time. This is ideal for trolling, drifting, and general navigation.
GPS also offers a lifesaving benefit in the event of an emergency. With a glance, an angler can identify their coordinates and transmit them to rescuers.
The bottom line is GPS significantly increases fish efficiency via accurate positioning and improved navigation. More time fishing – less time finding.
Mapping and Charting
Many fish finders come with numerous inshore and offshore maps and charts. They may also have the capability to make your own.
While some fish finders do not come with this feature, software upgrades are available for an additional fee.
The benefit of mapping and charting to navigation is enormous. The value of access to existing charts – including underwater terrain, can be measured in dollars.
It cannot be overstated how valuable it is to mark waypoints, record your tracks, and analyze crucial map data.
Finding your way back to a highly productive fishing location is one of the great benefits.
Display and Interface
Screen sizes range from 3 inches up to a massive 16 inches. The resolution on the large ones will blow you away. 
The image is beautiful. Even the small screens, 4 and 5 inches, offer fantastic images with excellent resolution.
Displays can be split, allowing you to observe the essential information, utilizing several functions concurrently.
I'm a fan of big screens on fishfinders. The reduced clutter and larger images make viewing, interpreting, and digesting information easier. Big screens come at a significant cost, however.
The information you can get on a 4-inch screen is phenomenal and more than sufficient for most anglers.
Interfacing with fish finders can be tricky if you're not so tech-savvy. With touch screens, intuitive layouts, buttons, and navigation, things have improved significantly for the tech challenged.
Displays and interfacing are very much subjective. Features that one angler likes are annoying for another.
Issues with displays, interface, menu layout, and navigation can be a deal breaker. The problem is, you don't know until it's installed and you're out to sea.
Once you have a short list, get to a retailer and play with them. At the very least, look for videos that demonstrate interfacing.
All fish finders will have their quirks. The key is to learn them.
Mounting
There are two components to mount, the display and the transducer. How and where you mount a fishfinder display depends on the type of fish finder, boat, or kayak type.
Transom transducer mounts with portable or gimble-style displays are the most common and easy enough to do yourself.
There are benefits to removing your display easily, with the obvious being anti-theft and reduced weather exposure.
The other is that these can be mounted in any number of locations without the boat or kayak. With gimbles, the ability to adjust the viewing angle and aspect is a key benefit.
Fixed mounts are usually reserved for larger offshore boats. Often placed by the helm, with displays and transducers installed by professionals.
Flush mount displays, in big offshore boats, look fantastic and integral to the console. Again, these installs are usually done by pros.
For those in yaks and small aluminum boats, go for compact, easy-to-install portables for convenience and security.
NOTE: If you're not confident with installation. Get a professional. Never put a hole in your boat hull unless you know what you're doing. 
Durability
Protect your transducer while in transit. Often they've broken accidentally. They are susceptible to breaking on flotsam and jetsam, but it's surprisingly rare.
For permanent displays, ensure they have a cover and have water resistance against splashing.
If your display is destined for a yak, I always recommend at least an IPX7 rating. You can rest assured; it will get dunked at some point.
Top 5 Fish Finder/GPS Combos
1. Lowrance PRO 16 – Best Premium Fish Finder GPS Combo
The Lowrance PRO 16 is a professional-level GPS fish finder for charters and dedicated sports anglers offshore and inshore.
Although it is expensive, this is aspirational fishing technology. This is a great device.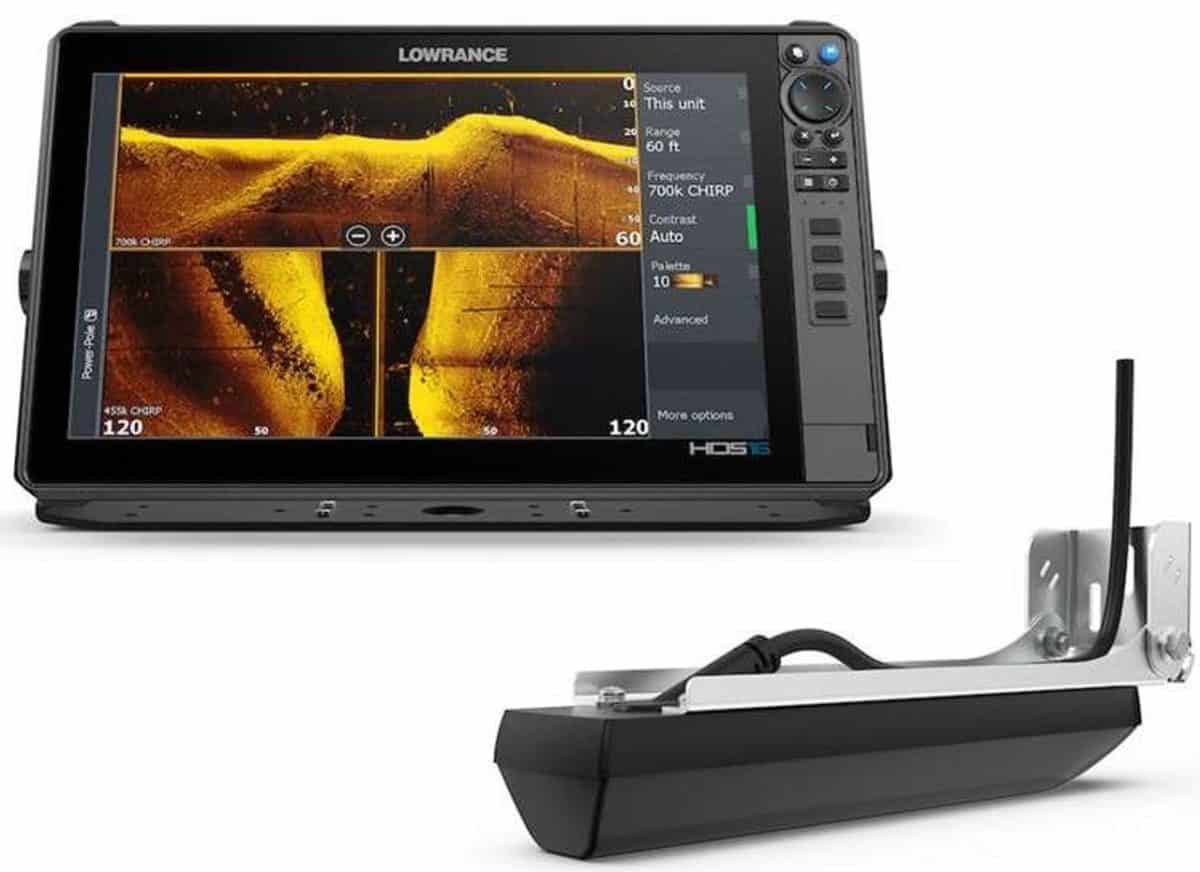 The Lowrance Pro is a competent and feature-rich unit. Its 16-inch display offers excellent visibility and detailed imaging of underwater structures and fish.
The unit boasts advanced sonar technologies, including CHIRP, SideScan, and DownScan, providing impressive target separation and clarity.
Its GPS capabilities enable accurate navigation and waypoint marking. 
The PRO 16 is equipped with a powerful transducer that delivers reliable depth readings and fish detection.
Outstanding. But more expensive than most of our boats.
Pros
Beautiful display
Packed with features
Intuitive menu navigation
Built for pros
Cons
2. Garmin ECHOMAP UHD Transducer – Best 9" Allrounder
With its user-friendly interface and intuitive controls, the ECHOMAP UHD 93sv is an excellent choice for those intimidated by this technology.
I've heard people argue that it's not user-friendly. Agreed, for some, it might not be user-friendly. 
However, this is the case for many fish finders.
Relative to other fish finders, I've not experienced any navigation issues so bad as to be a deal breaker.
The GT56UHD-TM transducer provides excellent depth readings and precise sonar imaging with its ClearVü and SideVü scanning capabilities.
Overall, it is a reliable and feature-packed fish finder system suitable for all types of anglers, impressing the more discerning pros who appreciate quick navigation.
Its 9-inch touchscreen display offers crisp and clear imaging reducing the need for submerged feature interpretation.
The GPS features preloaded charts for reliable navigation, with the ability to make your own detailed charts.
The Garmin ECHOMAP UHD 93sv with the GT56UHD-TM transducer is a competent fish finder system capable of easily reading underwater life and geography.
Pros
Sharp display
Great for Inshore and Offshore fishing
Sidescan and down scan
User friendly
Cons
3. Simrad Cruise 9-inch GPS Chartplotter Transducer – Best Reliability for the Price
A lot of people aren't aware that Simrad and Lowrance fishfinders are manufactured by the same company.
Knowing this, it's interesting that you won't see too many Simrads down at the boat ramp on the weekend, mixing it up with Garmin, Lowrance, and Hummingbird.
Simrad has great fishfinders; you'll nearly always hear positive feedback from happy users.
While factory buddies, Lowrance is more recreational focussed. Simrad is a commercial brand appealing to professional salties and is marketed as such.
With its commercial focus, Simrad appeals to those with a strong knowledge of fish finder and GPS tech, unfazed by a more complicated interface.
But the Simrad Cruise 9 bucks this reputation, offering an intuitive interface with straightforward menus and navigation.
It's an excellent price for exceptional reliability in a waterproof unit. The list of features includes built-in preload US coastal charts, chart plotter, and critical boat information.
It supports upgrades, including enhanced charts from C-MAP and Navionics, for those wanting more expansive chart libraries.
At well under $700, it doesn't have all the bells and whistles, nor would you expect it to. But it's a capable unit that will perform admirably in demanding ocean environments.
Pros
Value for money
Good offshore budget option
Easy operation
Accessible price point
Cons
4. Garmin Striker 4, 3.5″ GPS Fishfinder with Chirp Traditional Transducer Bundle – Best Versatility on a Budget
The Garmin Striker 4 offers value and versatility for kayaks, small boats, and ice anglers. It's a pocket rocket with CHIRP, delivering surprisingly good images.
The unit also features a basic GPS functionality, allowing for waypoint marking and basic navigation – ideal for freshwater sessions and salty adventures.
With an IPX7 waterproof rating, it can submerge up to 1 meter for 30 seconds. I have seen them submerged for much longer than this without a problem.
It's perfect for kayaks, and it's simple to install. Its IPX7 rating ensures it will handle the icy slurry of ice fishing.
I like the Striker as an entry-level fish finder that beginners can use without losing huge money.
But it's more than this. Once you're proficient, you'll be able to max out its capability and find plenty of fish and the places they live.
With waypoint marking and basic navigation, you'll get there quicker and safer, spending more time fighting fish than looking at the small screen.
It's compact and portable, finding fish reliably for not much more than 100 bucks. Perfect for the budget-driven angler.
Pros
Very affordable
Compact
Easy to install and use
Versatile
Transports in your pocket
Cons
The screen may be too small for some
5. Humminbird HELIX 5 CHIRP Fish Finder – Editor's Choice
I love the Humminbird HELIX 5. With excellent down imaging, this is a great unit for the average weekend angler who hits the reefs in their modest boat whenever they can.
While compact, It has an incredible list of features making it a compelling option at this very affordable price point.
The CHIRP DualBeam PLUS sonar provides excellent target separation and accuracy. Use a wide beam to find the reef, then switch to narrow to home in on your target.
With easy chart plotting, anglers can mark waypoints, navigate confidently, and track their routes.
Humminbird Basemap is included, with underwater terrain being particularly useful for seeking fish-holding locations.
The average angler will really appreciate the ability to Identify buoys, day markers, hazards, marinas, contours, and depth markers.
For those who thrive on plug-and-play, the HELIX Includes charts of more than 10,000 lakes and US coastal coverage.
In my opinion, this is all the average angler needs to take their fishing to the next level. Do you want to watch your lure presentations? The HELIX does it.
At well under 500 dollars (depending on the retailer), this is my choice. The only thing it lacks is screen size. But at this price, I'm happy to do without it.
It's perfect for the average angler who wants quality, functionality, and excellent features but doesn't want to spend a fortune.
Pros
Excellent value for money
Huge feature list for this price point
Super easy to use.
Crisp display
Compact and easy to transport, install and remove.
Cons
The screen is small, but it's by no means a problem.
Frequently Asked Questions
Can You Use a Fish Finder as a GPS?
If a fish finder has GPS functionality, it can be used as a GPS.

Which Fish Finders Have Maps?
All fish finder brands offer maps. Many are supplied with maps and map access via networks. Some require upgrades and downloads.

Who Makes the Most Reliable Fish Finders?
This question is complicated to answer. Beware of bias and brand loyalty if someone tells you they know.

The bottom line: if you get a quality Hummingbird., Lowrance, Garmin, or Simrad, you will do just fine for reliability.