We hope you love the products we recommend. Just so you know, OnTrack Fishing may earn an affiliate commission from the links on this page, at no extra cost to you.
When I first started fishing, I was super confused by my friends who kept referring to the act of "frogging" when we were out fishing for freshwater bass. 
I would scratch my head and watch them as they rigged up their poles before finally asking, "Frogs? I thought we were fishing for bass."
They got a good laugh out of that. 
Despite what it sounds like, frogging has nothing to do with going out in search of frogs (that, is referred to as gigging) and everything to do with using artificial frogs on spinning gear or more commonly, a baitcasting rod, to lure in monster bass. 
So, once I recovered from the embarrassment of that mistaken misnomer, it was time to gather my equipment. 
If you're like me, you probably have way more rods, reels, and tackle than you know what to do with.
The best frog rod is just another piece of equipment you really should have in your fishing gearbox.
Do You Need a Fishing Rod Designed Specifically for Fishing With Frogs?
Sure, you can use the rod that you already have for tossing and retrieving topwater hollow body frogs. This will definitely work in a pinch. 
However, if you've decided that you want to spend more of your time frog fishing, you are going to want to have a rod designated specifically for frog fishing in your arsenal.
Fishing for bass using frogs requires a heavy setup, a heavier setup than what is required than when you use worms, topwater baits, crankbaits, or spinnerbaits. 
You need a rod with a strong backbone that will allow you to fish on top of lily pads, in weed beds, and in other submerged vegetation – which, frankly, is where bass like to hang out most. 
Now is not the time to skimp and try to pinch pennies by using an ultralight rod.
This kind of rod won't be able to hold up to the pressures of bass as they wiggle through weed beds.
You need line that is heavy braid and rated at 50 lbs or heavier to handle these kinds of pressures – and you need the best frog rod that can handle that setup.
What Is the Best Setup for Frogging?
I already mentioned that you are going to need a super heavy setup when you are fishing for bass.
When you use frogs, you need to consider the type of water you are fishing in – frogs usually won't swim in deep open water. 
They are naturally found in vegetation, where they use their camouflage to hide from predators. 
Bass look for frogs in these areas – they aren't going to be searching for a four-legged snake in the open waters in the center of a lake.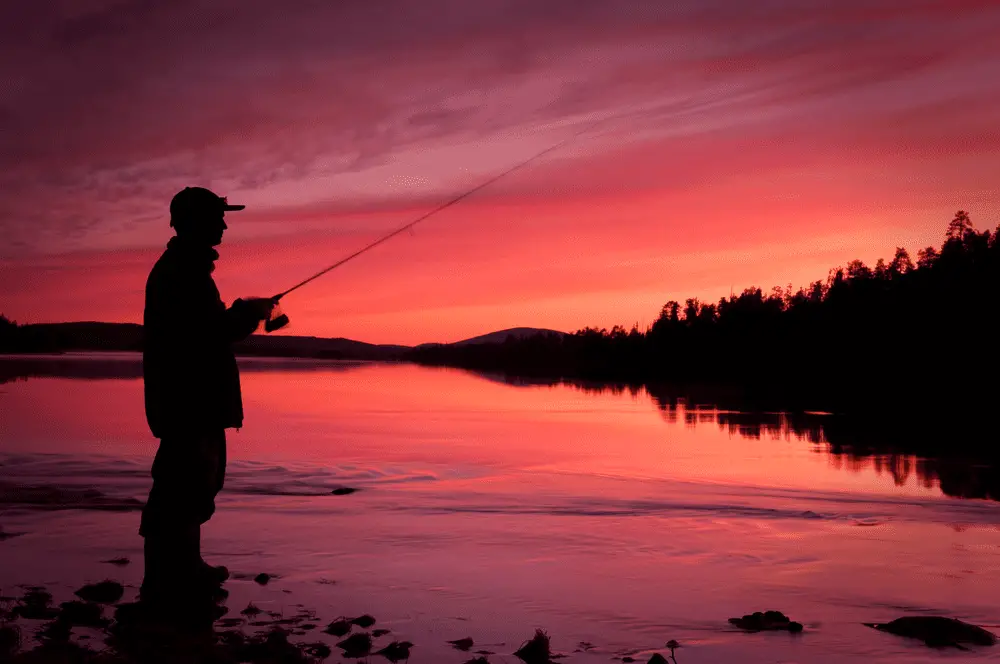 Instead, bass will stalk frogs in weed beds or lily pads, waiting for a frog to move and show off where it's hiding.
They will strike hard, approaching from below, and will then try to duck for cover. Therefore, you need a heavy set-up with a long, fast-action, and heavy rod.
Most people choose a casting set-up, so a baitcasting reel will do the trick nicely. Just make sure the reel you use can accommodate the type of line you add.
Most people choose braided fishing line – mono is not a good choice because it stretches too much and is not great for casting. 
Braid, however, offers minimal stretch, giving you an easy and sharp hookset. It is also quite thin so you will be able to get through vegetation easier and with less likelihood of tangling. 
It casts better, too. 50 lb line or above is the best for using with your frog rod, as I already mentioned.
What Should I Look for in a Frog Rod?
Here are some of the most important characteristics for you to consider when looking for the best frog rod.
Rod Tip and Action
When you look for the best frog rod, you are going to want to think carefully about the rod tip and its action. 
All fishing rod tips can be categorized as slow, fast, or extra fast action – and while rods of any type are readily available and just about any rod will work in a pinch, the best frog rod will have a fast action tip. 
Fast action is best for a frog rod when you intend to use the rod for other styles of fishing as well as for frog fishing. 
It tends to be a bit more forgiving than an extra fast action, too, especially if you have a tendency to set your hook too soon. 
While an extra fast tip will also suffice, allowing you to drive and set the hook with ease (as well as to fish more easily in heavy vegetation), I always recommend a fast action just to give yourself a bit more leeway.
Whatever you do, don't select a rod with a slow action. If you're fishing with frogs, you're probably fishing for bass – and once a bass chomps down on your frog, what is it going to do? It's going to run for cover. 
You need to hook the bass quickly before it lunges downward and starts getting hung up in weeds. 
Power
Next up is power. You can typically correlate the power you need to the size of fish that you want to catch. 
In other words, if you want to catch a big fish, you will need a more powerful fishing rod.
That being said, it's also important that you consider the kind of fishing line you will be using along with the weight of your lure. 
Let's think about frogs. Frogs are designed to be fished in heavy cover, so you'll probably use a heavy braid as your line. 
You're also going to be fishing for a relatively large fish if you're using frogs. Therefore, you will want to use a powerful rod. 
I recommend a power rating of at least medium-heavy but ideally heavy.
That being said, if you frequently fish in heavy vegetation and know that you will be reeling in monster fish, a power rating of extra heavy won't do you wrong.
Rod Length
A long rod is always preferred over a short rod when it comes to frogging. A long rod will make it easier for you to set the hook, and it will also allow you to cast your lure a bit further. 
I would recommend a rod that is no shorter than 7'. Depending on the rod, though, it could be as long as 7'10". The longer the rod, the easier the tasks I've detailed above will be. 
Just keep in mind that you will have to be careful about the rod tip hitting the surface of the water if you choose a longer one – if you're like me, you probably fish with your rod tip directed toward the surface of the water, and that could impact your fishing. 
Top 5 Best Frog Rods Reviewed
Not sure where to start? Here are our picks for the best all-round rods for you to consider.
Lew's Speed Stick TP-1 IM8 Casting Rod
Lew's has been making fishing rods for years, and the TP-1 series of rods is well-known for the rods' abilities to cast effectively and accurately while also providing outstanding hand control. 
All of these factors help produce one of the best frogging rods around, too. If you like to golf, you're probably used to the excellent handles that make it easy to grip and maneuver your golf clubs. 
The Lew's Speed Stick TP-1 is different from other types of fishing rods because it doesn't have the cork handle that you're used to holding. Instead, it has the same Winn Grip technology used by golfers.
This grip is perfect for fishing, as it can handle both wet and dry conditions. It develops a natural tackiness in the rain, helping you grip the rod better without your hands sliding around. 
Add some of that pleasant fish slime, and the grip gets even better. At the bottom of the rod, below the handle, you'll find a rounded butt end. 
This is easy to hold and is much more comfortable than similar rods because it is more comfortable for the base of your hand when you're trying to dig in deep. 
The Lew's Speed Stick is made out of premium IM8 graphite blanks, offering some of the best sensitivity you'll find, especially when you combine the graphite blanks with the American Tackle Microwave Guides. 
As a result, you can use this rod in other settings, too, such as when you are using Senko baits. It is available in lengths of 7', 7'3", and 7'6". 
This frog rod is sturdy and has a fast action tip. It's awesome at casting heavier baits and for pulling largemouth and smallmouth bass out of heavy weeds. 
Pros: 
Lightweight with a strong backbone
Winn Gripp Technology makes it easy to hold in wet conditions
Medium/heavy power and fast action tip
Cons: 
Has super tiny eyelets that can be tough to thread with line
>>Check Latest Price on Amazon<<
Falcon Rods HD Casting Rod
The Falcon HD is an excellent rod for new anglers, particularly those who are looking for the best frog rod but are on a budget. 
It's a well-balanced rod that has a nice, lightweight feel coupled with high-quality Fuji guides and 100% graphite blanks.
This frog rod comes with several different options – you can choose from rods ranging from 6'6" to 7'6" in length, with medium, medium/heavy, and heavy weights available for each. 
It has a Fuji-exposed blank reel set and a natural cork handle that is ergonomically designed and comfortable to use.
Although it's best used with lighter lures and line, it can easily be used for tossing frogs.
You can use it in freshwater or saltwater (giving you more flexibility and room to use it for settings besides just frogging) and shows minimal wear and tear over time. 
It is sensitive with excellent response and the ability to set hooks quickly and effectively.
Although this rod is a tough rod, it's easy to handle. It feels nice in your hands and has excellent backbone and strength, despite being incredibly lightweight.
Pros: 
Comes with several options for length
Has high-quality Fuji guides and 100% graphite blanks
Multiple weights available
Cons: 
Better suited for lighter lures
>>Check Latest Price on Amazon<<
Dobyns Rods Fury Series FR 735C Mag Heavy Power Ex-Fast Action Casting Rod, 7'3″
Next up on our list of the best frog rods is the Dobyns Fury Series FR 735C. This rod offers top quality coupled with great user experience. 
It's built and designed for the most serious topwater frog anglers and equipped to handle the unique tactics and techniques employed by topwater frogging fishermen.
It measures up at 7'3" and has a fast action with a solid backbone, making it perfect for tossing frogs.
It behaves a lot like the more expensive frogging rods you might have seen but is sold at a fraction of the price.
It's powerful yet sensitive, offering high-modulus graphite blanks that are performance-balanced.
The Dobyns Rod comes with high-quality guides that are uniquely secured with Kevlar wrapping. 
It also has premium Fuji reel seats and AA grade high-density cork grips with Hypalon butts. It's not only effective, but it's also comfortable to use. 
You can use this frog rod for small swimbaits, big jigs, or Carolina rigs. Depending on your preference, you can use up to 60 lb line. 
Pros: 
Fast action with magnum heavy power
7'3" length is perfect for frogging
High-quality construction with excellent sensitivity
Cons: 
Not great at casting lightweight lures very far
>>Check Latest Price on Amazon<<
St Croix Mojo Bass Casting Rod
One of the most popular frog rods is the St. Croix Mojo Bass Casting Rod. This frog rod is a superior all-around frogging machine, offering a light touch and an ultra-fast response. 
It is power-rated as heavy, giving you all the backbone you need and want to pull fish out of heavy cover. 
You can easily employ tactics like walking the dog to nail some trophy bass, and since it's 7'4", you really can't go wrong. 
This heavy, fast-action rod is rated for use with ⅜ to 1 ½ oz lures and 14-25 lb test line. In addition to the recommended 7'4" rod, you can also purchase it at a 7'1" length. 
The rods are built on the tried and true SC-II graphite blanks, which are gorgeously finished with black cherry metallic shine and have two topcoats of slow-cure for long-lasting results. 
You'll have plenty of strength and all the sensitivity you would expect from a St. Croix rod. 
Pros: 
Has a high-quality split cork grip and Fuji ECS reel seat
Medium/heavy power combined with fast action
Two lengths available
Cons: 
Not rated for heavier line
>>Check Latest Price on Amazon<<
Ardent Denny Brauer Pro Series Baitcasting Rod
If you're looking for a good all-around, multipurpose baitcasting rod that can be used for purposes besides frogging, the Ardent Denny Brauer baitcasting rod is a great place to start. 
This rod has a great all-around power rating that can be used with many different techniques of fishing – and since it's affordable, you won't mind spending the money on it. 
It's not designed for heavy cover, but if you aren't always fishing in heavy cover but are instead just dropping frogs in and around a few lily pads, this rod can be a great pick. 
It is a great go-to topwater fishing rod as it combines a medium-heavy power with fast action. It can be used as a buzzbait rod as well as the best frog rod in your arsenal. 
This frog rod comes in multiple lengths. You can purchase it at 7', 7'4", 7'5", 7'6", and 7 '10". With each size, the manufacturer recommends various uses. 
For example, the 7'4" is the best frog rod, while the 7'5" is best for spinning. The 7'6" is a great swimbait style and the 7'10" is best for umbrella rigs. 
This rod is attractive, possessing dark blue blanks and MH action. It can handle all the pitching and flipping you need to do without requiring you to break the bank in order to buy it. 
This baitcasting rig has all the power you need to set the hook on bigger fish, along with the perfect amount of bend when fighting a stubborn fish. 
It is a great bargain for a good frog rod, especially when you consider that it can be used for other styles of fishing besides just frogging, too.
Pros: 
Offered in multiple lengths 
Medium-heavy power with fast action
Great multipurpose rod
Cons: 
A bit heavier when compared to other MH blanks
>>Check Latest Price on Amazon<<
Why Do I Need a Frog Rod?
Don't be ignorant of the ways of frogging like I was!
Trust me, it's worth it to buy the best frog rod just to save yourself some embarrassment from your friends – but beyond that, the best frog rod will also help you take your bass fishing to the next level. 
When you are armed with the right tools for the job, you won't have to worry about not having enough muscle or power to reel in the next monster bass.