We hope you love the products we recommend. Just so you know, OnTrack Fishing may earn an affiliate commission from the links on this page, at no extra cost to you.
If I had a dollar for every time I was asked this question or argued about this topic, I'd have a much bigger boat.
I still field the question regularly, and I'm still regularly surprised at the level of brand loyalty I find out on the water.
To be completely honest, I'm not particularly brand loyal and I never have been. 
There's a heap of fishing reel brands doing great stuff, and I stock my arsenal with whatever great deal meets quality, value, and application demands.
I'm impressed by brands at different times and with different products. And I'm very aware that most brands have put out questionable products at one time or another.
In my humble opinion, the best reel brand is the brand that gets you out fishing, chasing the fish you want to catch, for a price you can afford. 
Importantly, it also fits your ideas of reasonable durability and longevity. If it works for you, it's a good brand for you.
But is there such a thing as the best fishing reel brand? 
Is it something we can work out scientifically, or is "best brand" completely subjective and a matter for fans to battle out during a session on the water? I tend to think the latter, the many exceptions notwithstanding.
However, if forced (as I am now) to indicate some best brand front-runners, I guess I can do that…and there are a few brands I'm pretty impressed with currently. 
Before we get into the brands, let's have a look at brand and what it means, and discuss if it's something you should pay attention to when you're purchasing a reel.
For many readers, this article might already be too deep of a dive into the murky depths of brand. 
You just want to hear what the best reel brands are. If only it were that simple. And I can assure you it's not.
My goal is to go into some depth about brands if only because many anglers lose out on amazing reels, incredible fishing experiences, and awesome value because of the way they view and value brands when purchasing reels.
Quick Note: Below you will find information and reviews on all the best types of reels
Best Baitcasting Reels under 0
Why Does A Fishing Reel Brand Matter?
According to the website Investopedia, brand is defined as. "…a business and marketing concept that helps people identify a particular company, product, or individual."
While true, it is also much more than label identity and aesthetics.
Brand speaks to company values, mission statement, service style and quality, and product performance. 
It also denotes where the product sits relative to competitors, and who the company targets as a customer.
Let's use cars as an example. Hyundai, Ferrari, and Rolls Royce are all car brands. 
They sell products that have an identical core function – their products get you from point A to point B. But that's where the similarities end.
The styling, performance, build quality, product intention, and product target market and price point are as different as chalk and cheese.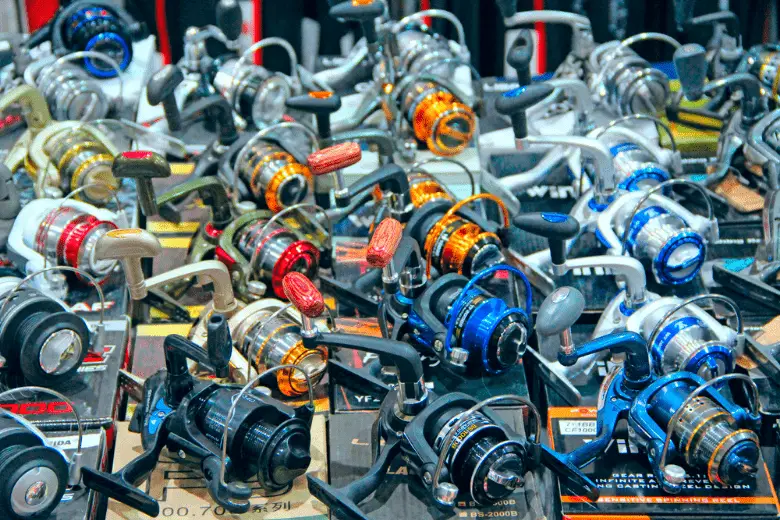 For the majority of us, the Hyundai is a potential purchase, it's accessible to us, marketed to us, and it's apparent in the brand image we see via their mainstream media advertising.
Rolls Royce and Ferrari will only ever be a dream for most of us. They are elite machines accessible only to the very few. 
Hence, you'll not see a glossy Rolls Royce television commercial whilst you're watching Channel 7 local news.
Product elitism is alive and well in all industries. 
Still, in many ways, reflecting and reinforcing the class structure modern society has long tried to remedy, yet failed miserably as capitalism is totally reliant on it. 
Did you ever think your fishing reel was an enforcer of social stratification? Probably not.
But all of this is true of the fishing reel industry, albeit without the radical price disparity of family cars and supercars. 
There are reel brands like Hyundai, and reel brands like Ferrari. And just like the Hyundai and Ferrari will get you from point A, to point B, every reel of every brand will catch fish.
The cold hard truth is that a budget brand reel that costs $100 can catch exactly the same fish as the top-shelf brand that costs $1200. 
In that regard, brand says a heck of a lot more about the purchaser than it does the company who sold it to them.
In terms of basic core function, brand doesn't really matter at all for the most part. 
But as consumers, we usually look for a lot more in a product than acceptable basic core function. 
And this is why discerning consumers look to brand, and more importantly, brand history, to help guide them when we purchase fishing reels.
What Are The Best Fishing Reel Brands in 2023?
Before I reveal my selections, a disclaimer might be prudent. These are my preferences based on my experiences.
The science behind this revelation is very flawed as I've not tested all the products or services of every fishing company.
It would also require me to have significant engineering knowledge and the time and skills to break down every reel to assess the internals and quality of construction and materials. 
Not to mention assessing company values and honesty in promotion.
It would be unfair of me to claim that these are the only top fishing reel brands, because the subject is grey, subjective, and so full of variables any deductions would only ever be speculative.
Having said all of that, here are a few brands I feel are going the extra yard for your fishing dollar. Keep in mind I have no order of preference here. They're not ranked.
Daiwa and Shimano Fishing Reels
Yes, I have put these two mega-brands together because it can be very difficult to separate the two in terms of brand.
There has always been and remains today, a huge rivalry between Shimano and Daiwa. 
Daiwa BG8000 BG Saltwater Spinning Reel, 8000, 5.3: 1 Gear Ratio, 6+1 Bearings, 53.30" Retrieve Rate, 33 lb Max Drag, Black/gold
Black Anodized Machined Aluminum Housing ("Hard Bodyz" Body & Side Cover), Over-sized Digigear (Digigear System)
Solid Screw-In Handle, Air Rotor, Dynamic Cut Aluminum ABS Spool
Braided Line Ready Spool, Waterproof Drag System, Carbon ATD, Line Per Handle Turn: 53.3"
Manual Return Bail (4500 and Larger), 6BB+1RB, Gear Ratio: 5.6:1, Drag Max:33
Shimano Sienna 2500RE Spinning Fishing Reel
Perfectly suited for everything from freshwater to inshore fishing, the Sienna 2500RE Spinning Fishing Reel features a variety of upgrades and improvements
Encased in a new M-Compact Body that moves the oscillation gear closer to the rod greatly improving the balance of the reel and also reducing angler fatigue
Equipped with a Propulsion Line Management System that provides longer casting distances while preventing backlashes and wind knots from forming
Utilizing Super Stopper II technology for instant anti-reverse with no back play as well as Dyna-Balance to eliminate wobble during the retrieve by counterbalancing the rotor to enhance sensitivity and smoothness
Last update on 2023-12-03 / Affiliate links / Images from Amazon Product Advertising API
These two Japanese giants are in many ways, for better or worse, the biggest names in fishing reel manufacturing.
Their reach is truly global and they cover all fishing reel price points, from pocket change entry-level reels to the very best money can buy, and everything in between.
If you can't find a reel to satisfy your desires and cover your applications from either of these brands, then it probably doesn't exist.
Shimano has just celebrated its 100th birthday, whereas Daiwa is 40(ish) years younger. Both companies have continued to flourish and innovate with few missteps on the way.
While both companies have diversified, they have diversified in ways that have synergies with fishing reel manufacture. 
They have remained intact, never selling, merging, or losing control.
There is a level of consistency with these brands that I appreciate. There's an honesty to the tradition of Japanese manufacturing precision and accuracy.
I have been critical of Daiwa entry-level reels in the past. I have often thought that the price is a little too high when compared with others.
However, in my opinion, the new BG series of reels is blowing every other manufacturer out of the water, demonstrating how a huge manufacturer can demonstrate an acute response to customer demand. 
We've needed a BG-style reel for decades.
I will remain critical of Shimano until they stop charging a brand premium. Some of the most enduring reels I still have in my arsenal are entry-level Shimano reels.
The Sienna series has been a stalwart for Shimano. It's a non-nonsense, rudimentary spinning reel that delivers a great fishing experience for little outlay.
What's more, the Sienna reels I have in my kit have been there for over 20 years. That's saying plenty in the age of obsolescence.
Shimano and Daiwa remain a solid bet when purchasing a reel of any type. While value for money can often be questioned, it is difficult to go wrong with either brand.
ZeeBaas Fishing Reels
In my opinion, ZeeBaas is the epitome of something special. They're a small company with a verifiable committed approach to customer service and product support.
Made in the USA designed and constructed by locals, ZeeBaas are everything Van Staal could have been if they had remained independent.
Zee Baas are expensive reels in anybody's language. But they are a precision reel that is truly built to last under the toughest loads in the harshest of saltwater conditions.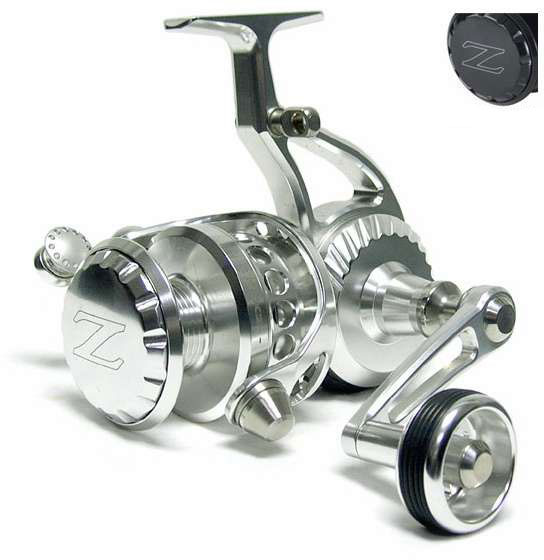 ZeeBaas offers a broad range of reel customization options. They understand that one size does not fit all, so do their best to shape reels to suit the user.
As they say in their brand blurb, "If you are looking for just another reel, you came to the wrong place."
I believe that they are true to this notion, and genuinely offer something different to all the brands occupying the bulk of shelf real estate.
Engineering and innovation are second to none. Of course, you'll pay for it, and depending on what you purchase you may end up with no change from a thousand dollars.
Service calls go directly to specialists and people who can answer all of your questions. You can even send them a text.
ZeeBaas technicians understand every part of the fishing reel. They are not constructed on an assembly line, where countless workers assemble just a few parts. 
A ZeeBaas technician understands the importance and complexity of the component ensemble.
ZeeBaas have been around since 2005. They're a brand with solid brand values, and that has been recognized by a growing fan base.
You will often here ZeeBaas and Van Staal compared. Indeed, many chat threads have debated the topic endlessly.
You will generally find that ZeeBaas always comes out on top. They are similar in many ways. The difference is, ZeeBaas maintained brand integrity.
If I had to choose the best fishing reel brand, ZeeBaas would be up there. However, they have a very limited variety, and they're not in any way accessible to your average angler.
However, they are an awesome brand and should be celebrated.
Okuma Spinning Reels
In the competitive world of fishing gear, you need far more than a good marketing slogan to take you global.
Okuma launched in 1986, and the market they entered was already dominated by some almighty big players already commanding a massive slice of market share.
Nonetheless, Okuma has forged a very firm position, particularly in the US, where it is considered a key player in the 4.4 billion dollar fishing reel market.
It's unlikely Okuma will never be a Shimano or Daiwa. The big two have simply had too much of a head start. 
In many respects, however, the fact they're not really compared to Daiwa and Shimano is a point of difference confirming a unique identity.
For 3 decades Okuma has made their mark selling the full range of quality reels with a focus on affordability.
That doesn't mean they're a budget brand. Traditionally, they have representation from entry-level through to the high end of mid-range.
Their variety within this range is exceptional and includes spinning reels, baitcasting reels, conventional reels, game reels, and center pin and fly reels. 
Importantly, Okuma has always epitomized value for money. It's the value for money that is the key brand factor for Okuma. It's a great product and doesn't cost the earth.
Interestingly, however, Okuma has entered the elite range of products with the new Makaira line of spin and overhead/game (traditional) reels. 
The prices start around 600 dollars and go up to 1000 dollars.
This is an interesting line for Okuma and a bold move. In many ways, it's an indication of their tenacity to compete on every level.
Other Good Quality Fishing Reel Brands
There are other brands you can research yourself, that would easily make a more comprehensive list.
How To Choose The Right Fishing Reel Brand?
This is actually too big a question to unpack in a paragraph or two. 
Indeed, this question is best answered over 4 years of a marketing degree at a business college or university. 
However, at this risk of hubris and inaccuracy, I'll attempt to summarize. Here is an inadequate but indicative bullet point list of reasons we select brands.
We take advice from trusted friends, colleagues, and family
We're guided by the experienced and experienced professionals
We are influenced by advertising, which includes packaging. EG, the box it came in
We are influenced by company status. I.E, the product reflects the image we have of ourselves
We like the celebrity the brand has used to promote the product
We thoroughly researched every brand based on our required application
We had a good experience with a product from a particular brand, so go back for more
We trust the consistency of a brand via experience
We like the product backup and customer service offered by a brand
A brand has the best selection of products suited to my application
We like an aesthetic of a brand
We like the consistent quality and performance we've experienced with a brand
We like the affordable range a brand offers
We like the price point variety of a brand
We were influenced by a brands' marketing campaign
We research brand reviews and select based on majority positive feedback
Brands have won industry-recognized awards
Brand loyalty. I've always bought PENN reels, I'll never stop, I love PENN
We want to support brands that manufacture locally
We want brands that ONLY make the best of the best reels, using the best material and bespoke engineering. Price is no consideration
We dismiss brands because of the location they are manufactured. E.G, Made in China
We dismiss brands because of unethical manufacturing practices such as slave labor or environmental misconduct
We select a brand because of where it is made, E.G, made in the USA, made in Japan
We dismiss a brand because the brand may have sold out to corporate interest.
This is just a handful of reasons we select a brand. Some have merit in a purchase deliberation, others clearly don't.
As I said at the start of this section, it would take a very long time to unpack and explore every bullet point here. 
And each bullet point offers weeks of relevant discussion points.
However, there is one point we'll look at in a little more detail. And that's the final bullet point about brands selling out to corporate interest.
For me, brands selling out to corporate interest risks weakening the brand. Often it does compromise the brand, if not in quality, then in other areas.
The Corporatization of Fishing Companies
Let's list a few household fishing reel brands. Abu Garcia, Shakespeare, PENN, Mitchell, Pflueger, and Van Staal. 
I'm willing to bet you all know these brands and have likely had them or have them in your arsenal.
I'll also bet that very few of you know that these brands are all owned by the one corporate fishing giant, Pure Fishing Inc.
In turn, Pure Fishing is owned by Jarden Corporation and is part of The Coleman Company. Coleman is owned by commercial giant Newell Brands.
While the corporate machinations of who owns who are of little interest to most reel purchasers, in my opinion, corporate ownership has a habit of diluting and even stripping brand integrity.
PENN is probably the most well-known example of corporate ownership compromising brand integrity.
PENN was perhaps the most celebrated all-American fishing reel brand.
Reels were manufactured in the USA, were built somewhat like the American muscle car, robust, enduring, and solid.
Slowly, the majority of PENN reels manufacturing has been shipped offshore to China. No doubt this move is about cost efficiencies to improve returns for parent company(s) shareholders.
While one can debate current PENN quality, nothing changes the fact that the PENN brand took a credibility hit with its sale to Pure Fishing Inc., and its outsourcing of a large portion of reel manufacturing. 
Has corporate bottom line stripped the soul from PENN? For me, the more telling Pure Fishing acquisition was the Van Staal purchase. 
Van Staal was (is?) a very special reel brand, where bespoke innovative and precision reel engineering was the core of the brand. Van Staal's design was a revelation in spinning reels.
In my opinion, the Van Staal fishing reel had a few issues to iron out and was only a generation or two of being something truly special. 
Now under the control of Pure Fishing Inc., I don't believe these heights will be achieved.
Van Staal was American innovation and ingenuity conceived and brought to life by some really smart cookies, driven to make a superb reel.
I don't begrudge Van Staal for selling to Pure Fishing, we all want to make a big profit from our business venture. 
However, will Van Staal become all it could have been now that the bottom line likely takes precedence over quality and innovation?
Fortunately, the brains behind the original Van Staal venture have set out on another reel project, and it's looking awesome.
While these corporatized brands still appear in my arsenal, I am less inclined to seek them out. Rightly or wrongly, I see these brands as only money first.
I'm good with money first, that's what business is. 
But I like to see money first, with fishing, quality, innovation, value, consistency, and customer satisfaction getting equal billing with profits.
So what are the fishing reel brands that offer truth in their presentation? 
This is difficult to answer, marketing speak has a clever way of turning the proverbial pig's ear into a silk purse.
Also Read. What Are The Top Fishing Reels Made in USA?
The Top Fishing Reel Brand Wrap
Yes, I've only mentioned 4 fishing reel brands here, but my selections have a couple of things in common. 
They remain independent, offer exceptional service or high-end products, or have a global reach to the broadest possible market, offering consistent value to the broadest possible market.
Many will note the absence of brands focused only on fly reels and centrepin reels. 
This gear is pretty niche and deserves its own article. It should be noted, however, that of the brands mentioned above, only ZeeBaas doesn't do fly or centrepin.
Brand can be a useful indicator of many things including quality, value, performance, precision, innovation, and a long list of other things, many being superfluous.
The brand you select often says more about you than anything else. 
And it's important to remember that nearly every fishing reel you find for sale will catch fish regardless of brand.
I feel the better products and services come from independent companies who have maintained brand integrity and ultimate control of their products and direction. 
This is what I look for in a brand, however, that's not the key factor that d=seals the deal.
The deal maker is that the reel suits my budget and achieves everything I need it to. Brand is a distant second to this consideration.