If you want to improve your craft, getting a subscription to one of the best fishing magazines is the way to go. 
Fishing magazines include articles written by actual angling enthusiasts and experts so that you can get a more hands-on look at how to become a great angler.
It doesn't matter whether you choose to subscribe to an annual subscription or just sign up to receive one magazine. 
These publications are great if you want to learn new tips and techniques, develop the skills necessary to fish the various seasons, or discover new fishing equipment and tackle to try. 
You'll not only have fun reading these magazines, but you'll learn a ton, too. Here's my round-up of the best publications to help you catch fish with ease.
26 Best Fishing Magazine Subscriptions
Bassmaster Fishing Magazine
The official magazine of B.A.S.S., a membership club that contains more than 500,000 bass angling enthusiasts all over the world.
This magazine works hard to inform, entertain, and educate anglers while also working to promote the sport of bass fishing. 
You'll find all kinds of techniques and tips to help you hone your craft as it relates specifically to small – and largemouth bass.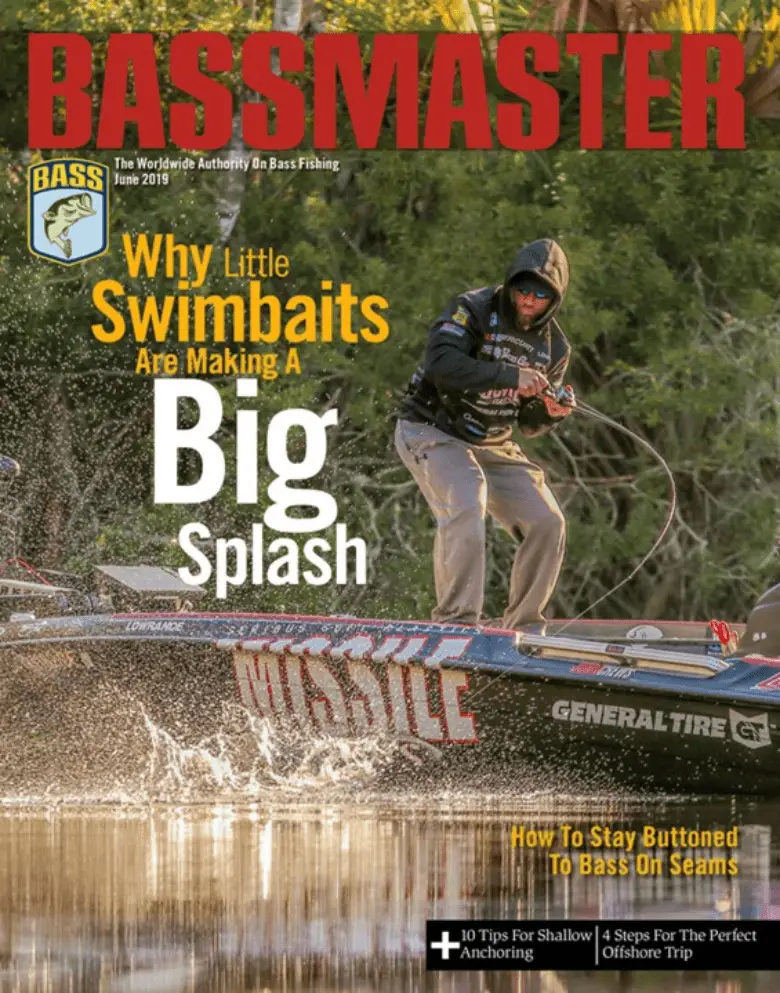 It's one of the few angling magazines that include fishing contest reviews, too. When you sign up for a year's subscription, you will also get a one-year membership to B.A.S.S. 
My favorite part of this magazine? The "Bass Life" section. It takes a broader look at an outdoor lifestyle, covering everything from trucks to hunting – and even family. 
Saltwater Sportsman
This magazine focuses specifically on saltwater fishing, which means it's a lot more in-depth than many of the other broad-coverage fishing magazines on this list.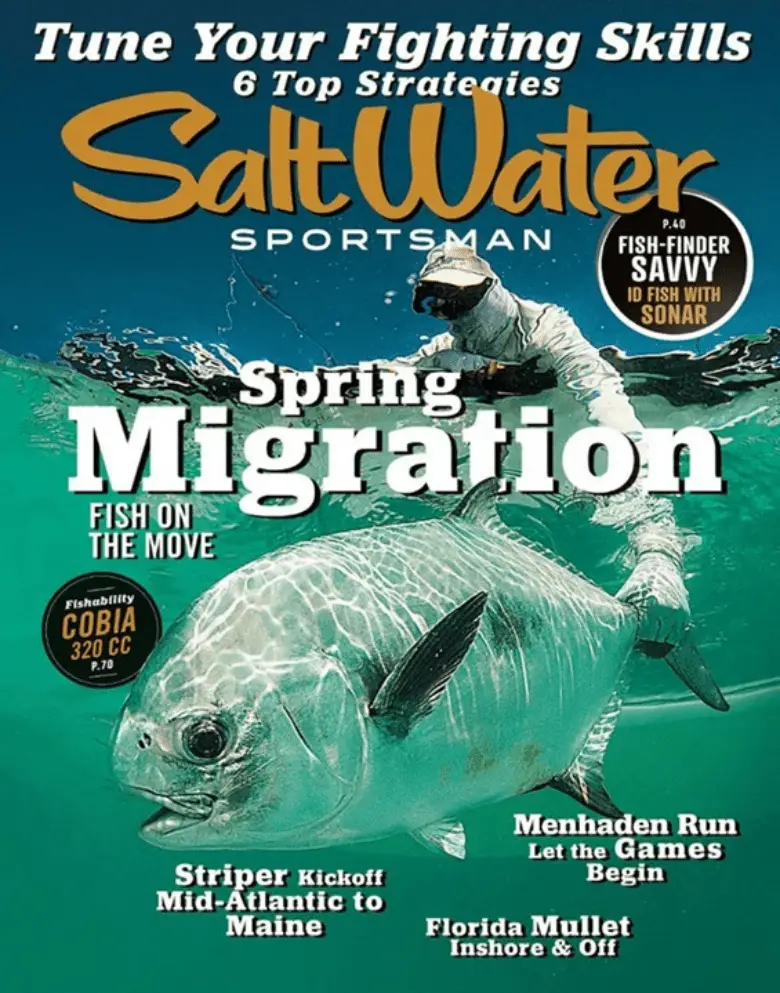 You'll be able to read everything from boat reviews to "how-to" articles. This comprehensive magazine is designed for true beginners to the craft. 
Visit the magazine's website and you'll also have access to a ton of helpful how-to videos.
Field and Stream
Field and Stream is ubiquitous among outdoor lovers all around the world. It's America's leading sportsman magazine and doesn't just cover fishing, but also handles articles related to hunting, conservation, and other niches.
This magazine has been in distribution for more than a century. You'll enjoy informative articles as well as first-class fiction when you subscribe.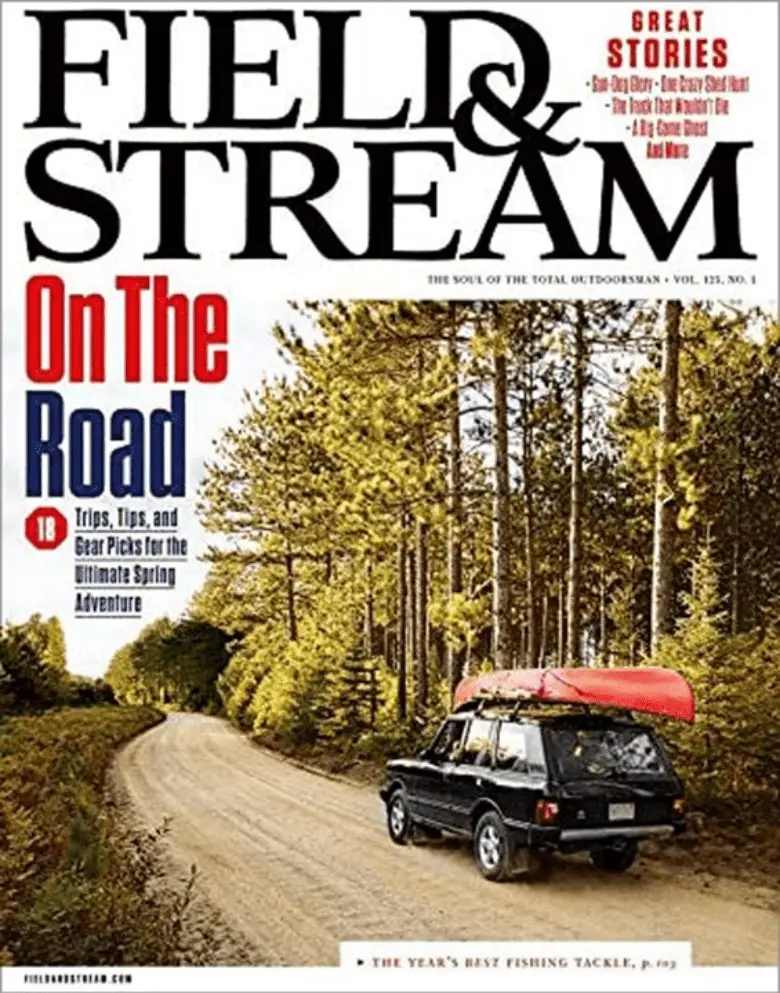 Field and Stream release twelve issues each year, or one per month when you sign up for a subscription. 
This publication also has an in-depth website and an online magazine with tons of videos you can check out. 
I love the recipes that Field and Stream publish, in particular. If your an experienced fisherman you need to check out Field & Stream.
Outdoor Life Magazine
Like Field and Stream, Outdoor Life is more of a broad-coverage magazine that covers everything related to the great outdoors.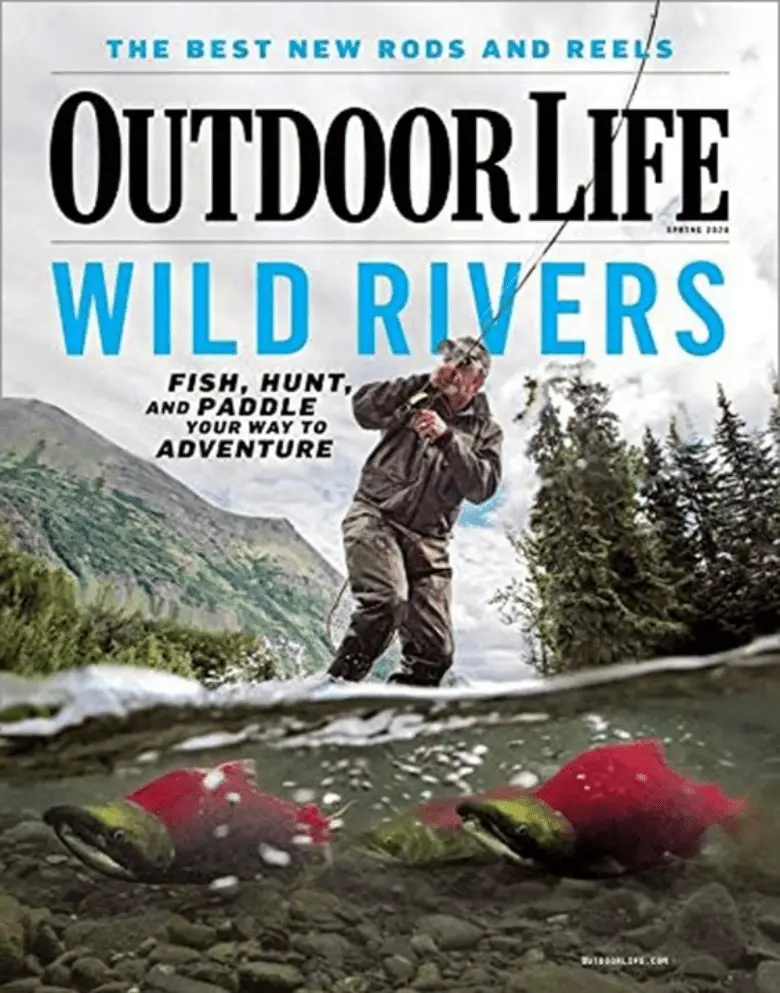 It's not just for anglers, including articles on hunting, dogs, firearms, hiking, and more. 
This magazine is published on a monthly basis and has a similar layout, design, and schedule to Field and Stream – the two are considered sister publications.
Texas Fish and Game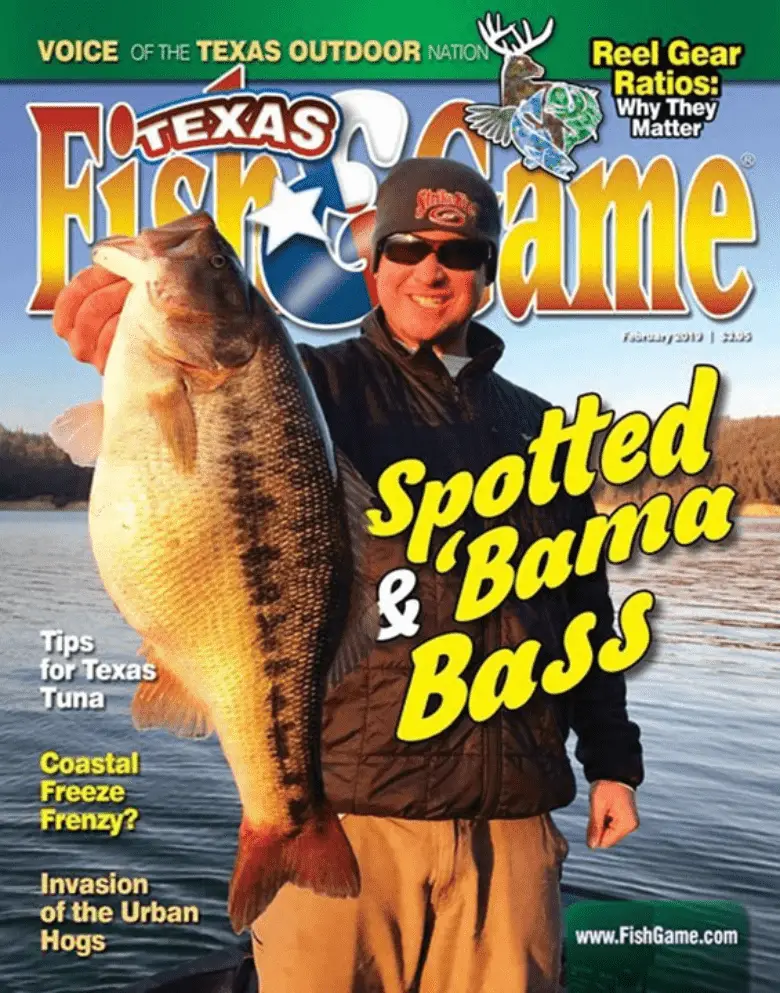 This popular magazine is written specifically for residents of the Lone Star State, but you don't have to live in Texas to enjoy this larger-than-life publication.
The magazine covers articles related to hunting, fishing, and other topics related to outdoor recreation. 
FLW Bass Fishing Magazine
FLW Bass Fishing is a go-to publication that's loaded with the latest articles and recommendations from the leading angling professionals. 
There's some information online, but most people go for the print subscription.
Bass Angler
Do you love Bassmaster magazine? If so, consider subscribing to Bass Angler. 
The two magazines are closely related, and while an annual subscription to Bassmaster can be a bit pricey, it's worth the expense. Either a print or digital subscription will cost $29.95 per year.
You'll learn more about how to hone your craft as it relates to bass fishing and get access to the latest fishing techniques, competitions, and products.
You'll find plenty to love on the Bass Alglers website, too. It includes all kinds of information on the latest products and news in fishing.
Marlin Magazine
If you really love saltwater angling, Marlin Magazine is the best fishing magazine for you. 
Each issue is jam-packed with articles such as product reviews, techniques, tips, travel recommendations, and tournament guides. 
The magazine also includes more in-depth, editorial-style articles, in case you're looking for something a bit more creative. 
Sport Fishing Magazine
Another comprehensive angling magazine to consider is Sport Fishing Magazine. 
One of the nicest things about this magazine is that it includes articles written by experienced and novice anglers alike. 
You won't feel overwhelmed by reading only articles from experts, or "underwhelmed" because all the tips provided are basic ones from newbies.
This magazine covers everything from product reviews, tips and rigs, travel recommendations, and more. 
American Angler
American Angler is jam-packed with information about fly fishing in particular. You'll Learn new fly tying techniques along with how-to guides and basic information on fly fishing in the United States. 
It also includes articles about conservation and entomology, along with recommendations for top products. 
Another thing I love about American Angler is that it accepts submissions from anyone. 
If you're truly passionate about angling and want to publish an essay or informative piece, you can send it in for consideration!
Northwest Fly Fishing
This fishing magazine is written specifically for fly fishermen who live in the Pacific Northwest, including states like Alaska, Wyoming, Idaho, Montana, Washington, Oregon, and California. 
It's also a great read for anglers in Western Canada who enjoy having a fishing trip.
With six angling destinations included per issue, the magazine also includes regular department features that focus specifically on angling in this beautiful corner of the world.
National Fisherman
A more traditional publication, National Fisherman has a reasonably-priced subscription in which your first issue is always free. 
It's worth the read, offering a ton of information on fishing travel, recipes, competition, news, and other topics related to the sport. 
With a long history of publication – the first issue was published back in 1946 – it's a classic print magazine with a wide digital distribution, too.
Eastern Fly Fishing
Another regional magazine is Eastern Fly Fishing, focused primarily on – you guessed it – the eastern portions of the United States and Canada. 
As with Northwest Fly Fishing, you'll find all kinds of maps, techniques, hatch charts, conservation tips, advice, and more.
This fishing publication is available in both digital and print.
Modern Fishing
Modern Fishing is a digital magazine that's written exclusively for Australian anglers. It has tons of gear reviews, feature articles, tips and techniques, spotlight articles on various species, and more. 
One important thing to note – you may have a hard time navigating the magazine, which is published on Facebook if you don't already have an account.
Florida Sportsman
One more regional magazine to consider is Florida Sportsman. It makes sense that the publication would focus on the Panhandle State since Florida is often regarded as one of the top fishing destinations in the United States.
You'll read all kinds of helpful tips in this publication, from how to handle fish for catch and release, to tips on buying the perfect boat, and more. 
It covers further-out fields like conservation, diving, and hunting, too. 
Southwest Fly Fishing 
Similar to Northwest Fly Fishing, this publication instead focuses on all the local hot spots, techniques, and tips for anglers in the southwestern portion of the United States. 
It is offered in both digital and print.
Fishing World
Another digital magazine to consider is Fishing World. Also an Australian publication, this magazine has been around for nearly 50 years. 
It's considered by many to be the "Sport Fishing Bible." Visit the website, and you'll find all the latest in saltwater fishing and freshwater fishing. 
The news updates that publish the latest research are particularly fascinating, especially if you're a "data junkie" like I am.
Coastal Angler
Coastal Angler is primarily for saltwater anglers, featuring top fishing reports, information on the latest boats and fishing gear, product reviews, and even interviews with professionals and celebrities.
My favorite part about this magazine? All issues can be accessed free of charge online. 
Plus, the magazine publishes regular reports and localized information on various "zones" for saltwater anglers, like Long Island, Palm Beach, and Charleston. 
Fly Fisherman
Fly Fisherman is another publication dedicated specifically to the "sub-category" of fly angling. This publication is distributed both online and in print edition, both of which are offered at a cost. 
You'll find all kinds of tips designed specifically for beginners, but it's also a decent publication for more experienced anglers. 
It includes information on how to tie flies and the latest fishing news and top destinations in fly fishing.
Trout and Salmon
Trout and Salmon is a digital magazine that is written specifically for fly fishermen. 
You'll learn everything you need to know about catching trout and salmon, from the latest tactics to the leading brands of flies. 
It's a British magazine that's been in print distribution since 1955. My favorite part of this magazine is the full-color, inspirational photography. 
It's absolutely breathtaking. 
In-Fisherman
In-Fisherman offers in-depth coverage of freshwater angling. You'll learn everything you need to know about the sport and have access to super helpful instructional features. 
The magazine also includes equipment and product reviews, with everything laid out in full-color photography to really bring the sport to life.
One of my favorite parts of this magazine is that the website is categorized to make it easy for users to navigate. 
You'll find articles clumped together by species, so, for example, you'll find a long list of articles that are exclusive to "Pike and Muskie" while others relate solely to "Bass."
Crappie Now Magazine
Love hunting for crappie? Well, you need to check out this magazine.
Although this magazine isn't quite as extensive as some of the other options on this list, it's great for crappie enthusiasts. 
It's a free digital magazine that includes photo contests, cooking ideas, tips, reviews, and more. 
ODU Magazine
A comprehensive fishing magazine, ODU Magazine is written for the walleye lovers among us. It's free – and it's digital. You can read its issues from anywhere, at any time.
Paddling Magazine
This angling magazine is a bit more comprehensive, focusing specifically on kayak fishing. 
You'll learn more about the various types of kayaks and how to stay afloat while you're reeling in a monster catch. It is offered in both print and digital formats. 
I like that this publication isn't focused solely on product reviews and tips. Some pieces are strictly editorial and narrative in nature. It's a great read, no matter how much time you have to spare.
World Sea Fishing
Here's another great fishing magazine for you to consider. 
It focuses primarily on fishing in the United Kingdom and is, in fact, the largest sea fishing magazine here. 
The website is pretty impressive, too, home to all kinds of angling guides and the latest reports.
Men's Journal
Ok, so this magazine isn't specifically a fishing magazine – but you'll find it listed by many anglers as one of their favorite magazines (and no, you don't have to be a man to enjoy it). 
I've included it on the list because it often focuses on outdoor recreation and issues related to the environment and the great outdoors. You'll find lots of gear recommendations, too. 
Whether you're looking for a quick read while you're waiting at the doctor's office or are in search of a lifetime subscription to a new magazine, you'll find what you're looking for in these publications. 
Staying apprised of all the latest angling news, gear recommendations, and updates can be overwhelming. However, investing in a subscription to one of these best fishing magazines is a great place to start. 
Consider reeling in a copy of the best magazine subscriptions today.