We hope you love the products we recommend. Just so you know, OnTrack Fishing may earn an affiliate commission from the links on this page, at no extra cost to you.
For many anglers, fishing line selection for catfish is mostly about personal preference. Many swear by mono; for others, only braid will do.
But there are a significant number of discerning anglers who will select a line type based on target and conditions.
I will always recommend you use the line type you are most comfortable with for the best fishing experience.
But you should become familiar, even proficient, with all line types to become a complete angler.
Fishing line for catfish needs to be selected carefully. Sure, use whatever line you enjoy using. But the best catfish line is the line best suited for the location, conditions, and rig.
I can't stress enough that personal choice drives line selection across most fishing applications. 
But when looking for that fishing edge for excellent catfish results, it pays to be adaptable with your line choice.
Let's look closely at the best fishing line type for tackling catfish.
When Should You Use Braid For Catfish?
First and foremost, use braid whenever you want. But a senior pro I spoke with recently told me he always uses braid.
Unfortunately, the conversation quickly changed direction, and I forgot to ask him how he goes about test-weight selection.
But his main reason for using braid was all about strength. If he's wetting a line, the goal is always the biggest fish in the river.
Braid offers exceptional strength without the huge diameters we must accept with mono. 
A spool of 80-pound braid is suitable on a far broader range of reels than a spool of 80-pound mono.
I can't fault his logic. A 100-pound belligerent fish, upset about the hook in his mouth, will always be a tough customer.
If you've hooked it anywhere around cover, you'll have to pull – hard. The strongest line you can practically fit on your spool is a great idea.
His argument convinced me – and I'm a mono guy. 
While I won't convert all of my sessions to braid, I accept that braid will be better on my spinning reels when hunting trophies.
On the rare occasions I use lures for catfish, braid is the best option as it imparts the best action.
Clear water is a good time to try lures on catfish for fun. While they love something that stinks, they do hunt by sight and strike aggressively at a passing meal.
The visibility of braid doesn't seem to be an issue with catfish, so don't worry about the combination of clear water and hi-vis braid. 
You're using a mono or fluoro leader anyway, so it's not an issue.
If for some reason, I have to cast heavier baits a long distance, like in many land-based situations, then a quality braid is an obvious choice.
I am very lazy with line replacement. And a good braid will remain effective for years.
It's not uncommon for me to pull out a reel that I haven't touched for a couple of years or more, and the braid is still perfectly serviceable.
Even though the outlay for braid is a right pain in the pocket, it likely pays for itself with its exceptional durability. 
Yes, it fades. But it retains its tensile strength, which matters in a battle with a mega catfish.
When Should You Use Mono For Catfish?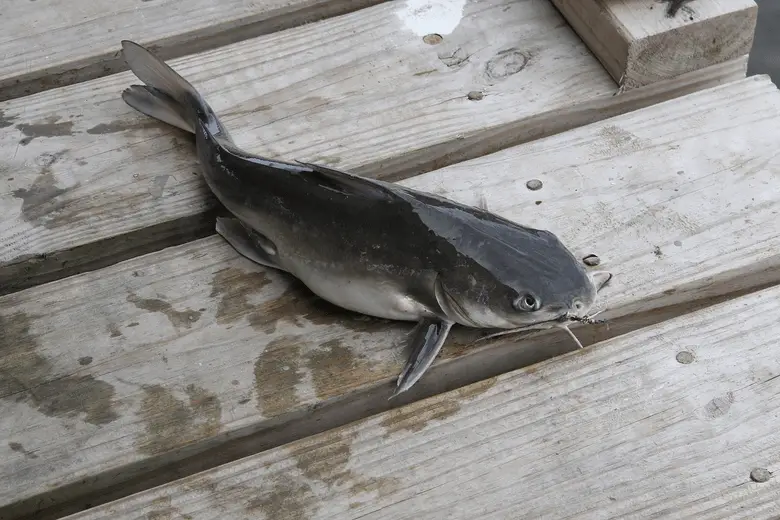 I prefer natural baits, flesh baits, and homemade concoctions for catfish. And I'll always use mono with such baits.
I'm also a fan of the simplest rigs for chasing catfish, and mono lends well to a handful of straightforward rigs.
The bottom line is that mono is easy, reliable, forgiving, and affordable. And that makes it the ideal go-to.
So, for me, mono is the go-to fishing line unless I'm chasing trophies. As it's the most versatile line, the best time to use mono is all the time.
A large round profile baitcaster or light/medium conventional reel holds more than enough 20-pound mono. 
You'll need a spin reel over 5000 to hold a sensible quantity of 20 pounds.
As you may know from reading my other articles, I'm more confident with the abrasion resistance properties of mono over braid.
The thickness of braid provides a little more backup should your opponent take you directly into gnarly cover.
Importantly, it comes down to the question of who should use mono over when you should use it.
Most anglers are better served with the ease and forgiveness of mono and are likely to experience fewer frustrations with inevitable snags.
Put it this way.
If I could only use one line type, I would choose mono. It's a more versatile fishing line, and should I want to chase massive blues, I just need to use a bigger reel to cope with the line diameter of 60-pound mono.
There's something about the stretch in mono that I feel assists anglers in heavy catfights. You're less likely to pull hooks mid-battle, and you're less likely to miss hook-ups on the strike.
Mono offers forgiveness which means you won't necessarily be punished should you make a mistake or rash decision during the battle.
Also Read: Choosing The Right Line For Bass
Best Fishing Line For Catfishing Reviewed
Last update on 2023-09-05 / Affiliate links / Images from Amazon Product Advertising API
1. Suffix 832 Advanced Superline Braid – Best Braid Overall
Suffix 832 always heads my braid selection. But there are 3 key features 832 has that make it a great choice for big catfish.
Firstly, 832 has a perfectly round profile. No matter what reel type you're using, the 8-strand peels off beautifully.
Secondly, when land-based anglers have to send larger baits a significant distance, then the 832 provides a casting edge over others.
Thirdly, Suffix provides a great range of breaking strains from 6 to 80 pounds. Those anglers looking to target monsters appreciate the 80-pound option in a quality braid.
Fishing with such heavy fishing lines in locations where there's potential for hooking the cover requires plenty of care – if possible.
It can be frustrating to hook something connected to the planet with 80. You'll likely have to cut it, and this will cost you plenty in line over time.
The tensile strength of 832 is outstanding. It also goes without saying that you need deep pockets to spool up with the Rapala flagship.
If you fish several rigs with deep spools, this stuff adds up. It's certainly not the most expensive, but it's in the lower reaches of top-shelf price points.
2. Power Pro Spectra Fiber Braid – Best Braid for Sensitivity
There's little separating Suffix 832 and Spectra. And you'll find both of these brands popular with more discerning anglers.
In my experience, just about every braid is sensitive. But you get something extra with Spectra that, added to its other features, makes it a premium braid.
An extra sensitivity line can be very useful when dealing with catfish. 
Spectra has the sort of sensitivity that picks up the water movement that's been created by a stalking catfish near the bait. 
Before it's in its mouth, you know something's going on.
Durability is another great Spectra feature. Again, most catfish hunters will have multiple lines set, whether they're land-based or floating.
If they're hunting big catfish, they have big reels that eat a lot of expensive braids. And this braid can be sitting out in the elements for long hours.
Despite this exposure, Spectra is a nearly set-and-forget fishing line. You'll hear of countless Spectra fans leaving lines on their reels for years without fear of line failure.
If you'd like to test keeping Spectra braid on your spool indefinitely, there's a process that will help you avoid the disappointment of line failure mid-battle.
Check your line immediately after contact with any structure, particularly if it was under load.
Remove any damaged line immediately, so it won't break your heart next session when you're just about to land a trophy.
Spectra has good abrasion resistance. Be diligent with checking it, and you'll save plenty of money not having to buy replacement spools continually – despite its hefty price tag.
3. Berkley Trilene Big Game Mono – Best mono for trophy catfish
If you're hunting massive catfish, it's hard to go past Trilene Big Game for confidence in mega battles.
First of all, you'll have little trouble with tying secure knots in the heavy test weights over 65 pounds.
Tying knots in 80-pound line has always been an area of concern for me. I learned very early with heavy mono, that you must take care with knots.
With knots on heavy mono, "that'll do" is a sure way to lose a big fish. You have to be confident the knot strength is as close as possible to the line's tensile strength.
Supple and 80-pound mono shouldn't go in the same sentence. 
But you'll find Trilene Big Game mono allows you to sinch up beautifully for a knot with which you can have total confidence.
Abrasion resistance is excellent. If you're hitting the cover focusing on massive catfish, this is a brilliant mono for soaking up the heavy contacts with sharp, gnarly structures.
I've seen Trilene Big Game hit the surface absolutely shredded, yet still hold. I expect the thickness in the heavier line classes has something to do with it.
If you're fishing braid and want a reliable leader, the shock strength of Big Game makes it a valuable contributor to violent battles.
Trilene Big Game ticks all the boxes and is an excellent mono for catfish, priced affordably and sold in very handy bulk spools. 
It's popular for a reason and a favorite of big fish anglers who fish mono exclusively.
4. Stren Original – Best Go-To Mono
I don't think I know anybody who has a bad word to say about Stren Original. Having been in the fishing line game so long, with such success, you know you can rely on the brand. And thousands do.
I'm not sure why Stren Original has never been available in the heavy test weights suitable for massive catfish. I've no doubt Stren fans would snap it up.
I'm like many anglers, and a trip for hunting massive catfish is a dedicated trip, where we're targeting monsters specifically.
Other times, I spool up with 20-pound mono, as it's not overkill for smaller catfish and gives me a fighting chance should something monstrous take my bait.
I prefer not to fish heavy monos with huge diameters, and I don't think I'm alone there. It's just more difficult.
With 20-pound Stren Original, however, everything is very easy, especially knot tying and getting myself disconnected from nasty snags.
Knots hold particularly well and are easy to tie, even in their heavier strains.
Abrasion resistance is excellent and a confidence boost should you find yourself fishing heavy structure.
I like the shock strength of Stren. I feel it's a very forgiving mono. So much so that I strongly recommend Stren original as a go-to for your average angler, whatever fish they're chasing, saltwater or fresh.
With great knot strength, top-shelf abrasion resistance, and low memory for consistent casting, there's little to criticize.
While it doesn't suit those seeking heavy mono, a reel full of Stren Original 30-pound sees you well-armed for most fish.
5. Sufix Siege – Best Mono on a Budget
While Stren Original edges out the Sufix Siege owing to its superior abrasion resistance, there's very little in it.
Sufix Siege fans may argue that it offers better, more consistent casting due to its exceptionally low memory.
The other thing about the Siege is its color. While my default position is always low-vis, there are plenty of times when chasing catfish that I wanna see my line.
The tangerine color delivers great vis. 
You can catch movement from the corner of your eye, due to its loud color. It's not as good when the water is muddy but still works well enough.
Knots, tensile strength, and shock resistance are great. But like the Stren, it doesn't cover the heavy trophy fish lines, stopping at 30 pounds.
Again, I don't think that matters, as most anglers selecting Siege, aren't necessarily hunting the biggest blues in the creek.
Spooled with 20 pounds, you're covering the vast majority of catfish applications with great confidence and a relatively low cost. The 330-yard refills offer great value.
What To Consider When Selecting Fishing Line for Catfishing
Different anglers have different criteria when selecting fishing lines for catfish. Here are mine and the reasons why.
Comfort and Preference
While I'm very comfortable with all fishing line types, I prefer mono. I can't go past its ease and versatility.
When we consider rigging, knot tying, and performance in the water, I feel anglers have greater success with the line they're most comfortable and confident using.
See Also: 3 Main Types of Fishing Lines Commonly Used by Anglers
Shock Absorption
Shock absorption is important when hunting big fish. And mono is great for shock absorption. 
It allows more room for poorly timed strikes, aggressive attacks from fish, and other mistakes made in haste.
If you're using braid, a leader is essential. I like mono leaders when using braid for catfish.
If trophy hunting, I like an 80-pound braid with a 60-pound mono, depending on the brand.
Abrasion Resistance
I'm the first to admit that abrasion resistance has improved significantly in many top-shelf braids.
However, the thickness of a heavy mono delivers more reliable abrasion resistance when it comes into contact with the structure while under heavy loads.
While a long leader offers some peace of mind when using braid, it doesn't quite help when it hits something sharp above the leader.
If heavy cover is an issue, I prefer mono.
Knot Strength
By and large, knot strength is up to you. If you use the correct knot and tie it conscientiously, you can confidently fish whatever line type you use.
The only exception is with some cheap, hard monos in the lighter categories. With these, it often doesn't matter how good your knot is.
I always use extra caution when tying a heavy class of mono. Heavy mono can be difficult to sinch and secure, as it lacks suppleness. Take extra care – double-check, and you will be fine.
Color
I can state it definitively, but I've never known catfish to be line shy. Most of my fishing lines are clear and low vis, as I feel stealth is a sensible default position.
However, there are times when I want to see my line and see it well. Bright yellow and orange are good for this, but any color that contrasts well with the water will do.
See Also:
Selecting The Right Line For Trout
Selecting The Right Line For Walleye
What Are The Top Catfish Reel and Rod Combos
Frequently Asked Questions
What Size Line Should I Use for Catfishing?
A good size line for catfishing is 20-pound mono. For trophy hunting, a 60 or 80-pound braid is a good option. 

It depends on the cover in the area. If it's heavily covered with plenty of sharp structure, go for a 60-pound mono.
Do You Need a Leader Line for Catfish?
For mono mainline, it's not essential but recommended. Sometimes it can be great to run a sinker to a hook directly connected to your main line.

For braid, a mono or fluoro trace is almost essential. You need the shock resistance.
Do Lights Attract Catfish?
It's not a method I employ. I'll likely steer clear of it if it's unnatural, as artificial light is. I know some swear by it.

If I had to offer an opinion on this, I'd suggest catfish prefer to avoid lights.
Are Catfish Most Active at Night?
Fish for catfish day and night, 24/7. I can't say that one fishes better than the other. With the right baits and the right location, you'll catch fish, wherever the sun is.
Are Catfish Line Shy?
In my experience, catfish aren't line shy. Nothing has led me to believe that the color or size of my line has made an ounce of difference.

And that includes fishing the shallows with clear water and not so much as a ripple on the water's surface.

However, I feel that trophy catfish in frequented angling locations must be a little more wily and cautious than your average cat.

It's just a gut feeling, and I have little but anecdotal evidence to support this, but these targeted monsters didn't grow to 100 pounds without being a bit clever.
Final Thoughts on Line Choice for Catfish
Go with your favorite fishing line type. There are as many opinions about the best line for catfish as there are catfish hunters.
If in doubt, go for the strength of braid when chasing monster trophy fish – there's no substitute for strength.
But mono will always be the most versatile, reliable, and suitable for most catfish anglers, wherever they fish, and whatever techniques they employ