We hope you love the products we recommend. Just so you know, OnTrack Fishing may earn an affiliate commission from the links on this page, at no extra cost to you.
Land-based portable fish finders have certainly improved since the angling market's first foray into bank-based sonar.
To make things more appealing for the land-based angler, the selection now ensures most budgets and demands are covered.
Like any piece of angling technology, there are key criteria from which to measure efficacy. 
We should ask ourselves, does the device assist me to catch better fish, and more of them, and with less time invested?
Fishfinder technology has revolutionized the search for fish. And as we refine displays, increase range, and lower the noise, we increase the amount of submerged detail we can see. 
And yes. This has helped us improve our angling bottom line in the key criteria I've just listed.
However, selecting the right unit for you and your applications can be a little tricky. 
Only serious studies and comparisons can reveal the variance in efficacy between brands and models. A genuine scientific approach involves plenty of hours and research into variables.
Most of us simply won't do this. So, ultimately, we're left with checking the reviews, taking a punt on a particular unit, and finding out for ourselves.
The selection below may, or may not, be perfect for your specific location and technique. However, it will provide you with an excellent starting point. 
This is good fish finder kit. And used correctly, you can expect to find more of the fish you seek. Will you catch more? Well, that's up to you.
Top 4 Best Portable Fish Finders for Bank Fishing in 2023
Last update on 2023-12-02 / Affiliate links / Images from Amazon Product Advertising API
1. Deeper Chirp 2 (Editor's Choice)
It's rare that I will award the editor's choice to the most expensive – that's too easy. And it is expensive. 
However, the Deeper Chirp 2 is robust, versatile, reasonably easy to use, and will increase your ability to find the fish you want to catch.
This is the ideal choice for anglers looking for a model that is perfectly suited to bank, kayak, paddleboard, and ice anglers. 
It's a superb build, and robust enough to handle a reasonable level of rough and tumble.
It has two more affordable siblings, the Pro+2 and the Pro Plus. A survey of the specs indicates that there's very little to distinguish models – the critical specs and capacities are nearly identical.
The reason for the significant price difference is the battery life. The Chirp 2 has 15 hours battery life. That's 6 hours more than the Pro2 and 9 hours longer than the pro.
As most of you will be aware, battery life costs a lot. 
But for my money, as somebody who fishes locations over several days and longer, where charging opportunities are limited, the long battery life is a huge incentive for paying the extra coin for the top model. 
And for those with a low battery and in a hurry, 80% charge is reached in 1 hour. Those who fish deep will be impressed with the detail available at depths of 330 feet. 
Minimum depths are 6 feet, which can be an issue at times, but it's certainly no deal-breaker.
For the land-based angler, a casting distance of 360 feet delivers significant reach and exploration zone. 
You can search a huge area relatively quickly, make your assessment and start fishing quickly.
The software (App) is iOS and Android compatible, and suitable for most phones, tablets, and notebooks. The software is impressive. 
Images are crisp enough to allow the absolute novice to understand visual readings very quickly. Water depth and temp are displayed, as are the structure and features such as reef, weed beds, rocks, holes, and drop-offs.
There are 50000 maps installed, and you can create your own. You can also record critical data such as locations, campsites, successful techniques, lures, and baits. 
You can also store pics of your catch.
Great unit, with a pretty cool range of accessories. But I have to admit a deep fear as I load up and toss it out into the abyss. That's well over 300 bucks on the end of the line.
Pros
Excellent imagery
Comprehensive data storage, collection, and existing maps
Reasonably user-friendly. Easy for the tech-savvy
Great depth and distance range
Cons
Expensive outlay
Data access required
Subscription costs
You need a smartphone, tablet, or equivalent device
Features
Material: ABS enclosure, Titanium inserts
Compatibility: From iOS 13.0 and Android 6.0 to the latest iOS and Android devices
Sonar Type: 3 Frequency CHIRP – Narrow CHIRP 675 kHz (cone angle 7°), Medium CHIRP 240 kHz (cone angle 20°), Wide CHIRP 100 kHz (cone angle 47°)
Target Separation: 0.4 in Narrow Chirp, 0.94 in Medium Chirp, 0.94 in Wide Chirp
Depth Range: 6 in – 330 ft.
Sonar Scan Rate: Up to 15 scans per second
Sonar Modes: Standard, Boat, Ice fishing
Temperature sensor: Integrated temperature sensor (accuracy 0.2°C)
Operating temperature:-4°F to 104°F
Operating time: up to 15 hours
Charging technology: Fast charge, 80% in 60 min., 100% in 110 min.
Internal battery: Li-Ion, 3.8V Rechargeable, 1300 mAh
Power Adapter (not included in the box, recommended): Input 110V/220V. Output Micro USB, 5V 2A
Connection Type: Wi-Fi
Connection Range: Stable connection up to 394 ft
Color: Desert sand
2. ReelSonar ibobber (Best On A Budget)
The ibobber is a lot cheaper than the Deeper Chirp 2 but it certainly isn't a toy. In many respects, its basic features, user-friendly interface, and set-up will appeal to many.
While the top models have lists of features that you could spend hours obsessing over, the ibobber features are pretty rudimentary.
Nonetheless, the key function is identifying fish-holding structures and fish. And this it does. Of course, you don't get the depth and distance of the top models or the high-resolution images.
However, you get more than enough to determine everything you need to know to land your lure in exactly the right place to get the fish you're hunting.
With only a single beam sonar, you can't get the same sort of imaging as you can with three. 
However, with a little practice, it's not too difficult to understand what the images are telling you.
Those with a lot of experience using sonars of different types will have little trouble at all.
There's a battery life of 10 hours, which is great for extended sessions. When it runs down, you'll need 2 hours for a full recharge.
You can scan depths of up to 135 feet, with the Wi-Fi connection working effectively over 200 feet. 
Anglers can tag fish by size & depth, as well as map structure and lake bed contours. There's GPS spot tagging with an interactive map.
The app is free, provides further cost-saving incentives, and is ideal for your iPhone or Android smartphone; it's also compatible with Google Watch and iWatch.
The bobber is perfect for land-based fishing, and a great companion for small boats, kayaks, and stand-up paddlers. 
It will fit easily in the glove box of your jet ski and is not a burden to carry around.
The interface is very easy to understand and navigate, with clear buttons, intuitively placed, and free of screen clutter.
This come highly recommended for those new to sonar fishing. 
It's a great way to cut your teeth on the technology without hurting the bank, and without being overwhelmed by a huge list of functions.
Pros
Highly affordable
Easy to read and understand
Useful mapping features
Great rage for the price
Cons
Single beam sonar
Limited warranty
Features
Patented sonar fish identifier technology
LED beacon
Rechargeable battery and charge status indicator light
10+ hrs battery life
Accurate sonar readings from a depth of 4′ down to 135′
2 Snap swivel connections for use as bobber or as remote fish finder
Bluetooth Smart sync up to a distance of 100′ for the best battery life on the market
Choose between raw sonar or fish tagging views
Depth-tagged fish icons color-coded by size
Waterbed and structure contour mapping
GPS spot tagging with interactive map
Trip Log with date, time, location, water temp, conditions, type of fishing, lure, number, and species of fish caught
Lunar calendar and weather (temp, rain, wind, barometer)
Fish & strike alarms
Optional social media share features
Compatible with Google Watch and iWatch
One Year Limited Warranty
3. Lucky Fish Finder Wired & Wireless (Best Mid Price)
This Lucky model offers both wireless and wired modes. The cable has a 45 degrees beam angle in 200Khz and the wireless has 90 degrees beam angle in 125Khz.
The LCD three-color display is basic relative to top-shelf modern standards, but the detail is such that it leaves nothing to the imagination.
You can identify your target from a school of baitfish, as well as identify water depth, water temperature, bottom contour, and features.
Anglers afloat will likely go with the wired mode whereas the wireless mode is suitable for those fishing the banks.
You have the option of using the handheld unit or linking it with your phone. I prefer to keep my phone well away from the water's edge. I also prefer that my phone stays well charged.
A mishap with the Lucky handheld display is one thing, but dropping my phone in the water is devastating.
There's a 10-hour battery life, which I'm beginning to understand is a bit of a benchmark. A full charge from empty in 2 hours.
Wired scanning depth is 328ft with a minimum of 3ft. In a wireless configuration, the max is 125ft where the minimum is 3ft. 
I think the minimums are being a little generous, with minimums from 6 feet more reliable.
The hand-held unit has an aerial that might be a little fragile, particularly as I think it's a good idea to have the aerial extended whenever you're using it.
The Lucky appears to be quite accurate and pretty sensitive once settings are refined. You can see the depth at which the fish are holding a rig appropriately.
Navigation is a little clumsy, but no real issue once you get the hang of it.
The wired configuration will appeal to kayak and other such floating fishers, but when it was plugged in, I kept wanting to go back to the wireless mode. 
It just seemed less cumbersome.
However, you will sacrifice depth if you fish wireless, so depth will sometimes dictate which configuration you have to use.
At this price, one might think the Lucky is a little lackluster. But that's not true. 
This is one heck of a handy unit for finding fish and structure from the bank. It's versatile, accurate, and doesn't require a smartphone.
Pros
Value for money
Accuracy
Wired and Wireless
Versatility
Doesn't require a smartphone
Cons
Navigation is a little clunky
Fragile aerial. Fact that it needs an extendable aerial
Features
Compatibility – From iOS 12.0 and Android 5.0 to the latest iOS and Android devices
Sonar Type – 45 degrees beam angle in 200Khz(Cable)/ 90 degrees beam angle in 125Khz(Wireless)
Scanning depth – Wired: Max/Min Max 328ft (100m) / Min 3ft (0.9m); Wireless: Max/Min Max 125ft (38m) / Min 3ft (0.9m)
Battery life is 10 hours.
Recharge Time 2 hours.
Connection Type wired and wireless
5 levels of sensitivity
Neck lanyard
4. Garmin Striker Cast, Castable Sonar (Best Value For Money)
If I were going to purchase a bank-based sonar, I'd find the Garmin very hard to pass up. With a feature-packed design, it doesn't cost as much as the top-of-the-line model Deeper Chirp 2.
The Garmin is easy to read, easy to set up and use. In many respects, that's its standout feature.
The App is free and compatible with Apple and Android. More importantly, the app is straightforward, and with some study of the instructions, easily mastered.
The sonar will stream from a distance of 200 feet, and the connection is strong and consistent. 
The depth range has a maximum range of 150 feet and is accurate in less than 2 feet of water. Most bank anglers won't require any more than this.
Those unfamiliar with reading 2D displays will appreciate several of the display functions that make it easy to read, as opposed to interpreting.
The Autogain will minimize clutter and noise while maximizing targets. The fish symbol ID identifies the fish for you, so you can quickly identify targets without having to interpret the readout.
The A-scope delivers real-time indications of fish passing through the sonar beam, ensuring you can quickly identify and cast toward desired targets.
There is 10 hours' worth of charge thanks to power-saving modes that turn the unit off when it's not in the water.
The GPS function is perfect for dedicated anglers keen to map the bottom. Creating custom bathymetric maps you can analyze in real-time or later.
The unit is genuinely pocket-sized and appears quite robust. This is an ideal feature for those anglers who travel light through rugged terrain to fish secret locations.
Your phone is required, so effective usage time is limited to your phone charge and data access. This can be a little bit of an issue for remote locations.
This is an ideal unit for the bank angler of the kayak angler. But for me, it's special for fishing the banks. 
If I were looking in this price bracket, and a land-based angler, the Garmin would be very hard to pass up.
Pros
Easy to set up, read and navigate
Perfect for the bank angler
Excellent range
Great display features that are easy to read
Good mapping
Cons
Limited depth range for the kayak anglers wanting to fish deep
Preferer a brighter color
Features
Dimensions 3" x 2.97" x 2.28" (75.8 x 75.5 x 57.87 mm)
Weight 2.6 oz (75 g)
Water rating IPX7
Operating temperatureFrom -20° to 60° C (from -4° to 140°)
Charging temperature From 5° to 40° C (from 41° to 104° F)
Frequencies supported260/455 kHz
Maximum depth From less than 0.6 m to 45 m (from less than 2 ft to 150 ft)
Beamwidth 22° x 63° @ 260 kHz
9° x 14° @ 455 kHz
Fish symbol ID (helps identify fish targets)
Autogain (minimizes clutter, maximizes targets)
A-Scope (real-time display of fish passing through transducer beam)
Scroll speed adjustment 
Water temperature sensor included
Record Quickdraw contours
Ice fishing flasher
Included tether length 16.4 ft (5 meters)
Integrated GPS
Streaming range 60 m (200′)
Record Quickdraw contours
Download from Quickdraw contours community
Depth range shading
Mark waypoints on map 
Battery life 10+ hours1 on internal USB-rechargeable battery
What Type of Portable Fish Finder is Best for Bank Fishing?
Even the most basic castable fish finders deliver fish-finding benefits. In my opinion, any device that allows you to see below the water surface, identifying contours and features, is a sure path to more fish.
For the bank, I prefer portable fish finders with a robust construction over huge ranges and depths. 
Often we're not fishing too far from the edge of the bank. In which case, I prefer my sonar has a strong minimum., I.E, I prefer that it's very accurate in shallow water a meter or less.
Of the 4 listed above, the Deeper Chirp and the Garmin stand out as being the better castable, land-based sonars.
If I had to select between the two, I feel that the Garmin would be best suited to my applications and budget.
I fish the banks frequently, casting at submerged structures within 50 meters of the Shoreline. I travel light, carrying as little kit as possible, and I'm usually pretty rough on my gear.
For this reason, the Garmin is probably the best for me. In a perfect world, where money grew on trees, I'd own the Garmin and the Deeper Chirp.
Yes, I know these are the more expensive models, but it's important to note that good tech generally costs a little more.
Also Read: Best Portable Fishfinders
How Do You Use A Bank Fish Finder?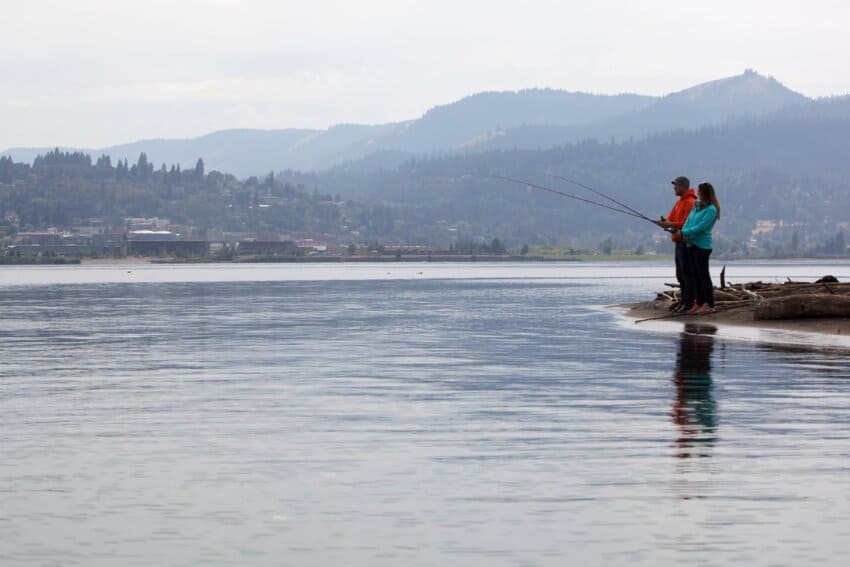 Even if you are familiar with fish finders, I can't stress how important it is to read the instructions and play around with them first before you fish.
I like to take a second, medium (+) rod and reel spooled with a heavier braid that is dedicated to the sonar.
I like to select an area and do several runs of a target zone, casting as broad of an area as possible.
I'll make my assessments, rig, then fish. I try not to be obsessed with the sonar, continually casting to find indications of fish, particularly when they're not biting.
You can waste a lot of time obsessing with your sonar, often because it can be a lot of fun. 
But remember, you're there to fish, not map the ocean floor. The sonar is a means, not an end.
You catch the fish, the sonar won't. Your technique is the reason you catch fish, the sonar is only there for finding them.
See Also: Best Rod Holders For Bank Fishing
See Also: Best Side Imaging Fish Finders
Frequently Asked Questions
Do Regular Fish Finders Work on Land?
Any unit that has a hard-wired transducer is going to be difficult to use from land. 
It's not impossible, but distance is limited by the length of connecting wire between the screen and transducer. 

You would also have to rig a contraption allowing the transducer to float appropriately. For the most part, it's impractical.
Can You Use a Portable Fish Finder From The Shore?
If your sonar unit must connect by wire to the transducer, shore-based applications are extremely limited.
Is Using Sonar Cheating?
This is a fun question for you the reader to consider. Are we losing our hunting/fish-finding capabilities by deferring to technology? 

Or are we simply saving time by fishing locations we can guarantee hold fish?
Also Read –
Best Portable Fishing Rod
Garmin Striker 4 Portable Review
Ice Fishing Fish finder vs Flasher: Which Is Better?