We hope you love the products we recommend. Just so you know, OnTrack Fishing may earn an affiliate commission from the links on this page, at no extra cost to you.
I can't quite put my finger on why, but there's something about casting cranks that's addictive. Crankbaits are a legendary weapon for a host species. 
But bass absolutely love them. Regardless of the season, target size, or location, casting cranks at bass is awesome fun and very productive.
When it comes to selecting the best crankbait rods, anglers are spoiled for choice. Right across manufacturers and brands, specialized rods are now the order of the day.
Want to cast the lightest of soft plastics from your kayak? There's a rod for it. Want to cast stick baits from the bank? There's a rod for it. Want to cast cranks at bass? 
There's a comprehensive selection of application-specific options. Anglers can refine every part of their rig for application-specific optimum performance. 
Getting the best performance from your crankbait, while catering for all other fishing considerations such as geography and preferred technique, is now much easier.
Let's have a detailed look at what makes a good crankbait rod for hunting bass anywhere. 
Best Cranking Rods
Here are the best crankbait rods on the market:
Last update on 2023-09-16 / Affiliate links / Images from Amazon Product Advertising API
Which Rod To Select for Cranking Bass?
The truth is that any rod or rig appropriate for casting lures can work for casting cranks (that will spark plenty of argument from purists). 
However, modern raw materials and manufacturing processes have provided rod designers a whole new palette of design options for enhanced rod/lure performance.
Rods are now stronger, lighter, more sensitive, and more powerful and responsive. 
Blank materials and design see modern rods super-tuned for extracting every ounce of performance from a particular lure type.
Importantly, many of these finely tuned fishing weapons are highly affordable. This means anglers needn't settle for "any old rod."
There are anglers who couldn't care less about hyper-tuned, deeply application-specific rods. And some demand application-specific perfection to a bees knee tolerance. 
By and large, the majority sit somewhere between these extremes, simply keen to optimize performance, without being obsessive.
Yes. Any old rod will probably get the job done. However, it's a fact that the better the lure presentation, the better the strike rate. 
The obvious conclusion we draw from this fact is that a rod that enables a better lure presentation will deliver a better catch more often. 
Therefore, you're likely better off with an application-specific rod.
See Also: Best Lures for Bass Fishing
How Do You Choose a Crank Rod for Bass?
Apart from impossible deliberations because of endless choice, the process of selecting a bass cranking rod is relatively straight forward. 
We start by identifying exactly what it is you want to achieve. Different locations, geography, and seasons invite different techniques. 
Casting cranks for trophy bass in winter is a very different prospect to hunting a broader class of fish mid-depth, at the height of summer.
Let's look at a couple of hypothetical bass cranking examples.
Example 1
Bass angler A is chasing trophy bass from a kayak. They're not interested in smaller fish; they want the biggest. They're targeting the end of a pier in relatively deep water. It's winter and the water is cold.
Example 2
Bass angler B is chasing any bass that'll take a crank. It's the height of summer and the target is a rocky lake bed in deep water, casting from a boat.
Example 3
Bass angler C is land-based. The location is a large dam, casting from a rocky outcrop. There is plenty of reasonably uniform rocky structure on the bottom, as well as plenty of trees. Depth is variable but not overly deep. However, keeping the bait on the bottom is the aim here.
Example 4
Angler D is hunting the shallows for post-spawn bass. There's plenty of weed about but few other snags. The river is exceptionally narrow. Circumstances force the boat to position closely adjacent to the bank. Overhanging trees sit lower than head height, obstructing casting.
Example 5
Angler E is land-based and casting into a deep pond. The water's edge cannot be reached as the bank is steep and covered with deep high reeds. 
The pond is known for having the occasional trophy fish, and the angler wants to be powered up to handle the possibility.
___________________________________________________________________
These 5 examples barely scratch the surface of possibilities. However, these examples are pretty standard and reasonably common.
What rod would you deploy in each of these circumstances? Is there a rod that will cover all the above or just a few? Do you need a different rod for each situation?
Regular bass crankers will tell you a rod brand and model number before you can blink. The rest of us would need to do a little research. 
4 Critical Rod Selection Bass Cranking Questions
Here are 4 important questions you need to consider when choosing a high-quality crankbait rod for bass:
What class (size) of fish am I hunting?
What are the geographical circumstances: season, weather, lay of the land, land-based, boat, or kayak?
What's the chosen crank style and size? Round bib, a square bib, or a lipless?
What's your budget? Rod prices vary dramatically. You can make things a lot easier in the process of elimination with a firm budget. I will highlight one of the best budget crankbait rods later in this article.
There is a 5th question that technically does have some relevance. And that is, are you fishing braid or mono?
There are still plenty of anglers who fish lures spooled with mono. They're now well and truly in the minority. But lure fishing with mono is still pretty widespread.
Ultimately, it's not a biggie. But from a high-performance perspective, many rods are better suited to braid over monofilament. It's certainly a point worth considering.
Two Approaches to Buying a Crank Rod
Consider your current level of experience and fishing product knowledge. Can you manage the selection process on your own? 
Do you know all the options available? Or should you ask the pro at your local tackle shop?
1. Ask an Expert
This is my default setting for just about any angler. It's certainly a wise option for the novice or for the angler new or newish to cranking.
Talking to an expert at your local tackle store is also an option for the highly experienced angler. The main reason is that a good pro will be well versed in products. 
Sure, you might be an excellent hand with your trusty crank, but do you have your finger on the product pulse? What's new? What's great value? 
And what's the perfect rod for you irrespective of budget?
Most tackle store pros have an in-depth knowledge of fishing rods. They will understand your application and be able to make solid recommendations. 
The more information you can provide to a pro the better.
Explain your application in as much detail as possible. Just like it is explained in the samples above. 
If your tackle store is local to the place you're fishing, all the better. 
They'll know exactly what you're talking about and home in on the best rod for your budget, based on hands-on experience.
2. Doing Your Own Research
So, you're well versed in exactly what it is you want to achieve. You're also interested in saving a few dollars by purchasing online.
Essentially, the process is the same as it is with the pro. However, in this instance, you're going to hit the net for some serious product videos and articles.
Many will also head to chat sites. These places are a hive of information from enthusiasts. 
Keep in mind, however, you can't really be aware of their experience level and bias.
While very useful, it's often unwise to take the word of a chat contributor as gospel. When somebody offers a tip that resonates with you, go ahead, and investigate.
Having your heart set on a brand is probably not the best option from the start. Your primary objective is matching the critical performance requirements, not a label.
Your search will likely reveal a host of brands at different prices. This is when you can research the brand for reviews on general quality, and after-sales back-up and service.
Don't be in a rush. You will find a heck of a lot of rods with little between them delivering a stand-out option.
5 Excellent Bass Cranking Rod Selections Reviewed
To make things simple and refine the vast list of potential options, I'll match up rods to the examples listed above. 
This will provide a useful guide to a whole range of bass cranking rod options.
This is by no means a best-of list. That is not the object of this article. The purpose is to identify rods that are best suited for a particular bass cranking application.
Example Number One
Here, angler A is fishing from his kayak. Immediately this demands a shorter rod. Angler A is also chasing a large class of fish in line-busting structure.
A moderate, graphite rod might be useful here. Keep in mind they will be selecting a lure with a natural look and a much tighter action, and the water is cold. 
Selection: I like the St. Croix here for its muscle, yet lightweight construction.
St. Croix PC70MHM Premier Crankbait Rod
Last update on 2023-09-16 / Affiliate links / Images from Amazon Product Advertising API
Casting
Graphite
PC70MHM
Length: 7′
Power: MH
Action. Moderate
Line class: 10 – 20lb
Cast: 3/8 – 1 OZ
Weight: 4.5 OZ
Example Number Two
Angler B needs some casting length to cover plenty of water. Depth is also important, so a modicum of length is important. 
However, being on a small boat too long can become cumbersome. While composite might be better, the moderate action makes up for the stiffer blank. 
A powerful yet light rod delivers plenty of flexibility for hunting a broad class of bass with differently weighted cranks.
Selection: The St. Croix Bass X is ideal at 7'11".
St. Croix Bass X Fishing Rod
St. Croix Rods Bass X Casting Rod Multi, 7'11"
PREMIUM SCII CARBON CONSTRUCTION: High quality SCII carbon with FRS for unparalleled strength and durability
SPLIT-GRIP/PREMIUM-GRADE CORK HANDLE: Comfortable cork handle ensures you maintain a strong grip on your fishing rod
FEATURES: Sea Guide Atlas Performance SS304 with black finish guid; Fuji ECS reel seat with black hood; Two coats ofFlex-Coat slow cure finish; Designed and built for passionate bass angle
SPECIFICATIONS: Length – 7'11"; Power – H; Action – Mod; Fast; Pieces – 1; Line Wt; – 14-30 lbs; Lure Wt; – 1/2-2 oz; Rod Wt; – 5;1 oz; Handle - 3
Last update on 2023-09-16 / Affiliate links / Images from Amazon Product Advertising API
Casting
Graphite
Length: 7'll'
Power: H
Action. Moderate/Fast
Line class: 14 – 30lb
Cast: 1/2 – 2 OZ
Weight: 5.1 OZ
Example Number Three
The key for angler C is to get a bait way out to the structure. It's also important to keep the crank smacking the rocks on the river floor. The benefit here is that the bank is free of trees and obstruction.
Selection: The ABU Veritas is the perfect spin rod for this application. Plenty of casting length in a super sensitive package. Very light for its length.
Abu Garcia Veritas Spinning. VTSS96T-4
Abu Garcia 6'6" Veritas Spinning Fishing Rod, 2-Piece Rod, 6-12lb line Rating, Medium Rod Power, Fast Action, 1/8-1/2 oz. Lure Rating,White
ABU GARCIA VERITAS 6'6" SPINNING ROD: A balanced and lightweight rod designed for on-the-water technique and style. 2-piece fishing rod is designed for increased sensitivity.
6-12LB LINE RATING, MEDIUM POWER, FAST ACTION: The Veritas Spinning Fishing Rod is up for the next challenge. Lure rating of 1/8-1/2 oz.
GRAPHITE CONSTRUCTION featuring exclusive Powerlux 100 to deliver a 15% stronger* and 5% lighter** rod. Total weight is just 4.2 oz. The Texas-rigged hook keeper will work with all bait applications. Rod comes with a 3-year limited warranty.
8 TITANIUM ALLOY GUIDES: Built with zirconium inserts to allow for a lightweight balanced rod. Also features ROCS (Robotically Optimized Casting System) guide train for maximized casting distance with lighter lures.
Last update on 2023-09-16 / Affiliate links / Images from Amazon Product Advertising API
Spin
Graphite
Length: 9'6"
Power: ML
Action. Moderate/Fast
Line class: 6 – 10lb
Cast: 1/8 – 1/2 OZ
Example Number Four
The trick for angler D is to get short enough to deal with the overhanging trees obstructing the cast. 
Accuracy is also critical here as the target area amongst the cover is very small and covered in lure stealing hazards.
Selection: The Lew's David Fritts Perfect Crankbait Series is perfect here. This affordable option was made for this very application.
Lew's David Fritts Perfect Crankbait Series. LDFP68MH
Lew's David Fritts Perfect Crankbait 7'11" Medium Heavy Casting Rod
Premium 42 million modulus graphite/glass composite construction for strength and flexibility
Guides are rugged stainless steel frames with aluminum oxide inserts, for smooth and easy line flow while casting
Lightweight graphite reel seats with stainless steel cushioned Hoods for comfort while making continuous casts
Last update on 2023-09-16 / Affiliate links / Images from Amazon Product Advertising API
Casting
Composite
Length: 6'8"
Power: MH
Action. Moderate
Line class: 12 – 20lb
Cast: 1/4 – 3/4 OZ
Example Number Five
Angler E is pushing the proverbial uphill and could find a heap of trouble with a big hook-up. 
Without access to the water's edge, and having tall reeds in front, there's little option for keeping the tip down for working the bait deep.
There's also the issue of managing the fish at the shoreline. Some lifting might be required.
That's why the Impulse 7'3″ Heavy Composite Cranking Rod is ideal.
While it might be a little short, it makes up for it with its other outstanding features, in particular, the ability to get the cranks down deep.
Selection: Impulse 7'3″ Heavy Composite Cranking Rod
Impulse 7'3″ Heavy Composite Cranking Rod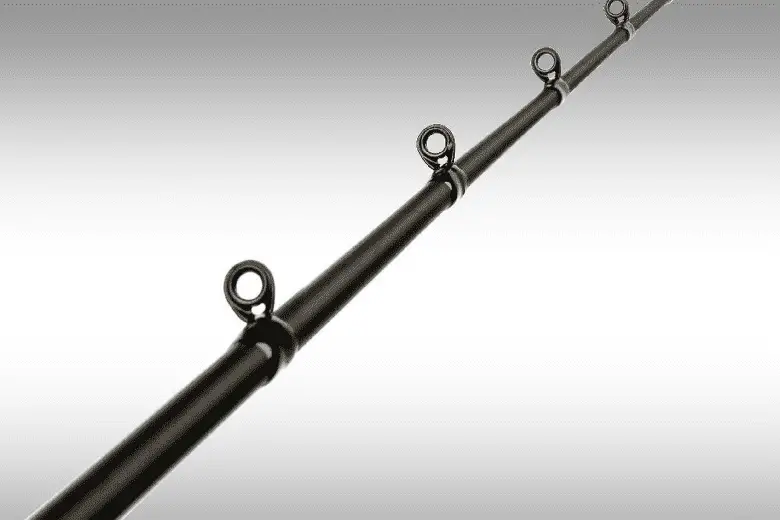 Casting
Composite
Length: 7'3"
Power: H
Action. Moderate/Fast
Line class: 12 – 25lb
Cast: 1/2 – 2 OZ 
Desirable Features and Benefits of a Crankbait Rod
While each rod will have features for application optimization, crankbait fishing rods tend to share desirable attributes. 
While many of these typical features might be a standard rule of thumb, frequently it will come down to personal preference.
It should also be noted that anglers will have strong baitcaster or spin reel preferences. 
In my opinion, both reel options are equally fantastic.
Interestingly, I will get opposition from the casting fans here. Bass crank purists will almost always argue the superiority of the baitcaster.
I agree the casting option is probably far more popular (I have no evidence for this, that's an observational assumption). 
However, I'm yet to see any evidence that one reel type outperforms the other in terms of catch.
With that established, let's look at desirable features. You might be surprised.
Also Read:
Best all around baitcasting rods
Fishing Reel Selections For Bass Fishing
1. Long or Short Crank Rods: What Should I Choose?
There is an element to personal preference here. Some prefer long rods others, short. I will go the shortest possible that covers my needs.
I do this simply for convenience. Shorter rods are easier to handle, transport and store. Cranking rods will vary between 6' and 9'. 
Sometimes I'll see rods as long as 10'. 
This is not so common, however. While personal preference will come into the equation, rod length will generally be determined by casting requirements.
Long Rods
Long rods of 8' to 10' are great for casting long distances. While you may drop a little (a lot) in accuracy, you certainly pick up excellent benefits in coverage. 
With a longer cast, you can also get more depth from a bibbed crank – It's also beneficial for keeping in a deep water strike zone for longer.
Long rods can be outstanding choices for casting from an unwooded, uncluttered bank. 
Lengthy casts may even be the only way to reach the offshore structure where the fish are waiting.
The disadvantages, as mentioned earlier, is that they can be cumbersome in a busy boat, nigh on impossible from a kayak, and more awkward for storage and handling.
By default, longer rods are heavier, so there will be an element of fatigue. Fatigue is compounded by the fact that casting longer rods requires bigger physical movements.
Also Read: Choosing The Best Bass Rod and Reel Setup
Short Rods
Short rods of 6' to 7.5' are brilliant for efficient casting and retrieving. They are also lighter and less physically demanding.
Long sessions of repetitive casting are far less fatiguing than with longer rods.
Shorter rods are great for fishing up close. They're the obvious choice when the target zone is a very lazy cast away. 
The most significant benefit comes from accuracy. A skilled caster can land a lure on a dime with a well-balanced short rod.
If significant casting distance is not required, shorter rods are nearly always the way to go. 
They're the best for casting from banks that are heavily wooded with dense foliage and trees.
For obvious reasons, they're essential for the kayak cranker. They're also a lot less cumbersome on a boat – again, they're essential on a busy boat.
If you are casting into and under structures such as docks, trees, both sunken and on the bank, the short rod delivers far more casting control and convenience. 
A short rod is pretty well essential for working the cover.
Tip: If your budget allows for only one bass cranking rod to cover the boat and bank, 7.5' is a great compromise. 
If you want to maximize casting distance, you can always lighten your rig. However, you can't cut the top 2 feet from your rod to get under the cover.
2. Selecting Crank Rod Power
This is pretty easy but requires that you know your crank weights first. Your power selection will be relative to what you're casting.
These days, choosing power is quite easy, despite inconsistencies from brand to brand in power measurement standards. 
The recommended cast weight is printed on just about all good rods, and this is a great starting point.
Going light, medium, or heavy, etc, will also be determined by the class of fish you are chasing and, to some extent, the location you're fishing.
Being overpowered, which means too heavy a rod for the lure, will significantly diminish cast distance, accuracy, and overall feel. 
You can fish a little heavier than recommended but doing this with ultra-light and light gear can be a little perilous in terms of breaking tips. 
Ultimately, when you're out of balance, performance suffers.
Power will also be an issue in certain locations. For example, take Angler E in example 5 above. 
This cranker will likely have to lift his catch over the reeds blocking the water's edge. 
This is fraught with light gear, particularly with a larger class of fish. In cases such as this, a heavier rod will be more practical.
Going heavier is also a better choice when wresting fish from a heavy structure. If you're fishing gnarly cover, fishing light can be heartbreaking.
On the converse, fishing deep in the middle of the lake allows for a lighter approach, weather permitting. Without structure in the mix, there's more space to work a larger class of fish.
As a rule of thumb, you want to go as light as your application will permit. The heavier you go, the more you sacrifice feel. 
Keep in mind however, premium rods retain their feel and sensitivity even as the power rating increases.
3. Selecting Rod Action for Cranking
Cranks are armed with small treble hooks. Hook setting this style of hook is far better with medium or slower actions. 
Fast actions require a more deft strike to secure a hook-up, and it's widely accepted that fast actions are responsible for an unfortunate number of heartbreaking losses.
However, you will hear bass crankers talk about the sluggish bass in cold water. 
There's a strong argument that a faster action can be highly effective when the bass are ambling about with the winter blues.
The bite is usually far less aggressive, making the faster action more suitable for securing hook-ups.
Slow to medium actions have a small lag on the strike, even more so when fished with mono. 
This slight delay mitigates pulling the hooks, giving you a better chance of a secure hook-up.
4. The Rod Blank. Graphite, Glass or Composite
Back in the day, fiberglass was the standard, that's pretty well all that was available. 
It certainly remains a tradition today, however, modern glass techniques have made them decent crankers. 
By and large, materials have moved the bulk of anglers away from the super heavy fiberglass blank.
Robust as they are, and usually an ideal action, fiberglass is heavy and far less sensitive and responsive than modern composites or graphite.
The best crank rod for bass is usually a composite rod. There's a super wide variety of actions, of which there's not with full graphite, which is often fast to extra fast.
I have to say that blank composition comes back to choice. However, the slower action composites usually tick all the boxes of key performance criteria. 
Composites will usually have the perfect blend of strength, power, and action, as well as being very light, particularly in shorter rods.
A strong argument remains for full graphite blanks. They are by far the most sensitive, delivering telling feedback throughout the retrieve. 
They're also the lightest rods by far, facilitating the modern propensity to cast until your arm falls off.
The graphite trade-off is at the point of strike, as we discussed earlier. 
While very useful during the cooler months, come summer, a fast action graphite rod could deliver some disappointment in the form of lost monsters.
Conclusion
No doubt there are plenty of other rods that could be selected for each of the showcased applications.
However, all the rods mentioned above will do a beautiful job for specific applications. There is also a high level of crossover with each of them.
The best crankbait rod of the lot, in my opinion, is definitely the Impulse. It's an awesome rod, designed for the more discerning crankbait bass angler. 
Just remember, you're going to have to take a very deep breath when you put your hand in your wallet.
I'm also a big fan of the Veritas. The length is great for casting super long from a naked bank. It really provides access and coverage you just won't get with a shorter rod. With this prodigious distance comes the benefits of holding the depths for longer.
In a tight space where the fish could be big, the cover is heavy and the need for accuracy is paramount, the Lew's is one best budget crankbait rods, and is probably the best all-round crank rod at its highly accessible price point.
Further Reading: Best Fishing Line For Bass Fishing