We hope you love the products we recommend. Just so you know, OnTrack Fishing may earn an affiliate commission from the links on this page, at no extra cost to you.
The catfish is an interesting beast. It's a fish that many anglers go after, yet few are equipped with the proper tools for the job. 
I used to be one of these anglers, not knowing the benefits that a catfish rod and reel setup could provide. 
Besides finding the perfect spot for catfish near you, having the right equipment is the most important way to prepare yourself for going after one of these epic fish. 
There are thousands of catfish rod and reel combos on the market, and with all kinds of products and opinions, it's easy to get overwhelmed. 
Don't let the plethora of choices leave you feeling bogged down – instead, consider our buying guide and review of the best catfish rod and reel setups. 
What Should I Look for in the Best Catfish Rod and Reel Combo
Purchasing a good catfish rod and reel combo can be a daunting task. There are so many alternatives out there to consider.
You might be tempted to use your old tried and true rod and reel that you use to catch other fish species. 
Don't do this. No one magic rod or reel will encourage fish to jump directly into your boat. You need to invest in tools that are not one-size-fits-all, but instead catfish-specific. 
When you choose a catfish rod and reel setup, you need to remember that catfish can grow quite large in size. 
They might be anywhere between three and twenty pounds, so you need equipment that's going to hold up to the job. 
Here are the other features you need to consider.
Rod Size and Versatility
One of the most important factors to consider when shopping for a quality catfish rod and reel setup is to figure out how large and versatile you need your rod to be. 
Think carefully about the type of catfish you will be going after.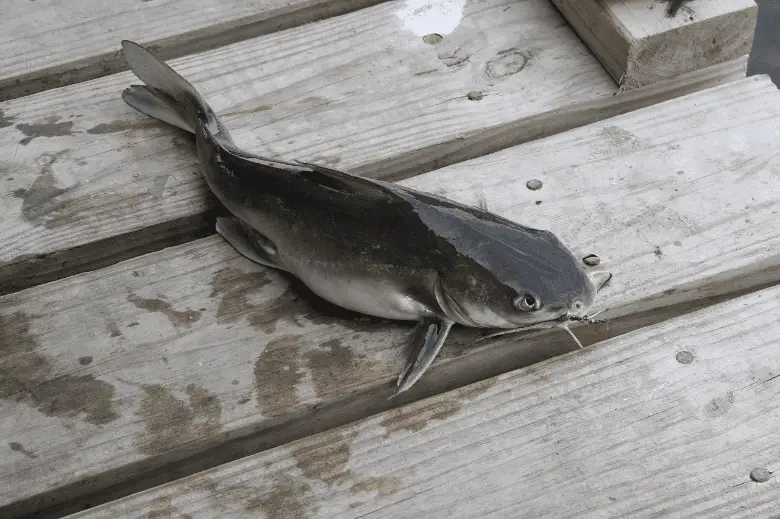 While you can get away with using a lightweight rod when angling for catfish in small ponds and rivers, you are going to need a rod with more heft to go after a massive thirty-pound catfish.
Here are some lightweight reels to choose from.
In addition, you will need to decide whether a shorter rod will be better suited to your purposes than a long one.
While a longer rod will allow for more precision in your fishing, it will be more challenging to carry it through the woods if you plan on hiking to your fishing destination.
Reel Type
You can't just think about the type of rod you are going to use when you are fishing for catfish – you also need to consider the reel type. 
Spinning reels are usually used when you are going after smaller catfish, as they are efficient and offer excellent performance. They can also be quite durable. 
There are several types of reels that you can use when going after catfish, but spinning reels are the most common. You can find some of the best spin options here
Baitcast reels, on the other hand, are often used if you aren't sure what species you want to catch or what specific angling technique you want to use. 
Durability
This factor applies to both the rod and reel, and you should even go so far as to research the line, case, and other features of the rod and reel combo, too.
Durability is important for every piece of your rod.
Although each catfish species will require different types of rods, most materials that are used for contemporary catfish rods and reels combos are quite durable, resisting breakage and corrosion.
Graphite or composite tends to be the best option.
Comfort
As with any outdoor equipment, you also need to evaluate how comfortable your catfish rod and reel setup will be to use. 
Ergonomics are vital! Make sure the rod you select feels good in your hand and that the reel is easy to operate. 
Of course, if you're buying online, you won't have the luxury of feeling the setup in your hands. 
There are some hacks to figuring out whether the product you are considering will be a top catfish rod and reel combo for comfort – for example, look at the handles of the rod. Do they have a comfortable, long-lasting grip?
You can also look at whether the rod has indentations for fingers to give you additional grip when you are fighting a particularly tenacious fish. 
Look at the material of the handle and grips, too – those that are hydrophobic (water-resistant) and non-slip tend to be best. Common materials used include cork and EVA foam.
Usability
Are you a beginner catfish angler, or more of an expert?
If you're new to the sport, you'll want to make sure you invest in a basic catfish rod and reel setup that doesn't have all the bells and whistles of a combo that is designed for a more experienced angler. 
Why? 
As a novice angler, it can be tough to get the hang of the art of catfish angling. If you can invest in a combo that has all the core features you need but with very few frills, you will be able to master the technique much more quickly.
Bonus Features
If you're an experienced angler, you might want to consider a catfish rod and reel combo for your specific goals and setting, too. 
Many of these combos come with bonus features to help make your life a little bit easier.
Here are some to consider: A centrifugal brake to control backlash, a non-slip handle, or even a stainless steel finish. 
Other catfish rod and reel setups come with extended warranties or are constructed out of premium-grade materials. 
You can even find combos that have double coatings that are UV rays-resistant, making your rod and reel setup even more durable and long-lasting.
Top 5 Best Catfish Rod and Reel Combo/Setups Reviewed For 2023
Not sure where you should start? Here are our picks for the best catfish rod and reel combos on the market today.
Ugly Stik Fishing Combo (Durable and Sensitive)
Ugly Stik is the name to know when it comes to manufacturing and selling some of the world's best fishing equipment, and this catfishing combo is no exception. 
It's easily one of the best rod and reel setups available. Regardless of the size of the fish you are trying to reel in, you will be well-equipped with this durable combo. 
Offering the ideal combination of durability, lightweight build, and ease of use, the Ugly Stik rod weighs a total of 1.6 pounds when assembled. 
The rod measures 7 foot and is a medium weight. It is constructed with a graphite core that is encased in fiberglass wraps. 
This unique combination of materials lends the rod sensitivity without compromising on strength and stiffness.
In fact, many Ugly Stik users claim that you can bend these rods in complete circles without them snapping!
This combo is a smart pick for beginners It's ambidextrous, meaning it can be used by people who are both left and right-handed. 
It has a spinning reel that allows for easy casting, even when casting long distances. Backlash is rare. 
If you aren't interested in the spinning reel, you can choose to purchase a spin cast or conventional reel, too. 
The rod breaks down, making it easy to take with you on the road or into the woods. It even comes with its own fishing line to help you get started.
Pros: 
Pole has a clear tip and stainless steel guides 
Offers sensitivity and durability all in one
Comes apart into two pieces for portability
Cons:
Rod finishes aren't high-quality
>>Check Latest Price on Amazon<<
Abu Garcia Catfish Commando Fishing Rod and Reel Combo (For All Fishermen)
Another well-known creator of the best catfish rod and reel set up combos is Abu Garcia. This particular combo is an excellent choice for fishermen of all backgrounds. 
In addition, this reel has a patented Carbon Matrix drag system that gives you all the drag you need, exactly when you want it.
It has a four-pin centrifugal brake that applies consistent pressure to allow you to cast precisely, too. 
Your arm won't get tired when you're going after catfish of any size with this rod and reel combo. 
On the contrary, this rod is constructed with a durable, lightweight composite blank design that reduces your overall fatigue. 
Pros: 
Ergonomic handle design
Stainless steel ball bearings offer smooth casts and retrieves
7-foot medium-heavy rod makes catching catfish easy and enjoyable
Cons:
Has some features that beginners don't necessarily need
>>Check Latest Price on Amazon<<
Shakespeare Complete Catfish Spinning Setup (Ultra-Light)
Another of the best catfish rod and reel combos on our list is this option by Shakespeare. 
Shakespeare sells multiple complete fishing kits for various species of fish, including bass, panfish, and trout. 
This catfish kit is perfectly engineered for going after large and small catfish alike.
Not only does this Shakespeare Complete Catfish Spinning Setup come with Berkeley Bait, but you'll also get a hand-selected tackle and rigging guide. 
It includes a spinning reel that is easy to operate and can be used for just about any fishing technique. 
The rod is made of ultra-light tubular glass and is great for casting. It features EVA grips with a twist-lock reel seat and the reel even comes pre-spooled with line. 
Pros: 
Ultra-light rod is simple to cast
Comes with hand-selected tackle
Can be used for multiple species of fish
Cons:
Line needs to be replaced in most cases 
>>Check Latest Price on Amazon<<
Tailored Tackle Universal Multispecies Rod and Reel Combo (Versatile for any fishing)
This universal catfish combo is both versatile and effective, it's a great choice regardless of whether you are fishing large or small fish. 

I said earlier that you need a combo designed specifically for catfish, but this combo offers the best of both worlds – it's great for fishing just about anything. 
Saltwater or freshwater, inland or offshore, you can use this rod just about anywhere. It's a great option for catfish with a medium weight and a powerful fast action tip. 

It has plenty of backbone to handle those big catfish you've been going after. In addition, the reel in this rod-reel combo is both right and left hand adjusted. 

It has smooth, agile seven-ball bearings with a 10lb drag system and an anti-reverse switch, too. You can tell this combo was designed by professional fishing guides the minute you wrap your fingers around it!

Pros: 
Can target multiple freshwater and saltwater fish species as well as catfish
Two-piece pole that breaks down 
Replacement parts and pieces are readily available 
Cons:
>>Check Latest Price on Amazon<<
KastKing Centron Spinning Reel – Fishing Rod Combo (lightweight and comfortable)
This lightweight, sensitive fishing rod by KastKing is made from IM6 graphite blanks. It provides exceptional performance and is 8' long, the perfect length for catfish. 

However, it can also be used to fish for steelhead, salmon, and other fish of a similar size. 

Equipped with stainless steel guides with o-rings, this rod features premium inserts that allow your mono or braided line to slide in smoothly. 

Lightweight stainless steel frames keep the weight down yet also offer the durability you need.

The KastKing rod in this combo is also one of the most comfortable to use. It has a contoured EVA handle and fighting butt so you won't even feel like you're holding anything all day. 

When it comes to the reel, this combo isn't locking, either. The Centron Spinning Reel is perfectly matched to the rod and the types of fish. 

Reels start at a compact size 2000 and go all the way up to 5000, depending on what you're looking for (the catfish combo usually comes with a heavy action 5000). 

Pros: 
Features a 4.5:1 gear ratio and 9+1 Maxi-Dur ball bearings
Smooth reel action and a triple-disc felt drag system
Graphite frame and rotor plus aluminum spool make this combo powerful and comfortable
Cons:
Not the best at casting long distances without tangling
>>Check Latest Price on Amazon<<
Why Do I Need a Special Catfish Rod and Reel Combo?
As a new catfish angler, you might try to get by with a generic long rod that makes long casts. You might even use a surf rod. 

These rods are great at covering a lot of space and reaching the fish you need to reach, but they aren't as sensitive as you need them to be when you're going after one of these unique fish. 

The same theory applies to catfish reels. You need a reel that is specially designed to be fitted to a catfish rod – as well as one that is well-equipped to handle the unique demands of fishing for these bottom-feeders. 

Why settle for cut-rate products? Instead, save money and time by investing in the best catfish rod and reel combo.