We hope you love the products we recommend. Just so you know, OnTrack Fishing may earn an affiliate commission from the links on this page, at no extra cost to you.
When it comes to braided fishing lines, the selection on the market right now can be a bit overwhelming. 
There are so many options to choose from, constructed from all different types of materials, a variety of test weights, so many colors, how do you know which line is best for you?
Also, how do you know when you should use a braided fishing line and when a monofilament or fluorocarbon line would make more sense?
Should you get a 4-strand or 8-strand braided line? Which braided fishing line is best for baitcasting and spinning reels?
These are the type of questions we are going to address for you in this article. 
Also, we will break down what you should look for when browsing the large selection of braided fishing lines available online.
Lastly, we will give you our top 7 picks for braided fishing lines currently on the market. 
The 7 Best Braided Fishing Lines
We will breakdown all the specifications and details about each of these braided fishing lines later in the article. 
But, for those of you just looking for the list, here are the top 7 braided fishing lines currently on the market. 
Last update on 2023-05-18 / Affiliate links / Images from Amazon Product Advertising API
What is Braided Fishing Line?
A braided fishing line consists of several smaller strands woven together to form a single strand of braided fishing line. 
Most commonly, braided fishing line is made with between 4 and 8 strands of polyethylene fiber, although some braided fishing lines can be made with 12 to 16 strands and from different materials. 
Materials like Dacron, Spectra, micro-Dyneema, hydrophobic gore, and others. 
If you see a braided fishing line advertised as having a number of carriers, that is just another term used in place of strands. 
So, a braided fishing line with 12 carriers would be a 12-strand braided line.
How is Braided Fishing Line Different from Other Types of Fishing Line?
The main difference between braided fishing line and the other two most common types of fishing line, monofilament, and fluorocarbon, is that the latter is made of only one strand of fiber or plastic, where braided lines are made from multiple strands. 
Monofilament Fishing Line:
Monofilament line is made by melting polymers and then pushing the melted material through a tiny hole to create strands once cooled. 
The size of the hole determines the thickness of the strand and ultimately the "test" of the fishing line.
Monofilament is constructed of a single fiber of plastic unlike braided which is made from multiple strands. 
Monofilament fishing line is lightweight and more buoyant than other types of fishing line.
Fluorocarbon Fishing Line:
Constructed from fluoropolymer, fluorocarbon fishing line is much heavier than monofilament and the line will sink quicker and stay deep even without heavy jigs or weights on the end. 
Fluorocarbon fishing line also is refractive like water and therefore is less visible to fish. 
When Should I Use a Braided Fishing Line?
Braided fishing line can be somewhat visible making it more opportune for certain water conditions. 
Here is a breakdown of the most ideal conditions for using a braided fishing line.
Deep-Sea Fishing:
If you are fishing in deep water, you will want a line with zero to no stretch so that each time you move your rod up and down, you are getting the most action out of your lure. 
Another reason that braided line is an excellent choice for deep-sea fishing is that you can fit a lot of it onto your fishing reel. 
You will want a significant amount of fishing line on your reel to easily reach great depths and to allow you to let bigger fish run and tire them out before boating them.
Shore-Casting:
Braided fishing line casts much further than other fishing line types. This is ideal for shore-casting where you need your lure to cast out far beyond the break. 
Also, while shore casting, you may encounter coral and sharp rocks that can easily cut other types of line. 
Braided fishing line is much more abrasion-resistant and better suited for rougher terrain. 
Surface Fishing:
Braided fishing line goes well with surface lures like hula poppers and frogs. Also, crankbaits go well with the braided line.
This is because the braided fishing line is buoyant with no stretch. The zero stretch allows you to move surface baits easier and with more action. 
Dirty Water with Thick Vegetation:
Dirty water is great for braided fishing line to help hide its high visibility properties. 
Also, if you are fishing a bed of lily pads or in some high grass, braided line is more abrasion-resistant and has more strength to help pull fish out of the thick vegetation.
Any sized fish may feel like a monster when pulling it through a bed of lily pads. 
What Should I Look for When Purchasing a Braided Fishing Line?
Before you purchase any braided fishing line, there are a few things you will want to consider. Those things are memory, sensitivity, material, and strength. 
Let us take a closer look.
Strength:
The strength of a fishing line is measured in test weight by the pound. You will hear things like 30-pound test, 6-pound test, etc. 
This is the estimated weight in pounds of resistance a line can hold before it can potentially snap. 
Research what pound test you should use for which particular species of fish you are going after. You do not want to use a much heavier test weight than you need. 
Sensitivity:
Braided line is ultra-sensitive and there are different levels of sensitivity between different types of braided line. 
The more sensitive your line is, the easier it is to distinguish between a bite and getting caught up on some vegetation or simply the water itself.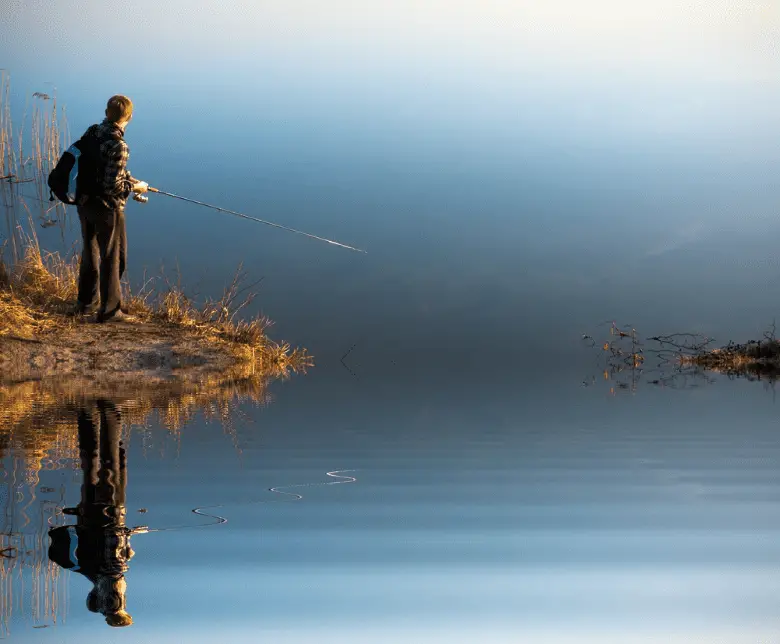 Memory:
The memory of a fishing line is used to explain how much the line will retain its original shape and how much it will pull to reset to its original form.
For memory, the less memory the better. Braided fishing lines with low memory will stay straight, cast further, and contain more abrasion-resistant properties.
Related: What Fishing Line Is Good For Baitcasting Reels?
Material:
There are a few different line materials used for braided lines in addition to the polyethylene fibers. Those are nylon, Dacron, and Dyneema. Let us look at these additional materials.
Dyneema:
Dyneema is another name for polyethylene fiber, not to be confusing, but you may see this term in place of polyethylene. 
Dyneema is the most expensive material used for fishing line, but its benefit justifies the cost. Dyneema is the most durable and contains much more strength in thinner strands.
It is abrasion-resistant, lasts longer, and because it maintains strength in thinner strands, you can fit much more of it onto your reel. 
Dacron:
Daron is a midrange material that is less durable than Dyneema, but more durable than nylon. 
Dacron is a low-stretch line constructed from long-chain polyester.
Interesting fact … This material is also used to make bowstrings for recurve and longbows.
Nylon:
Nylon is the most common and least expensive material used for fishing line. It is less durable than other material types, but it will still hold up for many types of fishing. 
You may want to consider other material types if you are going after extra-large fish or if you will be fishing where there are large patches of coral or sharp rocks. 
The 7 Best Braided Fishing Lines in Detail
Here are the top braided fishing lines for use on spinning and baitcasting reels.
Power Pro Spectra Fiber Braided Fishing Line
The Power Pro Spectra fiber braided fishing line is incredibly strong and durable. It packs all this durability and strength into a small package with its Microline design.
This fishing line has been tested up to 250-pounds with 150 yards of it fitting onto the average reel. 
Also, if you are looking for a line that is ultra-sensitive with very low stretch, then the Power Pro Spectra braided line is perfect for you. 
This line is long-lasting and comes in yellow, red, white, and dark green. 
Pros: 
Long-lasting. 
Durable. 
Super strong. 
Abrasion-resistant. 
Casts great distances with little effort. 
Cons: 
Colors fade easily. 
High chance the line will break if the line develops a fray or damaged spot.
KastKing SuperPower Braided Fishing Line
The KastKing SuperPower braided fishing line is a staple among anglers due to its exceptional quality at an affordable price. 
Do not let the more inexpensive price tag fool you into thinking you are getting an inferior product. 
This fishing line will stand up and perform well next to any of the other more expensive brands out there.
This fishing line has ultra-low memory to prevent knots and tangles as well as super sensitivity for better action in the water and to feel even the lightest bites. 
It also has a good strength to diameter ratio. 
Treated with a special clear coat to allow for smoother casts and retrievals, this fishing line comes in test weights of 10 to 150-pounds. 
The line tested between 10 and 65 pounds is constructed with 4 interwoven fibers while 65 pounds and above contains 8 fibers. 
Available in fade-resistant grey, dark green, ocean blue, and many other colors. 
Pros: 
Offers many of the qualities of the more expensive brands at a fraction of the cost.
Exceptionally strong. 
Durable. 
Available in a wide range of test weights and colors.
Cons: 
Spiderwire SCS30G-125 Stealth
This Spiderwire Stealth braided fishing line makes fishing effortless. 
Constructed from interwoven Dyneema microfiber and treated with a fluoropolymer fiber, this braided fishing line will cast great distances with a smooth retrieval as well. 
Another feature of this line is its silence. Because of the Spirderwire's construction, the line moves ultra-quiet through your rod's eyeholes. 
The Spiderwire Stealth braided line comes in test weights from 20 to 100-pounds and is available in green, yellow, blue, camo, dark green, pink, and translucent. 
Pros: 
Strong and durable. 
Very low chance of tangles and knots. 
Ultra-quiet. 
High sensitivity. 
Cons: 
Unable to use clinch knots. 
Sufix 832 Advanced Superline Braid
The Sufix Advanced Superline is the strongest small diameter braided fishing line currently on the market. 
With 32 weaves per inch, seven interwoven fibers made from Dyneema, and one strand made from Gore Performance fiber, this Sufix Superline is ultra-strong and durable.
The braided fishing line is super sensitive and is constructed with a perfectly round profile to help you cast further and with more accuracy. 
Fish effortlessly with a Sufix Superline braid that comes in 6 to 80-pounds test and ghost color, lo-visibility, and neon lime. 
Pros: 
Strongest small diameter braided fishing line on the market. 
Super sensitive. 
Abrasion-resistant. 
Line retains color over time. 
Reduced line vibration. 
Great for accurate and long-distance casting.
Cons: 
More expensive than other brands.
Berkley FireLine Superline Fishing Line
Berkley is one of the most trusted brands of fishing line on the market. The Berkley FireLine is best suited for spinning reels and only comes in a range of smaller test weights.
The FireLine is constructed from Dyneema fibers, has incredible sensitivity and lure action, and allows an angler to feel the difference between bites and vegetation. 
For colors, FireLine comes in crystal, smoke, and neon green. One color option that the Berkley FireLine has that is unique is the alternating colored FireLine. 
Every five feet, the color changes between the neon green high visibility line to the low visibility smoke colored line. 
This alternating color option gives you the best of both worlds by providing some stealth along with tracking capabilities. 
For more information on Berkley and their series of Superlines, check out this article written by the staff over at Berkley. 
Pros: 
Four times stronger than monofilament. 
Smooth finish. 
Super-thin line diameter. 
Dyneema fiber construction. 
Alternating color options available. 
Cons: 
Not intended for use on baitcasting reels. 
Reaction Tackle High-Performance Braided Fishing Line
The braided fishing line brought to us by Reaction Tackle is constructed from ultra-high molecular weight polyethylene which is a subset of the thermoplastic polyethylene. 
This material contains long chains and a molecular mass between 3.5 and 7.5 million atomic mass units. So, what does that mean?
Basically, UHMWPE fiber is incredibly strong, and the line can be ultra-thin and retain that strength.
This Reaction Tackle braided fishing line can be found in 10 to 200-pound test weight and comes in a wide variety of colors. 
Also, this braided fishing line is exceptionally sensitive, does not absorb water over time, and will not snap on you, even under the most extreme conditions. Resistant to saltwater as well.
Pros: 
Will not snap on you. 
Does not absorb water over time. 
Available in a wide variety of colors. 
UHMWPE fiber construction creates unmatched strength.
Cons: 
Not easy to tie. 
Tangles more frequently than other brands. 
Mounchain Braided Fishing Line
Mounchain braided fishing line is unique because it is extremely abrasion-resistant. 
Not only is this line abrasion-resistant, but it is also sensitive, designed with no burrs, has an incredibly smooth cast, and is designed for both fresh and saltwater use. 
This fishing line is available in 10 to 40-pound test weights and comes in a variety of colors using water-based dyes. 
These water-based dyes hold up and do not fade easily. The clear coating applied to the braided line also prevents UV damage and adds to the smoothness of your cast. 
Enjoy this tangle-free line while being able to pack a lot of it onto your reel due to its micro-thin construction. 
Pros: 
Tangle-free. 
UV and color fading protected. 
Water-based dyes. 
Exceptional strength. 
Micro-thin construction allows for more line on the reel. 
Good for ice fishing as well. 
Fresh and saltwater use. 
Cons: 
If the line becomes frayed even just the slightest, the line will quickly snap.
Final Thoughts
As you can see, there are so many options when it comes to choosing the best braided fishing lines on the market. 
You should easily be able to find a braided line best suited for the species of fish you are going after and the conditions of the water you will be fishing in.
Choose from a variety of colors to accommodate for murky water, or if you need a low visibility line for super clear water. 
Choose your test weight depending on if you are going for large Tunas and Marlins, or if you are simply going after some Lake Trout or Salmon. 
Also Read: How To Choose The Right Line For Trout Fishing
Choose your material type to determine what kind of memory the line will have and how sensitive it will be to lure movement and to bites. 
Also, you should be able to find braided fishing lines in all price ranges to allow you to find something within your budget without sacrificing too much strength and durability. 
Whichever line you choose, make sure you do some research on your own and find out what other anglers are using for the size and species of fish you want to go after.
Most importantly, have fun, stay safe, and tight lines!