We hope you love the products we recommend. Just so you know, OnTrack Fishing may earn an affiliate commission from the links on this page, at no extra cost to you.
There's no shortage of web-based articles focussed on the best beginner fishing rod. So why write another?
Well…It appears to me that many commentators forget to include critical points and leave a lot of people none the wiser.
Sure, they often direct readers to reasonable product options.
However, most fail to provide a concise definition as to what exactly constitutes a good beginner's fishing kit.
Today we'll be looking at the best beginners fishing rods. 
The core principles I mention here can be applied to many other fishing products selected specifically for the beginner.
Firstly, we'll define "beginner." Yes…It's necessary. Secondly, we'll delve into broader characteristics of what constitutes a good beginner fishing rod. It's not what you think!
Thirdly, we'll look at rod types, rod features, and technologies that are better suited for beginners. 
And fourth, I'll list 5 fishing rods that, in my opinion, suit beginners. There is a heck of a lot to learn about fishing rods, and we simply can't reveal it all here. 
This article aims to give the complete beginner some basic insights that will allow them to purchase an appropriate fishing rod.
Best Beginner Fishing Rod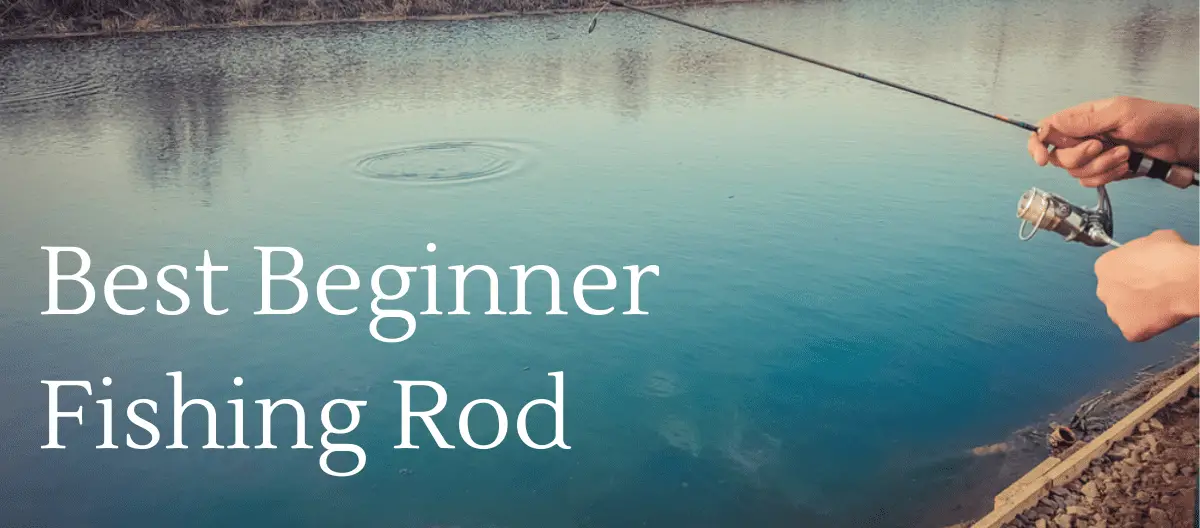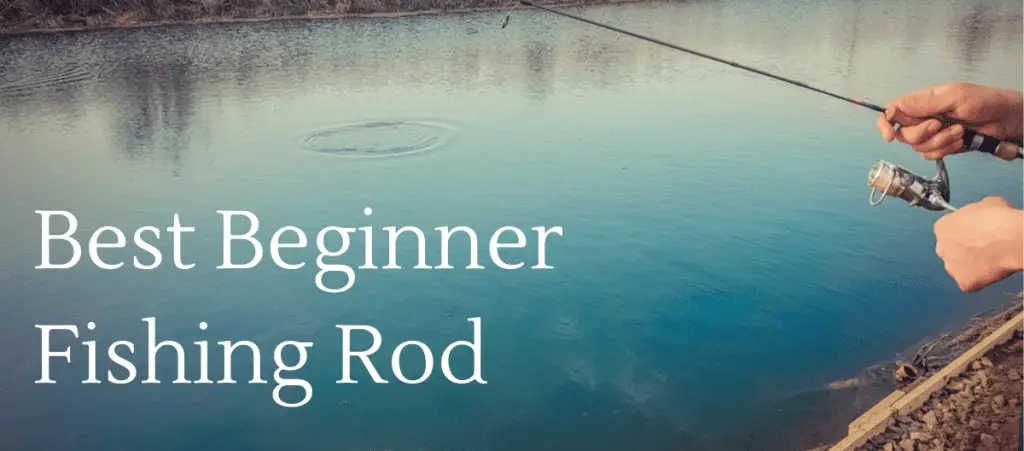 The Best Beginner Fishing Rods Are:
Last update on 2023-09-14 / Affiliate links / Images from Amazon Product Advertising API
What's a Beginner Rod?
It might seem like a silly question, but it genuinely needs clarification. For one, beginners are often confused with novices. 
A novice is different from a beginner because a novice has already been introduced to the basics and has some level of competence with the rudimentary skills.
And secondly, when people think of beginners they often think of young children. 
Selecting a beginner pole for a child has far different considerations than say, a teen or adult who is beginning to learn fishing.
In terms of fishing, a beginner is anybody who has literally never done it before.
Beginners are also those who may have done it once, twice, or maybe a few times. 
However, they understand next to nothing about the sport, beyond holding some fishing line or rod in their hands and waiting for something to happen.
We'll not be dealing with beginner fly fishing rods or ice fishing rods in this article.
Fly fishing and ice rods are specialized fishing rods that deserve articles all of their own.
Now. Let's move straight onto the punchline and identify the best beginner fishing rods. 
How to Choose The Best Beginner Rod Setup?
Generally, with a couple of arguable exceptions, there really is no such thing as a beginner's rod. 
However, there are a few rod features that make a rod more suitable for beginners. eg, shorter length, composite blank, light to medium power and action. 
There are countless rods that fit that description. None are what you might call "beginners" rods specifically. It's more that they are suitable for beginners.
The industry often puts "beginner" on a rod/reel combo as a way to market more affordable products.
These rods and reels usually contain the above mentioned features.
The focus is on that they are affordable and sold as a balanced outfit. I'll address the term "balanced" later.
Also Read Fishing Rod Length Guide
What Makes a Top Beginner Fishing Rod and Reel?
It's at this point most commentators will go ahead and list particular rod features. But there are a few more general characteristics that make a beginner rod…best!
The best beginner rod is any quality rod that will facilitate the speedy development of fishing skills.
The best beginners rod is any quality rod selected based on the user's current motor skills and hand-eye coordination (including potential development); maturity and physical restraints and sporting prowess are also considerations.
The best beginner rod is a quality rod that is selected specifically for the fishing application, be it boat fishing, fishing from a bank or a pier, surf fishing, or even a combination of those things.
Let's Unpack That a Little
Fortunately, a quality rod doesn't cost the earth these days. Even the cheapest rods have a reasonable level of quality. 
You can forget rod and reel combos from toy shops or gas stations. These nasty little numbers are usually NOT quality kit. Avoid.
As a bit of a price guide, when 7-foot rods hit 40 bucks and over, you're getting pretty serviceable quality.
Having said that, you should take care of using price-only as a guide.
When you're buying a beginner rod for a 6-year-old, it's different from buying a rod for a 16-year-old.
A 6-year-old simply can't handle a 14-foot surf rod – too long, too heavy. 
You might have a 6-year old that's rough on their toys and sporting equipment, so a robust construction is a good idea, yet it should still be short and lightweight.
A teen with great hand-eye coordination, who has respect for precision tools and sports equipment is better placed to handle a more expensive lengthy rod or rod with more sophisticated inclusions.
Adults buying their own fishing pole should be honest with themselves about their physical coordination skills, particularly when learning new skills.
Some rods require a deft touch and experience to extract appropriate performance.
Other rods are a lot more forgiving and user-friendly. We'll address that later.
Most importantly, you need a rod that suits the type of fishing you will be doing.
An extra heavy rod, regardless of its credentials as a great beginner rod, is useless if you'll be casting worms in a pond from the bank.
In many respects, it's not a one size fits all situation, there are several things to consider.
However, there will be countless appropriate options for every beginner, with plenty of crossover with these options.
Starter Rod Budgets
There's plenty of debate about budget. Obviously, stick to yours. Rods can start at 15 bucks and pass every increment to 500 bucks and beyond.
It's handy to know that the big dollars don't really come into play until you're hitting top-shelf specialty rods, such as ultra-lightweight finesse rods and extra heavy game fishing rods.
Some people will tell you not to spend big for a beginner. I prefer to get the best fishing gear your budget will handle.
Appropriate for purpose, good quality rods are a joy to use.
Poor quality rods are not a joy to use and can even detract from the experience and hinder skills development.
You want to enhance the fishing experience and feel. In many respects, a good looking and great feeling rod can be inspirational. 
Ask any enthusiastic angler – a quality rod and reel will inspire you to hit the water.
If you're worried that the fishing passion will fade quickly and you'll blow good money on a rod that will sit there doing nothing…don't!
If the passion dies, you can recoup good money on a quality rod by selling it. You'll never sell a poor-quality rod, and it'll end up as landfill. Bad!
Alternatively, keep it. They're usually no load to carry and the passion may reignite.
Knowing it's there for camping holidays and occasional outings with friends is also cool.
Also Read: Choosing the Right Type of Fishing Reel
How to Choose a Good Beginner Fishing Rod?
When purchasing a beginner's rod, purchase with the intent that this is the beginning of a lifelong fishing passion, and not a passing fad. When taking this mindset to the tackle shop, you a more assured of walking out with quality
With the exception of beginner fly rods for fly anglers, buy spin rods only. A casting rod requires a casting reel, and in most circumstances, that's definitely not the outfit for an absolute beginner.
If you're searching online, don't search for a "beginner" fishing rod. Search for a rod based on the proposed application. EG, general-purpose rod
If you intend to take advantage of online prices, that's great. But for a beginner, it's best to check it out in a tackle shop first. Research online, then go and talk to someone with strong fishing rod knowledge
Before you purchase the rod, have some idea of the fish you want to catch and where you want to catch them. Will you be using a rod to catch catfish, bass, stripy? Do you even know? You need to nail this down first
Don't think of it as though you're buying a "beginners" rod. It's more like you're staying away from specialty rods designed for more advanced anglers
Before you make a purchase, do your research such as reading articles like this one, then talk to a professional.
See Also:
Best Bass Fishing Rod Selection
Types Of Fishing Rods
Rod Types, Style and Applications
Back in the day, there were a mere handful of rod options for particular fishing applications. These days, it's crazy. 
You can buy rods that are specialized for particular fish species in particular locations with particular lure types.
Of course, there's application crossover, but there is now a bewildering selection of fishing rods as manufacturers refine their designs for very specific applications.
We won't be worrying about that in this article. A beginner rod should be appropriate for a number of applications, fish species, fish sizes, and locations.
Rod Construction
Rods are made from cane (very old-school), fiberglass (old-school, but still popular), fiberglass and graphite composite, and full graphite.
The best option for a beginner is a composite model. It delivers feel, strength, sensitivity, and endurance and is ideal for nearly all fishing applications.
Rods are also constructed to suit particular reel types. There are rod designs for spinning reels, casting reels, center pin reels, game reels, and others.
For the beginner, a spinning style rod is by far the wisest choice. 
Spinning reels are very easy to learn how to use and master quickly. So I advise a spin rod to match a lightweight spin reel.
A Balanced Outfit
When purchasing a rod or reel, you will hear the term 'balanced outfit' regularly. 
Essentially, the reel size and weight should 'balance' with the size, strength, and power of the rod.
This is why purchasing a pre-assembled rod/reel combo is such a great idea for the beginner. You can save cash, and any guesswork is taken out.
Rod and Reel Combos
Combos are rod and reel sold together in a package. The main benefit is that the angler doesn't have to worry about choosing a rod and reel separately and ensuring you achieve a balanced outfit. 
The balancing of the rod with the reel has already been done by the experts.
Furthermore, you can save quite a bit of cash buying a combo, and they're available at different price points.
Not so long ago the rod/reel combo was a bit of a lottery purchase as far as quality was concerned. That's all changed.
These days you can get great quality combos that are ideal for the beginner, novice, and experienced anglers alike.
A quality combo is highly recommended for the beginner and I will list 4 options in my selections below. Remember, you can change the reel if you prefer a different one.
Blanks. Power, Taper, Action and Line Class
Different rods are designed to handle different fish. They're designed to be fished in different locations, with various line classes and reel sizes.
The terms, blank, power, taper, rod action, butt, grip, guides, reel seat, and line class are important terms describing rod components and performance.
The backbone of your rod is the long cylindrical pole. It's called a blank. 
To get informed about rods before you start the search for a beginner's rod, read this article about rod blanks.
And to learn more about choosing the right type of fishing line read this post.
Casting With Your New Starter Rod
The first part of mastering your fishing rod is learning how to cast it. Having fished for 40 plus years, I now take casting for granted. 
However, I watch struggling noobs, as well as those more experienced anglers who never really got it, and it reminds me that there's a reasonable level of skill involved.
This skill can be developed very fast if beginners use rods that are more forgiving and more conducive to easy casting.
Many factors impact a good cast. Reel, fishing line type, rig type, and the weather, but your rod is a critical factor.
That's why all the 'beginner' rods I have selected below (except for one) are composite rods. 
The rods I have selected are light to medium, and from 6 feet to 9 feet in length. There's 1 kids model there that's shorter than 6 feet, however.
See Also: Casting Rod vs Spinning Rod
5 Beginner Rod and Reel Combos Reviewed
Note that the heading says five OF the best. Suggesting they are THE best is just silly. There's pretty well countless rods that would fit the BEST list.
You will also note that some rods appear as a rod/reel combos.
Kids as young as 3 can make a pretty good fist of fishing with a rod. You will have to watch, teach and assist the whole time, but it's worth it.
By the time they're 6 and 7, they are highly competent anglers.
Shakespeare Ugly Stik GX2 Fishing Rod & Spinning Reel Combo 5′. 2 piece
Shakespeare is one of the most trusted fishing brands on the market. This is great for the 5 to 6 year old's.
Ideal for most panfish applications where there's good access to the water, such as docks and gently sloping banks. There's not a lot than can go wrong.
Features and Specifications
Ugly StikGX2 spinning rod
3 ball bearings plus one way clutch instant anti-reverse bearing 
Machined double anodized aluminum spool with oversized bail wire 
Compression bail springs 
5′ Light 1 piece Spinning Combo
4 ball bearings plus one-way clutch instant anti-reverse 
Compression bail springs 
Soft touch handle knobs
Best Feature. Pro.
Forgiving rod and build quality
Challenging feature. Con
Guides not so durable and maybe subject to damage
>>Check Latest Price on Amazon<<
Penn Battle II Spinning Fishing Rod and Reel Combo 9′. 2 piece combo. 6000 spin reel.
I love this for the beginner. An awesome option for pier fishing and fishing from banks where a longer cast is required. 
Also pretty handy as a surf rod. Great for sea walls. Capable of landing a larger class of fish.
Features and Specification
Full metal body and side plates
Machined and anodized aluminum spool
5+1 stainless steel bearing system
Graphite composite blank
Aluminum oxide guides
Best Feature. Pro.
Will endure many tough session on the water chasing sizable fish
Challenging feature. Con
Shakespeare Ugly Stik GX2 Spinning Fishing Rod. 4'6″. 1 piece.
Ideal for the under 5's. Watch them like a hawk. This pole is strong, and made from a balanced graphite and fiberglass construction
Features and Specifications
Durable Ugly Tuff one piece stainless steel guides
Clear Tip design 
Durable and lightweight EVA grips
7-year warranty
Best Feature. Pro.
Perfect length for little children. Great price
Challenging feature. Con
They'll grow out of it quickly
>>Check Latest Price on Amazon<<
Daiwa D-Wave Saltwater Spinning Combo (2 Piece) 7′ or 9′. Medium action. The 7′ has a 4000 reel, the 9′ has a 5000
This Combo is ideal for those people who are particularly rough on equipment, or accident-prone. 
This fiberglass rod is particularly tough, yet still has the performance you need to learn the finer arts of casting, hooking and battling fish.
Features and Specifications
Aluminum Oxide guides
Stainless hooded reel seat
EVA foam grips
Twist Buster II
Gyro Spin balanced rotor
Smooth ball bearing drive
Best Feature. Pro.
Incredibly robust. This is a very strong rod that will stand up to some pretty rugged fishing trips
Challenging feature. Con
Because it is full fiberglass, it's relatively heavy. Fatigue might be an issue
Penn Pursuit II & III Spinning Reel and Fishing Rod Combo 7′. Medium/Light. 3000 reel.
Fantastic inshore all rounder for the docks, banks, kayak, and boats. Brilliant learning rod for a beginner that you'll keep forever.
Features and Specifications
4BB + 1RB, 5.2: 1, alum spool, 235/6, 160/8, 130/10, 7′
Reel construction with graphite body, aluminum side plate, and graphite rotor
Oiled felt drag system 
Fluid cranking with 4 shielded stainless steel ball bearings and instant anti-reverse bearing
Lightweight, ultrasensitive rod with graphite composite construction and stainless steel guides
Graphite composite blank
Graphite reel seats
Best Feature. Pro.
Brilliant inshore combo that will last. Handle most inshore applications, fresh and salt.
Challenging feature. Con
The challenge is, you won't be able to put it down. Impressive combo for the price
Conclusion
The 5 best beginner fishing rods listed above are a really good choice for novices. The fact that 4 of the 5 come with a reel is an added bonus.
Each rod or combo above is priced accessibly and, importantly, offers good value and quality for those beginning their fishing journey.
Check out the details, features, and specifications of all the best beginner poles listed above. 
You'll quickly get a sense of rod types and inclusions that will suit beginners. 
This will give you the confidence to look outside the options I have provided and seek out other brands, models and options.
Happy fishing people. Just remember, decent quality rods and reels make for a great start to a lifelong fishing adventure.
See Also: Fishing Gear List – 15 Essentials