We hope you love the products we recommend. Just so you know, OnTrack Fishing may earn an affiliate commission from the links on this page, at no extra cost to you.
Once the snow has melted and the ice has receded, I know a lot of people are thinking about some summer fly fishing or catching some sun out on the coast.
For me, though, the beginning of summer spells just one thing: bass fishing.
And I'm definitely not alone. The black bass species, which includes both largemouth and smallmouth bass, is one of the most sought after fish species in the United States.
Anglers spend hundreds of thousands of dollars each year on boats, lures, gadgets, and more, all of which is spent in the hope of catching more and larger fish.
However, if you don't have a good rod, all of these investments are for naught. A good bass fishing rod will help you cast accurately, throw an enticing lure, and detect a bite more easily.
What's even more important is that it will help you land that ever-important hook set!
Consider my tips and reviews so that you can select the best bass fishing rod and reel setups for your day out on the water.
5 Best Bass Fishing Rod and Reel Setups in 2023
Here are the best bass fishing rod and reel setups:
Last update on 2023-05-18 / Affiliate links / Images from Amazon Product Advertising API
What to Look For when selecting a Good Bass Fishing Rod
When you are researching bass rods, you will likely notice that there are two main types: casting rods and spinning rods.
These rods work differently and each works well in different settings. No matter what kind of rod you choose, it's important to familiarize yourself with the techniques of bass fishing before you head out on the water. Check out the video below
Baitcasting rods are usually longer than spinning rods, and they have guides that are larger toward the reel end of the pole.
They are easier to control with heavier lures, and they are well-suited to catching larger fish.
Spinning rods, on the other hand, are shorter and designed for lighter lures. These rods are easier to use and are a great choice for beginners.
Keep in mind that the type of reel you have will influence the effectiveness and usability of your rod, and remember that while spinning rods have lower power, they can cast lighter lures and are far more accurate than baitcasters.
There are several features you need to consider when purchasing a bass fishing rod. Not paying attention to the factors involved in the construction of your rod can lead to broken lines, snapped rods, and endless disappointment.
Keep in mind the following features when you are looking for a high-quality bass fishing rod.
Materials
When selecting a rod, you will be able to choose from several materials.
Graphite rods, also known as carbon fiber rods, are the most popular. They are extremely sensitive and allow you to feel a fish as soon as it strikes.
Unfortunately, this also makes it easier for you to perform premature hooksets, allowing the fish to get away before you've set the hook.
Carbon fiber rods aren't quite as strong as fiberglass rods, either. Fiberglass rods are ideal for more experienced anglers. Although they are a little heavier and less sensitive, but they do have the ability to reel in larger fish.
Handle Style
This feature of a bass fishing rod likely isn't a dealbreaker for you, but it's definitely something to consider, particularly if you plan on getting several years of use out of your rod.
You want it to be comfortable to hold! I can't tell you how many times I've avoided using a rod just because it hurt my hand to hold it.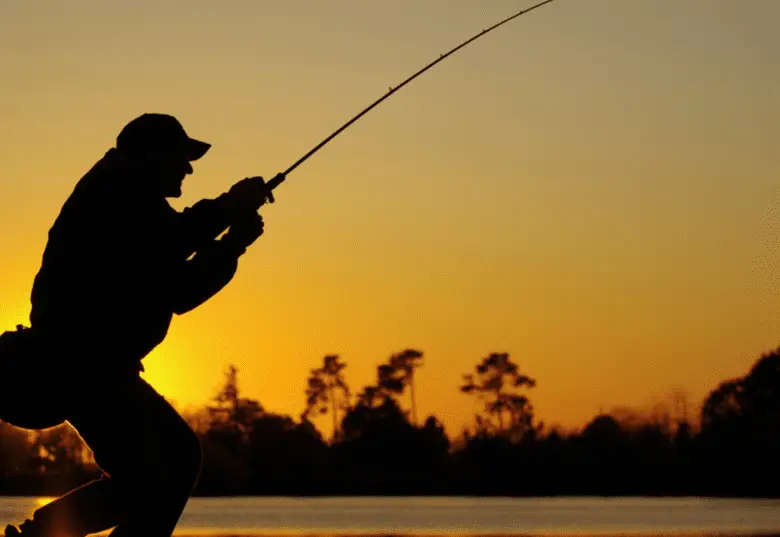 Cork handles are one of the best options for a bass rod, as they are lightweight and incredibly sensitive to bites. EVA foam handles are also popular and are extremely comfortable to grip.
Wooden handles are my least favorite option as they have a weaker grip and can feel cold on a chilly day. They are also prone to damage.
That being said, many bass fishing enthusiasts love rods with wooden handles because they are pleasing to the eye.
Action
Action refers to how well the rod flexes when you apply pressure to it. While you can purchase rods that have ultra-slow or ultra-fast actions, you really want a rod that has a fast or extra-fast action if you are fishing bass.
These rods bend only at the very tip of the rod, which works just fine as you will likely be pulling your fish in from a distance and will need to apply force closer to the surface of the water.
In addition, the amount of action your rod has will also determine its sensitivity.
Bass have a tendency to spit out bait, so knowing whether you have a bite early in the game is crucial for giving you a better shot at catching more fish.
A rod with more sensitivity will help you obtain a stronger hook set and to determine when you have a bite earlier on.
Power
Power refers to how much force it takes to bend the rod. Most rods come with options ranging from ultra-light all the way to ultra-heavy.
Bass aren't picky in this regard, and you can use anything except ultra-light.
When you are looking at the power rankings for a given rod, make sure you purchase one that is designed specifically for bass.
Use the line weight as a guide, and remember that while heavy rods are ideal for pulling fish out of thick vegetation, lighter rods can be better for fishing in open water.
Line Weight
Don't overcompensate for a light rod by using a heavy line. You do not need heavy line for bass fishing, and you will often be more successful in fishing with lighter line (because it is more difficult for the bass to see it).
Try to use line in the 6 to 10-pound range, as these will be ideal for fishing average-sized bass in most conditions.
Portability
If you plan on traveling with your rod or transporting it over significant distances, you might want to consider how portable it is.
Many rods have the ability to break down into separate pieces, and while some anglers claim that a one-piece rod is better than a collapsible one, this only holds true in some cases.
If you plan on trying to pack a bass rod into a small car, or would like to take it with you on camping trips, for example, go with a takedown rod so that you don't have to worry about it dragging you down.
Top 5 Bass Fishing Rod and Reel Selections To Consider
1. Shakespeare Ugly Stik GX2 Spinning Rod
Ugly Stik is manufactured by fishing merchandise titan Shakespeare and is a consistently popular choice among anglers.
A composite rod made out of both graphite and fiberglass, it offers the best of both worlds in that it is equally durable and sensitive.
The handle is made out of EVA foam and the rod casts well without being overly stiff.
As someone who enjoys fishing in a variety of settings, including lakes, rivers, coastal areas, and even on the ocean, I've found that this rod is a great choice, as it is balanced and can handle all kinds of conditions.
Pros:
Tough construction that resists wear and tear
Lightweight and comfortable to hold
Can handle up to 20 lbs line
Cons:
Does not collapse down into multiple pieces for portability
2. Shimano Stimula 2-Piece Spin Rod
If you're looking for a more portable rod, the Shimano Stimula is the pole for you. This rod is constructed with aluminum oxide guides, a cork handle, and fast action.
It comes with a multipurpose hook keeper and is incredibly lightweight. It can be used for casting heavy topwater frogs as well as swim baits.
With this rod, you can also catch plenty of bass, trout, and smaller catfish with this rod.
Pros:
Attractive design
Portable two-piece design that packs down easily
Lightweight and easy to use
Cons:
Some customers complain about the durability of the rod tip
3. Entsport Sirius 2-Piece 7-Feet Casting Rod
Entsport offers another two-piece casting rod that is made out of high-tensile carbon fiber blanks.
As a result, this pole is one of the most lightweight yet durable and sensitive rods you can find on the market.
The guides are made out of corrosion resistant stainless steel (finally a rod that is also suitable for saltwater trips!) and the reel seat has a screw-down design, making it less likely to slide around on you.
Pros:
Can be used in saltwater
Comes with a protective cover
Lightweight, durable, and portable
Cons:
Not ideal for larger fish
4. Pflueger Trion Fishing Reel and Rod Combo
The Pflueger Trion is a durable, high-performance rod that comes with a bonus reel. It has a stainless steel ball bearing system and a stainless steel & oiled drag system.
It performs quite well, offering exceptional sensitivity and controlled casting with surprising accuracy.
It is a great rod for beginning bass fishermen in particular, but it can also serve as an excellent and reliable choice for fishing in shallow waters.
Pros:
Comes with a reel
Corrosion resistant
Lightweight and easy to use
Cons:
Not ideal for long distance casting
5. Abu Garcia Vengeance Casting Rod
This rod may not look like much, but it packs a surprising punch. It is made out of durable graphite and comes with stainless steel guides, titanium oxide inserts, and comfortable EVA handles.
You can purchase this rod in a variety of lengths ranging from 6'6" to 7'6" as well as in medium, medium heavy, and heavy weights.
This rod is sensitive and durable and has one of the most comfortable handles I've ever encountered.
Pros:
A very sensitive rod that works well with small, light lures
Versatile and can be used in a variety of fishing settings
Attractive and affordable
Cons:
Not built for catching large bass
My Best choice
If you're in the market for the best bass fishing rod and reel setups, I would recommend any of these options above as a good choice before you head out on the water.
That being said, the Abu Garcia Rod is my favorite from the selection above.
This quality rod is both sensitive and durable due to being made of graphite and it has a great feel.
Consider these options for selecting a good bass fishing rod and you will definitely have an enjoyable and successful bass fishing experience.