Fishing is as old as humanity. Bamboo rods were used for thousands of years, and architects have recovered stone and bronze fishing lures almost equally as old. 
Around the end of the 19th century, another innovative angling device made its debut – The baitcasting reel.
Initially the work of individual craftsman beginning in the hill country of Kentucky, grew into worldwide prominence. 
We're going to review the top models on the market today that are under $100. 
We'll review their features, what makes each reel unique, what the similarities are, check the consumer reviews on each one and provide you with a good idea of which one might work well for you.
Best Baitcasting Reels Under $100
Here are the best budget baitcasting reels under $100 in 2023
Shimano Corvalus Baitcasting Reel
Abu Garcia Ambassadeur STX Round Baitcasting Reel
Shimano Caius Baitcasting Reel
Okuma C-266W-CL Caymus Low Profile Reels
Millionaire S Series Baitcasting Reels
Shimano Corvalus Baitcasting Reels
The metal frames of the Corvalus reel by Shimano keep the moving parts of the reel in precise alignment, helping eliminate frustrating backlash.
The diecast aluminum frame and aluminum sides offer the best corrosion-resistant material on the market, which makes it suitable for the highly corrosive effects of saltwater fishing.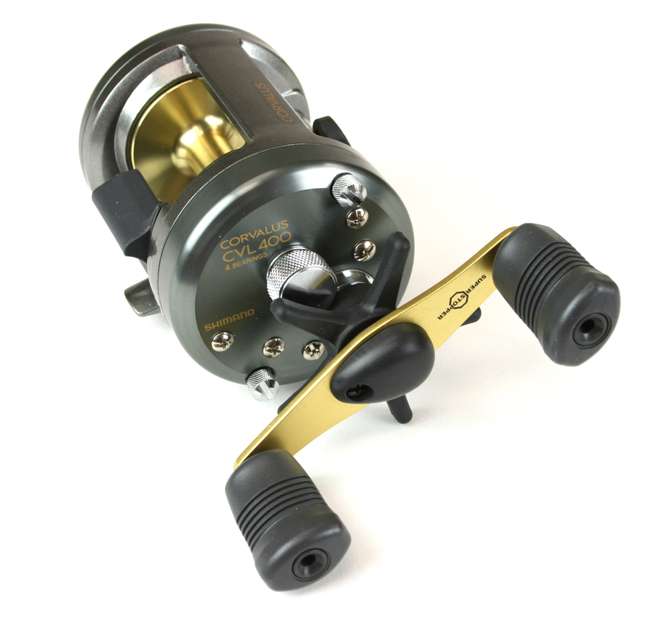 An anti-reverse system also aids in preventing backlash during casts and helps in setting a solid hook once you get a hit.
A centrifugal force system helps in controlling casts for length and accuracy. The Corvalus is available in two series, both with left-handed options.
The CVL300 shares nearly identical features with the CVL400, except it weighs a little less at 10.9 ounces. The CVL400 tips the scales slightly higher at 11.8 ounces.
The only significant difference between the two reels is the non-disengaging Levelwind System on the 400 series. 
This feature allows the levelwind to track back-and-forth as the line spools out on a cast. This reduces friction and backlash.
The CVL301 and CVL401 are left-handed versions of the same reel, with identical features aside from the crank placement on the right side of the reel.
Both 300 series reels come with the same spool capacity ranging from 240 yards with 12-pound test, down to 120 yards with 20-pound test line.
The CVL 400 and CVL401 offer larger spool capacities with 165 yards for 20-pound test, up to a whopping 330 yards, for 12-pound test line.
All feature a drag rating of 11, with three ball-bearing and single roller bearing construction.
They all share a common 5:2:1 gear ratio:
Pros:
Aluminum construction
Right and left-handed models
Line capacity
Variable braking system
Anti-reverse system
Cons:
Poor performance with larger fish
Components can shatter when pulling too hard on a backlash
Lew's Speed Spool LFS Baitcasting Reels
A single-piece aluminum frame matched with a readily removable graphite side plate are just a few of the features that make the Speed Spool LFS an effective baitcasting reel.
An oversized click-drag provides an easy target when that big fish is streaming out line fast. The adjustable Rulon drag system provides tension up to 15 pounds.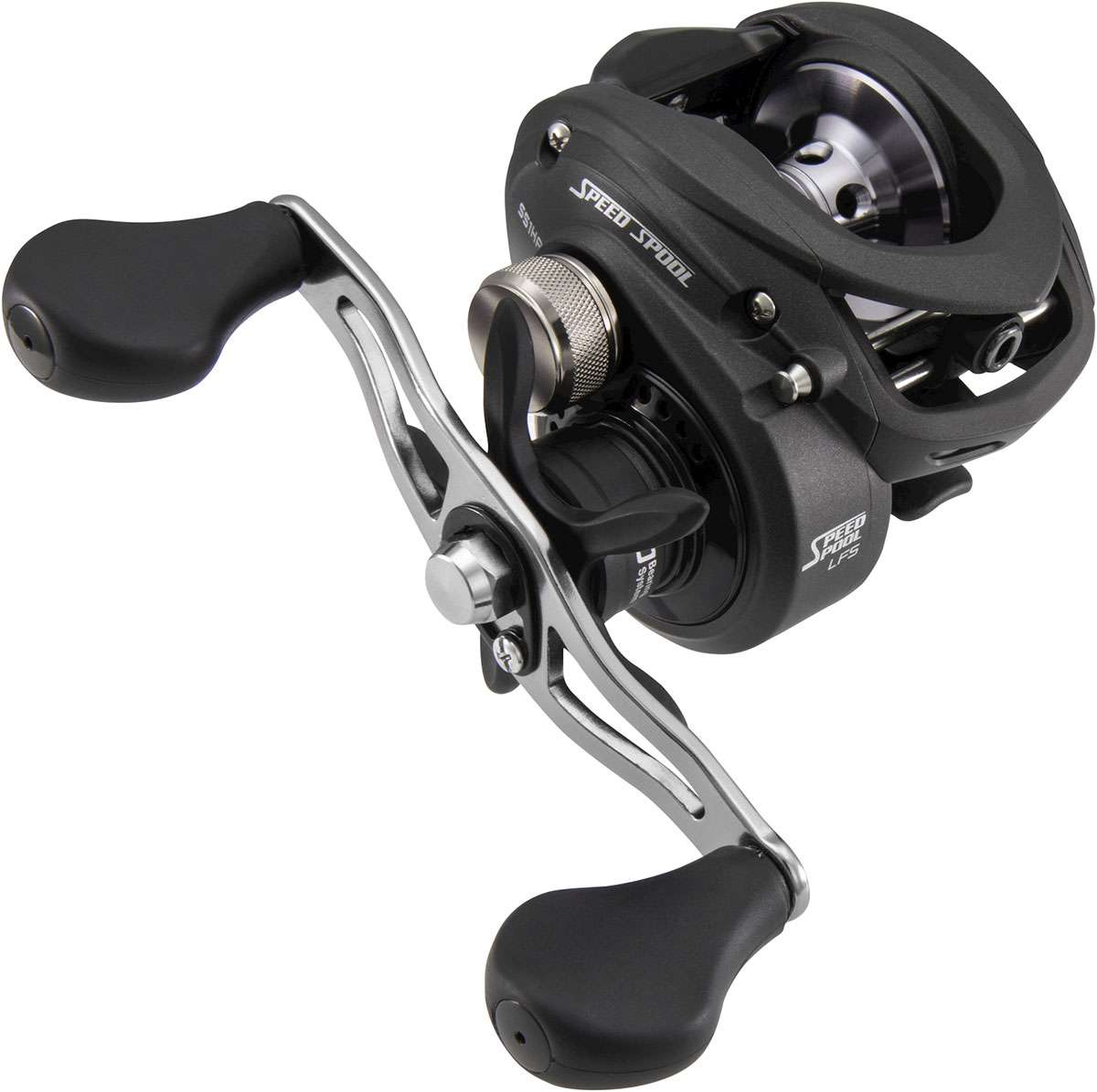 A diamond-hard Zirconia line guide and forged anodized aluminum spool provide solid corrosion resistance.
With 10 stainless steel ball bearings and a zero-reverse one-way clutch, you'll have a smooth operation for a long time.
The reel features a high-capacity spool, coupled with a 5:6:1 gear ratio that is the perfect match for crankbait fishing.
The Speed Spool is available in five configurations.
The standard SS1SA is a right-handed reel with a 140-yard line capacity of 12-pound test line. It weighs just 7.2 ounces and has a 5:6:1 gear ratio.
The SS1HA has a higher gear ratio at 6:8:1, doesn't hold quite as much line with just 120 yards when filled with 12-pound test, and weighs 7.1 ounces.
The third reel in this series, (the SS1SHA) features a 7:5:1 gear ratio with the other attributes identical to the SS1HA.
The SS1HLA is identical to the SS1HA with the handle on the right side for left-handed anglers.
The SS1SHLA is also a mirror image of the SS1SHA for left-handed use.
Pros:
Zirconia line guide
Rulon drag system
Single-piece aluminum frame
Zero-reverse clutch
Cons:
Smaller line capacity
Most expensive reel just under $100
Quantum Accurist Baitcast Reels
Carrying a full 5-year warranty, cast aluminum construction, and a ceramic carbon drag system, this reel is dedicated to long, smooth casts and problem-free, steady retrieves.
A continuous anti-reverse clutch dramatically reduces backlash. The eight ball-bearing, combined with a single roller bearing, guarantee smooth operation in all ranges of weather.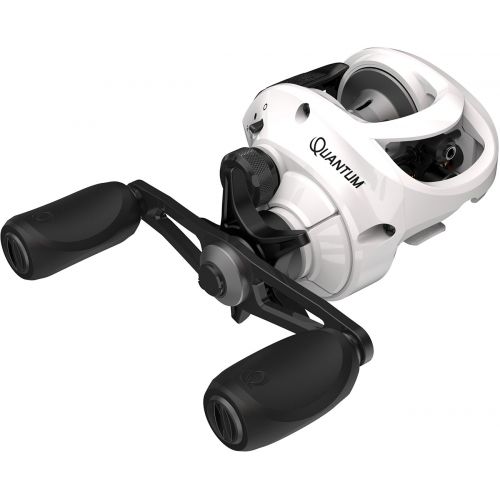 The 100SZ comes in four varieties with three colors, green, white, and black, and one left-handed version in white.
All models carry the same specifications: 
It features a gear ratio of 7:0:1, combined with a line capacity of 135 yards of 12-pound monofilament, or 170 yards of 30-pound braided line, and can be adjusted to a drag range of 18 pounds.
This provides all the tools you'll need to enjoy battles with a big fish before landing them.
At 7.5 ounces and a fast 27 to 29 inches of return per crank, this reel provides many options out on the water.
Pros:
Excellent drag
Power
Fast retrieve speed
Cons:
Lever doesn't move left-to-right in free spool
Handle may be too small for some anglers
Abu Garcia Ambassadeur S Line Counter Reels
Abu Garcia is a world leader in fishing equipment. The Ambassadeur S Line Counter Reel is the one reel you'll need fishing from a boat at depth. 
The line counter built into the reel provides accurate information on just how much line you've let out when you're trying to present the bait at a specific depth.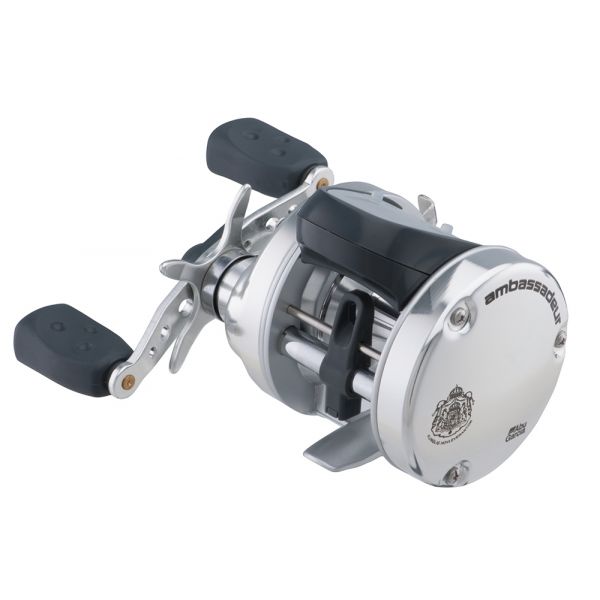 The lighted digital line counter provides accurate readings even on the darkest night, so you know exactly where your bait is.
The S Line Counter comes in two varieties, the AMBS-5500LC and the AMBS-6500LC. The 5500 can handle 230 yards of 14-pound test monofilament or 265 yards of 30-pound braided line.
The 6500 takes 255 yards of 17-pound test or a whopping 350 yards of 30-pound braided line.
The 5500 is available in left or right-handed configuration. The 5500 weighs in at 11.2 ounces, while the 6500 is slightly heavier at 11.9 ounces.
Both had an 11-pound maximum drag, 25 inches per crank return, and a 5:1:1 gear ratio.
These reels bring the experience, design, and longevity of Abu Garcia equipment to the water with you.
Pros:
Low cost
High line capacity
Digital line counter
Lighted line counter display
Cons
Two ball-bearing design
Low maximum drag
Abu Garcia Ambassadeur STX Round Baitcasting Reels
Available in two sizes, with both right and left hand retrieve, the Abu Garcia series is a favorite with baitcasting anglers.
The AMBSTX-5600 is slightly smaller in weight and spool size than its sister model the AMBSTX-6600, but the remainder of the features are identical.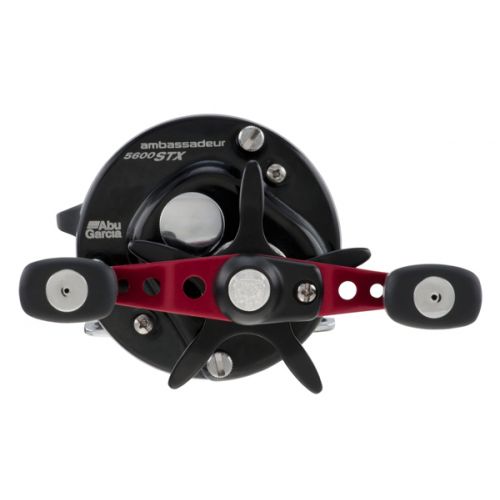 The 5600 spool can hold 230 yards of 14-pound monofilament or 265 yards of braided 30-pound test line. 
The 6600 holds 255 yards of 17-pound mono and 350 yards of 30-bound braided.
Both feature a 5:9:1 gear ratio, retried line at 28 inches per turn, and have a maximum drag of 12 pounds.
The 5600 weighs in at 10.8 ounces, and the 6600 at 11.6 ounces.
Four stainless steel ball bearings with one roller bearing offer smooth action. The multi-disc drag system eliminates jerks and hesitations when large fish are reeling out line against the drag.
The six-pin centrifugal brake aids significantly in reducing backlash.
The synchronized level wind system is designed to place line evenly back on the spool, guaranteeing smoother, longer casts.
Pros:
Large line capacity
Multi-disc drag
Six-pin centrifugal brake
Synchronized wind
Cons
Maximum 12-pound drag
Higher priced model
Only four ball bearings
Daiwa CC Baitcasting Reels
This ultra-light baitcasting reel is one of the lightest baitcasting reels on the market at just 6.9 ounces. It is available in two right-handed models, and one left.
The CC80H model offers a gear ratio of 6:8:1. The CC80H has a 26.8 inch per crank line retrieve, four ball and one roller bearing, and a maximum drag of 15 pounds.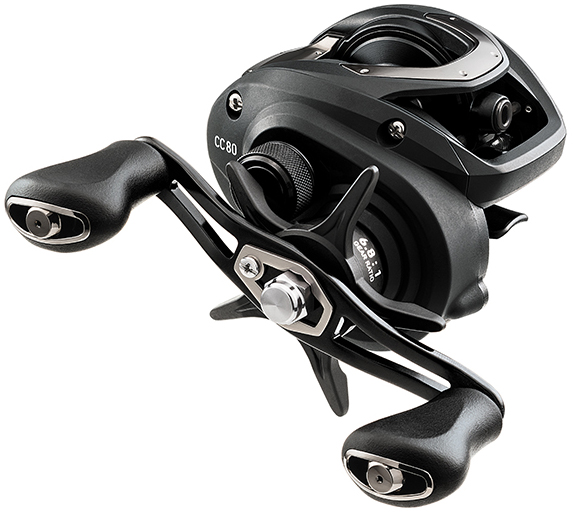 The CC80HS and CC80HSL (left-handed model) have a 7:5:1 gear ratio and a retrieving line speed of 29.7 inches per crank. Those are the only major differences between the two models.
All three have a line capacity of 110 yards with 12-pound monofilament. They all can handle up to 140 yards of 14-pound braided line.
At a weight of just 6.9 ounces, these are very light reels. These reels are great for panfish, smaller bass, and jigging for walleye, perch, or trout. 
They're strong enough to handle that big fish that comes in on your bait, and with a 15-pound drag, can wear down that trophy after a good fight.
Pros:
Light weight
Inexpensive
High gear ratio
Cons
Spool size
Four ball bearings
Shimano Caius Baitcasting Reels (Old Models)
The Caius Baitcasting Reel by Shimano is one of the senior players in the world of baitcasting hardware. The Caius has been around for a while, providing great days of fishing action for the intrepid angler.
The Super Stopper system uses a one-way stainless steel roller bearing to eliminate line slippage and backlash when setting the hook.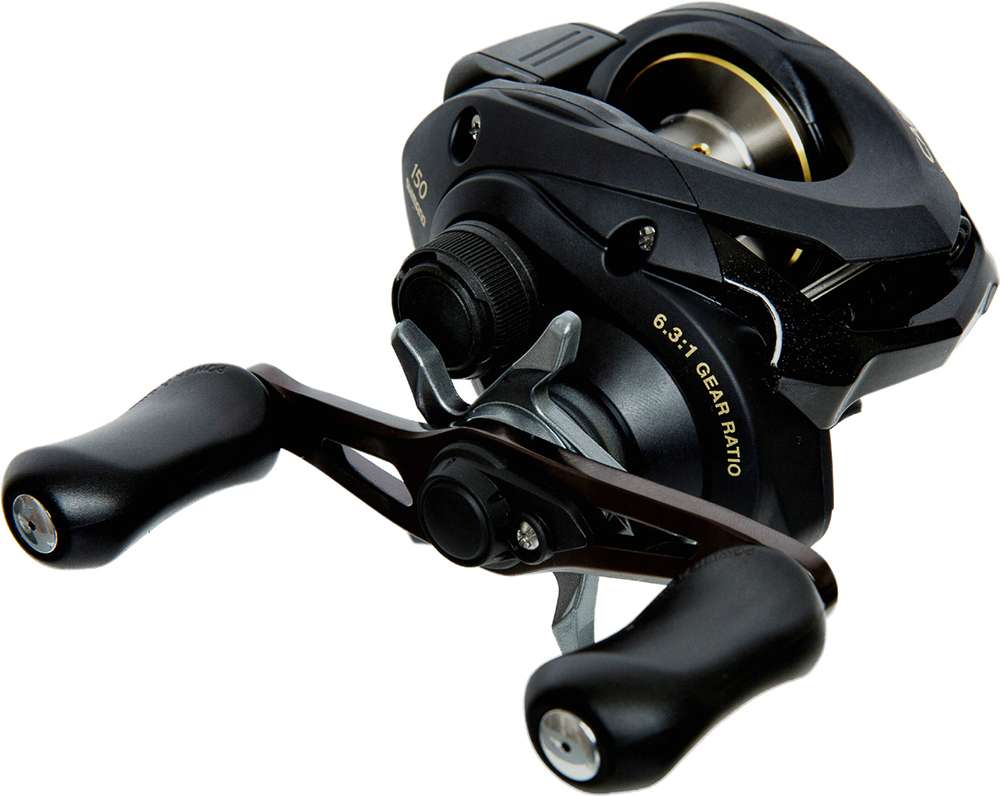 Ceramic line guides, a recessed reel foot, a 6:5:1 gear ratio, and an Easy Mag II Brake System were all state-of-the-art when they were introduced and remain viable on the water today.
A proprietary "Lo-Mast Drilled Spool System" allows longer casts but comes with reduced spool size. This is the reel for long arching casts over open water.
The CIS105A (right-handed) and CIS151A (left-handed) offer the exact specifications.
The line rolls in smoothly at 27 inches per crank behind a 6:3:1 gear ratio.
Rated at 120 yards with 10-pound test, 110 yards with 12-pound and 90 yards with heavier 14-pound monofilament, they have the smallest capacity on the market.
Braided capacities of 150 yards for 20-pound test, 135 yards for 30-pound, and 105 yards for 40-pound test, are also at the bottom of the chart for line capacity. 
The smaller spool provides greater casting distance since the line can release quicker. A light 7.2-ounce weight and 11-pound drag round out the features.
Pros
Moderate cost
Long-range casts
Durability on the market
Cons
Small spool size
Limited line capacity
Only three ball bearings
Okuma C-266W-CL Caymus Low Profile Reel
The Okuma Caymus reel is recommended for monofilament line only and comes in just a right-handed configuration.
Okuma is a rising player on the baitcasting reel market and has packed many features into this lightweight reel.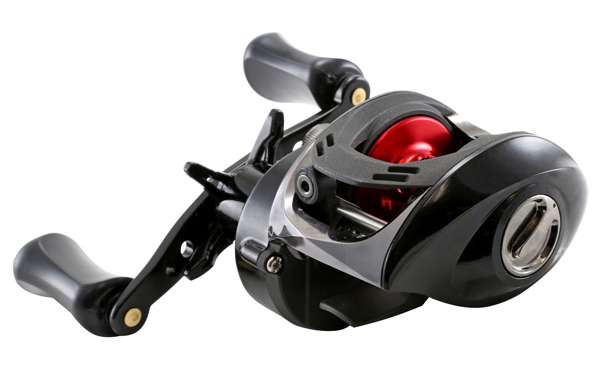 Tipping the scales at just 7.6 ounces, it has a line capacity of 160 yards of 10-pound test, 130 yards of 12-pound test, and 95 yards of 14-pound test.
This is a small reel designed for catching small to moderate freshwater fish.
The 6:6:1 gear ratio is augmented by a six-ball-bearing, one roller bearing system that controls a smooth 28.5 inch per crank retrieval rate.
The frame and side plates are corrosion-resistant graphite, with a machined aluminum, anodized, U-shaped spool.
A multi-disc drag system, with an externally adjustable magnetic cast control system and a quick-set, anti-reverse roller-bearing system offers just about all the features you could ask for in a moderately priced reel.
It comes with a 1-year warranty.
Pros
Light weight
Six ball bearings
Magnetic cast control system
Moderate price
Cons
Graphite construction
Limited line capacity
Limited durability in cold conditions
Daiwa Millionaire S Series Baitcasting Reels
Don't let the name fool you; this is one of the most moderate to low-priced baitcasting reels on the market. 
The Millionaire S features an aluminum alloy spool, a rigid one-piece spool brake, and the proprietary Daiwa Centriflex automatic centrifugal spool brake. 
A patented Super Speed Shaft is Daiwa's solution for making long, smooth casts. The seven-element drag is one of the best on the market.
This reel comes in two configurations, the M-S250 and the M-S300.
The 250 is a medium-heavy to heavy action reel, while the 300 is rated heady to extra-heavy.
Both have 5:1:1 gear ratios, contain just two ball bearings and one roller bearing, and weigh nearly the same with the 250 coming in at 10 ounces, and the 300 is three ounces heavier at 10.3.
Line capacities are the major differences between these two reels.
The 250 is rated for braided line at 210 yards for 12-pound test, 180 yards of 14-pound test, and 140 yards when filled with 20-pound test.
The 300 has a much bigger line capacity with 310 yards when using 12-pound test, 260 yards when wound with 14-pound test, and 190 yards with 20-pound test.
The design of this reel creates problems with salt build-up and sand blocking the mechanism when saltwater fishing.
Pros:
Moderate price
Spool size
Line capacity
Cons
Design problems in saltwater conditions
Two ball bearings
No left-handed configuration
13 Fishing Origin TX Baitcasting Reels
A basic baitcasting reel without a lot of fancy amenities, it does have a few outstanding features. 
The 18-pound drag and 7:3:1 ratio with a 30.7 inch per crank line retrieval makes it a perfect reel for fast retrieves on open water when bass fishing.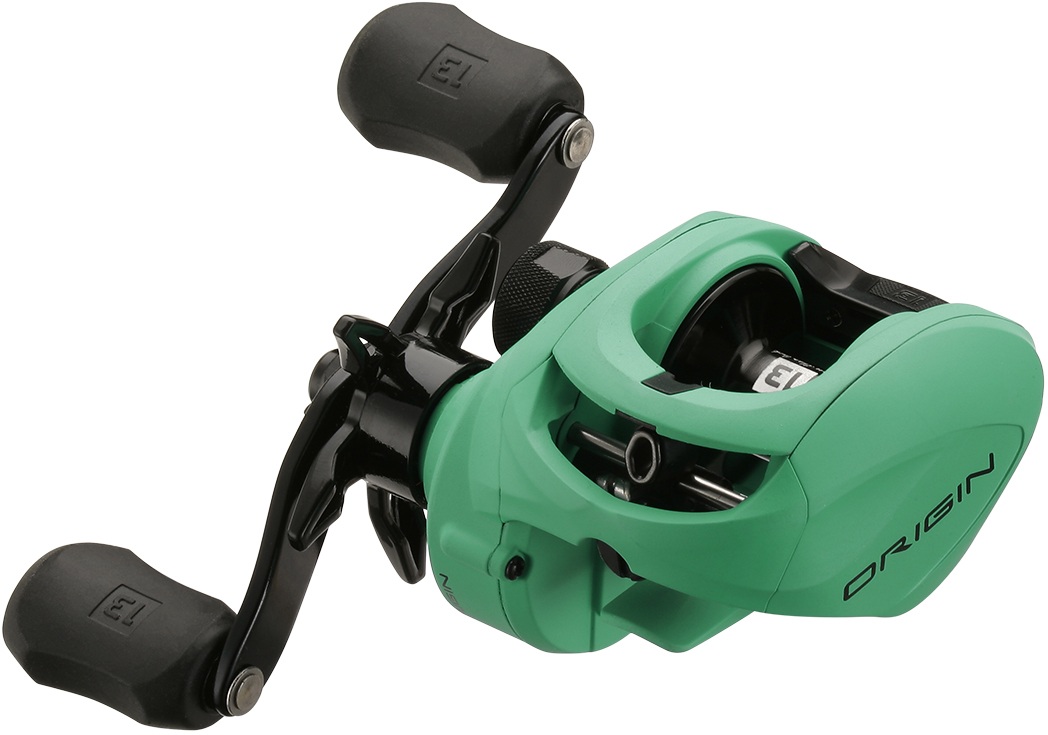 The Origin TX comes in both right and left-handed configurations and is available in any color as long as that color is neon green. The reels can handle up to 135 yards of 12-pound test braided line.
The seven ball bearings guarantee smooth action in a variety of settings.
A lightweight frame and side plate constructed of composite graphite offers great corrosion resistance. A 6-way centrifugal braking system and arrowhead line guide help set the hook with little slippage or backlash.
Pros:
18-pound drag
Seven ball bearings
Arrowhead line guide system
Fast retrieve
Cons:
Composite construction
Small line capacity
Close to $100 in cost
What Should I Look For When Buying A Baitcasting Reel?
Much like real estate, where location is everything, there are some important considerations when choosing a baitcasting reel.
Your first consideration should be what are you fishing for and where are you going to fish?
Saltwater fishing requires a baitcasting reel that is not only corrosion-resistant but that has a design that keeps salt from building up inside the reel and prevents sand from clogging the gears and mechanism.
The second consideration should be the kids of conditions and fish you're likely to catch.
You don't need a reel with a 350-yard line capacity and an 18-pound drag to catch bluegill, crappie, sunfish, or pumpkin seed.
If you're bass fishing in reeds and heavy cover, you need a reel that offers maximum control versus long-distance casting since much of the best action is just a few inches from the cattails.
If you're depth fishing with measured line, you want a reel with a line counter that can tell you exactly how much line you've spooled out so you can gauge depth better.
If you're fishing only monofilament there are reels designed just for that. They offer better control than twin-use systems. 
The same is true for braided line only models; they're made exclusively for that heavier, stronger, flexible line.
A final consideration is how the reel handle feels in your hand. Maybe you like a lower profile reel, or perhaps one that sits a little higher. 
A smaller handle is difficult to use versus one that fits your hands.
Also Read:
What Is The Best Baitcasting Reel For Beginners?
Entire generations have learned to fish and untie knots thanks to the limitations of early baitcasting reels.
When you're selecting a baitcasting reel for a beginner, you want to find the one that is easy to cast, easy to control, and is backlash-free. 
Nothing ruins a fishing experience faster than wasting time trying to pull backlash out of a baitcasting reel.
A beginning reel should be "bulletproof", which means a simple design, with few bells and whistles. 
Getting a beginning angler on board with how to use a baitcasting reel is much more important than dazzling them with unnecessary features.
Frequently Asked Questions
Are Cheap Baitcasting Reels Any Good?
The old adage, "you get what you pay for", is true with pickup trucks, and it's just as true with baitcasting reels. 

But that doesn't mean an inexpensive reel can't provide good functionality and a lot of fun on the water at the same time. 

There are limits to how "inexpensive" you want to go in selecting a baitcaster. If it's all plastic with just a few cheap metal parts, leave it on the shelf. 

You need to set standards that include metal construction, ball-bearing mechanisms, and variable line capacity.
 
That "Snoopy" reel with the already spooled six-pound monofilament might be cute when your five-year-old is holding it, but it's not something to take on the water with you.
 
Cheap baitcasting reels, in terms of price, not in terms of construction, can be very useful, while lasting a long time.
What Is the Easiest Baitcaster to Use?
This is an opinion laden question, but in surveys done by serious anglers, who want to have their first-time friends and family have a good experience on the water, the overall best option is the Abu Garcia Revo SX

Still, it comes in at almost twice the price of the reels we've reviewed. 

Of the reels listed above, the Lew's Speed Spool LFS Baitcasting Reel is arguably the easiest to use. 

When weighing what is easier in one reel than in another, the biggest two factors are casting control and backlash prevention. 

Long-distance casts are meaningless in most fishing situations, but control is a key no matter the type of water you're on. 

Backlash can ruin any day on the water, especially with young anglers just learning the magic of fishing.
Is Braid or Mono Better for Baitcasters?
It is the eternal question when it comes to baitcasting, monofilament, or braided line? The answer is a bit more complex than one or the other. While monofilament is the line of choice in spinning reels, it isn't with baitcasting reels.
 
Braided line spools out easier and doesn't curl up as monofilament does when it's fresh off the packaged spool or if the reel has been sidelined a while.
 
Braided line goes farther on casts, doesn't stretch as much when setting the hook on a strike, but many anglers claim fish can see it better than clear or color-enhanced monofilament that matches the surrounding water color.
 
The best solution is braided line, with a fluorocarbon leader attached. The fluorocarbon is invisible to fish, doesn't stretch as much as monofilament, and works well on the end of the line.

The only catch with braided line and fluorocarbon is tying a knot that will hold between the two very different line materials.
Are Expensive Baitcasters Worth It?
This depends on the type of angler you are. If you spend a lot of time fishing saltwater, it's worth the money to buy the most corrosive resistant reel you can afford.
 
Those smaller, six to seven-ounce reels won't do well in saltwater, where you could tie into a 40-pound salmon, rock bass, or striper.
 
An expensive baitcasting reel has more ball bearings, generally a larger spool, and a much larger line capacity.

Expensive baitcasters made to work for heavy, fighting fish, are generally all-metal, with reinforced gears, stronger line guides.
 
The drag on these expensive reels is adjustable up to 30 pounds, and the anti-reverse has to withstand more pressure than a single roller bearing can provide.
 
They are worth the money if you're fishing for something that makes the challenge equal the price.

However, if you don't spend a lot of time fishing in saltwater you can definitely find a good quality cheap baitcasting reel that will do a good job.
If you want to check out some more baitcasting reels at other price points then take a look at these casting reel options.
See Also: best saltwater spinning combo under 100