We hope you love the products we recommend. Just so you know, OnTrack Fishing may earn an affiliate commission from the links on this page, at no extra cost to you.
As much as I would like to identify the best bank fishing rod holders, there is no one product that stands above the rest. Which bank fishing rod holder is best? It depends…
There are a number of considerations to consider that will determine the right bank fishing rod holder for you.
There are certainly plenty of rod holders that are worth considering. There are others, however, that for one reason or another should be avoided.
Some are so bad that you may as well throw your expensive rod and reel in the river because that's where they will end up anyway.
Having said that; a note of qualification.
It might not be that the rod holders themselves are so bad, but more that the one you purchased is simply inappropriate for your application.
There is quite a variety available, and that's just the commercial products. There are plenty of homemade DIY holders as well.
We can't cover all in this article, so we'll look at the common shapes, designs, and configurations. You will find that many designs are simply a variation on a common theme.
The following article will delve into the world of bank fishing rod holders.
We won't necessarily identify the best; we'll present key information so you might be able to determine which bank fishing rod holder is the best for you.
What are the 6 Best Bank Fishing Rod Holders?
Here are the best bank fishing rod holders
Last update on 2023-12-02 / Affiliate links / Images from Amazon Product Advertising API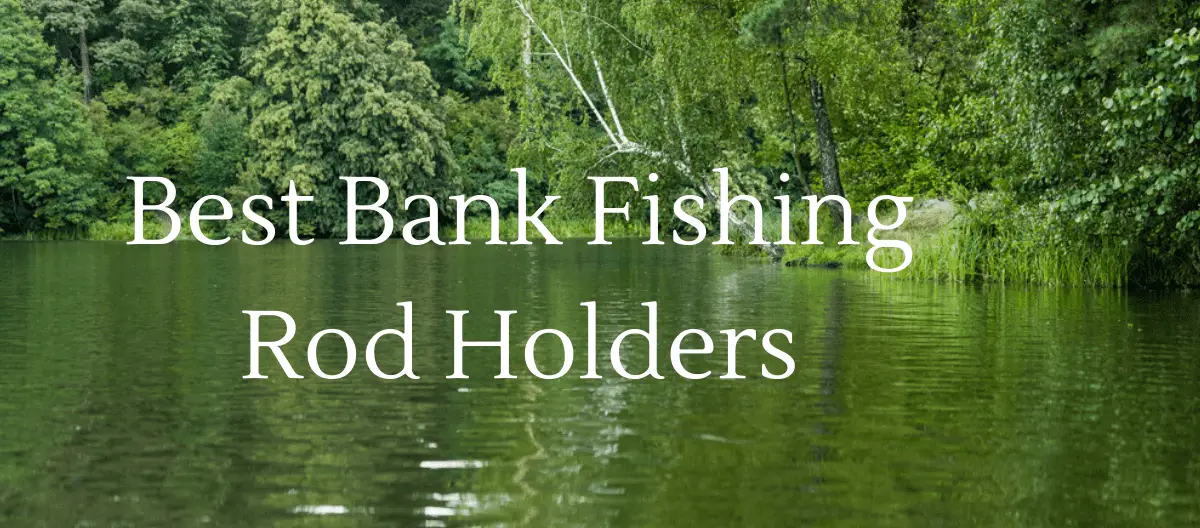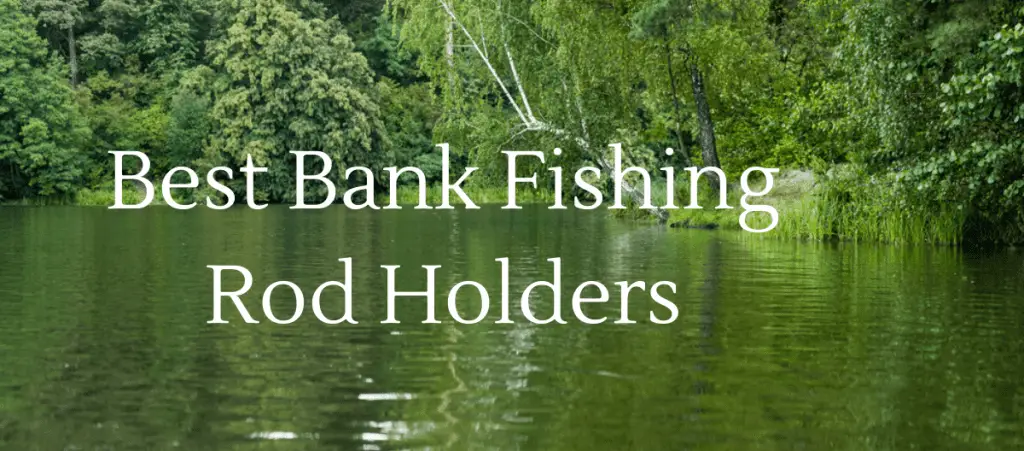 The Most Important Feature of a Bank Fishing Rod Holder
Trust. The key feature of a bank fishing rod holder is all there in one word. You must be able to trust its performance.
Here's a scenario. Three rods set. Value of each rig $500 on average. Your target is a modest size catfish that frequents the area.
Against the local trend, a catfish of a size bordering on the ridiculous takes your bait while you're 10 meters up the bank taking pictures of a particularly interesting ant hill.
As you race to your screaming rod, you realize the length of the rod holder spike, combined with a soft bank and a high drag setting is a recipe for disaster.
Two meters from your gear, $1500 of kit disappears into the river.
Here's another scenario. You have your rods set and one is rigged for something big.
It would be nice to cast a lure or two while you are waiting but you're not game to move an inch from your rod holders.
Why? You're paranoid your rods will be dragged off into the river as they were in scenario one.
It would have been nice to walk the bank casting lures, knowing your rod holders would handle anything thrown at them.
Dependability is the most important feature of a bank fishing rod holder.
Also Read: Best Fish Finders For Bank Fishing
Key Considerations for Purchasing a Bank Fishing Rod Holder
Detailed below are some of the most important things to consider before you buy:
The Bank
It's vital you consider the ground on which the rod holder will be placed. Is it muddy and sodden? Dry and gravelly? Is it sandy? Will it be covered by water? Is it grassy?

Bank fishing rod holders are available with a variety of spikes and anchors. They vary in length and shape, with each design having better performance on specific terrain.

For example. A length of PVC pipe is ideal for the sand yet useless on hard and dry gravelly banks.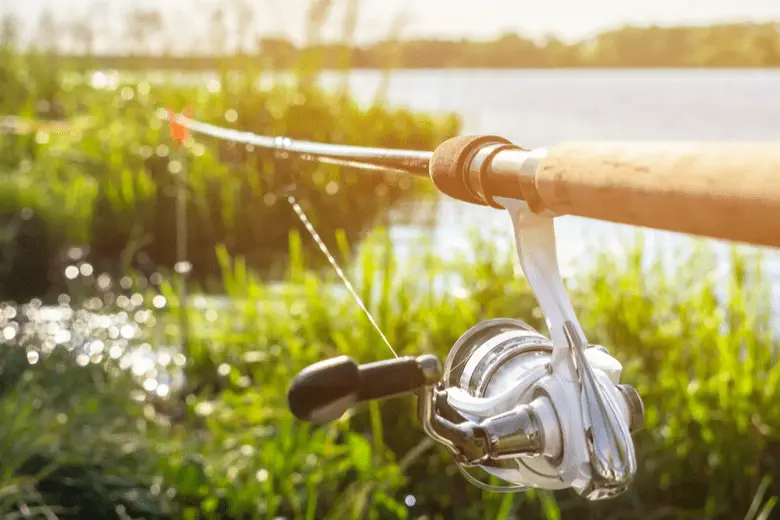 An extra-long cylindrical spike will perform well in muddy sodden surfaces but will be impossible to drive into hard dry ground.

A rod holder with a very short star picket shape spike is far easier to anchor into hard ground. It uses the surface area as opposed to length to ensure it stays anchored.

Get the drift? Anchoring your rod holder to the ground is THE critical function.
If you fish a variety of terrain, you might find it wise to have a selection of rod holder anchor types to cover varied and variable terrain.
Your Target
This might seem obvious, but it needs to be mentioned, nonetheless. If you are setting large live baits for monster fish, heavy duty construction with deep anchoring is a wise choice.
Rods and Rigs
It stands to reason that if you're fishing for something big, your outfit will be of a heavier class. Your rod holders should be of an appropriate size and strength to support your rig.
Number of Rods
Firstly, before you fish multiple rods check the laws in the area you are fishing. Some locations might have restrictions on multiple rods.

There are quite a number of options for bank fishing rod holders that will hold four or more fishing rods.

If you are happy for all your rods to sit in one location, then this is fine. Another option would be to have a number of single rod holders.

This allows you to spread out along the bank to increase your coverage and therefore maximize your chances of finding fish.
Portability
Many fishing rod holders are easily portable, others not so. Consider your transport.
There are plenty of great options for those that need to travel light, with holders fitting easily into a backpack.
There are more elaborate multi-rod holders that will require a vehicle to transport. Check the specs respective to your needs before you purchase.
See Also:
Top 5 Portable Rods For Anglers
Durability
Rod holders are made from various plastics, steel, stainless steel, and alloys. If you're fishing freshwater, construction material is not so much of an issue.
However, the salty stuff will make short work of a rod holder with limited corrosion resistance.

It's my personal preference to avoid moving parts such as clamps, screws, bolts, and springs.
Sometimes it is unavoidable but the more moving parts, the more chance of something failing, corroding or getting lost.
The Rod Mounting System
The best rod holders allow you to pick up your rod unencumbered by the mounting system that holds the rods securely in place.

Keep in mind, however, a secure hold should not be compromised by speedy access to the pick-up.

Some of the best holders are those where the rod rests on the rod holder mid-way up the rod with the butt resting on the ground. Simple is so often the best.
6 Bank Fishing Rod Holders to Consider
Fishing Rod Holder Spring Tip-Up Hook with Ground Support – (Bad Choice)
I know the type of angler that would be attracted to this rod holder. In my opinion, it is unnecessary, cumbersome and has far too many moving parts.
If you'd like a few of them, your load would start to get pretty heavy.
Pros:
Stainless steel construction
Twin spikes for Secure anchoring
Cons:
Far too many moving parts and unnecessarily complex
Heavy if carrying multiples
Not ideal for wet, sandy or loosely packed ground
RECOMMENDATION:
Prefer others
RITE-HITE Bank Fishing Dual-Rod Holder – (Top Choice)
I really like this model for multiple rods as it is so simple and has no moving parts.
Twin spikes ensure secure anchoring and you can even put a third rod in the center if you wish.
The lower cross member is ideal for using foot pressure to drive it into the ground.

Pros:
Secure and easy anchoring in multiple terrain types
Very easy to access set rods
Lightweight yet will handle 2 reasonably heavier class fishing rods
Versatile
Simplicity of design
Highly durable. Decent corrosion resistance
Cushioned cradles to protect rods
Cons:
Only reasonably portable
RECOMMENDATION:
Highly recommended.
>Check Latest Price on Amazon<
Coolnice Rod Holders for Bank Fishing 
If you're looking for a convenient spot to stash your rod while you're fishing, look no further than this holder for bank fishing. 

The name says it all – the holder is pretty cool, and it's also quite nice to use! It has a multidirectional adjustable rotary knob. You can loosen the nut and rotate the unit 360 degrees. 

This flexibility is unrivaled when it comes to rod holders for bank fishing. Often, they won't swivel that much, and if they do, they won't be secure when repositioned. 

This holder is definitely the exception to that rule. It's designed to be compact yet also flexible, with the convenience necessary for folding, storing, and transporting all of your equipment. 

The holder has a universal 1.5" width that is enough space to accommodate most rods used for casting, spinning, and spincasting. 

With a tapered shape, this rod holder can slide easily into any space. You don't need to worry about not having the maneuverability necessary for inserting it into tough spaces like rock crevices or mud – this unit will stand strong no matter what. 

Plus, the U-shaped holder is coated with rubber so you don't have to worry about your equipment sliding out and becoming scratched.
Made out of durable stainless steel and ABS plastic, this rod is lightweight and rust-resistant. 

Pros:
Made out of durable, rust-resistant materials
Lightweight and adjustable
Holds up well on rocky or otherwise unstable ground
Cons:
Adjustment rings are not quite as durable as the rest of the unit
RECOMMENDATION:
Great holder. Highly recommended
>>Check Latest Price on Amazon<<
Berkley Spiral Fishing Rod Holder
These rod holders from the famous Berkley brand are fantastic. A simple concept that covers all the key criteria of a good bank fishing rod holder.

Pros:
Long spike for secure anchoring in multiple terrain types
Highly affordable
Eye-catching design. Love the colored powder coating
Highly durable
Super-easy to use
Cons:
Maybe a little tricky if you want to carry a number of them
RECOMMENDATION:
Brilliant. Highly recommended
>>Check Latest Price on Amazon<<
Croch Folding Rod Holder Fishing Pole Stand
Available in a twin pack these little numbers are great value. Ideal for a lighter class of fishing, these holders are highly portable and quite durable.
While the spike is short, the spike design has a decent surface area for secure anchoring.

Pros:
Highly portable. Fits in a tackle box easily
Very affordable twin pack
Lightweight. Brilliant for a lighter class of fishing
Durable and very easy to use
Cons:
Only good for mounting in tightly compacted soils
Excellent corrosion resistance
RECOMMENDATION:
Highly recommended
>>Check Latest Price on Amazon<<
Eagle Claw PVC Sand Spike Rod Holder
The simplest and the best. I love this option. The only limitation is extra hard ground, otherwise, they are ideal everywhere.
Pays to check the internal diameter of the pole relative to your rod butt.

Pros:
Secure anchoring in multiple terrain types
Highly affordable
Lightweight yet can handle big rigs and fish
Highly durable
Cons:
Very difficult to penetrate hard gravelly ground
It might be better to make one yourself. There is no simpler more inexpensive DIY project
RECOMMENDATION:
Brilliant. Highly recommended
>>Check Latest Price on Amazon<<
Toasis Fishing Rod Holder Aluminum Alloy Telescopic Tripod Stand for Fishing Poles
This is an example of complicating a reasonably simple idea. However, there are a few aspects about this model that might be handy, the first of which is that it will hold 6 lightweight rods.
The second is that it is suitable for a surprisingly varied ground type owing to the tripod base and anchoring system.

Pros:
Secure anchoring in multiple terrain types
Very easy to access set rods
Lightweight yet can accommodate 6 rods on the river.
Reasonably compact when collapsed
Cons:
Not recommended for saltwater
Might struggle with a heavier class of fishing
RECOMMENDATION:
Recommended for the freshwater and a lighter class of fishing
>>Check Latest Price on Amazon<<
A Final Word
I like all bar the first-rod holder listed. I'll not state the best or even rank them. As I said in the introduction…Horses for courses.
The 6 bank fishing rod holders I have listed in this article don't even scratch the surface relative to that which is available. And we didn't even touch on DIY.
The best advice is this. Know your application before you select a bank fishing rod holder.
Most importantly, select a rod holder you can depend on. A poor choice might cost you some expensive fishing kit, or worse, the catch of your life on the river.
Also Read: Guide To Fishing Rod Lengths