Picture this: you finally made it to your favorite backwoods pond after hours and many miles of hiking. 
You're excited to start fishing, and you eagerly pull your equipment out of your bag, your enthusiasm is like that of a small child's.
After you remove your lures, hooks, and reel, you look excitedly to your pole. 
And you realize…
…that after the many miles of hiking, it is broken entirely in half. 
Hopefully, that's not a situation that you've ever had to deal with. But if it is, you likely already know the value of a durable rod. 
But what about telescopic fishing rods – and are telescopic fishing rods any good for anglers like you?
The short answer – yes. They are good and can be very useful! 
Here's why – and some more information to help you determine whether a telescopic fishing rod is right for you. 
What Exactly is a Telescopic Fishing Rod?
Put simply, a telescopic fishing rod is one that can fold into itself for easy, convenient portability. 
In a collapsed state, one of these rods is typically only between 18 and 26 inches long. You can easily carry this kind of rod with you or store it wherever you need it to go. 
Whether you plan on fishing after a long hike or need to take a fishing rod with you on an airplane, a telescopic fishing rod is a great choice. 
Able to be packed into a backpack, it lets you fish any time the mood strikes you. Telescopic fishing rods have the same components of single or double-piece poles.
You don't have to stick to lightweight fishing, as many telescopic fishing rods are designed to handle heavier or tough-fighting fish. 
What Are Telescopic Fishing Rods Made Out Of?
Telescopic fishing rods tend to be made out of the same materials as their non-telescopic counterparts. 
They generally consist of carbon fiber or cork handles, although these can sometimes be foam. 
As with traditional rods, telescopic rods tend to be made out of graphite or fiberglass. They can also be comprised of a composite of the two.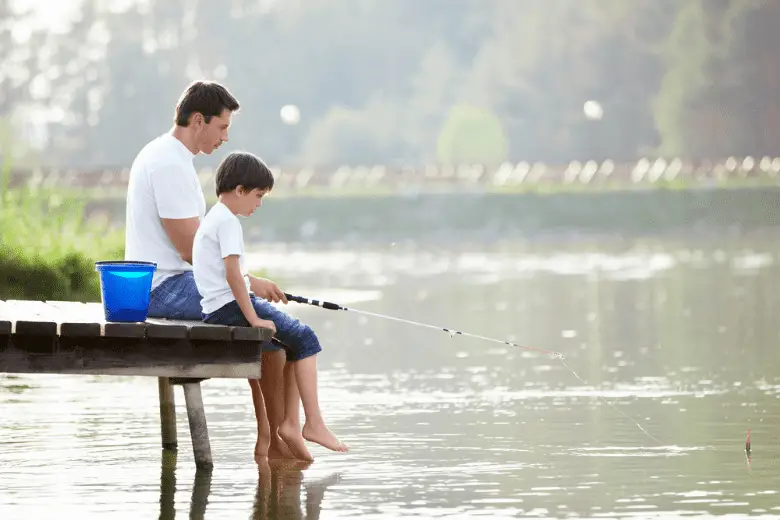 While fiberglass is the most common material used, offering durability along with flexibility, graphite rods offer added sensitivity – you will be able to feel even the slightest vibration. 
With that said, though, graphite rods are much more brittle than fiberglass rods.
A composite rod strikes the perfect balance between the two materials, offering just enough sensitivity paired with durability for most anglers. 
Reel seats are generally aluminum, stainless steel, or glass. Eyes are used to strengthen each section and are usually made out of a type of metal. 
Inserts can be made out of a variety of different materials. This will depend, as with other types of fishing poles, on the line weight and whether you plan on fishing in freshwater or saltwater. 
Many telescopic rods even come with tip covers made out of hard plastic so that your eyes will be protected when the rod is in a collapsed position. 
Here are some of the best telescopic options to consider.
How Does a Telescopic Fishing Rod Work?
Telescopic rods are super portable, but with that portable design comes some confusion over how these rods actually work. 
The basics are simple. You will want to start by placing the butt of the rod on a flat surface, pulling out each section until it locks. 
Once the rod has expanded entirely, you can use it just like any other fishing rod. 
Some angels have the bad habit of trying to "snap" the rod into its final position of expansion. 
This is not advised. Not only can it cause injury to yourself or others, but it can also damage the rod completely, making it useless. 
Follow the steps I mentioned above instead. When you are done using the rod, all you need to do is gently twist the sections until each one loosens. The rod will collapse into itself. 
are telescopic Fishing Rods any good – Are They Reliable?
Just about anybody can benefit from using a telescopic fishing rod. These rods are best for people who like to hike, backpack, or travel, but they are also good options for minimalists and survivalists who want to live off the land. 
Telescopic fishing rods are small and easy to use. They are easy to add to an existing fishing pole collection without taking up a ton of space. 
Simply put, a telescopic fishing rod can work well for just about anybody. They can be customized to handle your desired reel and your chosen line weight. 
They are usually found in baitcasting forms or spinning forms, but can occasionally be found in trolling, surf, and sea rods, too.
Now let's take a look at the pros and cons.
Pros and Cons of Telescopic Fishing Rods
Ready to weigh your options? First, let's take a look at the pros and cons of telescopic fishing rods. 
Pros
There are plenty of advantages to using a telescopic fishing rod. First and foremost is its portability. 
With a telescopic rod, you will be able to fish any time you want. You can travel with your fishing equipment since the rod will easily fit into your carry-on baggage.
You will have peace of mind in knowing that your fishing pole isn't going to be broken by a baggage handler, but you also won't have to invest in expensive cases. 
You won't need to worry about checking the rod with airport security, either. Telescopic fishing rods also tend to be built more rigidly than traditional fishing rods. 
They are broken down into sections so that weight and stress are more evenly distributed among the various sections. 
This will help prevent your pole from snapping, particularly when you are fighting a large fish. 
It's easy to find a good telescopic fishing rod within most budgets, too. These roads tend to be dependable and portable, yet they won't break the bank. 
Cons
There are very few disadvantages to using a telescopic fishing rod, but it is important to mention the ones that there are. 
Usually, most cons of using a telescopic fishing rod are related to operator errors instead of the actual rod itself. 
Avoid opening and closing the rod too rapidly or in a manner that was mentioned above – this can easily destroy your pole. 
When you use your telescopic rod, you will also want to make sure your sections are securely fastened into place. 
Otherwise, they can rotate or slip around on you, which can cause issues in both reeling and casting. 
Some telescopic rods don't completely retract. This is usually an issue related to the tip and the guides. If you can't close your telescopic rod all the way, the guides will be more likely to become damaged. 
Usually, a rod that won't close all the way is the result of inefficient design. It can also be caused by dirt, sand, or other debris that has become trapped within the joints. 
Often, you won't notice this until it is trapped. You will need to clean your telescopic rod with greater frequency than you would a traditional style of fishing rod. 
It is important to note that these rods tend to wear down more quickly than other types of traditional fishing rods, too. 
Since you will be collapsing and opening the rod every time you use it, the fit between the individual sections has the potential to become degraded over time.
Unfortunately, the more you use your rod, the more quickly this happens.
Investing in a high-quality rod with durable components at the outset can save you a ton of money and stress when it comes to replacing a rod or its pieces later on. 
How to Choose a Telescopic Rod
As with any other kind of fishing rod, it's important that you put some thought into what you want to get out of a telescopic fishing rod before you buy. 
There are some anglers who steer away completely from using telescopic rods, believing (erroneously) that this kind of equipment is for novice anglers going after lightweight fish alone. 
That is not the case. 
The technology used for telescopic fishing rods has come a long way in the last few years, and it's important that you give them a chance. 
Think carefully about your target species and your desired fishing technique when you choose your telescopic rod – you will be rewarded for this perfect fit later on. 
In addition, keep in mind the other characteristics that are necessary to think about when buying any kind of fishing rod. 
Pay attention to customer reviews, materials used, and warranty programs available – this will help you make the most informed decision. 
Telescopic Fishing Rods conclusion
It's important to choose the best, highest-quality telescopic fishing rods. Not sure whether a telescopic fishing rod is right for you?
Let's look at it this way.
If you like to fish, and you like to be able to fish at a moment's notice with minimal hassle, then a telescopic fishing rod is one of the best tools you can have in your arsenal. 
Instead of having to drive home and get your gear every time you want to go fishing, you can instead stash a telescopic rod in the trunk of your car. 
You'll be ready at a moment's notice!